Africa

Africa is a Continent not a Country
Africa is the world's second-largest and second most-populous continent, after Asia. At about 30,221,532 km² (11,668,545 sq mi) including adjacent islands, it covers 6% of the Earth's total surface area, and 20.4% of the total land area. With more than 900 million people (as of 2005) in 61 territories, it accounts for about 14% of the world's human population. The continent is surrounded by the Mediterranean Sea to the north, the Suez Canal and the Red Sea to the northeast, the Indian Ocean to the southeast, and the Atlantic Ocean to the west.
Area: about 30 244 000 km2 (11 700 000 mi2) including its adjacent islands it covers about 20 percent of Earth's total land area.
Coastline: 30,539 km 18,976 miles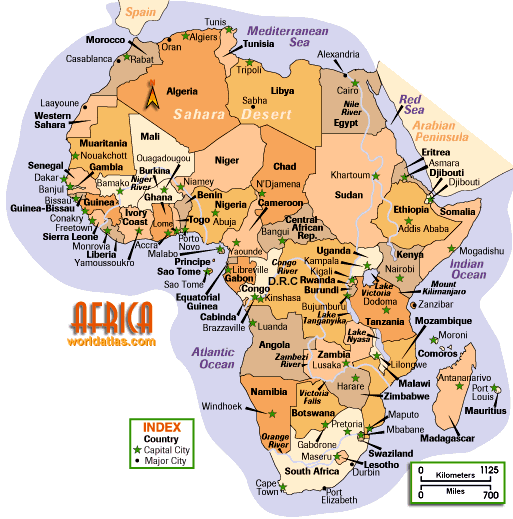 Population: 900 million human inhabitants, about 20 percent of the world's population.
Highest Point: Mount Kilimanjaro - Uhuru Peak on the volcano Kibo, 5,895 m (19 340 ft) in Tanzania.
Largest Lake: Lake Victoria or Victoria Nyanza; 68 870 sq. km.
Longest River: Nile; 6 695 km.
Languages of Africa: about thousand languages classified in four major language families:
Afro-Asiatic (e.g. Berber lang), Nilo-Saharan, Niger-Congo (Bantu), and Khoi-San.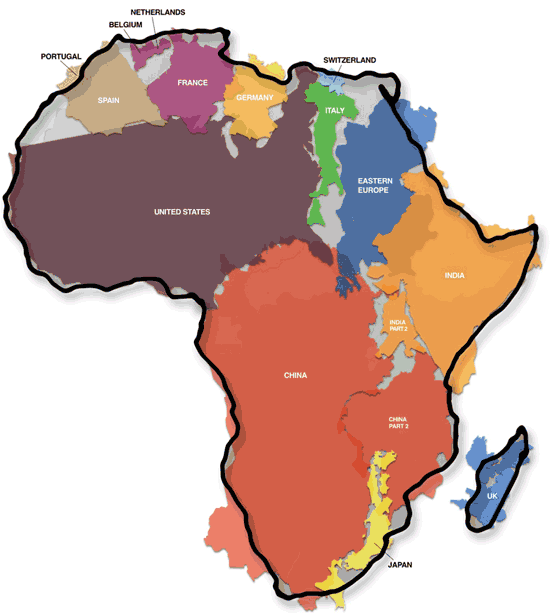 Country
Population
Capital City

Nigeria

131,859,731

Abuja

Egypt

78,887,007

Cairo

Ethiopia

74,777,981

Addis Ababa

Congo-Kinshasa

62,660,551

Brazzaville

South Africa

44,187,637

Pretoria

Sudan

41,236,378

Khartoum

Tanzania

37,445,392

DaresSalaam

Kenya

34,707,817

Nairobi

Morocco

33,241,259

Rabat

Algeria

32,930,091

Algiers

Uganda

28,195,754

Kampala

Ghana

22,409,572

Accra

Mozambique

19,686,505

Maputo

Madagascar

18,595,469

Antananarivo

Côte d'Ivoire

17,654,843

Yamoussoukro

Cameroon

17,340,702

Yaoundé

Burkina Faso

13,902,972

Ouagadougou

Zimbabwe

12,236,805

Harare

Malawi

13,013,926

Lilongwe

Mali

11,716,829

Bamako

Senegal

11,987,121

Dakar

Malawi

13,013,926

Lilongwe

Niger

12,525,094

Niamey

Angola

12,127,071

Luanda

Zambia

11,502,010

Lusaka

Tunisia

10,175,014

Tunis

Chad

9,944,201

N'Djamena

Guinea

9,690,222

Conakry

Somalia

8,863,338

Mogadishu

Rwanda

8,648,248

Kigali

Burundi

8,090,068

Bujumbura

Benin

7,862,944

Porto-Novo

Burundi

8,090,068

Bujumbura

Sierra Leone

6,005,250

Freetown

Libya

5,900,754

Tripoli

Togo

5,548,702

Lomé

Eritrea

4,786,994

Asmara

Central African Republic

4,303,356

Bangui

Congo-Brazzaville

3,702,314

Kinshasa

Mauritania

3,177,388

Nouakchott

Liberia

3,042,004

Monrovia

Mauritania

3,177,388

Nouakchott

Namibia

2,044,147

Windhoek

Lesotho

2,022,331

Maseru

Gambia

1,641,564

Banjul

Botswana

1,639,833

Gaborone

Guinea-Bissau

1,442,029

Bissau

Gabon

1,424,906

Libreville

Mauritius

1,240,827

Port Louis

Swaziland

1,136,334

Mbabane

Comoros

690,948

Moroni

Equatorial Guinea

540,109

Malabo

Djibouti

486,530

Djibouti

Cape Verde

420,979

Praia

Western Sahara

Sahrawi Arab Democratic Republic

278,600

São Tomé and Príncipe

193,413

Sao Tome

Seychelles

81,541

Victoria

Saint Helena

7,502

Jamestown
Country
Official and national Languages
Other spoken Languages

Algeria
Arabic
French, Berber dialects.
Angola
Portuguese
Narrow Bantu like Umbundu and other African languages.
Benin
French
Fon and Yoruba (most common vernaculars in south), tribal languages (at least six major ones in north).
Botswana
English
Setswana
Burkina Faso
French
Native African languages belonging to Sudanic family spoken by 90% of the population.
Burundi
Kirundi, French
Swahili (along Lake Tanganyika and in the Bujumbura area).
Cameroon
English, French
24 major African language groups.
Cape Verde
Portuguese
Kabuverdianu (Crioulo) (a blend of Portuguese and West African words).
Central African Republic
French, Sangho (lingua franca and national language)
Banda, Gbaya and other tribal languages.
Chad
French, Arabic
Sara (in south), more than 120 different languages and dialects.

Comoros

Arabic, French
Shikomoro (a blend of Swahili and Arabic).
Democratic Republic of the Congo
French
Lingala (a lingua franca trade language), Kingwana (a dialect of Kiswahili or Swahili), Kikongo, Tshiluba.
Congo, Republic of the
French
Lingala and Monokutuba (lingua franca trade languages), many local languages and dialects (of which Kikongo is the most widespread).
Côte d'Ivoire
French
60 native dialects with Dioula the most widely spoken.
Djibouti
French, Arabic
Somali, Afar
Egypt
Arabic
English and French widely understood by educated classes.
Equatorial Guinea
Spanish, French
pidgin English, Fang, Bubi, Ibo.
Eritrea
Tigrinya (Tigrigna), Arabic, English
Tigré (second major language), Afar, Bedawi, Kunama, other Cushitic languages.
Ethiopia
Amharic
Tigrinya, Oromo, Gurage, Somali, Arabic, 80 other local languages, English (major foreign language taught in schools)
Gabon
French
Bantu languages like Fang, Myene, Nzebi, Bapounou/Eschira, Bandjabi.
Gambia, The
English
Mandinka, Wolof, Fula, other indigenous vernaculars.
Ghana
English
African languages (including Akan, Moshi-Dagomba, Ewe, and Ga)
Guinea
French (spoken by 15-20%)
Eight national languages, Soussou (Susu, in coastal Guinea), Peulh (Fulani, in Northrn Guinea), Maninka (Upper Guinea), Kissi (Kissidougou Region), Toma and Guerze (Kpelle) in rain forest Guinea; plus various ethnic groups with their own language.
Guinea-Bissau
Portuguese
Crioulo (a mixture of Portuguese and African), other African languages.
Kenya
English, Kiswahili
numerous indigenous languages.
Lesotho
Sesotho (southern Sotho), English
Zulu, Xhosa.
Liberia
English 20%
some 20 ethnic group languages, of which a few can be written and are used in correspondence.
Libyan Arab Jamahiriya
Arabic
Italian, English, all are widely understood in the major cities.
Madagascar
French, Malagasy
Malawi
English, Nyanja (Chichewa, Chewa)
Lomwe, Tumbuka, Yao, other languages important regionally.
Mali
French
Bambara (Bamanakan), Arabic and numerous dialects of Dogoso, Fulfulde, Koyracini, Senoufou, and Mandinka/Malinké (Maninkakan), Tamasheq are also widely spoken.
Mauritania
Arabic
Hassaniya Arabic, Pulaar, Soninke, Wolof, French
Mauritius
English, French
Creole, Hindi, Urdu, Hakka, Bhojpuri
Morocco
Arabic
Berber dialects, French often the language of business, government, and diplomacy.
Mozambique
Portuguese (spoken by 27% of population as a second language)
Makhuwa, Tsonga, Lomwe, Sena, numerous other indigenous languages.
Namibia
English 7%
Afrikaans common language of most of the population and about 60% of the white population, German 32%, indigenous languages: Oshivambo, Herero, Nama.
Niger
French
Hausa, Djerma
Nigeria
English
Hausa, Yoruba, Igbo (Ibo), Fulani, Ijaw, Ibibio and about 250 other indigenous languages spoken by the different ethnic groups.
Réunion
French
Creole widely used
Rwanda
Rwanda (Kinyarwanda, Bantu vernacular) French, English
Kiswahili (Swahili) used in commercial centers.
Saint Helena
English
Sao Tome and Principe
Portuguese
Senegal
French
Wolof, Pulaar, Jola, Mandinka
Seychelles
English, French
Creole
Sierra Leone
English (regular use limited to literate minority)
Mende (principal vernacular in the south), Temne (principal vernacular in the north), Krio (English-based Creole a first language for 10% of the population but understood by 95%)
Somalia
Somali
Arabic, Italian, English
South Africa
11 official languages, including Afrikaans, English, isiNdebele, Pedi, Sesotho (Sotho), siSwati (Swazi), Xitsonga (Tsonga), Tswana, Tshivenda (Venda), isiXhosa, isiZulu
Sudan
Arabic
Nubian, Ta Bedawie, diverse dialects of Nilotic, Nilo-Hamitic, Sudanic languages, English.
Swaziland
English (government business conducted in English), siSwati
Tanzania, United Republic of
Kiswahili (Swahili), Kiunguju (name for Swahili in Zanzibar), English (primary language of commerce, administration, and higher education)
Arabic (widely spoken in Zanzibar), Gogo, Haya, Makonde, Nyakyusa, Nyamwezi, Sukuma, Tumbuka, many other local languages.
Togo
French (the language of commerce)
Ewe and Mina (the two major African languages in the south), Kabye (Kabiye) and Dagomba (the two major African languages in the north)
Tunisia
Arabic (and the languages of commerce)
French (commerce)
Uganda
English (used in courts of law and by most newspapers and some radio broadcasts)
Ganda (Luganda; most widely used of the Niger-Congo languages, preferred for native language publications), other Niger-Congo languages, Nilo-Saharan languages, Swahili, Arabic
Western Sahara
Hassaniya Arabic, Moroccan Arabic
Zambia
English
major vernaculars: Bemba, Kaonda, Lozi, Lunda, Luvale, Nyanja, Tonga, and about 70 other indigenous languages.
Zimbabwe
English
Chishona (Shona), Sindebele (Ndebele), numerous but minor tribal dialects like: Sotho and Nambya, Shangani, Venda, Chewa, Nyanja, and Tonga.
Geographical Facts
Africa, second-largest of the Earth's seven continents -
Largest Country
Sudan, Republic of, republic in north-eastern Africa, the largest country of the African continent. Sudan has a total area of 2,505,800 sq km (967,490 sq mi).
Smallest Country
The smallest African country is The Seychelles covering an area of 453 sq km but Gambia is the smallest of the mainland African states, covering an area of 11,300 sq km (4,363 sq mi).
Largest City
Egypt's capital city, Cairo, is the largest city in Africa with an estimated 9.2 million population
Highest Point
Mount Kilimanjaro - Uhuru Point - (5895m/19,340 ft) in Tanzania
Lowest Point
the lowest is Lake 'Asal (153 m/502 ft below sea level) in Djibouti
Northernmost tip
is Cape Blanc (Ra's al Abyad;) in Tunisia
Southernmost tip
is Cape Agulhas in South Africa
Largest Lake
Lake Victoria is the largest lake in Africa and the is the world's second-largest freshwater lake - covering an area of 69,490 sq km (26,830 sq mi) and lies 1,130 m (3,720 ft) above sea level. Its greatest known depth is 82 m (270 ft).
Deepest Lake
Lake Tanganyika is the deepest lake in Africa reaching at its greatest depth is 1,436 m (4,710 ft), making it the second deepest freshwater lake in the world after Lake Baikal.
Longest River
The River Nile drains north-eastern Africa, and, at 6,650 km (4,132 miles), is the longest river in Africa and in the world. It is formed from the Blue Nile, which originates at Lake Tana in Ethiopia, and the White Nile, which originates at Lake Victoria.
The Great Africa Rift Valley
The Rift Valley extends more than 4,830 km (3,000 mi) from Syria in south-western Asia to Mozambique in south-eastern Africa. The width of the valley ranges from a few miles to more than 160 km (100 mi). In eastern Africa, the valley splits into two branches: the Eastern Rift and the Western Rift
The fault in which the Rift sits is still moving: the western side of the rift is pulling away from the eastern ridge at about 6 mm per year, while in the south it is moving together at a rate of 2 mm per year.
Lake Malawi
Lake Malawi contains the largest number of fish species of any lake in the world, probably over 500 from ten families. Particularly noteworthy are the Cichlidae, of which all but five of over 400 species are endemic to Lake Malawi. The lake contains 30% of all known cichlid species. Of particular interest is the 'mbuna' rock fish.
Namib Desert
The Namib is the world's oldest desert, and the only desert in Africa inhabited by elephant, rhino, giraffe and lion
Namibia - Fish River Canyon
The Fish River canyon is the second largest canyon in the world.
The Sahara Desert
The Sahara Desert is expanding southwards at an average of 0.8 km (½ mile) a month
sources: CIA World Fact Book, United Nations, U.S. Department of State,