Angelina Jolie UNHCR Goodwill Ambassador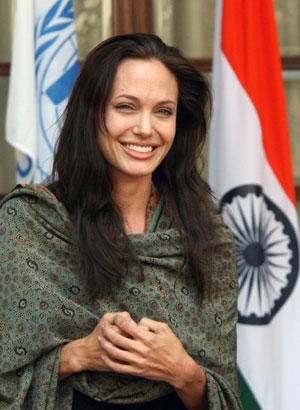 Since she was named as a UNHCR Goodwill Ambassador in early 2001, Angelina Jolie has visited more than 20 countries around the world to highlight the plight of millions of uprooted people and to advocate for their protection. She has managed to do all this while pursuing a busy acting career and bringing up her children.
Her interest in humanitarian affairs was piqued in 2000 when she went to Cambodia to film the adventure film, Tomb Raider. Her interest and determination to help the displaced, publicize their plight and lobby for international assistance has never flagged.
After Jolie's recent trip to Afghanistan at the end of 2008, the Oscar-winning American actress appealed for more international commitment to help returnee reintegration and urged greater humanitarian support for the population.
"The courage, resilience and quiet dignity of returnee families rebuilding their lives against the kind of adversity few of us can imagine show the human spirit at its best," she said after spending part of her time in eastern Afghanistan's Nangarhar province, where almost 850,000, or 20 percent, of all Afghan returnees have repatriated since 2002.
When travelling to Sudan and Chad in early 2007, Jolie was so struck by what she had seen that she and her partner, actor Brad Pitt, donated US$1 million to be shared by UNHCR and two other agencies for their work in helping millions of people affected by the crisis in Sudan's Darfur region.
"It's always hard to see decent people, families, living in such difficult conditions," she said at the time, while adding that she was also struck by the sense of hope she encountered. Jolie called on the international community to do more to help the displaced and needy, just as she did when visiting Syria and Iraq in August 2008 to draw attention to the humanitarian crisis and raise support for UNHCR and its partners.
In addition to her extensive field missions for UNHCR, Angelina has been calling attention to the plight of the displaced at the political level in various gatherings, including the annual meeting of the World Economic Forum in Davos. She regularly visits Washington DC, raising humanitarian issues during meetings with the United States' top politicians. In 2007, she became a member of the influential Council on Foreign Relations.
In 2005, also in the US capital, she launched the National Centre for Refugee and Immigrant Children, an organization that provides free legal aid to asylum-seeking children with no legal representation. In 2006, Jolie announced the founding of the Jolie-Pitt Foundation, which has made significant donations worldwide. She also co-chairs the Education Partnership for Children of Conflict, founded in 2006, which helps fund education programmes for children affected by conflict.
Jolie's devotion to this and other humanitarian causes has not gone unnoticed. In 2003, she was the first recipient of the Citizen of the World Award by the United Nations Correspondents Association, and in 2005 she was awarded the Global Humanitarian Award by the United Nations Association of the USA and the Business Council for the United Nations for her work with refugees.
In the same year she was awarded Cambodian citizenship as a result of her extensive work in the Asian country ravaged by civil war and brutal rule from the early 1970s to the late 1990s. And in 2007, the International Rescue Committee awarded its Freedom Award to Jolie and UN High Commissioner for Refugees António Guterres for their contributions to the cause of refugees and human freedom.
Angelina Jolie (born Angelina Jolie Voight; June 4, 1975) is an American actress. She has received an Academy Award, two Screen Actors Guild Awards, and three Golden Globe Awards. Jolie promotes humanitarian causes, and is noted for her work with refugees as a Goodwill Ambassador for the United Nations High Commissioner for Refugees (UNHCR)
. Jolie is the daughter of actors Jon Voight and Marcheline Bertrand. Jolie 's partner in life is Brad Pitt. Jolie and Pitt have three adopted children, Maddox, Pax, and Zahara, as well as a biological daughters, Shiloh and Vivienne Marcheline and biological son Knox. Knox and Vivienne Marcheline are twins.
Jolie has promoted humanitarian causes throughout the world, and is noted for her work with refugees through UNHCR.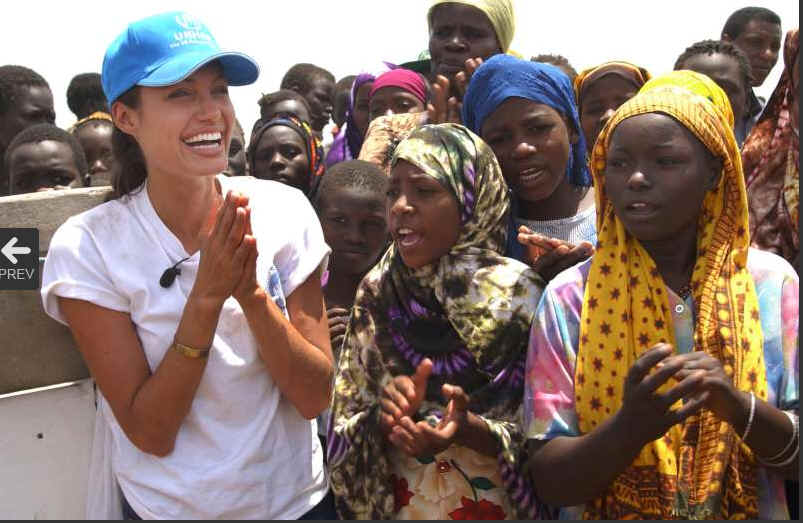 She plays many roles onscreen, but Angelina Jolie never loses sight of her important role as a concerned global citizen and active UNHCR Goodwill Ambassador. The dedication to her craft that garnered Angelina an Academy Award for her performance in Girl, Interrupted (1999), is reflected in her efforts for the United Nations High Commissioner for Refugees (UNHCR), a UN agency that currently assists 20 million refugees in approximately 120 countries.
Angelina's involvement with UNHCR began with a mission to Sierra Leone, a small African country that - like the Democratic Republic of the Congo - has been devastated by years of brutal civil war. Seeing firsthand the enormous challenges that refugees face was a life-altering experience for Angelina, who decided to use her fame to aid their cause. In 2001, she was named a UNHCR Goodwill Ambassador.
Angelina's acting career has spanned two decades. Her first feature role was in Lookin' to Get Out (1982), a film co-written and co-produced by her father, the acclaimed actor Jon Voight. Since then, she has received Golden Globe Awards for the television movies George Wallace (1997) and Gia (1998) and her film credits include Hackers (1995), The Bone Collector (1999), Gone in Sixty Seconds (2000), Lara Croft: Tomb Raider (2001), and Lara Croft Tomb Raider: The Cradle of Life (2003).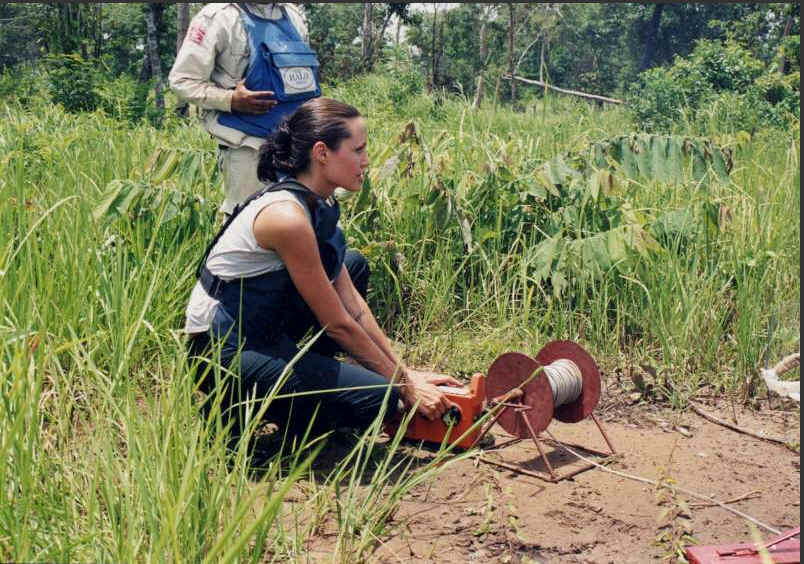 Angelina Jolie detonating a landmine in Cambodia.
© UNHCR/M. Noelle-Little
As a UNHCR Goodwill Ambassador, Angelina uses her status as a superstar to generate media coverage about the plight of refugees and the conditions under which they live. She has traveled widely to remote refugee camps and receiving centers in countries including Tanzania, Namibia, Cambodia, Pakistan, Thailand, and Ecuador. To further raise awareness, she has released her personal journals for select field visits that can be accessed at USA for UNHCR. For her efforts, Angelina has been honored with the Church World Service Immigration and Refugee Program Humanitarian Award.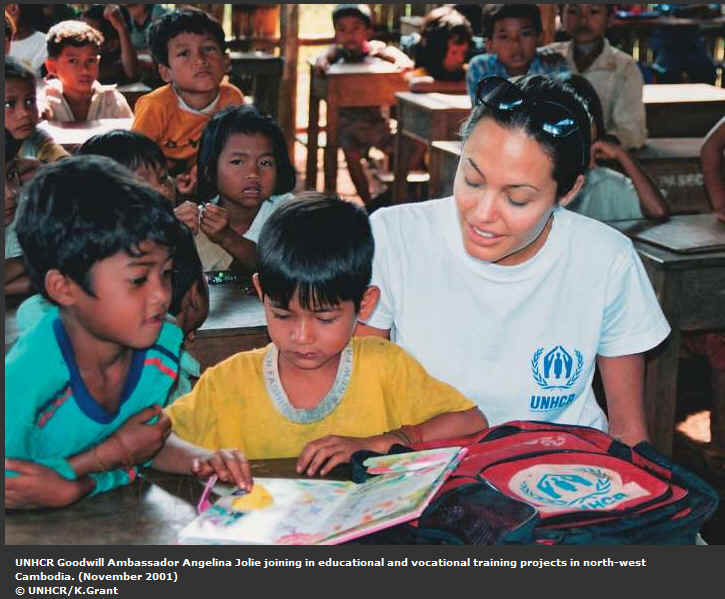 Jolie first became personally aware of worldwide humanitarian crises while filming Tomb Raider in poverty-stricken and widely mined Cambodia. According to Jolie, "I discovered things about what's happening in the world... Cambodia was really eye opening for me." Deeply affected by these experiences, she eventually turned to UNHCR for more information on international trouble spots. In the following months she agreed to visit different refugee camps around the world to learn more about the situation and the conditions in these areas. In February 2001, Jolie went on her first field visit, an 18-day mission to Sierra Leone and Tanzania; she later expressed her shock at what she had witnessed. In the coming months she returned to Cambodia for two weeks and later visited Afghan refugees in Pakistan where she donated $1 million for Afghan refugees in response to an international UNHCR emergency appeal. She insisted on covering all costs related to her missions and shared the same rudimentary working and living conditions as UNHCR field staff on all of her visits. Impressed by her interest and devotion in the subject, UNHCR named her a Goodwill Ambassador on August 27, 2001 at UNHCR headquarters in Geneva, despite her warning that her controversial public image might shed a negative light on the U.N.
In a press conference Jolie explained her motives for joining the refugee agency:-
" We cannot close ourselves off to information and ignore the fact that millions of people are out there suffering. I honestly want to help. I don't believe I feel differently from other people. I think we all want justice and equality, a chance for a life with meaning. All of us would like to believe that if we were in a bad situation someone would help us."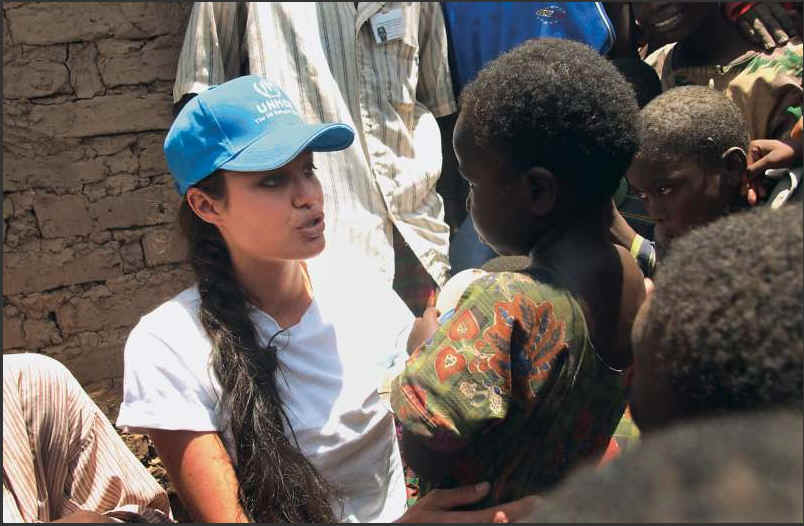 During her first three years as Goodwill Ambassador Jolie concentrated her efforts on field missions, visiting refugees and internally displaced persons (IDPs) all around the world. Asked what she hoped to accomplish, she stated, "Awareness of the plight of these people. I think they should be commended for what they have survived, not looked down upon." In 2002, Jolie visited Tham Hin refugee camp in Thailand and Colombian refugees in Ecuador to take a closer look at the "Western Hemisphere's most severe humanitarian crisis".
Jolie then went to various UNHCR facilities in Kosovo and paid a visit to Kakuma refugee camp in Kenya with refugees mainly from Sudan. UNHCR's Representative to Kenya, George Okoth-Obbo, praised her "presence, just to bring some joy into what is undoubtedly a hard life for many of the people here". She also visited Angolan refugees while she was filming Beyond Borders in Namibia.
In 2003, Jolie embarked on a six-day mission to Tanzania where she traveled to western border camps, hosting Congolese refugees and she paid a week-long visit to Sri Lanka, where she saw the post–war conditions in northern Sri Lanka. Jolie again attended World Refugee Day on June 20 in Washington, D.C., and later concluded a four-day mission to Russia as she traveled to North Caucasus to learn about all aspects of UNHCR's operations in the region. Concurrently with the release of her movie Beyond Borders in October 2003 she published Notes from My Travels, a collection of journal entries that chronicle her early field missions (2001-2002). All her proceeds from the book went to UNHCR. During a private stay in Jordan in December 2003 she asked to visit Ruwaished camp in Jordan's remote eastern desert, 70 km from the Iraqi border.
The camp hosted some 800 people who had fled Iraq during the U.S.-led invasion and later that month she visited Sudanese refugees near the Egyptian capital in Kilo Arbaa We Nus.
On her first U.N. trip within the United States, Jolie went to Arizona in 2004, visiting detained asylum seekers at three facilities and the Southwest Key Program, a facility for unaccompanied children in Phoenix.
With the humanitarian situation in Sudan worsening, she flew to Chad in June 2004, paying a visit to border sites and camps for refugees who had fled fighting in western Sudan's Darfur region. Four month later she returned to the region, this time going directly into West Darfur to learn about the situation of thousands of IDPs. She stressed the need for security and access to displaced people's home villages at a press conference in the Sudanese capital, Khartoum.
On June 18, 2004 she and US Secretary of State Colin Powell met again in Washington to launch the three day events of World Refugee Day. Also in 2004 Jolie visited Afghan refugees in Thailand and on a private stay to Lebanon during the Christmas holidays she visited UNHCR's regional office in Beirut, as well as some young refugees and cancer patients in the Lebanese capital.
With increasing experience, Jolie became more involved in promoting humanitarian causes on a political level. Since 2005 she has attended the World Economic Forum in Davos, announcing the formation of a Council of Business Leaders with UNHCR's Deputy High Commissioner, Wendy Chamberlin, in 2005, and participated in the panel discussion Human Rights: Reduced to Charity? in 2006. Jolie also began lobbying humanitarian interests in Washington, D.C. where she met with congressmen and senators at least 20 times from 2003.
" As much as I would love to never have to visit Washington, that's the way to move the ball. "
Among others, she pushed for The Unaccompanied Alien Child Protection Act . On March 8, 2005 Jolie took part at a National Press Club luncheon in Washington, D.C. where she promoted the bill and in support of it announced the founding of the National Center for Refugee and Immigrant Children, an organization that provides free legal-aid to asylum-seeking children with no legal representation which Jolie personally funded with a donation of $500,000 for its first two years. The Unaccompanied Alien Child Protection Act eventually passed in December 2005. Jolie also pushed for a bill to aid 70 million vulnerable children in the Third World which was signed by President Bush in November 2005.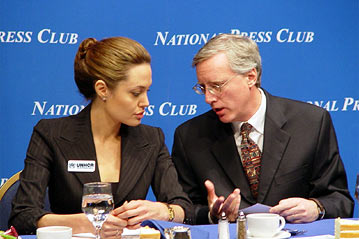 Angelina Jolie speaks with William McCarren, Chair of the Speakers Committee at the National Press Club, at a luncheon to mark the founding of the National Center for Refugee and Immigrant Children. © UNHCR/H.Farhad
In addition to her political involvement, Jolie began using the public's interest in her to promote humanitarian causes through the mass media. In May 2005 Jolie filmed a MTV special, The Diary Of Angelina Jolie & Dr. Jeffrey Sachs in Africa, portraying her and noted economist Dr. Jeffrey Sachs on their trip to Sauri, a remote group of villages in Western Kenya. There, Sachs's United Nations Millennium Project team is working with locals to end poverty, hunger and disease. In September 2005 Jolie was named the new spokesperson for the clothing line St. John starting in the Spring of 2006. The deal includes the start-up of a charity headed by Jolie which will focus on children's issues and causes. On October 24, 2005 Jolie attended the First Annual Benefit Gala for the Worldwide Orphans Foundation (WWO), where she pledged to partner with the WWO to treat children in Ethiopia who have been orphaned by AIDS and are HIV positive. She also announced her plan to support the WWO's Pediatric HIV/AIDS Clinic in Addis Ababa, Ethiopia and pledged an initial grant.[49] In September 2006 Jolie announced the founding of the Jolie/Pitt Foundation which made initial donations to Global Action for Children and Doctors Without Borders of $1 million each.
Jolie visited Pakistani camps containing Afghan refugees, in May 2005 and she also met with Pakistan's President Pervez Musharraf and Prime Minister Shaukat Aziz. She returned to Pakistan with Brad Pitt during the Thanksgiving weekend in November to see the impact of the October 8 Kashmir earthquake. They met many quake victims as well as President Musharraf. In 2006 Jolie and Pitt flew to Haiti and visited a school supported by Yéle Haïti, a charity founded by Haitian-born hip hop musician Wyclef Jean. Jolie also arranged a deal with People allowing them to print the first picture showing her visibly pregnant in exchange for a $500,000 donation to Yéle Haïti. During a two-month stay in Namibia, as she awaited the birth of her daughter, Jolie promoted the Global Education Week in an interview with NBC and she also took part in a conference call with UK Chancellor Gordon Brown who has pledged an extra $16 billion towards universal free education. Jolie has worked with Senator Hillary Clinton since 2005 to get the Education for All bill approved by the U.S. Congress. In November 2006, while filming A Mighty Heart in India, she visited Afghan and Burmese refugees in New Delhi and met the Minister of State for External Affairs, Anand Sharma, praising India's longstanding hospitality to refugees. Jolie spent Christmas Day with Colombian refugees in San José, Costa Rica where she handed out presents and met with Costa Rican officials.
Jolie has received wide recognition for her humanitarian work. On October 24, 2003 she was the first recipient of the new created Citizen of the World Award by the United Nations Correspondents Association. Cambodia's King Norodom Sihamoni awarded Jolie Cambodian citizenship for her conservation work in the country on August 12, 2005; she has pledged $5 million to set up a wildlife sanctuary in the north-western province of Battambang and owns property there.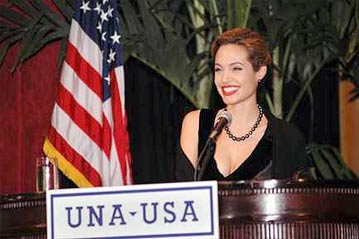 UN refugee agency Goodwill Ambassador Angelina Jolie receives the the 2005 Global Humanitarian Action Award for her work with refugees in New York. © UNA-USA/K.Morishima
On October 12, 2005, Jolie was awarded the Global Humanitarian Award by the UNA-USA.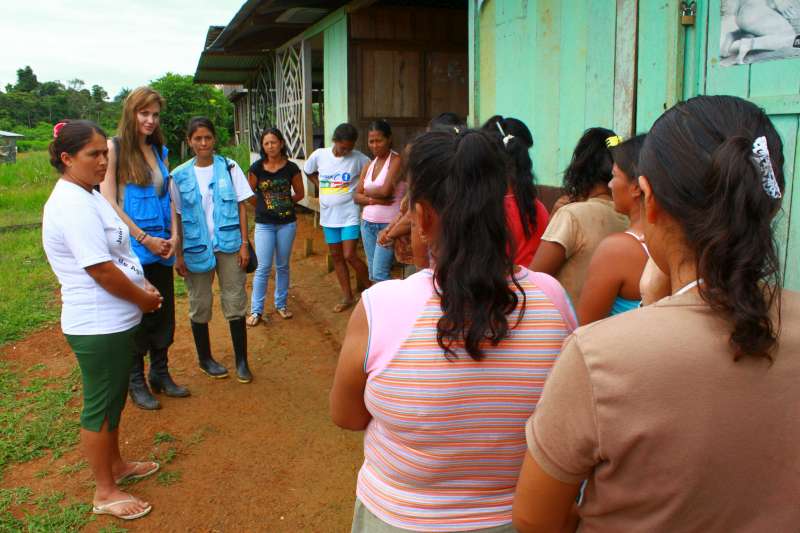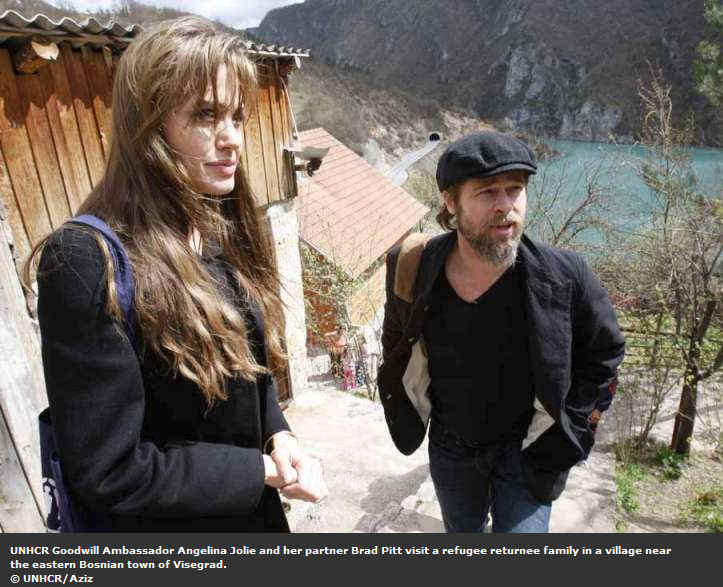 Goodwill Ambassador

Field Missions

Click the links below to read the details of each mission

Angelina Jolie's Acting Awards


•1998 – Best Supporting Actress – Series/Miniseries/TV Movie
George Wallace

Golden Globe Award

•1998 – Breakthrough Performance – Female
Playing by Heart

National Board of Review Award

•1999 – Best Performance by an Actress in a Miniseries or Motion Picture Made for TV
Gia

Golden Globe Award

•1999 – Outstanding Performance by a Female Actor in a TV Movie or Miniseries
Gia

Screen Actors Guild Award

•2000 – Outstanding Performance by a Female Actor in a Supporting Role
Girl, Interrupted

Screen Actors Guild Award

•2000 – Performance by an Actress in a Supporting Role
Girl, Interrupted

Academy Award

•2004 – Favorite Female Action Star
Sky Captain And The World Of Tomorrow

People's Choice Award

Angelina Jolie Filmography


•Salt (2010)as Evelyn Salt

•Changeling (2008)as Christine Collins

•Kung Fu Panda (2008)as Voice of Tigress

•Wanted (2008)as Fox

•Beowulf (2007)as Grendel's Mother/ Voice of Grendel s Mother

•A Mighty Heart (2007)as Mariane Pearl

•The Good Shepherd (2006)as Clover Wilson/ Margaret Russell

•Confessions of an Action Star (2005)as Herself

•Mr. & Mrs. Smith (2005)as Jane Smith

•Alexander (2004)as Olympias

•Shark Tale (2004)as Voice of Lola

•Sky Captain and the World of Tomorrow (2004)as Franky

•Taking Lives (2004)as Illeana Scott

•Beyond Borders (2003)as Sarah Jordan

•Lara Croft Tomb Raider: The Cradle of Life (2003)as Lara Croft

•Life or Something Like It (2002)as Lanie Kerrigan

•Lara Croft: Tomb Raider (2001)as Lara Croft

•Original Sin (2001)as Bonny Castle/ Julia Russell

•Gone in 60 Seconds (2000)as Sarah Sway Wayland

•Girl, Interrupted (1999)as Lisa

•Hell's Kitchen (1999)as Gloria McNeary

•Pushing Tin (1999)as Mary Bell

•The Bone Collector (1999)as Amelia Donaghy

•Gia (1998)as Gia Carangi

•Playing By Heart (1998)as Joan

•George Wallace (1997)as Cornelia Wallace

•Mojave Moon (1997)as Ellie

•Playing God (1997)as Claire

•Foxfire (1996)as Legs Sadovsky

•Love Is All There Is (1996)as Gina

•Without Evidence (1996)as Jodie Swearingen

•Hackers (1995)as Kate Libby

•Cyborg II: Glass Shadows (1993)as Casella Cash Reese

•Lookin to Get Out (1982)as Tosh

CredIt: United Nations, MTV