Bono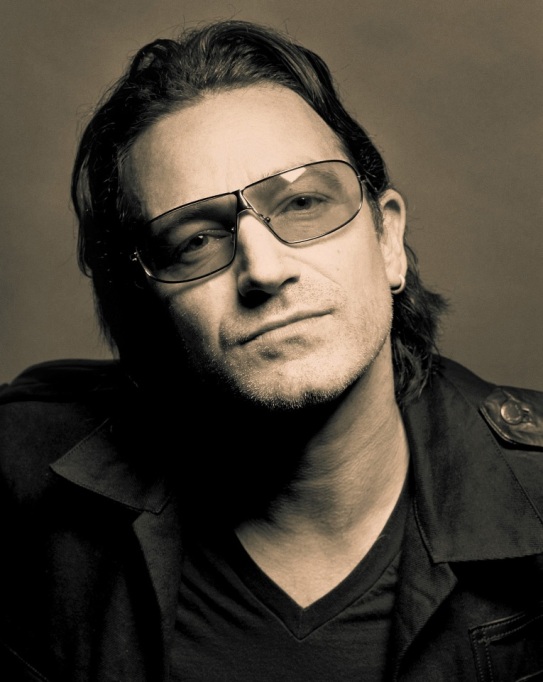 Bono was born Paul David Hewson in Ballymun, Dublin on May 10th 1960 he was brought up in Ballymun, Dublin. His mother, Iris, was Protestant, and his father, Bob, was a Roman Catholic. When asked whether he would call himself a Catholic or Protestant, the singer is reported to have said, "I always felt like I was sitting on the fence." His mother died , when Bono was fourteen years old. Many U2 songs, especially from the early albums ("I Will Follow", "Out of Control", "Tomorrow"), focus on this part of his life.
He attended Mount Temple Comprehensive School, an Ecumenical school, which was the first of its kind in Dublin. During his childhood and adolescence, Bono and his friends were part of a surrealist street gang called Lypton Village, where one of the rituals was nickname-giving. He had several names: first, he was "Steinvic von Huyseman", then just "Huyseman", then "Houseman", then "Bon Murray", "Bono Vox of O'Connell Street", and finally just "Bono". "Bono Vox" is an alteration of Bona Vox, a brand of hearing aid. The phrase in Latin translates to "good voice". "Bono Vox" was the name of a hearing aid shop they regularly passed on North Earl Street, just off O'Connell Street, in Dublin. It is said he was nicknamed "Bono Vox" after the shop by his friend Gavin Friday because he sang so loudly he seemed to be singing for the deaf. Initially, Bono did not like his name. However, when he learned it translated to "good voice", he accepted it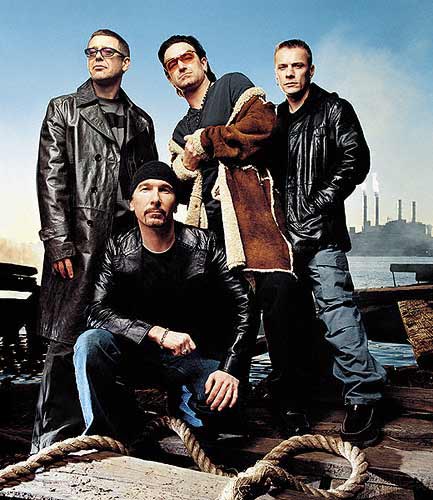 In 1976, Bono responded to an advertisement by fellow student Larry Mullen, Jr. to form a band, as did Dave Evans (also known as The Edge), brother Dick Evans (who soon left the band), and Adam Clayton. The remaining four formed a band named 'Feedback', before changing the name to 'The Hype' and then settling on U2. Initially Bono sang, played guitar and wrote songs. As The Edge became a better guitarist, Bono was relegated to vocals, although he often plays acoustic guitar and harmonica..
In the early days of the band, Bono was the dominant force, playing guitar, singing, and writing the songs. As Edge became a better guitarist however, Bono was restricted to vocals only. Even then, there was a time when the others considered removing him from the band altogether, as it was felt that his voice wasn't up to scratch. Fortunately for all concerned, he remained.
Bono is almost never seen in public without his sunglasses on. He has said in a Rolling Stone interview that the reason is he has "very sensitive eyes to light. If somebody takes my photograph, I will see the flash for the rest of the day. My right eye swells up. I've a blockage there, so that my eyes go red a lot. So it's part vanity, it's part privacy, and part sensitivity."
In a 1986 interview with Rolling Stone magazine Bono explained that he was first motivated to become involved in social and political causes by seeing one of the benefit shows staged by Monty Python's John Cleese and producer Martin Lewis for human rights organization Amnesty International in 1979. "I saw 'The Secret Policeman's Ball' and it became a part of me. It sowed a seed..." The seed led to Bono and U2 being performers on Amnesty's Conspiracy Of Hope tour of the US in 1986 alongside Sting who was one of the Secret Policeman's Ball performers seen by Bono. In 1984, Bono sang on the Band Aid single and reprised his role on the 2004 Band Aid 20 single. He also performed at Live Aid in 1985, and Live 8 in 2005. Since 1999, he has become increasingly involved in campaigning for third-world debt relief and the plight of Africa.
Bono asks:
Is America still a great idea as well as a great country?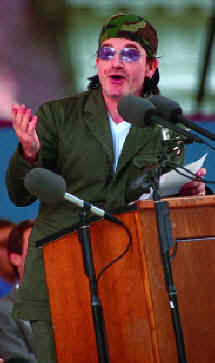 Bono at Harvard
In June 2001 however, Bono literally did deliver a lecture when he gave the Class Day Address at Harvard. Bono already had connections with the prestigious university through Professor Jeffrey Sachs, the chief economist for the Jubilee 2000 campaign. The Elevation tour happened to be in Boston during Harvard graduation week so Sachs arranged for Bono to be invited to speak at Class Day.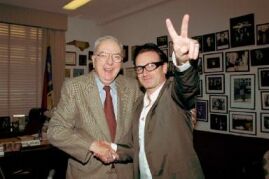 Bono with U.S. Senator Jesse Helms
Bono & U.S. Treasury Secretary Paul O'Neill Tour Africa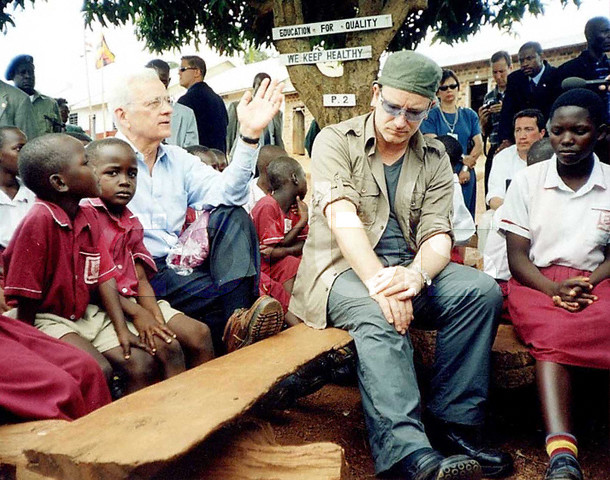 In 2002 Treasury Secretary Paul O'Neill traveled on a ten-day trip through Africa. He was joined by rock vocalist, Bono, an active proponent of effective development assistance in Africa. Secretary O'Neill and Bono visited Ghana, South Africa, Uganda and Ethiopia.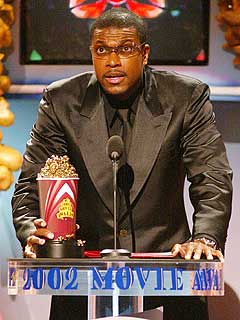 Chris Tucker also traveled on this trip with Treasury Secretary Paul O'Neill and Bono. When he received his 2002 MTV movie award he dedicated it to the mothers and children he had met on this trip. He also urged everyone to call their elected officials to urge them to support aid to Africa.
Bono gave the speech to the closing ceremony of the African Development Bank Meetings in Ethiopia.-
"This is where it all started for me. Seventeen years ago, I came to Ethiopia on a wave of tears and compassion, flowing from the rich countries to the poor from soccer stadiums taken over by musicians to refugee camps taken over by the starving war weary people of Ethiopia.

The brilliant Bob Geldof taught me then the importance of being focused, angry, persistent.

We raised 200 million dollars, and we thought we'd cracked it. It was a great moment, it was a great feeling. Then I discovered that Africa pays 200 million dollars every five days repaying old debts. Can I repeat that, 200 million dollars every five days. Tears were obviously not enough."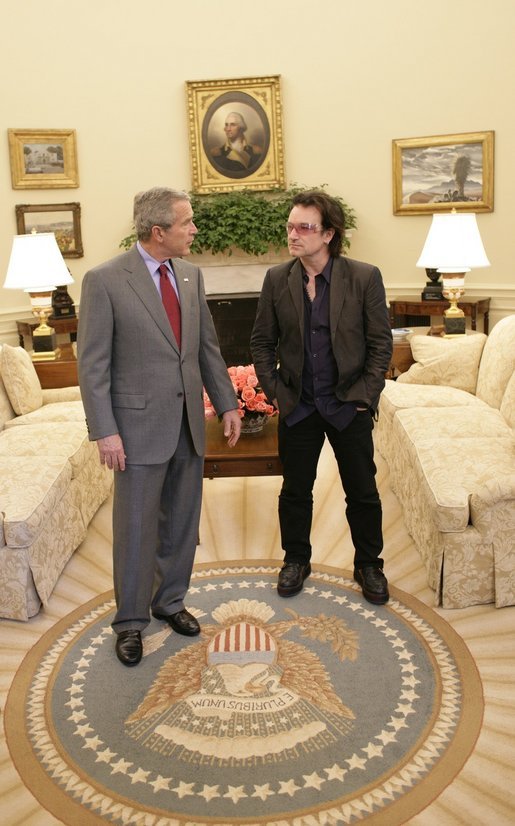 In March 2002, Bono travelled to the White House for a special private meeting with President George W. Bush, who had just unveiled a $5 billion aid package for the world's poorest countries that respect human rights. He also accompanied the President for a speech on the White House lawn. He stated, "This is an important first step, and a serious and impressive new level of commitment... This must happen urgently, because this is a crisis."
He visited Ghana, South Africa, Uganda and Ethiopia with US Treasury Secretary Paul O'Neill in May 2002 and has continued to work with DATA (Debt, AIDS and Trade in Africa) with the support of several world leaders and financial backing from the Bill and Melinda Gates Foundation.
In 2004 Bono gave the commencement speech at The University of Pennsylvania in Philadelphia Pa.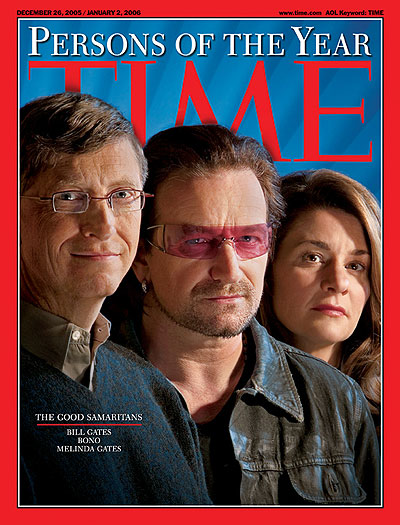 In December 2005, Bono was named by TIME as one of the Persons of the Year, along with Bill and Melinda Gates.
In February 2003, 2005 & 2006, Bono was among the nominees for the Nobel Peace Prize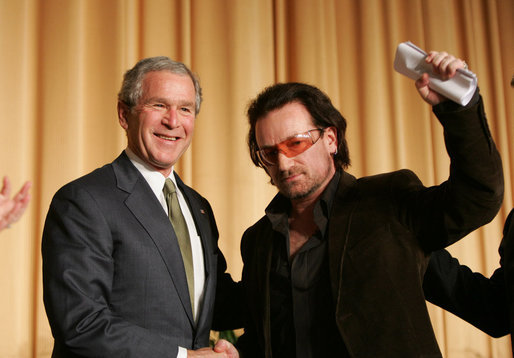 President George W. Bush shakes hands with Bono after the musician spoke Thursday morning, Feb. 2, 2006, during the National Prayer Breakfast. President Bush called the rock star a "doer" and a "good citizen of the world." White House photo by Paul Morse
Bono Receives 2007 Liberty Medal