The First Dog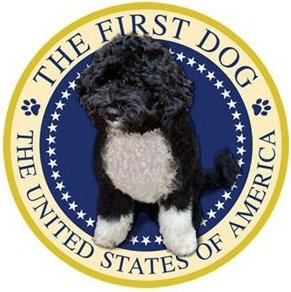 BO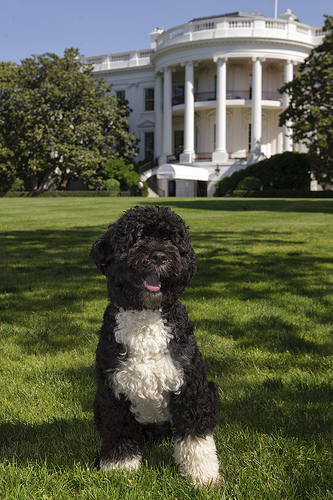 President Barack Obama and his family welcomed their new dog Bo to the White House and showed him off around the grounds.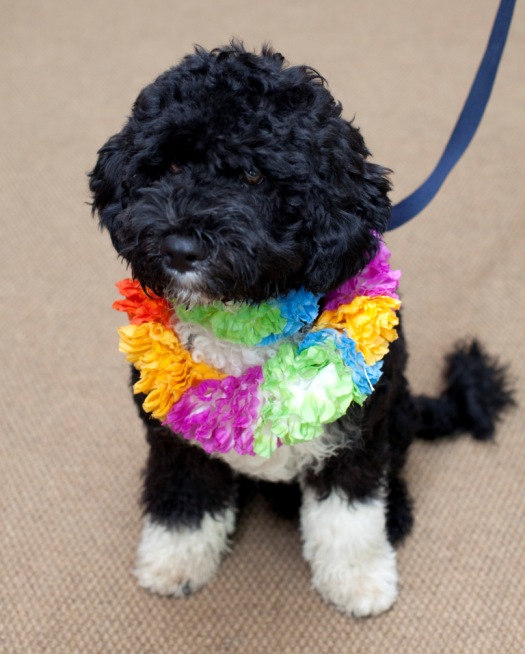 The 6-month-old Portuguese water dog made his debut in front of reporters and photographers. And the Obamas even walked him over near the fence on the White House South Lawn.
Said the president: "He's got star quality."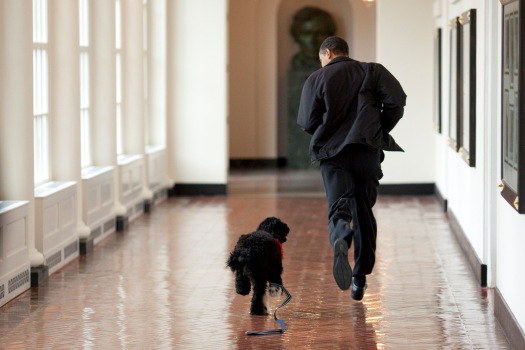 Although Bo will be granted entry into the Oval Office, the president said the pooch won't be sharing his bed, adding that he and the family want to be "responsible dog owners." "The only concern we have is apparently Portuguese water dogs like tomatoes — Michelle's garden is in danger," President Obama joked. A few minutes later, seven-year-old Sasha piped up, telling the assembled reporters "He doesn't know how to swim."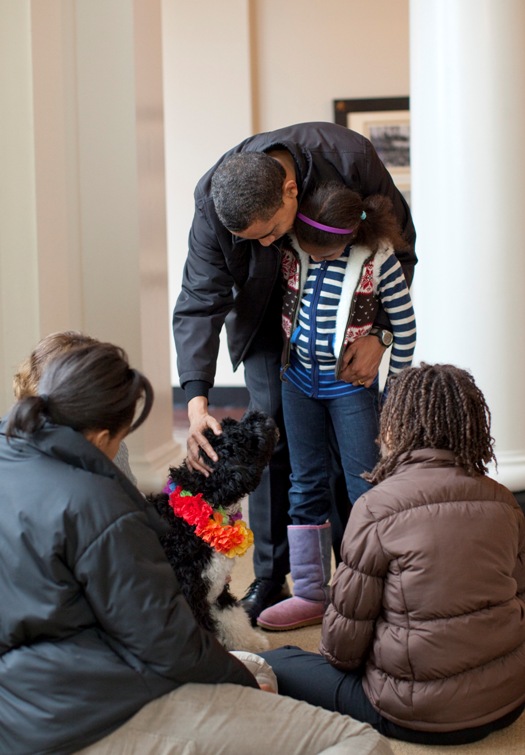 The president explained that the breed apparently had to be taught to swim. The arrival of the pup fulfills Obama's promise during the presidential campaign to get his two daughters a puppy. "We're very pleased with Bo," he said. A dog's life The White House will be the puppy's fourth home in his six months of life. He was born in Texas, then moved to his first owner's home in Washington, D.C., then spent nearly a month with Sen. Edward Kennedy's dog trainer in Virginia, and now is moving to 1600 Pennsylvania Avenue.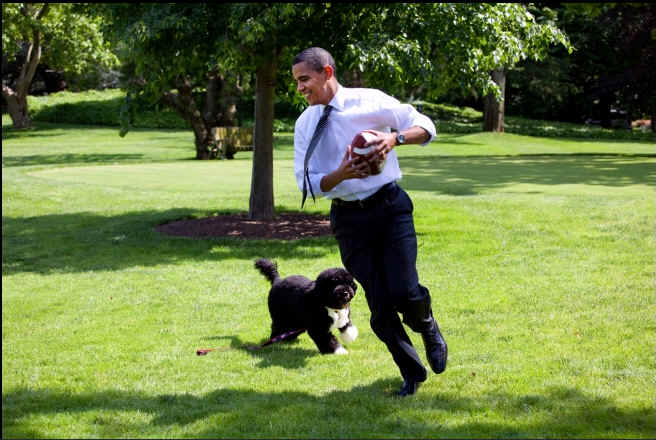 Bo chases President Barack Obama on the South Lawn of the White House, May 12, 2009. (Official White House Photo by Pete Souza)

The Portuguese Water Dog

Known for centuries along Portugal's coast and prized for its strength, spirit and soundness, the Portuguese Water Dog is a loyal worker and companion. Medium-sized and robust, the breed possesses a waterproof coat and the ability to swim all day. Its coat can be curly or wavy and is black, white, or brown, or combinations of black or brown with white.

General Appearance
Known for centuries along Portugal's coast, this seafaring breed was prized by fishermen for a spirited, yet obedient nature, and a robust, medium build that allowed for a full day's work in and out of the water. The Portuguese Water Dog is a swimmer and diver of exceptional ability and stamina, who aided his master at sea by retrieving broken nets, herding schools of fish, and carrying messages between boats and to shore. He is a loyal companion and alert guard. This highly intelligent utilitarian breed is distinguished by two coat types, either curly or wavy; an impressive head of considerable breadth and well proportioned mass; a ruggedly built, well-knit body; and a powerful, thickly based tail, carried gallantly or used purposefully as a rudder. The Portuguese Water Dog provides an indelible impression of strength, spirit, and soundness.

Size, Proportion, Substance
Size--Height at the withers--Males, 20 to 23 inches. The ideal is 22 inches. Females, 17 to 21 inches. The ideal is 19 inches. Weight--For males, 42 to 60 pounds; for females, 35 to 50 pounds. Proportion--Off square; slightly longer than tall when measured from prosternum to rearmost point of the buttocks, and from withers to ground. Substance--Strong, substantial bone; well developed, neither refined nor coarse, and a solidly built, muscular body.

Credit: The Whitehouse, CSPAN, American Kennel Club