Muhammad Ali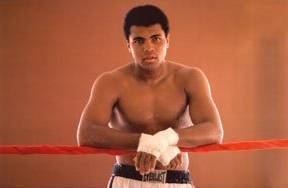 Also known as: "The Greatest"
Cassius Marcellus Clay, Cassius Marcellus Clay, Jr., Cassius Clay
"I ain't got no quarrel with them Viet Cong-No, I am not going 10,000 miles to help murder kill and burn other people to simply help continue the domination of white slavemasters over dark people the world over. This is the day and age when such evil injustice must come to an end." —Muhammad Ali
Muhammad Ali: The Greatest of all Time
Muhammad Ali (born Cassius Marcellus Clay, Jr. on January 17, 1942) AKA "The Greatest".
In 1999, Ali was crowned "Sportsman of the Century" by Sports Illustrated. He won the World Heavyweight Boxing championship three times, and won the North American Boxing Federation championship as well as an Olympic gold medal.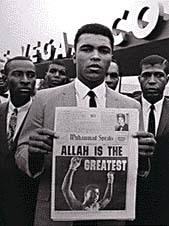 On August 23, 1966, Muhammad applied with the Selective Service for conscientious objector status on religious grounds (as a minister with the Nation of Islam). In what became an extensive legal, political, professional, and personal battle, Ali was convicted of draft evasion, stripped of his boxing title, and became a lightning rod — and a voice — for opinions on the Vietnam War. Muhammad Ali's willingness to speak out against racism in the United States, and the affect it had on domestic and foreign policy, earned him many supporters and detractors.
During the time Muhammad Ali was unable to box he gave speeches on college campuses against the Vietnam War and racism .
In 1971, nearly five years after it began, Ali's legal battle finally culminated with a unanimous decision (8-0 with Thurgood Marshall abstaining) by the United States Supreme Court overturning his draft conviction.
Muhammad Ali transcended the sports world and became a man known globally as an activist and a positive citizen of the world. He did not care about money he cared about his beliefs and values.
"Float like a butterfly, sting like a bee, there will be no other like Ali."
Personal Information
Born Cassius Marcellus Clay, Jr.; name changed to Muhammad Ali, 1963; born January, 17, 1942, in Louisville, KY; son of Cassius (a piano player) and Odessa Clay (both deceased); first wife, Belinda; second wife, Aaisha; third wife, Veronica Porche; fourth (and current) wife, Yolanda Williams, married in 1986; children: nine (one with Yolanda). Religion: Muslim. Addresses: Home--P.O. Box 187, Berrien Springs, MI 59103.
Career
Former world heavyweight boxing champion. Began professional career, 1960; initially became heavyweight champ, 1964; stripped of title and boxing license over refusal to participate in the Vietnam War, 1966; retired from boxing, 1981. Appeared in film The Greatest, 1976, and television film Freedom Road.
Awards
Olympic Gold Medal in boxing, 1960; six Kentucky Golden Gloves titles; National Golden Gloves titles, 1959-60; World Heavyweight Championship, 1964-67, 1974-78, 1978-79; U.S. Olympic Hall of Fame, inductee, 1983; named the greatest heavyweight champion of all time, Ring Magazine, 1987; International Boxing Hall of Fame, inductee, 1990; Jim Thorpe Pro Sports Award, Lifetime Achievement, 1992; Muhammad Ali Museum, Louisville Galleria, opened 1995; Essence Award, 1997.
Writings
(With Richard Durham) The Greatest: My Own Story, Random House, 1975.
Biographical Information
Three-time world heavyweight boxing champion Muhammad Ali, known for his lyrical charm and boasts as much as for his powerful fists, has moved far beyond the boxing ring in both influence and purpose. Ali won an Olympic gold medal and later tossed it into a river because he was disgusted by racism in America. As a young man he was recruited by Malcolm X to join the Nation of Islam. He refused to serve in Vietnam--a professional fighter willing to serve time in jail for his pacifist ideals. He has contributed to countless, diverse charities and causes. And his later years have found him interested in world politics as he has battled to keep Parkinson's disease at bay.
Ali: The Man
He's still the most recognizable man on earth. And over forty years after he burst onto the scene as a gold-medal winner at the 1960 Rome Olympics, Muhammad Ali remains a magical figure, known and loved throughout the world.
Dubbed "Athlete of the Century" by GQ magazine, Muhammad continues to receive accolades for his contribution to sports. He has been named Sports Illustrated's "Sportsman of the Century," the BBC's "Sports Personality of the Century," the World Sports Award's "World Sportsman of the Century," and the State of Kentucky's "Kentuckian of the Century." In 2005, he received the United States of America's highest civil award, the Presidential Medal of Freedom.
As a boxer, Muhammad brought unprecedented speed and grace to his sport, while his charm and wit changed forever what the public expected a champion to be. His accomplishments in the ring are the stuff of legend – two fights with Sonny Liston, where he proclaimed himself "The Greatest" and proved he was; three epic wars with Joe Frazier; the stunning victory over George Foreman in the Rumble in the Jungle; and dethroning Leon Spinks to become heavyweight champion for an unprecedented third time. But there was always far more to Muhammad than what took place in a boxing ring.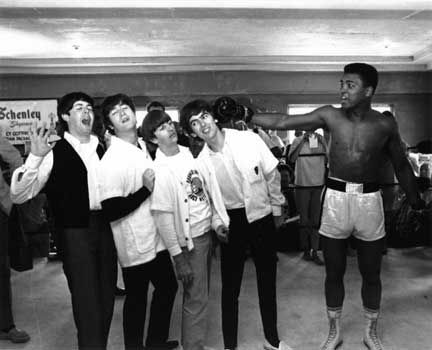 The Beatles and The Greatest
Muhammad's life and career have been played out as much on the front pages of newspapers as on the inside sports pages. His early embrace of the Nation of Islam and his insistence on being called Muhammad Ali instead of his "slave name," Cassius Clay, heralded a new era in black pride. His refusal to be inducted into the United States Army anticipated the growing antiwar movement of the 1960's. His willingness to stage his much-promoted and publicized fights in such far-flung locales as Kinshasa, Manila, and Kuala Lumpur signaled a shift from superpower dominance toward a growing awareness of the developing world.
Daring to go against political policy to help people in need, Muhammad has made goodwill missions to Afghanistan and North Korea; delivered sorely-needed medical supplies to an embargoed Cuba; traveled to Iraq and secured the release of 15 United States hostages during the first Gulf War; and journeyed to South Africa to meet Nelson Mandela upon his release from prison.
Today, championing the causes of the developing world has become a major focus of Muhammad's life. He has been instrumental in providing over 232 million meals to the world's hungry. Traveling across continents, he has hand-delivered food and medical supplies to children in Cote D'Ivoire, Indonesia, Mexico, and Morocco among other countries.
In addition to his international efforts, Muhammad is equally devoted to helping charities at home. He has visited countless numbers of soup kitchens and hospitals, and helped such organizations as the Make-A-Wish-Foundation and the Special Olympics. He annually participates in "Fight Night," which generates funds for the Muhammad Ali Parkinson Research Center at Barrow Neurological Institute, in Phoenix, Arizona. At the State Capitol in Michigan, he advocated new laws for protecting children. He is also the namesake of the Muhammad Ali Boxing Reform Act (sponsored by Senator John McCain), a law that regulates professional boxing to protect boxers from unscrupulous promoters and poor health and bout conditions. In recent year, Muhammad has testified before the United States Senate several times regarding boxing reform.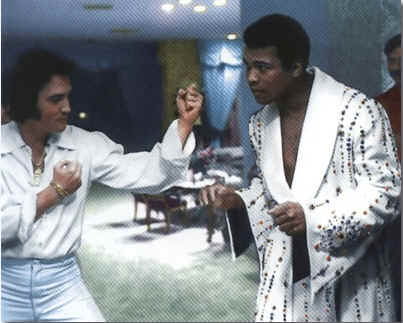 Elvis And Muhammad Ali
For his humanitarian efforts, Muhammad has been the recipient of countless awards. In addition to being honored by Amnesty International with their Lifetime Achievement Award, the Secretary-General of the United Nations bestowed upon him the citation of United Nations Messenger of Peace. In Germany, he was honored with the 2005 Otto Hahn Peace Medal for his involvement in the U.S. civil rights movement and the United Nations. He was also named the International Ambassador of Jubilee 2000, a global organization dedicated to relieving debt in developing nations. Other honors include an Essence Award, an XNBA Human Spirit Award and recognition from the National Urban League; 100 Black Men; Givat Haviva; the Oleander Foundation; The National Conference of Christians and Jews; Time magazine; and former President Jimmy Carter, who cited Muhammad as "Mr. International Friendship."
Ever the entertainer, Muhammad has appeared in several motion pictures, including the big-screen adaptation of his first autobiography, The Greatest, playing himself. His life has been the subject of numerous films, including the Academy Award-winning documentary When We Were Kings and the Michael Mann's biopic, ALI, starring Will Smith. Muhammad also starred in Freedom Road, and made guest appearances on numerous popular television series ranging from Diff'rent Strokes to Touched by an Angel. He also starred on Broadway in the musical, Big Time Buck White, and recorded a popular album, I Am The Greatest!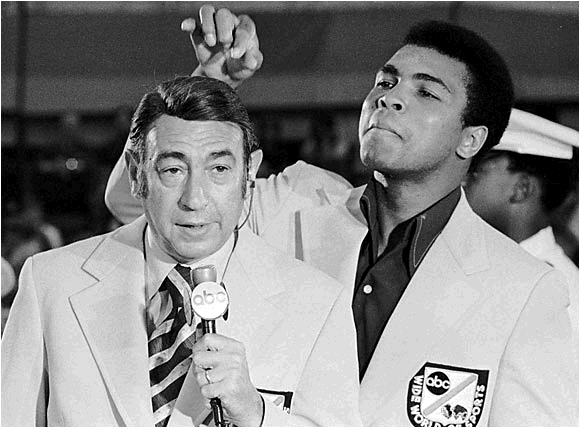 Howard Cosell and Muhammad Ali
Muhammad recently published a memoir entitled, The Soul of a Butterfly: Reflections on Life's Journey, in which he discusses the meaning of religion, forgiveness, and some of the defining moments in his life and career. He is also the co-author of Healing: A Journal of Tolerance and Understanding and The Greatest: My Own Story.
In 2005, Muhammad opened the Muhammad Ali Center in his hometown of Louisville, Kentucky. In addition to displaying a selection of his memorabilia, the Center's exhibits focus on themes of peace, social responsibility, respect and personal growth. In 2006, he partnered with CKX, Inc. to form Muhammad Ali Enterprises, for the licensing of his name, image and likeness and to continue promoting his cultural and philosophical legacy throughout the world.
Muhammad has nine children: Maryum, Rasheeda, Jamillah, Hana, Laila, Khaliah, Miya, Muhammad Junior, and Asaad. He is married to the former Lonnie Williams of Louisville, whom he has known since her family moved across the street from the Clay family when she was 6 years old.
Whether promoting tolerance and understanding, feeding the hungry, studying his religion, or reaching out to children in need, Muhammad Ali is devoted to making the world a better place for all people. No athlete has ever contributed more to the life of his country, or the world, than Muhammad Ali.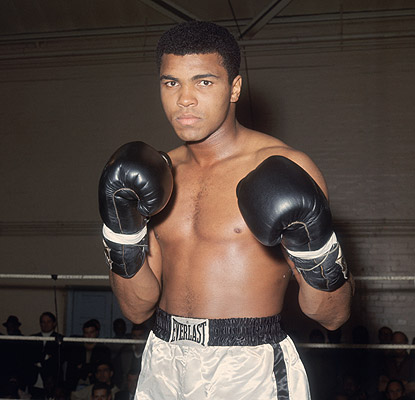 Ali: The Boxer
Who would've thought that a stolen bike was the key to the beginning of the Muhammad Ali story? But it was. In 1954 in Louisville, Kentucky, 12-year-old Cassius Marcellus Clay's bike was stolen while he and a friend were at the Columbia Auditorium. Young Cassius found a cop in a gym, Joe Martin, and boiling with youthful rage, told Martin he was going to "whup" whoever stole his bike. Martin admonished, "You better learn to box first." Within weeks, 89-pound Cassius had his first bout—his first win. For the next 27 years, Cassius would be in that ring. Even in his youth, he had dreams of being heavyweight champion of the world. But his life would take turns that no seer could've predicted.
Young Cassius dedicated himself to boxing with fervor unmatched by other young boxers. Indeed, it was his only activity. As a teenager, he never worked. He boxed and trained. He had 108 amateur bouts. According to Joe Martin, Clay set himself apart from the other boys by two things: He was "sassy," and he outworked all the other boys. The work paid off: 6 Kentucky Golden Gloves championships; two National Golden Gloves championships; two National AAU titles before he was 18 years old. And the son of Odessa, whom he lovingly referred to as "Bird," and Cassius senior, "Cash," to everyone, won the Olympic Gold Medal in 1960 in Rome months after his 18th birthday.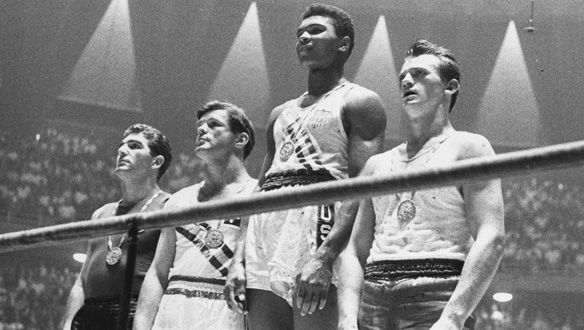 When he returned from Italy, having just won an Olympic gold medal, he was so proud of his trophy that he wore it day and night and showed it to everyone, whether they wanted to see it or not. In the Philadelphia Inquirer Ali's first wife remembered him saying "I was young, black Cassius Marcellus Clay, who had won a gold medal for his country. I went to downtown Louisville to a five-and-dime store that had a soda fountain. I sat down at the counter to order a burger and soda pop. The waitress looked at me.... 'Sorry, we don't serve coloreds,' she said. I was furious. I went all the way to Italy to represent my country, won a gold medal, and now I come back to America and can't even get served at a five-and-dime store. I went to a bridge, tore the medal off my neck and threw it into the river. That gold medal didn't mean a thing to me if my black brothers and sisters were treated wrong in a country I was supposed to represent."
At the time, Cassius was managed by the Louisville Sponsoring Group, a consortium of wealthy local white businessmen. The LSG, as it became known, put young Cassius with veteran trainer, Angelo Dundee, after failed attempts with the Mongoose, Archie Moore, and a turn down by Ali's boxing idol, Sugar Ray Robinson.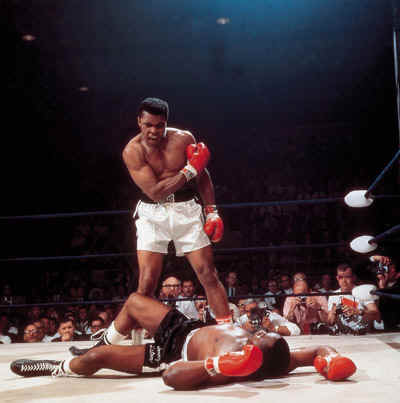 With Dundee in his corner, from his Miami base, Cassius blazed a trail through the heavyweight division with his unorthodox style that defied boxing logic. He was a "headhunter." He never threw body shots (he adopted this style in his youth because he had reach and because he didn't want to get close enough to get hit). And he "danced." Because of Clay's powerful legs—maybe the strongest in the history of boxing—he literally floated in the ring. He invented the "Ali Shuffle;" a foot maneuver where he would elevate himself, shuffle his feet in a dazzling blur, and sometimes deliver a blow while dancing.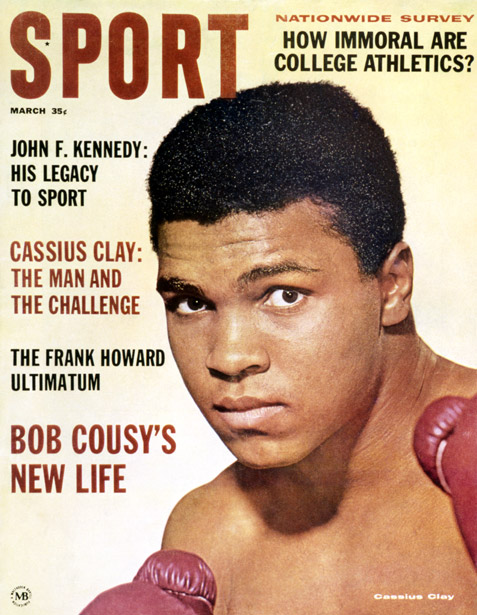 The third element that Clay brought to boxing was his mouth. He never shut up. He became known as, "The Louisville Lip." It was more than banter; it was a constant harangue. In a time when boxers never talked to the media—their managers always spoke for them—Clay did all his own talking. He even went so far as to predict the round. "To prove I'm great he will fall in eight!"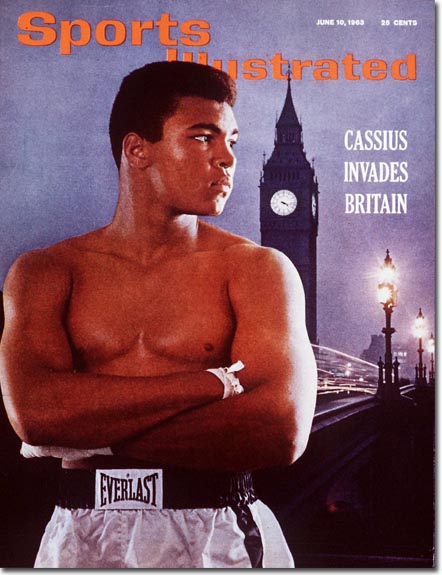 While training for his title bout against the fearsome heavyweight champion, Sonny Liston, Clay met Cap'n Sam, a Nation of Islam minister of the local Miami mosque. Cap'n Sam introduced Cassius to NOI spokesman, Malcolm X. Malcolm and young Cassius bonded on a deep level. Malcolm brought Cassius into the Nation of Islam.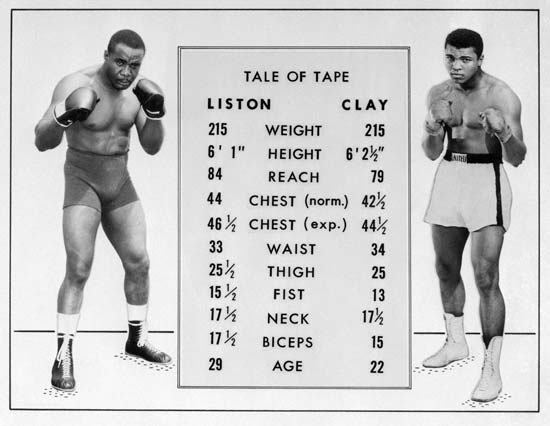 Despite the 7-1 odds, Clay upset Sonny Liston in Miami and became heavyweight champion of the world in 1964. The next day, Clay announced to the world that he was a member of the Nation of Islam and that his name was Cassius X. The X reflecting the unknown name that was taken from him by the slave owners centuries before.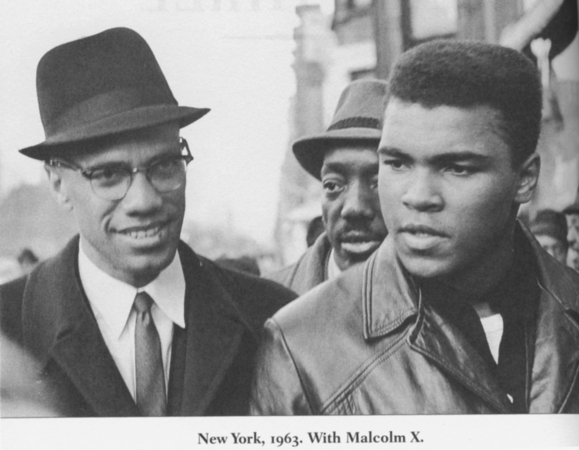 The national response was immediate, negative and intense. Cassius X, soon to be given the name Muhammad Ali, by NOI founder, "The Messenger," the Honorable Elijah Muhammad, chose to disassociate himself from his friend and mentor Malcolm X after the Messenger suspended Malcolm. Herbert Muhammad, eldest son of Elijah, was installed as Ali's new manager as Ali continued to defend his crown against all comers. In 1967, as the Vietnam War was escalating, Ali was called up for induction into the Armed Services. Ali refused induction on the grounds of religious beliefs. He was, in fact, a practicing Muslim minister. This refusal led to the now-famous Ali quote, "I ain't got no quarrel with them Vietcong..."
The national furor over that comment combined with Ali's refusal to be inducted into the Armed Services, caused virtually every state and local entity in America to cancel Ali's boxing licenses. Ali's final fight of 1967 was against Ernie Terrell, who incensed Ali at the weigh-in by calling him "Clay." Ali pounded him in the ring with taunts of, "What's my name?!!"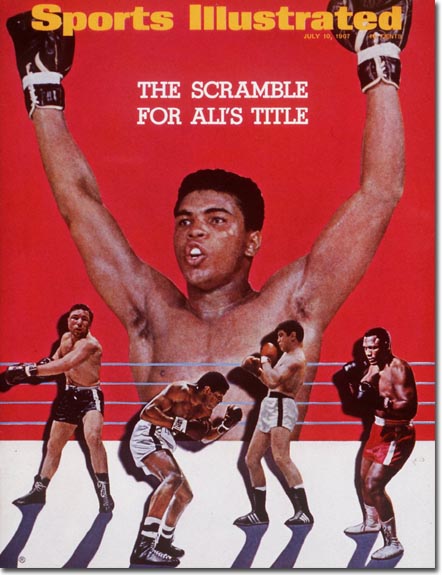 Ali did not fight again for 2 ½ years. He was stripped of his championship title, his passport taken; all his boxing licenses were cancelled. He lost an initial court battle and was facing a 5-year prison term. Ali made money during his exile by speaking at colleges. He was the first national figure to speak out against the war in Vietnam. In 1970, after a 2 ½ year layoff, and with the mood of the country changing, Ali staged his comeback, first against Jerry Quarry in Atlanta then for what was billed as, "The Fight of the Century," his first match against undefeated champ, Joe Frazier at Madison Square Garden on March 8, 1971.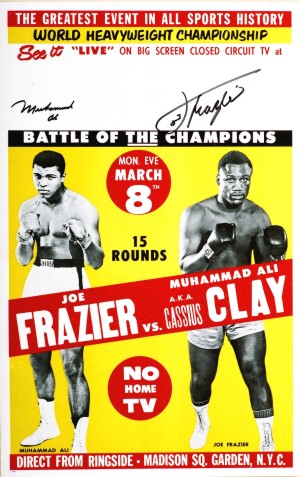 Ali fought valiantly, but lost. The 2 ½ year exile had cost Ali his legs. He could no longer dance. He lost that night in the Garden, but months later he won his biggest fight, the Supreme Court reversed his conviction and upheld his conscientious objector claim. Ali was free of the specter of jail, and free to travel to box anywhere in the world.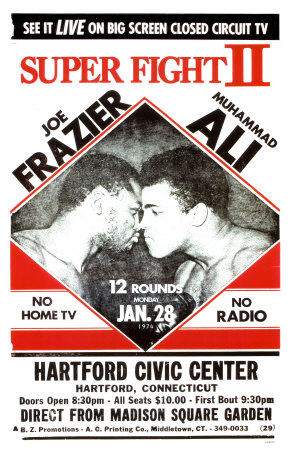 Several matches followed, including an unexpected loss to ex-Marine, Ken Norton; a win in their next bout; an uninspired win against Joe Frazier.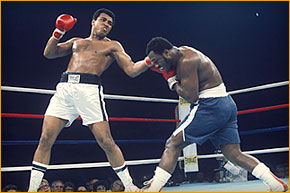 But these matches were but window dressing for the biggest match of Ali's career: The Rumble In the Jungle. George Foreman was a fearsome champ. He had thunder and destruction in both hands. He had easily knocked out Ken Norton and had lifted Frazier off the mat with one blow.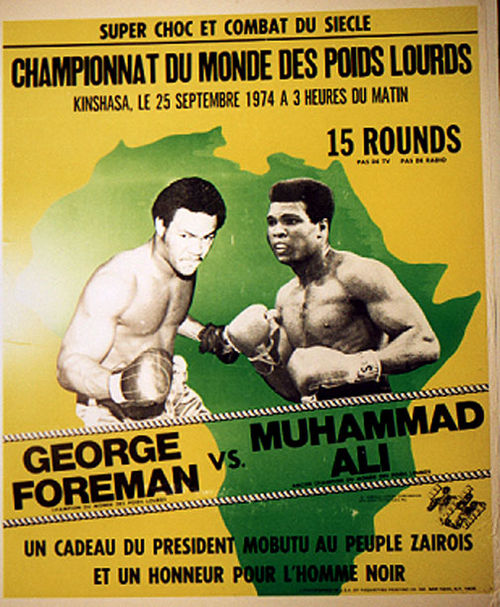 Promoter Don King got the government of the African nation of Zaire to guarantee the unheard of sum of 10 million dollars for the fighters. In Kinshasa, Ali derived strength from the African people. They adored him. They yelled, Ali Bomaye! (Ali kill him). Going into the fight, Ali was 3-1 underdog. His fight doctor, Ferdie Pacheco, had a jet ready to spirit Ali away to a neurological hospital in Spain after the fight. But Ali had other ideas.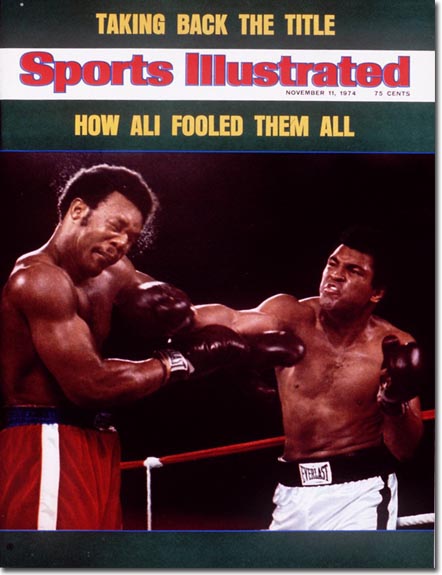 Because of the heat, Ali realized he couldn't dance from Foreman for the whole fight. He invented "The Rope-A-Dope," a strategy that allowed Foreman to pound on him until Foreman tired. His corner men yelled at him to get off the ropes, but Ali persisted with his strategy for seven rounds and then in the eighth round, when Foreman was spent, Ali came off the ropes and scored a shocking knockout! Ali was the king again.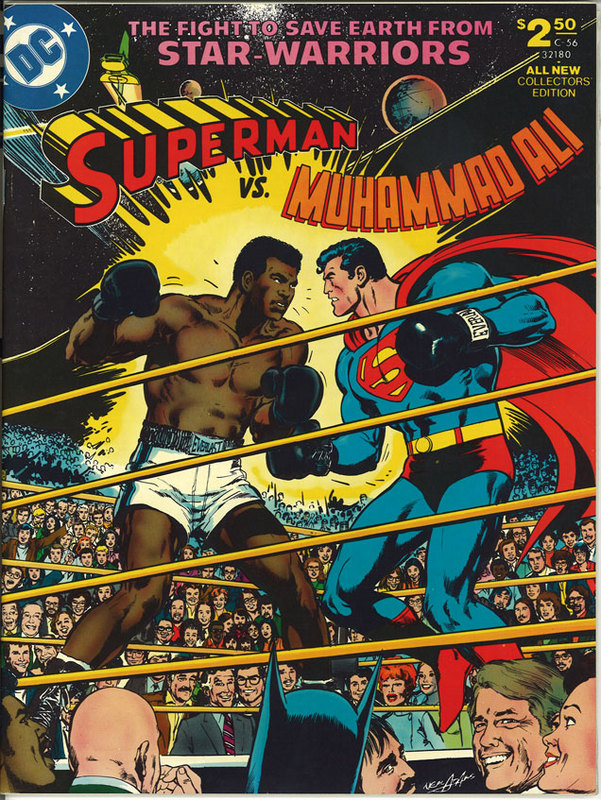 After the legendary "Thrilla In Manila," the rubber match against Frazier, who some have deemed, the greatest boxing match ever, Ali fought and lost to young Olympic Champion Leon Spinks.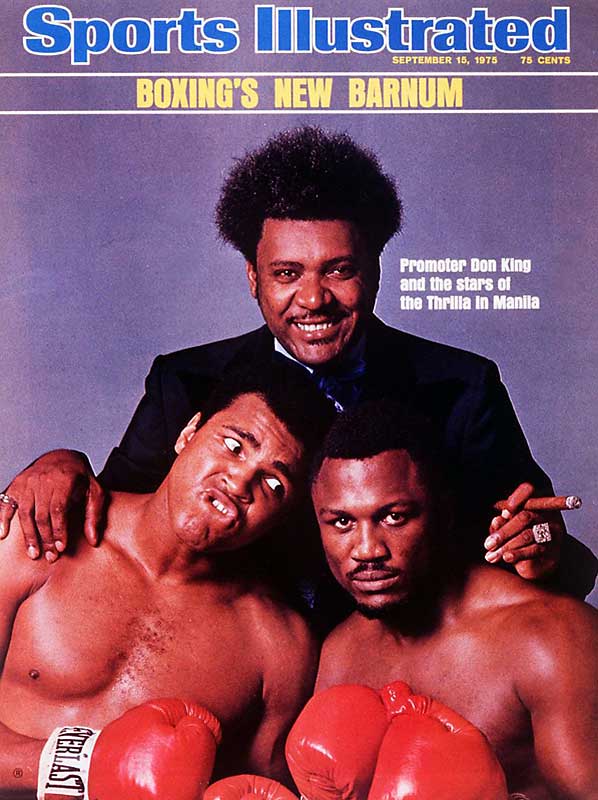 A rematch followed shortly thereafter in New Orleans, which broke attendance records. Ali won by unanimous decision making him the first heavyweight champion to win the belt three times.
Amateur Boxing Record
1956
Novice Title, Louisville, Kentucky
1957
26 Feb Kent Green Chicago LK2
(Chicago Golden Glove Quarterfinals)
1958
Mar 5 Chicago Golden Gloves Finals
1959
Mar 11 Chicago Golden Gloves Finals
Mar 25 Tony Madigan Chicago w3
(Wins Inter-City Golden Gloves)
Apr National AAU Light Heavyweight champion

Sep Amos Johnson Chicago L3
(Pan Am Games Quarterfinals)
1960
Feb 29 Wins Chigago Golden Gloves
Mar 21 Gary Jawish New York KO 3 (1:46)
(Wins Inter-City Golden Gloves, Heavyweight)
8 Apr Cassius Marcellus Clay, Jr. registers for military draft
9 Apr Jeff Davis Toledo, OH KO 2
(wins National AAU Light-heavyweight Championship)
May 20 Alan Hudson San Francisco KO
Ali has inspired millions worldwide. He gave people hope and proved that anyone could overcome insurmountable odds. He gave people courage. He made fighters of us all. This is Ali and never comes another.
Professional Boxing Record
56-5
37 Knockouts
| | | | | |
| --- | --- | --- | --- | --- |
| Date | Opponent | Title Fight | Venue | Result |
| 29 Oct 1960 | Tunney Hunsaker | No Title | Louisville Kentucky | Won in 6 rounds |
| 27 Dec 1960 | Herb Siler | No Title | Miami Beach Florida | Won Knock Out in 4 rounds |
| 17 Jan 1961 | Tony Esperti | No Title | Miami Beach Florida | Won TKO in 3 rounds |
| 7 Feb 1961 | Jim Robinson | No Title | Miami Beach Florida | Won Knock Out 1 |
| 21 Feb 1961 | Donnie Fleeman | No Title | Miami Beach Florida | Won TKO 7 |
| 19 Apr 1961 | Lamar Clark | No Title | Louisville Kentucky | Won Knock Out 2 |
| 26 Jun 1961 | Duke Sabedong | No Title | Las Vegas Nevada | Won Unanimous Decision 10 |
| 22 Jul 1961 | Alonzo Johnson | No Title | Louisville Kentucky | Won Unanimous Decision 10 |
| 7 Oct 1961 | Alex Miteff | No Title | Louisville Kentucky | Won TKO 6 |
| 29 Nov 1961 | Willi Besmanoff | No Title | Louisville Kentucky | Won TKO 7 |
| 10 Feb 1962 | Sonny Banks | No Title | New York NY | Won TKO 4 |
| 28 Mar 1962 | Don Warner | No Title | Miami Beach Florida | Won TKO 4 |
| 23 Apr 1962 | George Logan | No Title | Los Angeles California | Won TKO 4 |
| 19 May 1962 | Billy Daniels | No Title | New York NY | Won TKO 7 |
| 20 Jul 1962 | Alejandro Lavorante | No Title | Los Angeles California | Won Knock Out 5 |
| 15 Nov 1962 | Archie Moore | No Title | Los Angeles California | Won TKO 4 |
| 24 Jan 1963 | Charlie Powell | No Title | Pittsburgh Pennsylvania | Won Knock Out 3 |
| 13 Mar 1963 | Doug Jones | No Title | New York NY | Won Unanimous Decision 10 |
| 18 Jun 1963 | Henry Cooper | No Title | London England | Won TKO 5 |
| 25 Feb 1964 | Sonny Liston | Won World Heavyweight Championship | Miami Beach Florida | Won Liston Retired |
| 25 May 1965 | Sonny Liston | Retained World Heavyweight Championship | Lewiston Maine | Won Knock Out 1 |
| 22 Nov 1965 | Floyd Patterson | Retained World Heavyweight Championship | Las Vegas Nevada | Won TKO 12 |
| 29 Mar 1966 | George Chuvalo | Retained World Heavyweight Championship | Toronto Canada | Won Unanimous Decision 15 |
| 21 May 1966 | Henry Cooper | Retained World Heavyweight Championship | London England | Won TKO 6 |
| 6 Aug 1966 | Brian London | Retained World Heavyweight Championship | London England | Won Knock Out 3 |
| 10 Sep 1966 | Karl Mildenberger | Retained World Heavyweight Championship | Frankfurt Germany | Won TKO 12 |
| 14 Nov 1966 | Cleveland Williams | Retained World Heavyweight Championship | Houston Texas | Won TKO 3 |
| 6 Feb 1967 | Ernie Terrell | Retained World Heavyweight Championship | Houston Texas | Won Unanimous Decision 15 |
| 22 Mar 1967 | Zora Folley | Retained World Heavyweight Championship | New York NY | Won Knock Out 7 |
| 26 Oct 1970 | Jerry Quarry | No Title | Atlanta Georgia | Won TKO 3 |
| 7 Dec 1970 | Oscar Bonavena | NABF Heavyweight Title | New York NY | Won TKO 15 |
| 8 Mar 1971 | Joe Frazier | WBC and WBA Heavyweight Titles | New York NY | Lost Unanimous Decision 15 |
| 26 Jul 1971 | Jimmy Ellis | Won Vacant NABF Heavyweight Championship | Houston Texas | Won TKO 12 |
| 17 Nov 1971 | Buster Mathis | NABF Heavyweight Title | Houston Texas | Won Unanimous Decision 12 |
| 26 Dec 1971 | Jurgen Blin | No Title | Zurich Switzerland | Won KO 7 |
| 1 Apr 1972 | Mac Foster | No Title | Tokyo Japan | Won Unanimous Decision 15 |
| 1 May 1972 | George Chuvalo | Retained NABF Heavyweight Championship | Vancouver Canada | Won Unanimous Decision 12 |
| 27 Jun 1972 | Jerry Quarry | Retained NABF Heavyweight Championship | Las Vegas Nevada | Won TKO 7 |
| 19 Jul 1972 | Al Lewis | No Title | Dublin Ireland | Won TKO 11 |
| 20 Sep 1972 | Floyd Patterson | Retained NABF Heavyweight Championship | New York NY | Won TKO 7 |
| 21 Nov 1972 | Bob Foster | Retained NABF Heavyweight Championship | Stateline Nevada | Won Knock Out 8 |
| 14 Feb 1973 | Joe Bugner | No Title | Las Vegas Nevada | Won Unanimous Decision 12 |
| 31 Mar 1973 | Ken Norton | Lost NABF Heavyweight Championship | San Diego California | Lost Split Decision 12 |
| 10 Sep 1973 | Ken Norton | Regained NABF Heavyweight Championship | Los Angeles California | Won Split Decision 12 |
| 20 Oct 1973 | Rudi Lubbers | No Title | Jakarta Indonesia | Won Unanimous Decision 12 |
| 28 Jan 1974 | Joe Frazier | Retained NABF Heavyweight Championship | New York NY | Won Unanimous Decision 12 |
| 30 Oct 1974 | George Foreman | WBC and WBA Heavyweight Titles | Kinshasa Zaire | Won Knock Out 8 |
| 24 Mar 1975 | Chuck Wepner | Retained World Heavyweight Championship | Cleveland Ohio | Won TKO 15 |
| 16 May 1975 | Ron Lyle | Retained World Heavyweight Championship | Las Vegas Nevada | Won TKO 11 |
| 30 Jun 1975 | Joe Bugner | Retained World Heavyweight Championship | Kuala Lumpur Malaysia | Won Unanimous Decision 15 |
| 1 Oct 1975 | Joe Frazier | Retained World Heavyweight Championship | Manila Philippines | Won TKO 14 |
| 20 Feb 1976 | Jean Pierre Coopman | Retained World Heavyweight Championship | San Juan Puerto Rico | Won Knock Out 5 |
| 30 Apr 1976 | Jimmy Young | Retained World Heavyweight Championship | Landover Maryland | Won Unanimous Decision 15 |
| 24 May 1976 | Richard Dunn | Retained World Heavyweight Championship | Munich Germany | Won TKO 5 |
| 25 Jun 1976 | Antonio Inoki | Boxer - Wrestler Exhibition Fight | Tokyo Japan | Exhibition |
| 28 Sep 1976 | Ken Norton | Retained World Heavyweight Championship | New York NY | Won Unanimous Decision 15 |
| 16 May 1977 | Alfredo Evangelista | Retained World Heavyweight Championship | Landover Maryland | Won Unanimous Decision 15 |
| 29 Sep 1977 | Earnie Shavers | Retained World Heavyweight Championship | New York NY | Won Unanimous Decision 15 |
| 15 Feb 1978 | Leon Spinks | Lost WBC and WBA Heavyweight Titles | Las Vegas Nevada | Lost Split Decision 15 |
| 15 Sep 1978 | Leon Spinks | Won WBA Heavyweight Title | New Orleans Louisiana | Won Unanimous Decision 15 |
| 2 Oct 1980 | Larry Holmes | For World Heavyweight Championship | Las Vegas Nevada | Lost TKO 10 |
| 11 Dec 1981 | Trevor Berbick | No Title | Nassau Bahamas | Lost Unanimous Decision 10 |
| | | | | |
For More Information about "The Greatest" visit his official website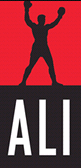 Credit: Sports Illustrated, DC Comics, Ali.com