Great players on the Field -Heroes Off The Field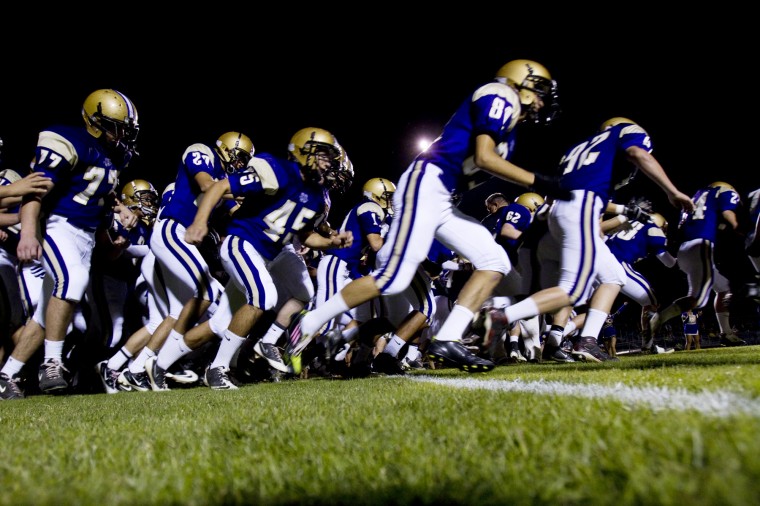 The Queen Creek High School Football Team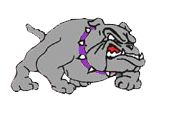 The Bull Dogs
Players including the star quarterback have rallied behind Chy Johnson, a 16-year-old special needs student who was tormented by kids at Queen Creek High School, reports 3TV News and azfamily.com.
The players now eat with her at lunch and watch her back. Johnson's daily life was far different before. She came home crying every day and the bullies "threw trash at me," she said in the interview.
Chy's mother, Elizabeth Johnson, contacted Carson Jones, the starting quarterback, for help. She reached out to the right guy. Jones is not only a leader of the Phoenix-area school's undefeated football team, but is a straight-A student who's active in his church and in charity work.
All Chy's mom wanted was a name or two of those responsible. Instead, Jones went the extra yard, joining Chy at lunch with other teammates. They keep an eye on her the rest of the school day, too. Varsity players Tucker Workman and Colton Moore also spearhead the effort. "They're not bullying her anymore because they've seen her with us or something," Jones said.
| Number | Name | Position | Year | Height | Weight |
| --- | --- | --- | --- | --- | --- |
| 1 | Miguel Ibarra | K | Sr | 5'11" | 155 |
| 2 | Colton Moore | WR/DB | Sr | 5'9" | 155 |
| 3 | Bryce Dobbs | QB | So | 6'4" | 175 |
| 4 | Layne Roshay | QB/DB | Jr | 5'9" | 155 |
| 5 | Gabe Vazquez | WR/DB | Sr | 5'11" | 185 |
| 7 | Nick Knight | WR/DB | Sr | 5'10" | 160 |
| 8 | Luis Moreno | DB/WR | Sr | 5'10" | 170 |
| 10 | Mike Graff | WR/DB | Sr | 5'11" | 185 |
| 11 | Carson Jones | QB | Sr | 6' | 175 |
| 12 | Tyler Johnson | WR/DB | Sr | 6' | 185 |
| 17 | Jacob Plunkett | WR/DB | Sr | 6' | 165 |
| 18 | Eric Wilcox | WR/DB | Sr | 6'4" | 195 |
| 19 | Mike Kemmerer | TE/DL | Jr | 6'2" | 170 |
| 20 | Dejon Thompson | DE | Jr | 5'11" | 180 |
| 21 | Eric Jones | RB/LB | Sr | 5'6" | 200 |
| 22 | Dean Wenger | WR / DB | Sr | 5'10" | 185 |
| 23 | Tyler Ozuna | WR/LB | Sr | 5'10" | 170 |
| 24 | Marcus Still | RB/DB | Jr | 5'8" | 160 |
| 25 | Derek Arrington | WR / DB | Sr | 5'11" | 175 |
| 30 | David Genantonio | RFB/DT | Sr | 5'11" | 205 |
| 31 | Bailey Rogers | RB/DB | Jr | 5'9" | 150 |
| 32 | Matt Guida | RB / DB | Jr | 5'11" | 190 |
| 34 | Tyler Blazon | DB/WR | Jr | 5'9" | 155 |
| 35 | Trey Lemley | FB/RB | Jr | 5'10" | 190 |
| 39 | Dillon Hefner | DB | Sr | 5'7" | 140 |
| 40 | Anhony Loftis | WR/DB | Jr | 5'10" | 155 |
| 42 | Tucker Workman | RB/DB | Sr | 5'10" | 160 |
| 44 | Garrett Laidley | TE/DE | Jr | 6'3" | 195 |
| 45 | Weston Barlow | RB | So | 5'8" | 165 |
| 46 | Cameron Jeffers | TE/DE | Jr | 6'1" | 185 |
| 47 | Cullen Costello | WR/DB | Jr | 5'9" | 135 |
| 48 | Drew Wetch | LB/RB | Jr | 5'9" | 185 |
| 50 | Cody McGhee | OL / DL | Sr | 6'4" | 230 |
| 51 | Seth Rome | OL/DL | Jr | 6'1" | 230 |
| 52 | Dawson Prickett | DL/OL | Sr | 6' | 175 |
| 54 | Shane Till | OL / LB | Sr | 6'2" | 215 |
| 55 | Brody Jack | OL/DL | Sr | 6' | 220 |
| 56 | Chris Ervin | OL / DL | Sr | 6'1" | 200 |
| 58 | Anthony Encinas | OL/DL | Jr | 6'1" | 225 |
| 60 | Russell Keeton | OL/DL | Sr | 6'1" | 190 |
| 64 | Ryley Thompson | WR/DB | Jr | 5'10" | 155 |
| 65 | Caleb Tate | OL/DL | Sr | 6' | 210 |
| 68 | Garrett Bray | LB/RB | Jr | 5'8" | 170 |
| 71 | Drake Danielson | OL / DL | Sr | 6' | 210 |
| 72 | Dalton Tebbs | OL / DL | Sr | 6'3" | 230 |
| 75 | Carson Sawyer | OL/DL | Jr | 6' | 190 |
| 76 | Bryce Oakes | OL/DL | Sr | 6' | 235 |
| 77 | Foster Laidley | OL/DL | Sr | 6' | 210 |
| 78 | Ismael Kazama | OL/DL | Sr | 5'9" | 260 |
| 80 | Kevin Parkinson | WR/DB | Sr | 5'10" | 160 |
| 81 | Jonathan Cammack | K | Sr | 5'9" | 150 |
| 82 | Travis Cavanaugh | TE/DE | Sr | 6' | 200 |
| 88 | Chase Beal | TE/DE | Jr | 6'4" | 210 |