Refugees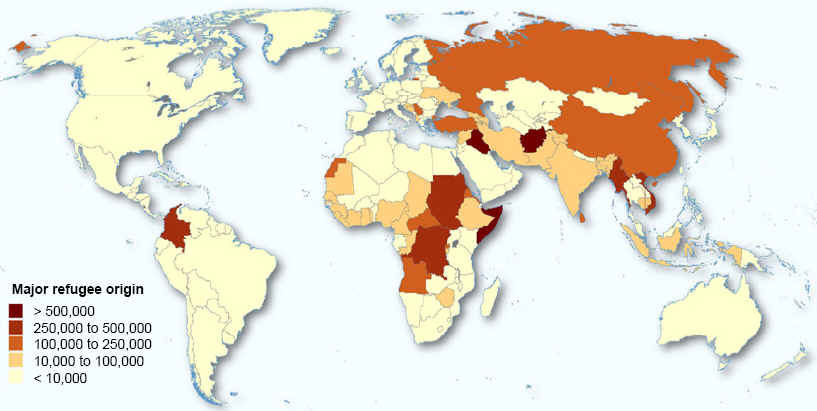 Main source countries of refugees | end-2009
Pronunciation: "re-fyu-'jE
Function: noun
Etymology: French réfugié, past participle of (se) réfugier to take refuge, from Middle French refugier, from Latin refugium: one that flees; especially : a person who flees to a foreign country or power to escape danger or persecution
Source:Merriam-Webster
The General Assembly established the Office of the United Nations High Commissioner for Refugees on 14 December 1950. The UNHCR mandate is to lead and coordinate international action for the world-wide protection of refugees and the resolution of refugee problems.
Refugee Statistics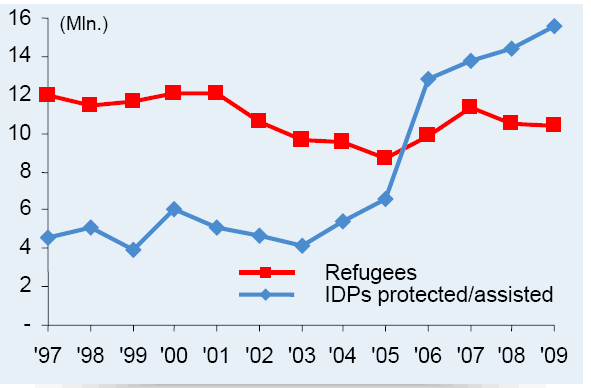 Refugees and IDPs protected / assisted by UNHCR 1997-2009 (end-year)
There were 43.3 million forcibly displaced people worldwide at the end of 2009, the highest number since the mid-1990s. Of these, 15.2 million were refugees; 10.4 million who fell under UNHCR's responsibility and 4.8 million Palestinian refugees under UNRWA's mandate. The figure also includes 983,000 asylumseekers and 27.1 million internally displaced persons (IDPs).
More than 26 million people – 10.4 million refugees and 15.6 million IDPs – were receiving protection or assistance from UNHCR at the end of 2009. This is 1 million more people than in 2008.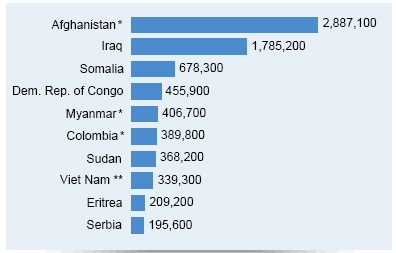 Major source countries of refugees End-2009
Afghan and Iraqi refugees accounted for almost half of all refugees under UNHCR's responsibility worldwide; one out of four refugees in the world was from Afghanistan (2.9 million). Afghans were located in 71 different asylum countries. Iraqis were the second largest refugee group, with 1.8 million having sought refuge primarily in neighboring countries.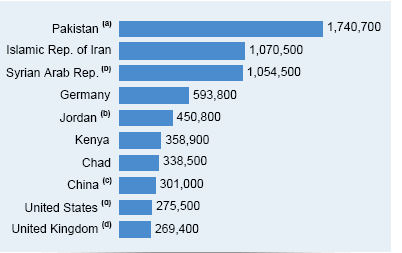 Major refugee hosting countries End-2009
Developing countries were host to four-fifths of the world's refugees.
Based on consolidated reports from countries of asylum (departure) and origin (return), it is estimated that 251,500 refugees repatriated voluntarily during 2009, less than half (-58%) than in 2008 (604,000). Repatriation figures have continuously decreased since 2004 with the 2009 figures being the lowest since 1990 (139,000 returns). This is an indication that the large-scale repatriation movements observed in the past continue are in decline. Globally, an estimated 24.7 million refugees have returned home over the past 20 years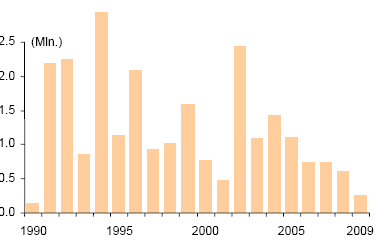 Refugee returns | 1990-2009

The Hazara ethnic group, inhabitants of Bamian, were targeted by the Taliban and forced into exile. Today, 60 percent of the half-million people forcibly exiled have returned. This family is part of that number. Feroz Bahar, Bamian.
© Zalmai/UNHCR/APERTURE


Credit: The United Nations, U.S. State Department, Refugees International