The Tuskegee Airmen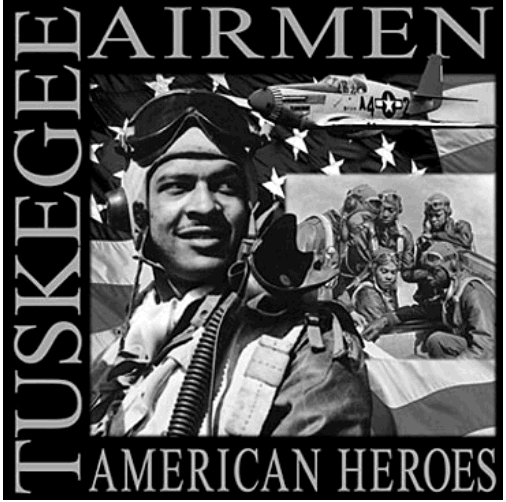 The only all-African-American fighter group in World War II, also known informally as "The Tuskegee Airmen" Trained for combat at Tuskegee, Alabama and bases in Michigan with P-39 and P-40 aircraft. Moved to Italy, January-early February 1944. Began combat with Twelfth Air Force on 5 February. Used P-39s to escort convoys, protect harbors, and fly armed reconnaissance missions. Converted to P-47s during April-May 1944 and to P-51s in June. Operated with Fifteenth Air Force from May 1944 to April 1945, being engaged primarily in protecting bombers that struck such objectives as oil refineries, factories, airfields, and marshalling yards in Italy, France, Germany, Poland, Czechoslovakia, Austria, Hungary, Yugoslavia, Rumania, Bulgaria, and Greece. Also made strafing attacks on airdromes, railroads, highways, bridges, river traffic, troop concentrations, radar facilities, power stations, and other targets. Received a DUC for a mission on 24 March 1945 when the group escorted B-17s during a raid on a tank factory at Berlin, fought the interceptors that attacked the formation, and strafed transportation facilities while flying back to the base in Italy. Returned to the U.S. in October and inactivated on 19 Oct 1945.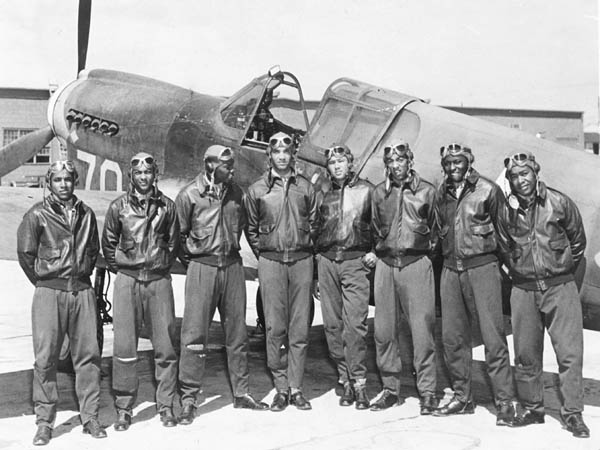 Tuskegee Airmen - Eight pilots pose in front of a P-40 fighter during WWII. (U.S. Air Force Photo)
COMBAT MISSIONS
Total Missions - 12th Air Force
1,267
Total Missions - 15th Air Force
311
Total Sorties - 12th Air Force
6,381
Total Sorties - 15th Air Force
9,152
Grand Total Missions
1,578
Grand Total Sorties
15,533
Total Number of Pilots Sent Overseas
450
Total Number of Pilots Graduating From Tuskegee
994
Total Pilots Killed In Action
66
Prisoners of War
32
COMBAT RECORD
Destroyed
Damaged
Total
Aircraft (aerial)
111
25
136
Aircraft (ground)
150
123
273
Barges and Boats
16
24
40
Boxcars, Other Rolling Stock
58
561
619
Buildings and Factories
0
23
23
Gun Emplacements
3
0
3
Destroyers
1
0
1
Horse Drawn Vehicles
15
100
115
Motor Transports
6
81
87
Power Transformers
3
2
5
Locomotives
57
69
126
Radar Installations
1
8
9
Tanks on Flat Cars
0
7
7
Oil and Ammunition Dumps
2
0
2
AWARDS
Legion of Merit
1
Silver Star
1
Soldier Medal
2
Purple Heart
8
Distinguished Flying Cross
95
Bronze Star
14
Air Medal and Clusters
744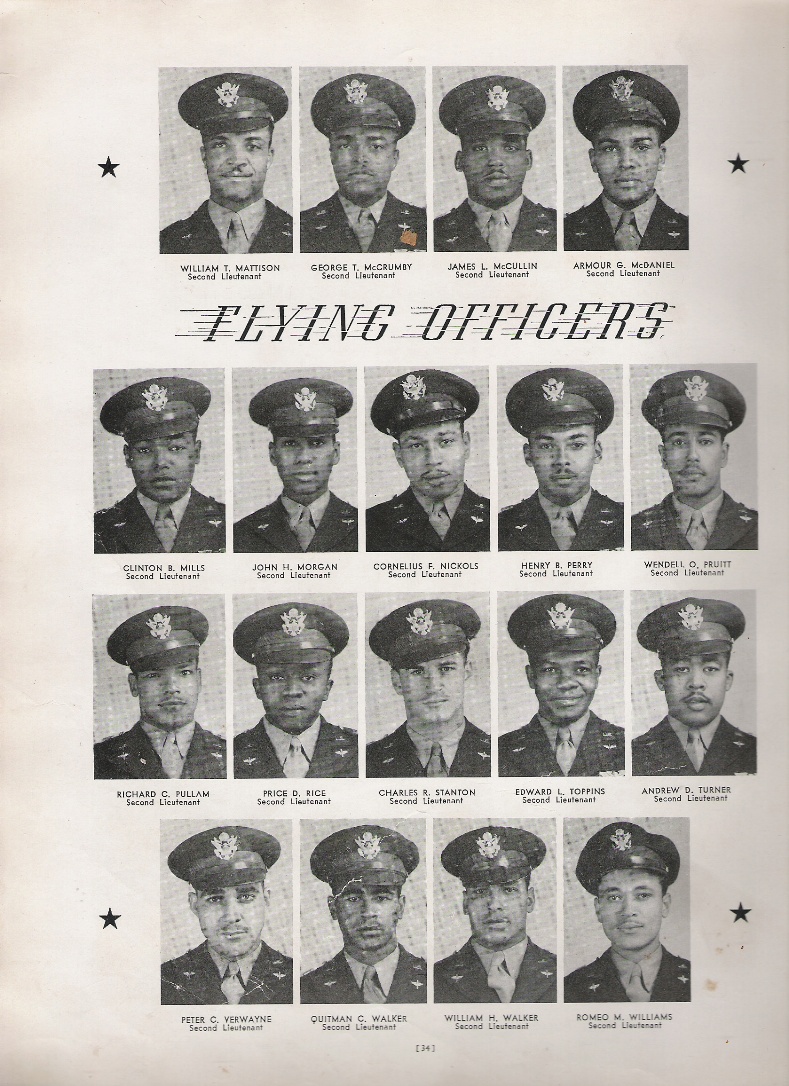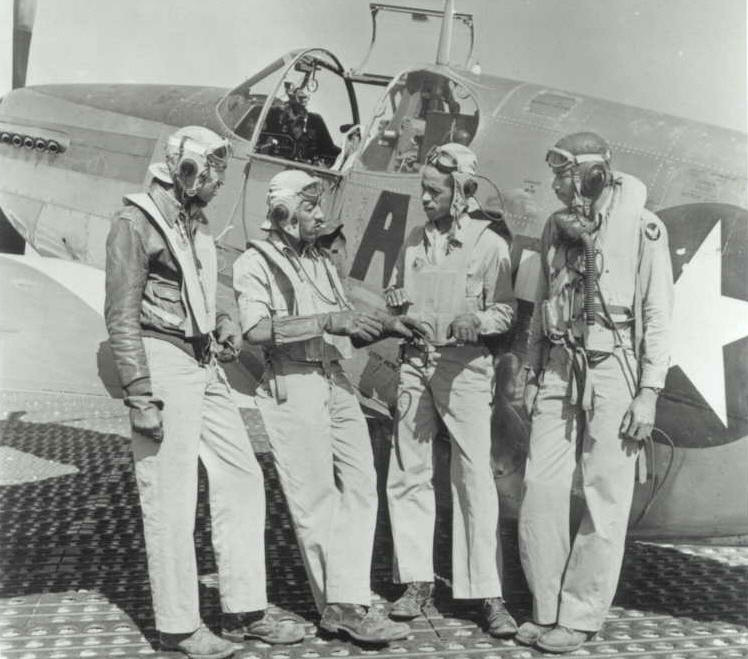 Tuskegee Airmen Clarence Dart. Elwood Driver, Hebert Houston, Alva Temple discuss kill of ME-109, summer, 1944, Italy
Lineage. Established as 332nd Fighter Group on 4 Jul 1942. Activated on 13 Oct 1942. Inactivated on 19 Oct 1945. Activated on 1 Jul 1947. Inactivated on 1 Jul 1949.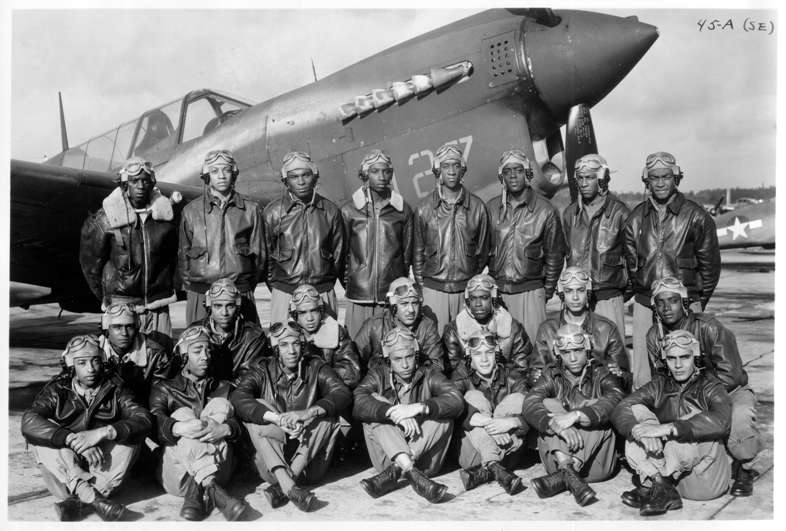 Twenty-two members of Tuskegee Airmen class 45A posing in front of a single engine airplane. Photograph is marked "45-A (SE)" on the upper right corner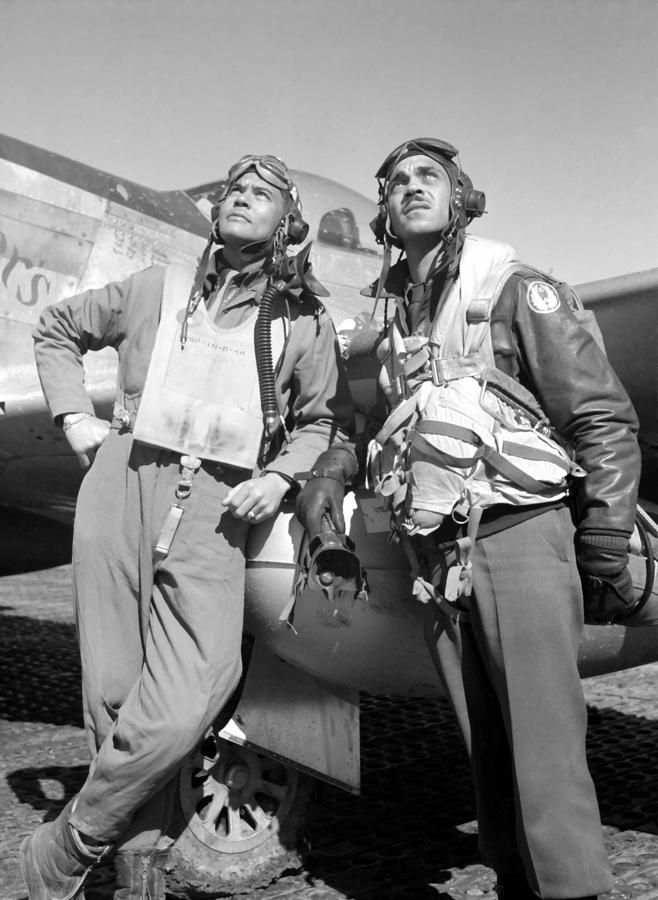 Col Benjamin O. Davis, Jr. and another Pilot

Assignments. Third Air Force, 13 Oct 1942; First Air Force, 23 Jul 1943; Twelfth Air Force, c. 27 Jan 1944; XII Air Force Training and Replacement Command (Provisional), 3 Feb 1944; XII Fighter Command, 10 Feb 1944; 62nd Fighter Wing, 10 Feb 1944; Fifteenth Air Force, 22 May 1944; 306th Fighter Wing, 22 May 1944; 305th Bombardment Wing, 12 Jun-Sep 1945; Sep-19 Oct 1945. Ninth Air Force, 1 Jul 1947; 332nd Fighter Wing, 15 Aug 1947-1 Jul 1949.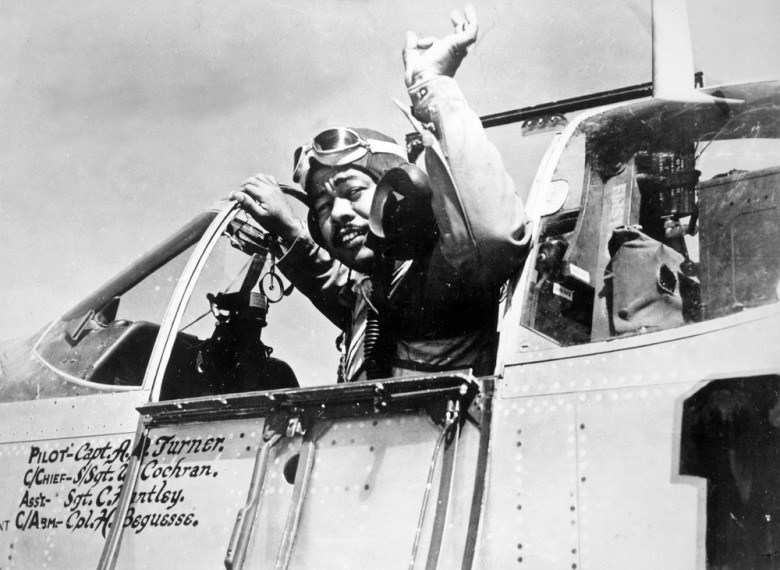 Captain Turner
Commanders. Lt Col Sam W. Westbrook, Jr., by 19 Oct 1942; Col Robert R. Selway, Jr., 16 May 1943; Col Benjamin O. Davis, Jr., 8 Oct 1943; Maj George S. Roberts, 3 Nov 1944; Col Benjamin O. Davis, Jr., 24 Dec 1944; Maj George S. Roberts, 9 Jun 1945-unkn. Unkn, 1 Jul-27 Aug 1947; Maj William A. Campbell, 28 Aug 1947-1 Jul 1949.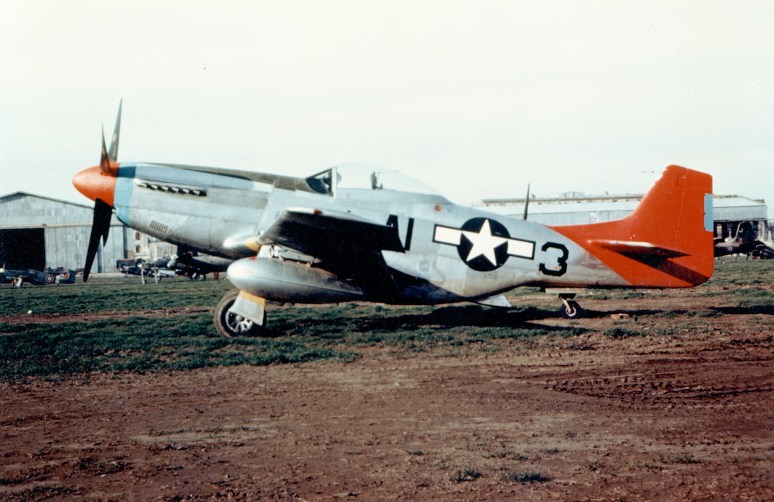 Aircraft. P-40, 1943-1944; P-39, 1943-1944; P-47, 1944; P-51, 1944-1945. P(later F)-47, 1947-1949
The Tuskegee Airmen initially were equipped with Curtiss P-40 Warhawks fighter-bomber aircraft, briefly with Bell P-39 Airacobras (March 1944), later with Republic P-47 Thunderbolts (June–July 1944), and finally the fighter group acquired the aircraft with which they became most commonly associated, the North American P-51 Mustang (July 1944). When the pilots of the 332nd Fighter Group painted the tails of their P-47's red, the nickname "Red Tails" was coined. Bomber crews applied a more effusive "Red-Tail Angels" sobriquet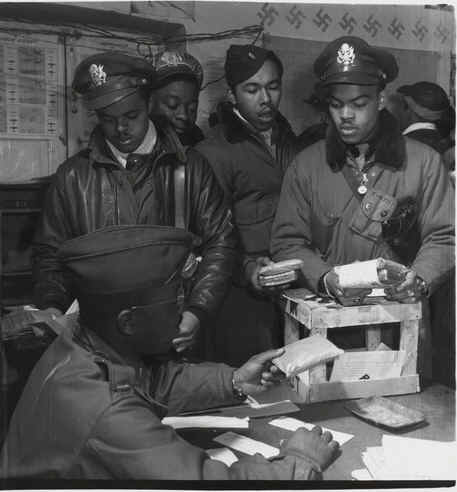 Photo shows (seated): Theodore G. Lumpkin, Jr. Standing (left to right): Joseph L. "Joe" Chineworth, Memphis, TN, Class 44-E; Robert C. Robinson, Asheville, NC, Class 44-G; Driskell B. Ponder, Chicago, IL, Class 43-I; Robert W. Williams, Ottumwa, IA, Class 44-E. Ramitelli, Italy, March 1945.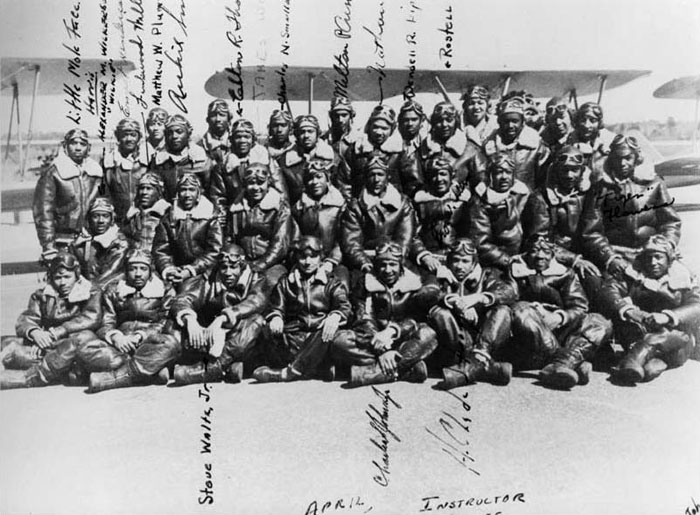 Credit:U.S.Air Force