John Herschel Glenn, Jr.
(July 18, 1921 – December 8, 2016)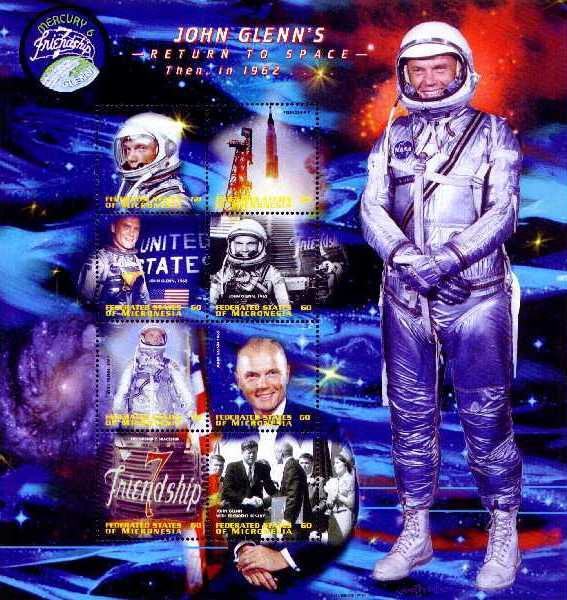 On February 20, 1962, astronaut John Glenn piloted the Mercury-Atlas 6 "Friendship 7" spacecraft on the first U.S. manned orbital mission. He successfully completed three orbits around the Earth, reaching an orbital velocity of approximately 17,500 miles per hour.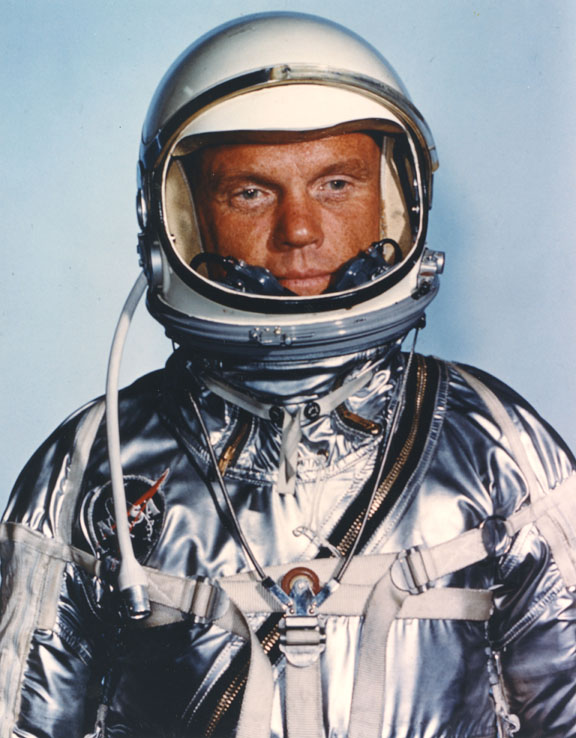 John H. Glenn, Jr., was born in Cambridge, Ohio, on July 18, 1921, the son of John Herschel and Clara Sproat Glenn. At age two, young John moved with his parents to New Concord, where his father opened a plumbing business.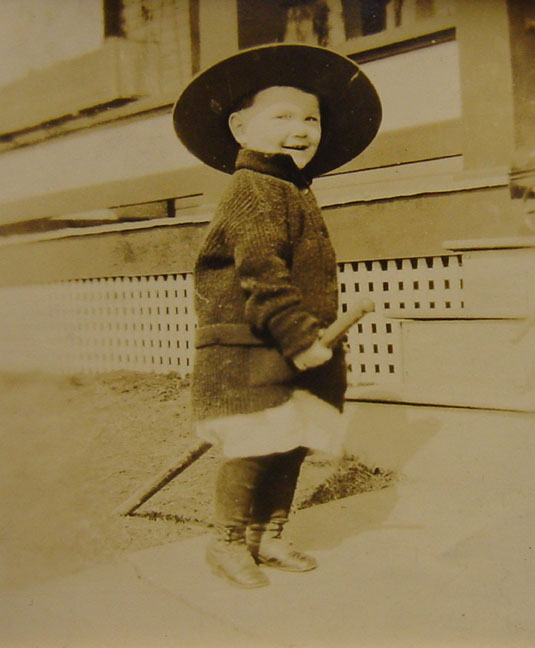 John Glenn with riding stick, circa 1924
After relocating to New Concord, the Glenns built a home that doubled as a rooming house for students from nearby Muskingum College.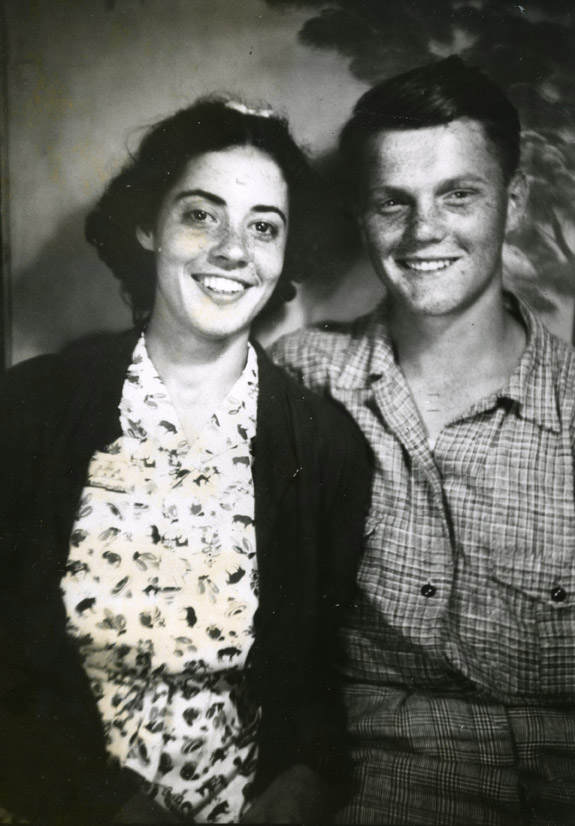 Annie Castor and John Glenn as teenagers, circa 1938
Glenn would write many years later of his childhood, "A boy could not have had a more idyllic early childhood than I did." Surrounded by older students, encouraged by a father who liked to travel, and tutored by a devoted mother, John developed an early interest in science, a fascination with flying, and a sense of patriotism that would define his adult life.

He graduated from New Concord High School and attended Muskingum College. Shortly after Japan attacked Pearl Harbor, Glenn enlisted in the Naval Aviation Cadet Program and became a Marine pilot. He flew 59 combat missions in the South Pacific during World War II. When the Korean conflict began, Glenn asked for combat duty and flew 63 missions. For his total of 149 missions during the two wars, he received many decorations, including the Distinguished Flying Cross six times.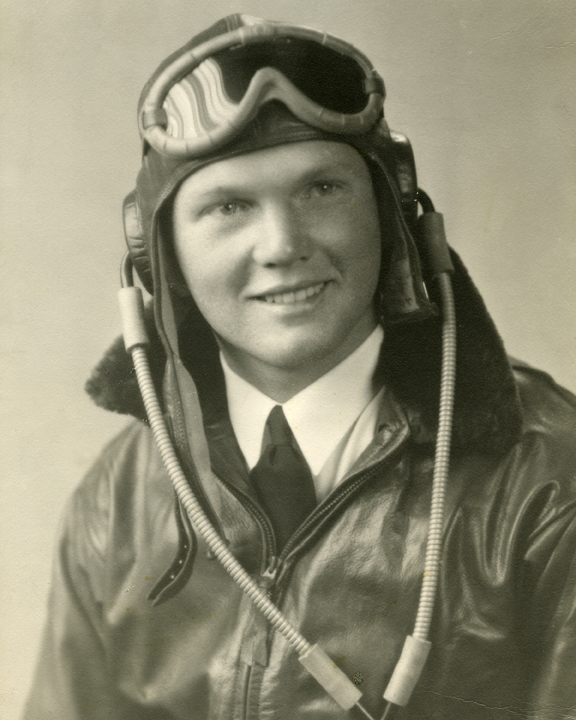 John Glenn dressed in flight gear, circa 1943
After the Korean conflict, Glenn attended test pilot school and then joined the Naval Air Test Center's staff of expert flyers. He served as a test pilot for Naval and Marine aircraft, including the FJ3, the F7U Cutlass, and the F8U Crusader. One of Glenn's most notable accomplishments during this period was the 1957 speed record he set flying from Los Angeles to New York in three hours and 23 minutes. "Project Bullet" secured Glenn's reputation as one of the country's top test pilots and provided a stepping stone for his participation in the emerging space exploration program.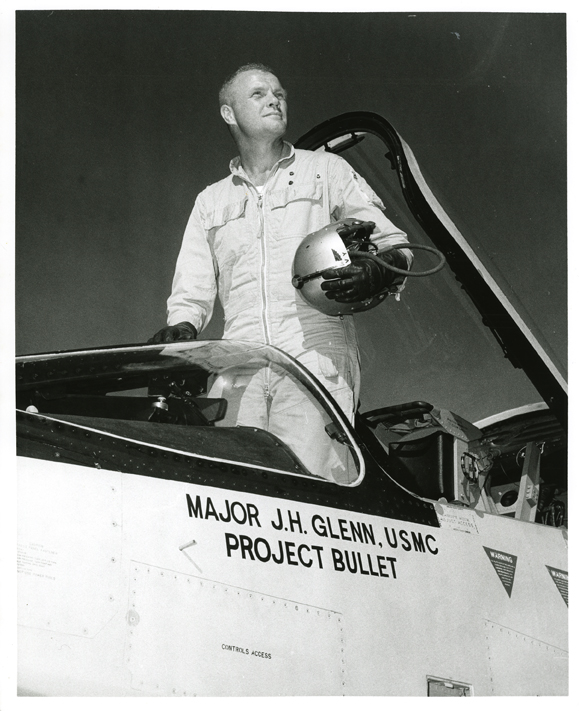 John Glenn standing in the cockpit his F8U-1P Crusader

Glenn's experience and skill made him a logical candidate for the astronaut corps being formed during 1958. He entered the space program as a participant in the National Advisory Committee on Aeronautics' "G" force tests. When NASA put out a call for pilots to participate in its suborbital and orbital program, Glenn volunteered without hesitation. In 1959, NASA selected him as one of the first seven astronauts in the U.S. space program. On February 20, 1962, atop an Atlas rocket, he rode into space and piloted the Friendship 7 spacecraft around the globe three times, becoming the first American to orbit the earth.
Glenn's ride into space, a great technical accomplishment, held even greater significance for the country. Having lagged behind the Soviet Union in the "Space Race," Americans saw the event as a political as well as scientific milestone. Across the country, they welcomed Glenn as a hero who had conquered the bounds of earth and given new wings to America's spirit.

John Glenn, the pilot and hero, soon found NASA's plans for him did not include another flight assignment. While he continued to serve as an advisor to NASA until 1964, his interests increasingly turned to public affairs. Encouraged by Bobby Kennedy to seek public office, Glenn retired from the Marine Corps as a colonel the following year to run for the United States Senate.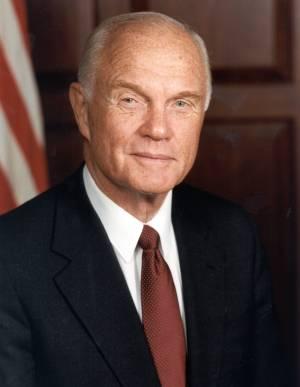 He entered the Ohio Democratic primary challenging the incumbent Democratic Sen. Stephen M. Young. An accident forced him to leave the race early in the campaign and to put his political career on hold. After recovery from the accident, Glenn joined Royal Crown Cola as vice president and then president. Still interested in public service, Glenn again ran for the senate. His opponent, Howard Metzenbaum, defeated him in the 1970 primaries. Four years later, Glenn made a third run for the senate. This time he was successful, easily winning over his Republican opponent, former Cleveland Mayor Ralph J. Perk.
Astronaut Glenn now became Senator Glenn. In this new career, he represented Ohio and took a leading role in weapons control and government affairs. He was chief author of the 1978 Nonproliferation Act, served as chairman of the Senate Government Affairs Committee from 1978 until 1995, and sat on the Foreign Relations and Armed Services committees and the Special Committee on Aging. Never far from the center of Democratic politics, he was a contender for the vice presidential nomination three times and ran in the Democratic primaries as a presidential candidate in 1984.

Glenn announced on February 20, 1997 that he would retire from the senate. A year later, NASA invited him to rejoin the space program he had helped to create as a member of the Space Shuttle Discovery Crew. Glenn accepted the invitation and on October 29, 1998, became the oldest human ever to venture into space.
John Glenn, Marine, pilot, astronaut, corporate executive, and senator, has taken on a new role. Upon his retirement from the senate and return from space, John and Annie Glenn founded the John Glenn Institute for Public Service at the Ohio State University. Through its programs, they seek to improve the quality of public service and to encourage young people to pursue careers in government. The Glenns also serve as trustees of Muskingum College, their alma mater.
NASA Biography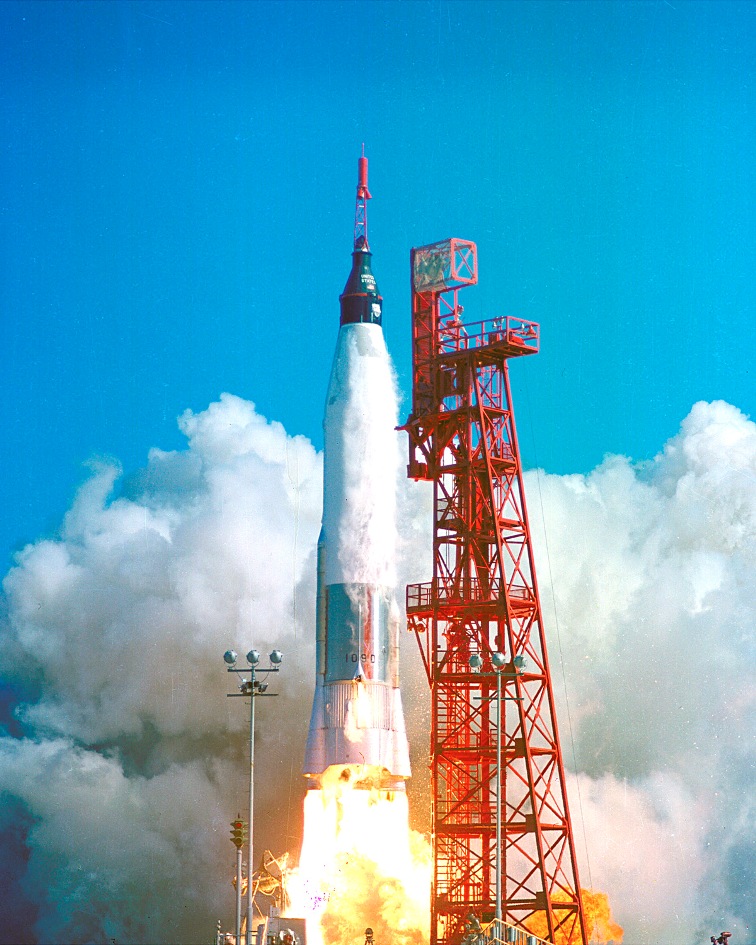 Launch of Mercury-Atlas 6 "Friendship 7" spacecraft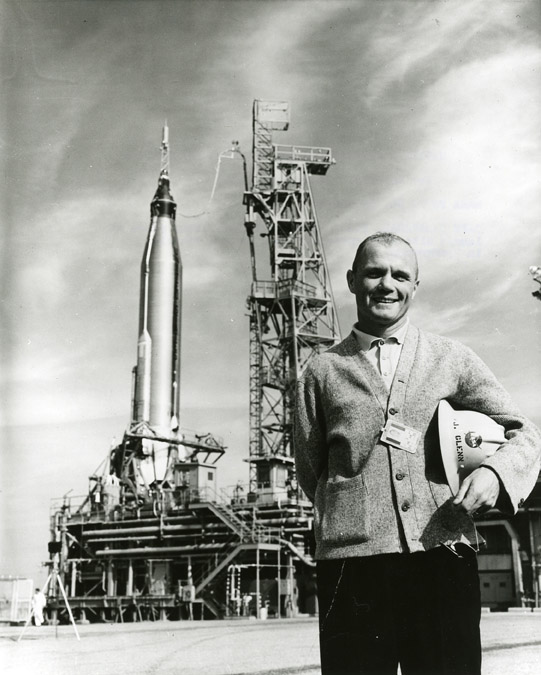 John Glenn in front of Friendship 7 spacecraft and Atlas rocket booster (1962)
NAME: John Herschel Glenn, Jr. (Colonel, USMC, Ret.) NASA Astronaut (former)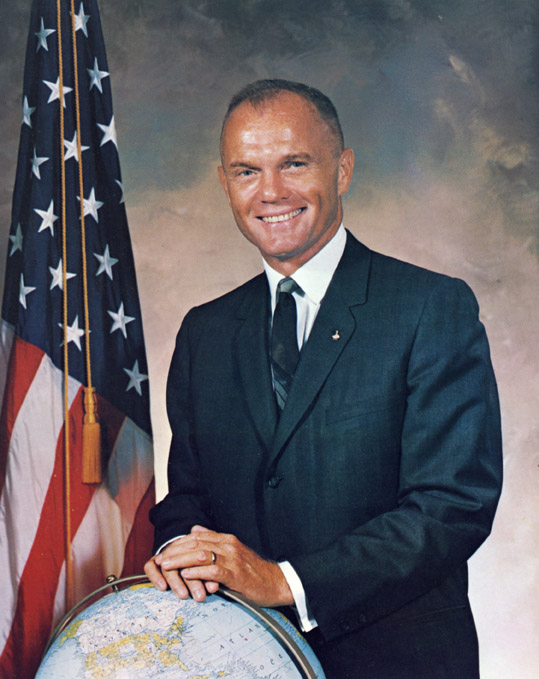 PERSONAL DATA: Born July 18, 1921 in Cambridge, Ohio. Married to the former Anna Margaret Castor of New Concord, Ohio. They have two grown children and two grandchildren.
EDUCATION: Glenn attended primary and secondary schools in New Concord, Ohio. He attended Muskingum College in New Concord and received a Bachelor of Science degree in Engineering. Muskingum College also awarded him an honorary Doctor of Science degree in engineering. He has received honorary doctoral degrees from nine colleges or universities.
SPECIAL HONORS: Glenn has been awarded the Distinguished Flying Cross on six occasions, and holds the Air Medal with 18 Clusters for his service during World War II and Korea. Glenn also holds the Navy Unit Commendation for service in Korea, the Asiatic-Pacific Campaign Medal, the American Campaign Medal, the World War II Victory Medal, the China Service Medal, the National Defense Service Medal, the Korean Service Medal, the United Nations Service Medal, the Korean Presidential Unit Citation, the Navy's Astronaut Wings, the Marine Corps' Astronaut Medal, the NASA Distinguished Service Medal, and the Congressional Space Medal of Honor.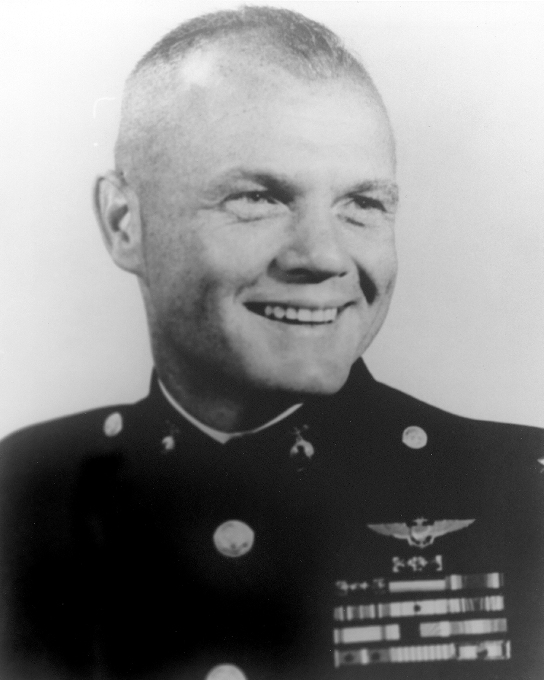 EXPERIENCE: He entered the Naval Aviation Cadet Program in March 1942 and was graduated from this program and commissioned in the Marine Corps in 1943. After advanced training, he joined Marine Fighter Squadron 155 and spent a year flying F-4U fighters in the Marshall Islands.
During his World War II service, he flew 59 combat missions.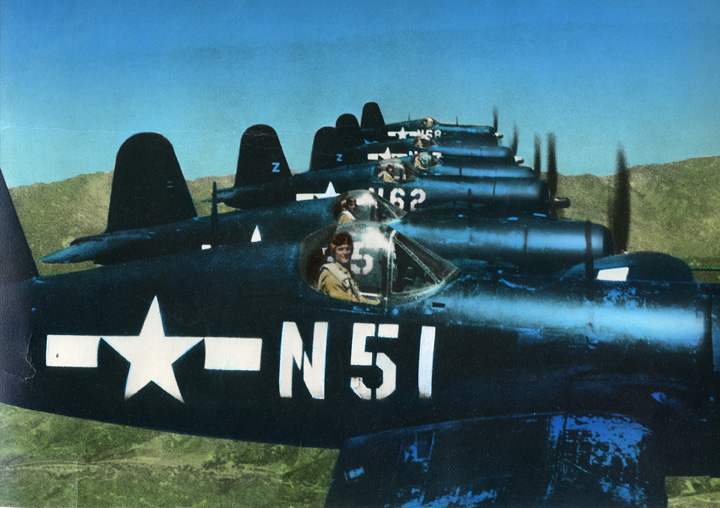 John Glenn flying an F4U Corsair in formation with other pilots, circa 1944
After the war, he was a member of Marine Fighter Squadron 218 on the North China patrol and served on Guam. From June 1948 to December 1950 Glenn was an instructor in advanced flight training at Corpus Christi, Texas. He then attended Amphibious Warfare Training at Quantico, Virginia. In Korea he flew 63 missions with Marine Fighter Squadron 311. As an exchange pilot with the Air Force Glenn flew 27 missions in the in F-86 Sabrejet. In the last nine days of fighting in Korea Glenn downed three MIG's in combat along the Yalu River.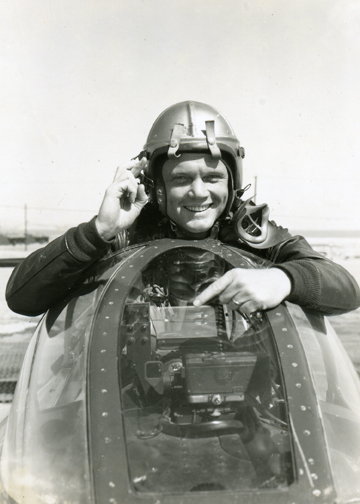 John Glenn pointing to damage to his F9F Panther from antiaircraft fire 1953
After Korea, Glenn attended Test Pilot School at the Naval Air Test Center, Patuxent River, Maryland. After graduation, he was project officer on a number of aircraft. He was assigned to the Fighter Design Branch of the Navy Bureau of Aeronautics (now Bureau of Naval Weapons) in Washington from November 1956 to April 1959, during which time he also attended the University of Maryland.
In July 1957, while project officer of the F8U Crusader, he set a transcontinental speed record from Los Angeles to New York, spanning the country in 3 hours and 23 minutes. This was the first transcontinental flight to average supersonic speed. Glenn has nearly 9,000 hours of flying time, with approximately 3,000 hours in jet aircraft.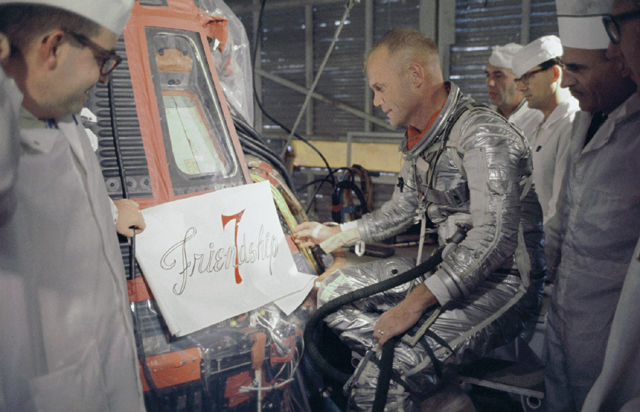 NASA EXPERIENCE: Glenn was assigned to the NASA Space Task Group at Langley Research Center, Hampton, Virginia, in April 1959 after his selection as a Project Mercury Astronaut. The Space Task Group was moved to Houston and became part of the NASA Manned Spacecraft Center in 1962. Glenn flew on Mercury-6 (February 20, 1962) and STS-95 (October 29 to November 7, 1998), and has logged over 218 hours in space. Prior to his first flight, Glenn had served as backup pilot for Astronauts Shepard and Grissom. When astronauts were given special assignments to ensure pilot input into the design and development of spacecraft, Glenn specialized in cockpit layout and control functioning, including some of the early designs for the Apollo Project. Glenn resigned from the Manned Spacecraft Center on January 16, 1964. He was promoted to the rank of Colonel in October 1964 and retired from the Marine Corps on January 1, 1965. He was a business executive from 1965 until his election to the United States Senate in November 1974. Glenn retired from the U.S. Senate in January 1999.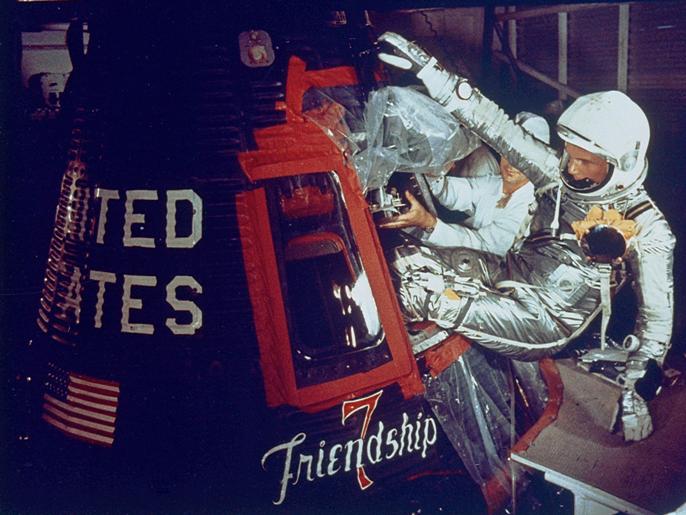 SPACE FLIGHT EXPERIENCE: On February 20, 1962, Glenn piloted the Mercury-Atlas 6 "Friendship 7" spacecraft on the first manned orbital mission of the United States. Launched from Kennedy Space Center, Florida, he completed a successful three-orbit mission around the earth, reaching a maximum altitude (apogee) of approximately 162 statute miles and an orbital velocity of approximately 17,500 miles per hour. Glenn's "Friendship 7" Mercury spacecraft landed approximately 800 miles southeast of KSC in the vicinity of Grand Turk Island. Mission duration from launch to impact was 4 hours, 55 minutes, and 23 seconds.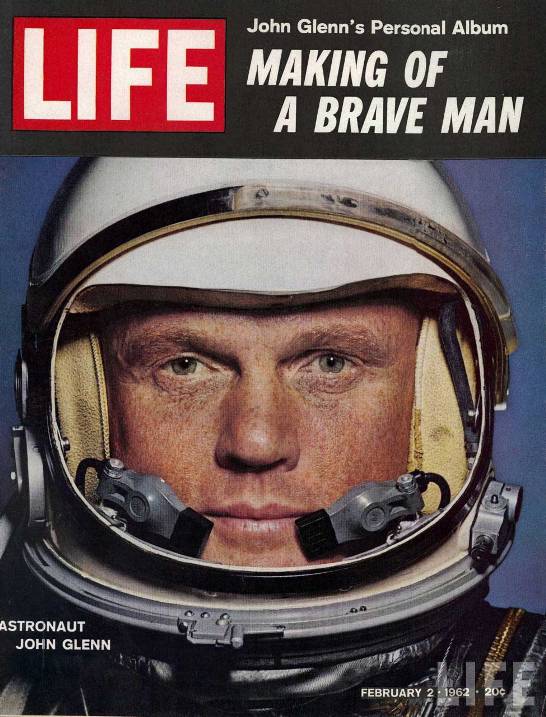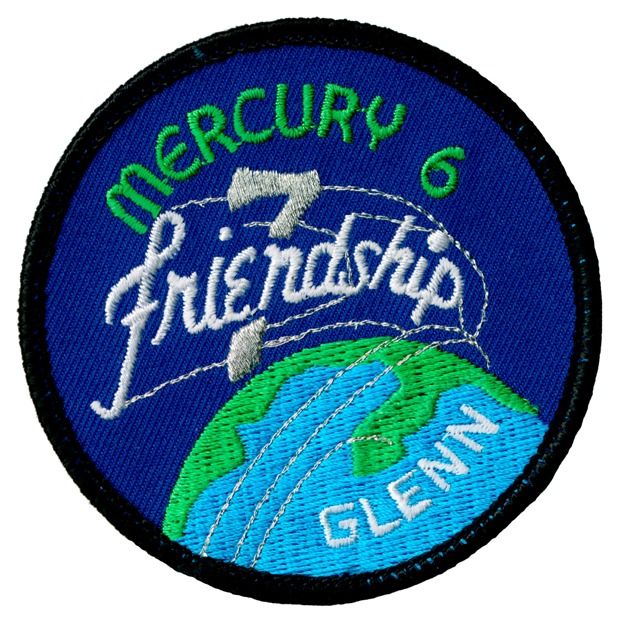 Mercury-Atlas 6
FRIENDSHIP 7
February 20, 1962
John H. Glenn, Jr.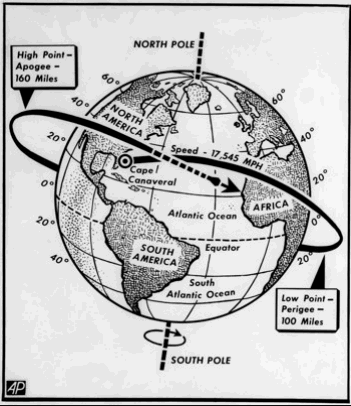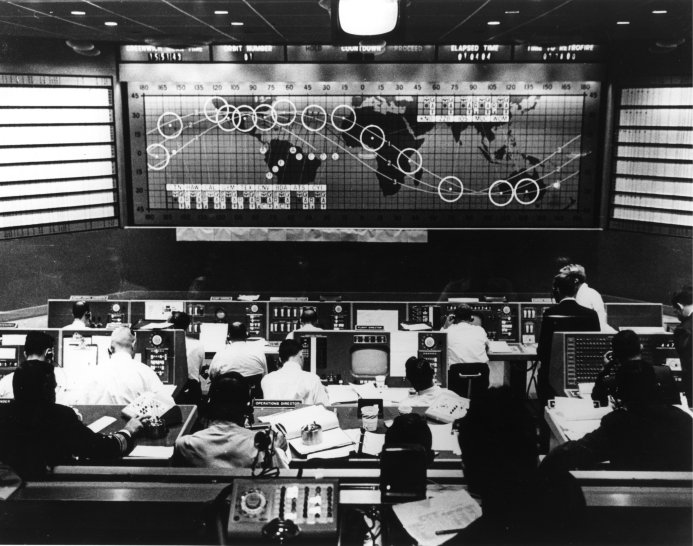 Engineers at Mercury Control in Cape Canaveral, Florida monitor the flight of Friendship 7. The map in the background shows the planned path of Glenn's three orbits, along with the position and range of the NASA tracking stations around the globe.
Map for John Glenn's Friendship 7 space flight
Control panel of the Friendship 7 spacecraft
04 hours, 55 minutes 23 seconds
Three-orbit flight that placed the first American into orbit.
Mission Objective:
Place a man into earth orbit, observe his reactions to the space environment and safely return him to earth to a point where he could be readily found. The Mercury flight plan during the first orbit was to maintain optimum spacecraft attitude for radar tracking and communication checks.
Orbit:
Altitude: 162.2 x 100 statute miles
Inclination: 32.54
Orbits: 3
Period: 88min 29sec
Duration: 0 Days, 4 hours, 55 min, 23 seconds
Distance: 75,679 statute miles
Velocity: 17,544 mph
Max Q: 982 psf
Max G: 7.7
Launch:
February 20, 1962. 9:47:39 am EST. Cape Canaveral Launch Complex 14. Powered flight lasted 5 minutes 1 second and was completed normally.
The mercury countdown began on 1/27/62 and was performed in two parts. Precount checks out the primary spacecraft systems, followed by a 17.5 hour hold for pyrotechnic checks, electrical connections and peroxide system servicing. Then the countdown began. The launch countdown proceeded to the T-13 minute mark and then was canceled due to adverse weather conditions. After cancellation, the mission team decided to replace the carbon dioxide absorber unit and the peroxide system had to be drained and flushed to prevent corrosion. Launch vehicle systems were then revalidated and a leak was discovered in the inner bulkhead of the fuel tank that required 4-6 days to repair. The launch was rescheduled to 2/13/62 and then to 2/14/62 to all the bulkhead work to complete. The precount picked up again on 2/13/62, 2/15/62 and 2/16/62 but was canceled each time due to adverse weather. The launch was then rescheduled for 2/20/62.

During the launch countdown on 2/20/62, all systems were energized and final overall checks were made. the count started at T-390 minutes by installing and connecting the escape-rocket igniter. The service structure was then cleared and the spacecraft was powered to verify no inadvertent pyrotechnic ignition. The personnel then returned to the service structure to prepare for static firing of the reaction control system at T-250 minutes. The spacecraft was then prepared for boarding at T-120 minutes. The hatch was put into place at T-90 minutes. During installation a bolt was broken, and the hatch had to be removed to replace the bolt causing a 40 minute hold. From T-90 to T-55 final mechanical work and spacecraft checks were made and the service was evacuated and moved away from the launch vehicle. At T-45 minutes, a 15 minute hold was required to add fuel to the launch vehicle and at T-22 minutes and additional 25 minutes was required for filling the liquid-oxygen tanks as a result of a minor malfunction in the ground support equipment used to pump liquid oxygen into the launch vehicle. At approximately T-35 minutes, filling of the liquid-oxygen tanks began and final spacecraft and launch vehicle systems checks were
started.
At T-10 minutes the spacecraft went on internal power. At T-6min 30 seconds, a 2 minute hold was required to make a quick check of the network computer at Bermuda. The launch vehicle went on internal power at T-3 minutes. At T-35 seconds the spacecraft umbilical was ejected and at T-0 the main engines started. Liftoff occurred at T+4 seconds at 9:47:39am EST.
Landing:
February 20, 1962. 14:43:02 am EST. 800 miles southeast of Bermuda.
Recovered by the destroyer USS Noa. Lookouts on the destroyer sighted the main parachute at an altitude of 5,000 ft from a range of 5nm. The Noa had the spacecraft aboard 21 minutes after landing and astronaut John Glenn remained in the spacecraft during pickup. Original plans had called for egress through the top hatch but Glenn was becoming uncomfortably warm and it was decided to exit by the easier egress path.


Mission Highlights:
Mission Successful. First American in orbit. Total time weightless 4 hours 48min 27sec.
During the flight only two major problems were encountered: (1) a yaw attitude control jet apparently clogged at the end of the first orbit, forcing the astronaut to abandon the automatic control system for the manual-electrical fly-by-wire system; and (2) a faulty switch in the heat shield circuit indicated that the clamp holding the shield had been prematurely released- a signal later found to be false. During reentry, however, the retropack was not jettisoned but retained as a safety measure to hold the heat shield in place in the event it had loosened.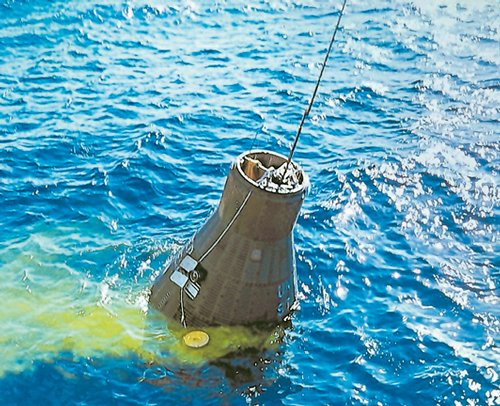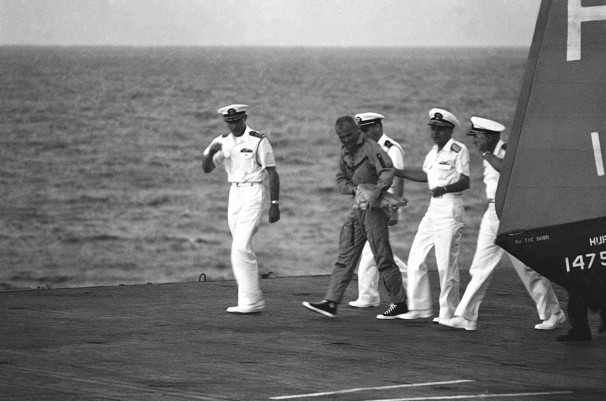 The USS Noa had the spacecraft aboard 21 minutes after landing and astronaut John Glenn remained in the spacecraft during pickup. Original plans had called for Glenn to exit through the top hatch but he was becoming uncomfortably warm and it was decided to exit by the easier side hatch. Glenn was transferred by helicopter from the USS Noa to the USS Randolph, and then flown to Grand Turk for his debriefing and medical as planned. The capsule joined him later when it was delivered to Grand Turk by ship.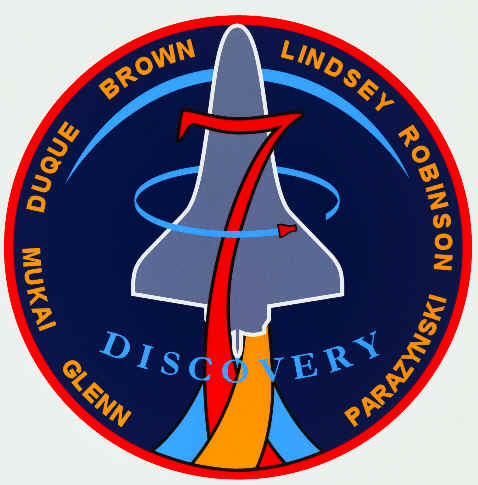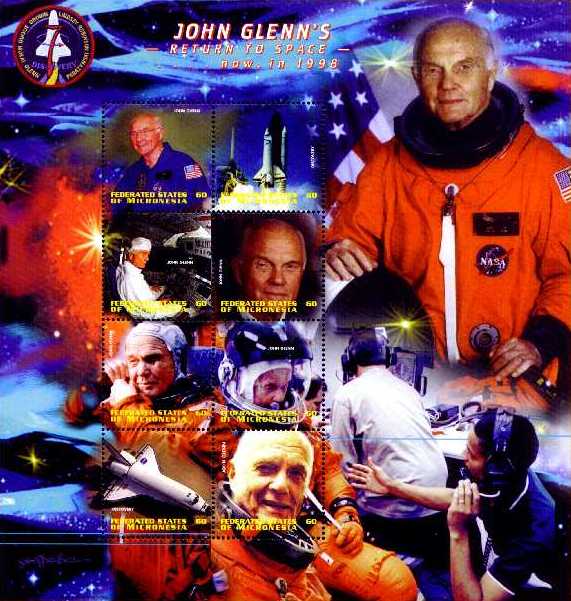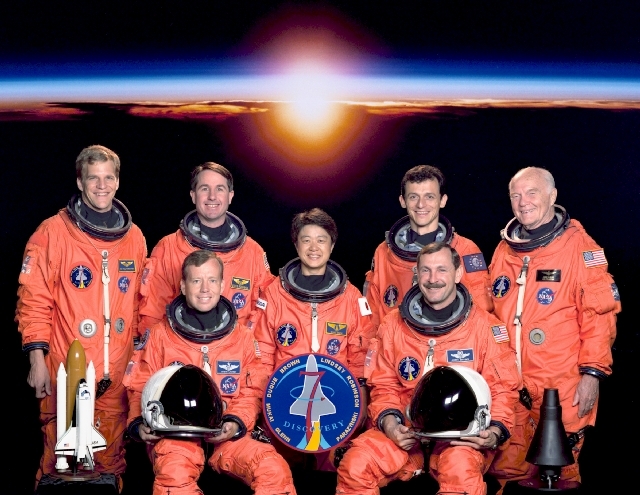 STS-95 Crew photo with Commander Curtis L. Brown, Pilot Steven W. Lindsey, Mission Specialists Scott E. Parazynski, Stephen K. Robinson, Pedro Duque, Payload Specialists Chiaki Mukai and John H. Glenn. Image Credit: NASA

STS-95 Discovery (October 29 to November 7, 1998) was a 9-day mission during which the crew supported a variety of research payloads including deployment of the Spartan solar-observing spacecraft, the Hubble Space Telescope Orbital Systems Test Platform, and investigations on space flight and the aging process. The mission was accomplished in 134 Earth orbits, traveling 3.6 million miles in 213 hours and 44 minutes.
Credit:NASA, Ohio State University