Navy SEAL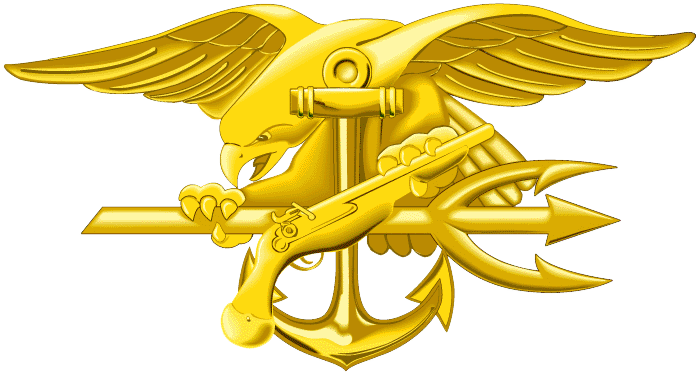 In 1970 that the Department of US Navy authorized the use of the SEAL warfare insignia on SEAL service uniforms. The SEAL Trident is worn on the left breast of the SEAL or Navy uniform just above decorations and service ribbons. The SEAL insignia is used in the form of a gold metal pin for formal dress uniforms and as an embroidered patch for BDU's (Battle Dress Uniform) and other camouflage uniforms.
There are three parts of the SEAL insignia and these symbolize the areas that Navy SEALs excel in —sea, air and land. Here is the representation of the Navy SEAL insignia:
* The anchor and the trident: SEA
* The eagle: AIR
* The pistol: LAND
The pistol is cocked and this represents readiness for battle. The Eagle's wings are spread wide and this represents for courage, and strength.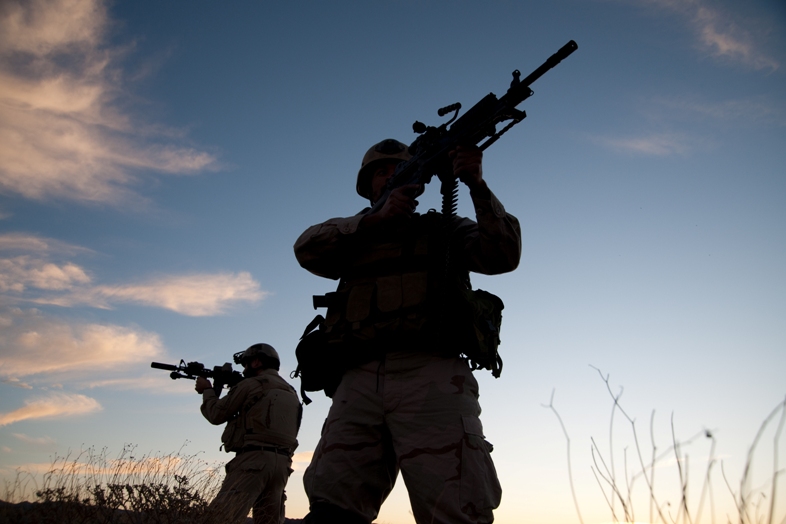 Navy SEALs are a special breed of warrior who conduct special operations in any environment, but who are uniquely trained and equipped to operate from, around and in maritime areas. SEALs take their name from the environments in which they are trained to operate: sea, air and land. Their small highly trained teams usually work quietly at night conducting some of the nation's most important missions. SEALs are constantly deployed throughout the world to protect national interests.
Navy SEALs and their high speed boat driving counterparts, Naval Special Warfare Combatant-Craft Crewmen, form the operational arms of the Naval Special Warfare community, which is headed by the Naval Special Warfare Command. NSW acts both as the Navy's special operations force as well as the Navy component of the U.S. Special Operations Command, which is responsible for all U.S. special operations forces.
NSW training and preparation stresses an enduring commitment to individual initiative, personal responsibility and mission accomplishment. Naval Special Warfare goes to great lengths to ensure that its forces are capable and prepared. The information on this site provides a glimpse into making a Navy SEAL.
NAVY SEALs HISTORY
World War II Today's Naval Special Warfare operators can trace their origins to the Scouts and Raiders, Naval Combat Demolition Units, Office of Strategic Services Operational Swimmers, Underwater Demolition Teams and Motor Torpedo Boat Squadrons of World War II. While none of those early organizations have survived to present, their pioneering efforts in unconventional warfare are mirrored in the missions and professionalism of the present Naval Special Warfare warriors.

Scouts and Raiders To meet the need for a beach reconnaissance force, selected Army and Navy personnel assembled at Amphibious Training Base, Little Creek, on Aug. 15, 1942 to begin Amphibious Scouts and Raiders [ Joint ] training. The Scouts' and Raiders' mission was to identify and reconnoiter the objective beach, maintain a position on the designated beach prior to a landing and guide the assault waves to the landing beach.
The first group included Phil H. Bucklew, the "Father of Naval Special Warfare," after whom the Naval Special Warfare Center building is named. Commissioned in October 1942, this group saw combat in November 1942 during Operation Torch, the first allied landings in Europe, on the North African coast. Scouts and Raiders also supported landings in Sicily, Salerno, Anzio, Normandy and southern France.
A second group of Scouts and Raiders, code-named Special Service Unit #1, was established on July 7, 1943, as a joint and combined operations force. The first mission, in September 1943, was at Finschafen on New Guinea. Later operations were at Gasmata, Arawe, Cape Gloucester, and the East and South coast of New Britain, all without any loss of personnel. Conflicts arose over operational matters, and all non-Navy personnel were reassigned. The unit, renamed 7th Amphibious Scouts, received a new mission, to go ashore with the assault boats, buoy channels, erect markers for the incoming craft, handle casualties, take offshore soundings, blow up beach obstacles and maintain voice communications linking the troops ashore, incoming boats and nearby ships. The 7th Amphibious Scouts conducted operations in the Pacific for the duration of the conflict, participating in more than 40 landings.
The third Scout and Raiders organization operated in China. Scouts and Raiders were deployed to fight with the Sino-American Cooperation Organization, or SACO. To help bolster the work of SACO, Adm. Ernest J. King ordered that 120 officers and 900 men be trained for "Amphibious Roger" at the Scout and Ranger school at Ft. Pierce, Fla. They formed the core of what was envisioned as a "guerrilla amphibious organization of Americans and Chinese operating from coastal waters, lakes and rivers employing small steamers and sampans." While most Amphibious Roger forces remained at Camp Knox in Calcutta, three of the groups saw active service. They conducted a survey of the Upper Yangtze River in the spring of 1945 and, disguised as Chinese nationals, conducted a detailed three-month survey of the Chinese coast from Shanghai to Kitchioh Wan, near Hong Kong.
In September of 1942, 17 Navy salvage personnel arrived in Little Creek, Va., for a one-week concentrated course on demolitions, explosive cable cutting and commando raiding techniques. On Nov. 10, 1942, this first combat demolition unit succeeded in cutting a cable and net barrier across the Wadi Sebou River during Operation Torch in North Africa. Their actions enabled the USS Dallas [ DD 199 ] to traverse the river and insert U.S. Rangers who captured the Port Lyautey airdrome.
Plans for a massive cross-channel invasion of Europe had begun and intelligence indicated that the Germans were placing extensive underwater obstacles on the beaches at Normandy. On May 7, 1943, Lt. Cmdr. Draper L. Kauffman, "The Father of Naval Combat Demolition," was directed to set up a school and train people to eliminate obstacles on an enemy-held beach prior to an invasion.
Naval Combat Demolition Units On June 6, 1943, Lt. Cmdr. Kaufmann established Naval Combat Demolition Unit training at Ft. Pierce. By April 1944, 34 NCDUs were deployed to England in preparation for Operation Overlord, the amphibious landing at Normandy.
On June 6, 1944, in the face of great adversity, the NCDUs at Omaha Beach managed to blow eight complete gaps and two partial gaps in the German defenses. The NCDUs suffered 31 killed and 60 wounded, a casualty rate of 52 percent. Meanwhile, the NCDUs at Utah Beach met less intense enemy fire. They cleared 700 yards of beach in two hours and another 900 yards by the afternoon. Casualties at Utah Beach were significantly lighter with 6 killed and 11 wounded. During Operation Overlord, not a single demolitioneer was lost to improper handling of explosives.
In August 1944, NCDUs from Utah Beach participated in the landings in southern France, the last amphibious operation in the European Theater of Operations.
NCDUs also operated in the Pacific theater. NCDU 2, under Lt. j.g. Frank Kaine, after whom the Naval Special Warfare Command building is named, and NCDU 3, under Lt. j.g. Lloyd Anderson, formed the nucleus of six NCDUs that served with the 7th Amphibious Force tasked with clearing boat channels after the landings from Biak to Borneo.
Office of Strategic Services Operational Swimmers Some of the earliest World War II predecessors of the SEALs were the Operational Swimmers of the Office of Strategic Services, or OSS. Many current SEAL missions were first assigned to them.
Their training started in November 1943 at Camp Pendleton, moved to Catalina Island in January 1944, and finally moved to the warmer waters in the Bahamas in March 1944. Within the U.S. military, they pioneered flexible swim fins and facemasks, closed-circuit diving equipment, the use of swimmer submersibles, and combat swimming and limpet mine attacks.
In May 1944, the OSS was divided into groups. Group 1 was loaned to Adm. Chester Nimitz, as a way to introduce the OSS into the Pacific Theater.
Adm. Nimitz's "Granite Plan" for central Pacific operations required an efficient amphibious force. Many of the targeted islands were coral atolls with reefs that acted as natural obstacles to landings. During early November 1943, Seabees engaged in experimental underwater blasting work were assembled at Waipio Amphibious Operating Base on Oahu to begin training in underwater demolition.
On Nov. 23, 1943, the U. S. Marine landing on Tarawa Atoll emphasized the need for hydrographic reconnaissance and underwater demolition of obstacles prior to any amphibious landing.
Underwater Demolition Teams After Tarawa, 30 officers and 150 enlisted men were moved to Waimanalo Amphibious Training Base to form the nucleus of a demolition training program. This group became Underwater Demolition Teams One and Two.
The UDTs saw their first combat on Jan. 31, 1944, during Operation Flintlock in the Marshall Islands. Flintlock became the real catalyst for the UDT training program in the Pacific Theater. In February 1944, the Naval Combat Demolition Training and Experimental Base was established at Kihei, Maui, next to the Amphibious Base at Kamaole.
Eventually, 34 UDT teams were established. Wearing swim suits, fins and facemasks on combat operations, these "Naked Warriors" saw action across the Pacific in every major amphibious landing including: Eniwetok, Saipan, Guam, Tinian, Angaur, Ulithi, Peleliu, Leyte, Lingayen Gulf, Zambales, Iwo Jima, Okinawa, Labuan, Brunei Bay, and on July 4, 1945 at Balikpapan on Borneo, which was the last UDT demolition operation of the war.
The rapid demobilization at the conclusion of the war reduced the number of active duty UDTs to two on each coast with a complement of seven officers and 45 enlisted men each.
Korea
The Korean War began on June 25, 1950, when the North Korean army invaded South Korea. Beginning with a detachment of 11 personnel from UDT Three, UDT participation expanded to three teams with a combined strength of 300 men.
As part of the Special Operations Group, or SOG, UDTs successfully conducted demolition raids on railroad tunnels and bridges along the Korean coast.
On Sept. 15, 1950, UDTs supported Operation Chromite, the amphibious landing at Inchon. UDT One and Three provided personnel who went in ahead of the landing craft, scouting mud flats, marking low points in the channel, clearing fouled propellers and searching for mines. Four UDT personnel acted as wave-guides for the Marine landing.
In October 1950, UDTs supported mine-clearing operations in Wonsan Harbor where frogmen would locate and mark mines for minesweepers. On Oct. 12, 1950, two U.S. minesweepers hit mines and sank. UDTs rescued 25 sailors. The next day, William Giannotti conducted the first U.S. combat operation using an "aqualung" when he dove on the USS Pledge.
For the remainder of the war, UDTs conducted beach and river reconnaissance, infiltrated guerrillas behind the lines from sea, continued mine sweeping operations and participated in Operation Fishnet, which severely damaged the North Korean's fishing capability.
Establishing SEAL Teams Responding to President John F. Kennedy's desire for the services to develop an unconventional warfare capability, the U.S. Navy established SEAL Teams One and Two in January of 1962. Formed entirely with personnel from Underwater Demolition Teams, the SEALs mission was to conduct counter guerilla warfare and clandestine operations in maritime and riverine environments.
Vietnam
SEAL involvement in Vietnam began immediately and was advisory in nature. SEAL advisors instructed the Vietnamese in clandestine maritime operations. SEALs also began a UDT style training course for the Biet Hai Commandos, the Junk Force Commando platoons, in Danang.
In February 1966, a small SEAL Team One detachment arrived in Vietnam to conduct direct action missions. Operating out of Nha Be, in the Rung Sat Special Zone, this detachment signaled the beginning of a SEAL presence that would eventually include eight SEAL platoons in country on a continuing basis. Additionally, SEALs served as advisors for Provincial Reconnaissance Units and the Lien Doc Nguoi Nhia, the Vietnamese SEALs. The last SEAL platoon departed Vietnam on Dec. 7, 1971. The last SEAL advisor left Vietnam in March 1973.
Post-Vietnam The UDTs again saw combat in Vietnam while supporting the Amphibious Ready Groups. When attached to the riverine groups the UDTs conducted operations with river patrol boats and, in many cases, patrolled into the hinterland as well as along the riverbanks and beaches in order to destroy obstacles and bunkers. Additionally, UDT personnel acted as advisors.
On May 1, 1983, all UDTs were redesignated as SEAL Teams or Swimmer Delivery Vehicle Teams (SDVT). SDVTs have since been redesignated SEAL Delivery Vehicle Teams.
Naval Special Warfare forces have participated in Operation Urgent Fury, Grenada 1983; Operation Earnest Will, Persian Gulf 1987-1990; Operation Just Cause, Panama 1989-1990; and Operations Desert Shield and Desert Storm, Middle East/Persian Gulf 1990-1991. NSW has also conducted missions in Somalia, Bosnia, Haiti, Liberia and elsewhere.
Afghanistan In response to the attacks on America Sept. 11, 2001, Naval Special Warfare forces put operators on the ground in Afghanistan in October. The first military flag officer to set foot in Afghanistan was a Navy SEAL in charge of all special operations for Central Command. Additionally, a Navy SEAL captain commanded Combined Joint Special Operations Task Force South. Commonly referred to as Task Force K-BAR, the task force included U.S. Navy, Army, Air Force and Coalition Special Operations Forces. During the initial stages of Operation Enduring Freedom, NSW forces carried out more than 75 special reconnaissance and direct action missions, destroying more than 500,000 pounds of explosives and weapons; positively identifying enemy personnel and conducting Leadership Interdiction Operations in the search for terrorists trying to escape by sea-going vessels. Subsequent NSW operations have continued to positively impact national objectives in Afghanistan.
Iraq Naval Special Warfare has played a significant role in Operation Iraqi Freedom, employing the largest number of SEALs and SWCCs in its history. At the inception of Operation Iraqi Freedom, NSW forces were instrumental in numerous special reconnaissance and direct action missions including the securing of the southern oil infrastructures of the Al Faw peninsula and the off-shore gas and oil terminals; the clearing of the Khawr Abd Allah and Khawr Az Zubayr waterways that enabled humanitarian aid to be delivered to the vital port city of Umm Qasr; reconnaissance of the Shat Al Arab waterway; capture of high value targets, raids on suspected chemical, biological and radiological sites; and the first POW rescue since World War II. Subsequent NSW operations have continued to positively impact national objectives in Iraq.
NAVY SEAL ETHOS
In times of war or uncertainty there is a special breed of warrior ready to answer our Nation's call. A common man with uncommon desire to succeed. Forged by adversity, he stands alongside America's finest special operations forces to serve his country, the American people, and protect their way of life. I am that man.
My Trident is a symbol of honor and heritage. Bestowed upon me by the heroes that have gone before, it embodies the trust of those I have sworn to protect. By wearing the Trident I accept the responsibility of my chosen profession and way of life. It is a privilege that I must earn every day. My loyalty to Country and Team is beyond reproach. I humbly serve as a guardian to my fellow Americans always ready to defend those who are unable to defend themselves. I do not advertise the nature of my work, nor seek recognition for my actions. I voluntarily accept the inherent hazards of my profession, placing the welfare and security of others before my own. I serve with honor on and off the battlefield. The ability to control my emotions and my actions, regardless of circumstance, sets me apart from other men. Uncompromising integrity is my standard. My character and honor are steadfast. My word is my bond.
We expect to lead and be led. In the absence of orders I will take charge, lead my teammates and accomplish the mission. I lead by example in all situations. I will never quit. I persevere and thrive on adversity. My Nation expects me to be physically harder and mentally stronger than my enemies. If knocked down, I will get back up, every time. I will draw on every remaining ounce of strength to protect my teammates and to accomplish our mission. I am never out of the fight.
We demand discipline. We expect innovation. The lives of my teammates and the success of our mission depend on me - my technical skill, tactical proficiency, and attention to detail. My training is never complete. We train for war and fight to win. I stand ready to bring the full spectrum of combat power to bear in order to achieve my mission and the goals established by my country. The execution of my duties will be swift and violent when required yet guided by the very principles that I serve to defend. Brave men have fought and died building the proud tradition and feared reputation that I am bound to uphold. In the worst of conditions, the legacy of my teammates steadies my resolve and silently guides my every deed. I will not fail.
Credit: US Navy