Islamic Republic of Afghanistan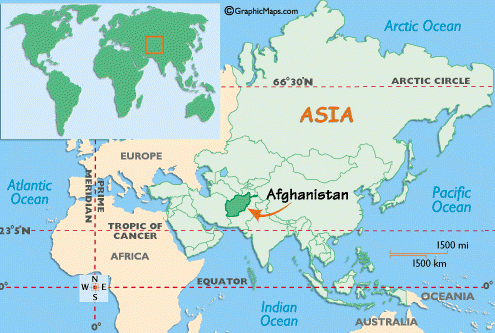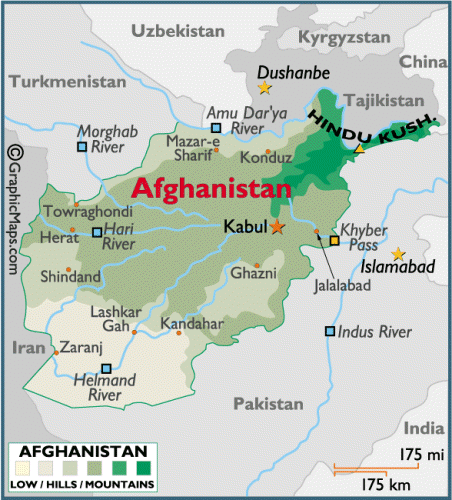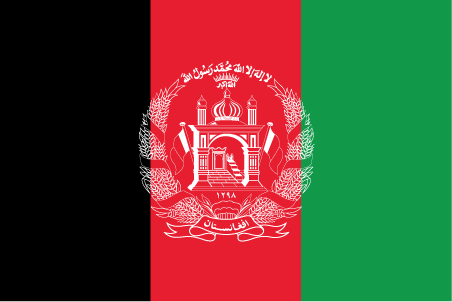 Flag : three equal vertical bands of black (hoist side), red, and green, with the national emblem in white centered on the red band and slightly overlapping the other two bands; the center of the emblem features a mosque with pulpit and flags on either side, below the mosque are numerals for the solar year 1298 (1919 in the Gregorian calendar, the year of Afghan independence from the UK); this central image is circled by a border consisting of sheaves of wheat on the left and right, in the upper-center is an Arabic inscription of the Shahada (Muslim creed) below which are rays of the rising sun over the Takbir (Arabic expression meaning "God is great"), and at bottom center is a scroll bearing the name Afghanistan
700's - Islamic conquerors


1300 - 1400's - Genghis Khan and Tamerlane conquered the country


1839–1842 Anglo-Afghan war


1878–1880 Anglo-Afghan war


1893 UK established an unofficial border separating Afghanistan from British India


1
1919 - Afghanistan regains independence after third war against British forces trying to bring country under their sphere of influence.
LAST OF A DYNASTY
Afghanistan's last monarch, Zahir Shah, came from a long line of Pashtun rulers
1933 - Ascends throne aged 19, introduces reforms
1973 - Deposed in coup
2001 - Endorses Afghan renewal plan
2007 - Dies, aged 92

1926 - Amanullah proclaims himself king and attempts to introduce social reforms leading to opposition from conservative forces.
1929 - Amanullah flees after civil unrest over his reforms.
1933 - Zahir Shah becomes king and Afghanistan remains a monarchy for next four decades.
1953 - General Mohammed Daud becomes prime minister. Turns to Soviet Union for economic and military assistance. Introduces a number of social reforms, such as abolition of purdah (practice of secluding women from public view).
1963 - Mohammed Daud forced to resign as prime minister.
1964 - Constitutional monarchy introduced - but leads to political polarisation and power struggles.
1973 - Mohammed Daud seizes power in a coup and declares a republic. Tries to play off USSR against Western powers. His style alienates left-wing factions who join forces against him.
1978 - General Daud is overthrown and killed in a coup by leftist People's Democratic Party. But party's Khalq and Parcham factions fall out, leading to purging or exile of most Parcham leaders. At the same time, conservative Islamic and ethnic leaders who objected to social changes begin armed revolt in countryside.
1979 - Power struggle between leftist leaders Hafizullah Amin and Nur Mohammed Taraki in Kabul won by Amin. Revolts in countryside continue and Afghan army faces collapse. Soviet Union finally sends in troops to help remove Amin, who is executed.
Soviet intervention
1980 - Babrak Karmal, leader of the People's Democratic Party Parcham faction, is installed as ruler, backed by Soviet troops. But anti-regime resistance intensifies with various mujahideen groups fighting Soviet forces. US, Pakistan, China, Iran and Saudi Arabia supply money and arms.
1985 - Mujahideen come together in Pakistan to form alliance against Soviet forces. Half of Afghan population now estimated to be displaced by war, with many fleeing to neighbouring Iran or Pakistan. New Soviet leader Mikhail Gorbachev says he will withdraw troops from Afghanistan.
1986 - US begins supplying mujahideen with Stinger missiles, enabling them to shoot down Soviet helicopter gunships. Babrak Karmal replaced by Najibullah as head of Soviet-backed regime.
1988 - Afghanistan, USSR, the US and Pakistan sign peace accords and Soviet Union begins pulling out troops.
1989 - Last Soviet troops leave, but civil war continues as mujahideen push to overthrow Najibullah.
1991 - US and USSR agree to end military aid to both sides.
Mujahideen triumph
1992 - Resistance closes in on Kabul and Najibullah falls from power. Rival militias vie for influence.
1993 - Mujahideen factions agree on formation of a government with ethnic Tajik, Burhanuddin Rabbani, proclaimed president.
1994 - Pashtun-dominated Taliban emerge as major challenge to the Rabbani government.
1996 - Taliban seize control of Kabul and introduce hard-line version of Islam, banning women from work, and introducing Islamic punishments, which include stoning to death and amputations. Rabbani flees to join anti-Taliban northern alliance.
Taliban under pressure
1997 - Taliban recognised as legitimate rulers by Pakistan and Saudi Arabia. Most other countries continue to regard Rabbani as head of state. Taliban now control about two-thirds of country.
1998 - Earthquakes kill thousands of people. US launches missile strikes at suspected bases of militant Osama bin Laden, accused of bombing US embassies in Africa.
1999 - UN imposes an air embargo and financial sanctions to force Afghanistan to hand over Osama bin Laden for trial.
2001 January - UN imposes further sanctions on Taliban to force them to hand over Osama bin Laden.
2001 March - Taliban blow up giant Buddha statues in defiance of international efforts to save them.
2001 April - Mullah Mohammad Rabbani, the second most powerful Taliban leader after the supreme commander Mullah Mohammad Omar, dies of liver cancer.
2001 May - Taliban order religious minorities to wear tags identifying themselves as non-Muslims, and Hindu women to veil themselves like other Afghan women.
2001 September - Eight foreign aid workers on trial in the Supreme Court for promoting Christianity. This follows months of tension between Taliban and aid agencies.
2001 - Ahmad Shah Masood, legendary guerrilla and leader of the main opposition to the Taliban, is killed, apparently by assassins posing as journalists.
2001 October - US, Britain launch air strikes against Afghanistan after Taliban refuse to hand over Osama bin Laden, held responsible for the September 11 attacks on America.
2001 November - Opposition forces seize Mazar-e Sharif and within days march into Kabul and other key cities.
Taliban falls
2001 5 December - Afghan groups agree deal in Bonn for interim government.
2001 7 December - Taliban finally give up last stronghold of Kandahar, but Mullah Omar remains at large.
2001 22 December - Pashtun royalist Hamid Karzai is sworn in as head of a 30-member interim power-sharing government.
2002 January - First contingent of foreign peacekeepers in place.
2002 April - Former king Zahir Shah returns, but says he makes no claim to the throne.
2002 May - UN Security Council extends mandate of International Security Assistance Force (Isaf) until December 2002.
Allied forces continue their military campaign to find remnants of al-Qaeda and Taliban forces in the south-east.
2002 June - Loya Jirga, or grand council, elects Hamid Karzai as interim head of state. Karzai picks members of his administration which is to serve until 2004.
2002 July - Vice-President Haji Abdul Qadir is assassinated by gunmen in Kabul.
2002 September - Karzai narrowly escapes an assassination attempt in Kandahar, his home town.
2002 December - President Karzai and Pakistani, Turkmen leaders sign deal to build gas pipeline through Afghanistan, carrying Turkmen gas to Pakistan.
2003 August - Nato takes control of security in Kabul, its first-ever operational commitment outside Europe.
New constitution
2004 January - Grand assembly - or Loya Jirga - adopts new constitution which provides for strong presidency.
2004 March - Afghanistan secures $8.2bn (£4.5bn) in aid over three years.
2004 September - Rocket fired at helicopter carrying President Karzai misses its target; it is the most serious attempt on his life since September 2002.
2004 October-November - Presidential elections: Hamid Karzai is declared the winner, with 55% of the vote. He is sworn in, amid tight security, in December.
2005 February - Several hundred people are killed in the harshest winter weather in a decade.
2005 May - Details emerge of alleged prisoner abuse by US forces at detention centres.
New parliament
SUICIDE BOMBINGS
Militants change tactics and follow the lead of Iraqi insurgents
64 suicide attacks January 2005 - August 2006
181 deaths (not including suicide bombers)
August 3, 2006 - 21 killed when suicide car bomber rams a Nato convoy in Kandahar
June 1, 2005 - Suicide bomber in police uniform kills 20 in a Kandahar mosque
2005 September - First parliamentary and provincial elections in more than 30 years.
2005 December - New parliament holds its inaugural session.
2006 February - International donors meeting in London pledge more than $10bn (£5.7bn) in reconstruction aid over five years.
2006 May - Violent anti-US protests in Kabul, the worst since the fall of the Taliban in 2001, erupt after a US military vehicle crashes and kills several people.
2006 May-June - Scores of people are killed in battles between Taliban fighters and Afghan and coalition forces in the south during an offensive known as Operation Mountain Thrust.
Nato takes over
2006 July onwards - Nato troops take over the leadership of military operations in the south. Fierce fighting ensues as the forces try to extend government control in areas where Taliban influence is strong.
2006 October - Nato assumes responsibility for security across the whole of Afghanistan, taking command in the east from a US-led coalition force.
2007 March - Pakistan says it has arrested Mullah Obaidullah Akhund, the third most senior member of the Taliban's leadership council.
Nato and Afghan forces launch Operation Achilles, said to be their largest offensive to date against the Taliban in the south. There is heavy fighting in Helmand province.
Controversy over Italian deal with Taliban, which secures the release of five rebels in exchange for kidnapped reporter Daniele Mastrogiacomo. His Afghan driver and translator are beheaded.
2007 May - Taliban's most senior military commander, Mullah Dadullah, is killed during fighting with US, Afghan forces.
Afghan and Pakistani troops clash on the border in the worst violence in decades in a simmering border dispute.
2007 July - Former king Zahir Shah dies.
A group of South Korean Christian charity workers is kidnapped by the Taliban. Two are killed, the rest are freed over the next six weeks.
Opium production soars
US: 70,000 soldiers (34,800 in ISAF)
UK: 9,000 soldiers
Germany: 4,300 soldiers
France: 3,000 soldiers
Canada: 2,800 soldiers
Italy: 2,800 soldiers (Figures correct as of 2009)
2007 August - Opium production has soared to a record high, the UN reports.
2007 October - Fifteen are put to death in the second confirmed set of executions since the fall of the Taliban in 2001.
2007 November - A suicide attack on a parliamentary delegation kills at least 41 in northern town of Baghlan, in the country's worst such attack.
2007 December - Two senior EU and UN envoys are accused by Afghan officials of making contact with the Taliban and expelled from the country.
2008 February - Prince Harry, third in line to the British throne, is pulled out of Afghanistan after serving 10 weeks in action in Helmand province.
2008 April - Nato leaders meeting in Bucharest say peacekeeping mission in Afghanistan is their top priority. They pledge a "firm and shared long-term commitment" there.
Relations with Pakistan
2008 June - Taliban engineers massive jail-break from Kandahar prison, freeing at least 350 insurgents.
British Defence Secretary Des Browne announces British troop numbers in Afghanistan to increase by 230 to new high of more than 8,000 by spring 2009.
President Karzai warns that Afghanistan will send troops into Pakistan to fight militants if Islamabad fails to take action against them.
2008 July - Suicide bomb attack on Indian embassy in Kabul kills more than 50. Afghan government accuses Pakistani intelligence of being behind this and other recent miltant attacks. Pakistan denies any involvement.
2008 August - Ten French soldiers killed in an ambush by Taliban fighters.
President Karzai accuses Afghan and US-led coalition forces of killing at least 89 civilians in an air strike in the western province of Herat. He later sacks two senior military commanders over the strike.
Troop numbers boosted
2008 September - President Bush sends an extra 4,500 US troops to Afghanistan, in a move he described as a "quiet surge".
2008 October - Germany extends Afghanistan mission to 2009 and boosts troop numbers in Afghanistan by 1,000, to 4,500.
2008 November - Taliban militants reject an offer of peace talks from President Karzai, saying there can be no negotiations until foreign troops leave Afghanistan.
2008 December - President Karzai and new Pakistani President Asif Ali Zardari agree to form joint strategy to fight militants operating in their border regions.
2009 January - Kyrgyzstan decides to close US air base at Manas that supplies troops and materiel to Afghanistan.
US Defence Secretary Robert Gates tells Congress that Afghanistan is new US administration's "greatest test".
2009 February - Up to 20 Nato countries pledge to increase military and other commitments in Afghanistan after USA announces dispatch of 17,000 extra troops.
New US approach
2009 March - President Barack Obama unveils a new US strategy for Afghanistan and Pakistan to combat what he calls an increasingly perilous situation. An extra 4,000 US personnel will train and bolster the Afghan army and police, and there will also be support for civilian development.
2009 ELECTION DISPUTE
President Karzai won a second term in an election marred by widespread fraud

2009 May - US Defence Secretary Robert Gates replaces commander of US forces in Afghanistan, Gen David McKiernan, with Gen Stanley McChrystal, saying the battle against the Taliban needs "new thinking".
US military says a US-Afghan force arrested 60 militants and captured more than 100 tonnes of drugs in Helmand province, in the largest drug seizure since foreign troops arrived in 2001.
2009 July - US army launches major offensive against the Taliban's heartland in southern Helmand province, involving about 4,000 Marines and 650 Afghan soldiers.
Elections
2009 August - Presidential and provincial elections are held, but are marred by widespread Taliban attacks, patchy turnout and claims of serious fraud.
2009 September - Leaked report by the commander of US forces, Gen Stanley McChrystal, says the war against the Taliban could be lost within 12 months unless there are significant increases in troop numbers.
2009 October - Hamid Karzai is declared winner of the August presidential election, after second-placed opponent Abdullah Abdullah pulls out before the second round. Preliminary results had given Mr Karzai 55% of the vote, but so many ballots are found to be fraudulent that a run-off was called.
The British government says it will send 500 more military personnel to Afghanistan.
2009 November - Hamid Karzai is sworn in for a second term as president.
2010 OPERATION MOSHTARAK
Moshtarak - together" in Dari - is the biggest military offensive since the overthrow of the Taliban in 2001

2009 December - US President Barack Obama decides to boost US troop numbers in Afghanistan by 30,000, bringing total to 100,000. He also says the United States will begin withdrawing its forces by 2011.
An Al-Qaeda double agent kills seven CIA agents in a suicide attack on a US base in Khost.
2010 January - Parliament rejects 17 of President Karzai's first list 24 cabinet nominees. In a further vote, MPs reject 10 of Mr Karzai's second list of 17 nominations.
Taliban gunmen and suicide bombers carry out a bold attack on civilian and government buildings in central Kabul. The fighting leaves 12 people dead, including seven militants.
2010 February - Nato-led forces launch major offensive, Operation Moshtarak, in bid to secure government control of southern Helmand province.
President Karzai angers Western diplomats by issuing a decree giving him total control of the UN-backed Electoral Complaints Commission, which helped expose massive fraud in the October presidential election.
Top Afghan Taliban military commander Mullah Abdul Ghani Baradar is captured in Pakistan
2010 April - President Karzai says that foreign observers were responsible for fraud in last year's disputed poll, and accuses UN and EU officials of involvement in a plot to put a puppet government in power. The White House calls his remarks "genuinely troubling".
Security concerns
2010 July - Major international conference endorses President Karzai's timetable for control of security to be transferred from foreign to Afghan forces by 2014.
Whistleblowing website Wikileaks publishes thousands of classified US military documents relating to Afghanistan.
General David Petraeus takes command of US, ISAF forces.
2010 August - Dutch troops quit.
President Karzai says private security firm must cease operations by mid-December. He subsequently waters down the decree.
2010 September - Parliamentary polls marred by Taliban violence, widespread fraud and a long delay in announcing the results.
2010 November - Nato agrees plan to hand control of security to Afghan forces by end of 2014.
2011 January - President Karzai makes first official state visit to Russia by an Afghan leader since the end of the Soviet invasion in 1989.
2011 February - Number of civilians killed since the 2001 invasion hit record levels in 2010, Afghanistan Rights Monitor reports.
2011 April - Burning of Koran by a US pastor prompts country-wide protests in which foreign UN workers and several Afghans are killed.
Some 500 mostly Taliban prisoners break out of prison in Kandahar.
2011 July - President's half-brother and Kandahar governor Ahmad Wali Karzai is killed in Taliban campaign against prominent figures.
2011 September - Ex-president Burhanuddin Rabbani - a go-between in talks with the Taliban - is assassinated.
2011 October - As relations with Pakistan worsen after a series of attacks, Afghanistan and India sign a strategic partnership to expand co-operation in security and development.
Military pact
2011 November - President Karzai wins the endorsement of tribal elders to negotiate a 10-year military partnership with the US at a loya jirga traditional assembly. The proposed pact will see US troops remain after 2014, when foreign troops are due to leave the country.
2011 December - At least 58 people are killed in twin attacks at a Shia shrine in Kabul and a Shia mosque in Mazar-i-Sharif.
Pakistan and the Taleban boycott the scheduled Bonn Conference on Afghanistan. Pakistan refuses to attend after a Nato air strike killed Pakistani soldiers on the Afghan border.
2012 January - Taliban agree to open office in Dubai as a move towards peace talks with the US and the Afghan government.
2012 February - At least 30 people are killed in protests about the burning of copies of the Koran at the US Bagram airbase. US officials believed Taliban prisoners were using the books to pass messages, and that they were extremist texts not Korans. Two soldiers are also killed in reprisal attacks.
2012 March - US Army Sgt Robert Bales is accused of killing 16 civilians in an armed rampage in the Panjwai district of Kandahar.
2012 April - Taliban announce "spring offensive" with audacious attack on the diplomatic quarter of Kabul. The government blamed the Haqqani Network. Security forces kill 38 militants.
Nato withdrawal plan
2012 May - Nato summit endorses the plan to withdraw foreign combat troops by the end of 2014.
New French President Francois Hollande says France will withdraw its combat mission by the end of 2012 - a year earlier than planned.
Arsala Rahmani of the High Peace Council is shot dead in Kabul. A former Taliban minister, he was crucial in reaching out to rebel commanders. The Taliban deny responsibility.
2012 July - Tokyo donor conference pledges $16bn in civilian aid to Afghanistan up to 2016, with US, Japan, Germany and UK supplying bulk of funds. Afghanistan agrees to new conditions to counter corruption.
2012 August - The US military discipline six soldiers for accidentally burning copies of the Koran and other religious texts in Afghanistan. They will not face criminal prosecution. Three US Marines are also disciplined for a video in which the bodies of dead Taliban fighters were urinated on.
2012 September - US hands over Bagram high-security jail to the Afghan government, although it retains control over some foreign prisoners until March 2013.
The US also suspends training new police recruits in order to carry out checks on possible ties to Taliban following series of attacks on foreign troops by apparent police and Afghan soldiers.
2013 February - President Karzai and Pakistan's Asif Ali Zardari agree to work for an Afghan peace deal within six months after talks hosted by Britain's Prime Minister David Cameron. They back the opening of an Afghan office in Doha and urge the Taliban to do the same for talks to take place.
2013 March - Two former Kabul Bank chiefs, Sherkhan Farnood and Khalilullah Ferozi, are jailed for the multi-million dollar fraud that almost led to its collapse and that of the entire Afghan banking system in 2010.
2013 June - Afghan army takes command of all military and security operations from Nato forces.
President Karzai suspends security talks with the US after Washington announces it plans to hold direct talks with the Taliban. Afghanistan insists on conducting the talks with the Taliban in Qatar itself.
2014 January - Taliban suicide squad hits a restaurant in Kabul's diplomatic quarter, the worst attack on foreign civilians since 2001. The 13 foreign victims include IMF country head.
2014 April - The presidential election produces an inconclusive result and goes on to a second round between Abdullah Abdullah and Ashraf Ghani.
2014 June - Second round of presidential election is held, with more than 50 reported killed in various incidents during the vote.
2014 July - Election officials begin recount of all votes cast in June's presidential run-off, as part of a US-mediated deal to end dispute between candidates over widespread claims of fraud.
Election deal
2014 September - The two rivals for the Afghan presidency, Ashraf Ghani and Abdullah Abdullah, sign a power-sharing agreement, following a two-month audit of disputed election results. Ashraf Ghani is sworn in as president.
2014 October - The US and Britain end their combat operations in Afghanistan.
Opium poppy cultivation in Afghanistan reaches an all-time high, according to a US report
2014 December - NATO formally ends its 13-year combat mission in Afghanistan, handing over to Afghan forces. Despite the official end to Isaf's combat role, violence persists across much of the country, with 2014 said to be the bloodiest year in Afghanistan since 2001.
2015 January - NATO-led follow-on mission "Resolute Support" gets underway, with some 12,000 personnel to provide further training and support for Afghan security forces.
Islamic State (IS) group emerges in eastern Afghanistan and within a few months captures a large swathe of Taliban-controlled areas in Nangarhar province.
2015 March - US President Barack Obama announces that his country will delay its troop withdrawal from Afghanistan, following a request from President Ashraf Ghani.
The lynching of a woman wrongly accused of burning a Koran in Kabul provokes widespread revulsion and criticism of hard-line clerics. Police face accusations of doing too little to save her. The incident leads to widespread protests against the treatment of women. Four men are later convicted of murder.
Taliban offensives
2015 May - Taliban representatives and Afghan officials hold informal peace talks in Qatar. Both sides agree to continue the talks at a later date, though the Taliban insist they will not stop fighting until all foreign troops leave the country.
2015 July - Taliban admits that reclusive founder, Mullah Omar, died a few years ago, and appoints Mullah Akhter Mansour as his replacement.
2015 September - Taliban briefly capture major northern city of Kunduz in their most significant advance since being forced from power in 2001.
2015 October - Powerful earthquake kills more than 80 people in northeast of country.
2015 October - US President Barack Obama announces that 9,800 US troops will remain in Afghanistan until the end of 2016, backtracking on an earlier pledge to pull all but 1,000 troops from the country.
2015 November - A new Taliban splinter group, headed by Mullah Rasool, announces its presence in southern Afghanistan. However, the group is totally crushed by the mainstream Taliban by spring 2016.
2015 December - Taliban make bid to capture Sangin, a town and district in Helmand Province. US warplanes deploy in support of Afghan security forces' attempt to repel insurgents.
2015 December - NATO extends its "Resolute Support" follow-on mission by 12 months to the end of 2016.
2016 - Over one million Afghans are on the go during the year, either due to internal displacement because of the war, or are forced to repatriate by Pakistan, Iran and the European Union, according to the United Nations.
Heavy US air strikes reverse Islamic State's gains in the east, and the group is cornered in a few districts in Nangarhar.
2016 May - New Taliban leader Mullah Mansour is killed in a US drone attack in Pakistan's Baluchestan province.
2016 July - US President Barack Obama says 8,400 US troops will remain in Afghanistan into 2017 in light of the "precarious security situation". NATO also agrees to maintain troop numbers and reiterates a funding pledge for local security forces until 2020.
2016 August to October - Taliban advance to the outskirts of Lashkar Gah, the capital of Helmand, and to the northern city of Kunduz. The group has brought much of the two provinces under its control since the bulk of NATO forces withdrew by end of 2014.
2016 September - The Afghan government signs a peace agreement with the militant group Hezb-e-Islami and grants immunity to the group's leader, Gulbuddin Hekmatyar.
2017 January - A bomb attack in Kandahar kills six UAE diplomats.
2017 February - Rise in Islamic State activities reported in a number of northern and southern provinces.
2017 March - Thirty people are killed and more than 50 wounded in an attack by so-called Islamic State on a military hospital in Kabul.
2017 June - Islamic State militants capture the mountainous region of Tora Bora in Nangarhar province, which was formerly used as a base by the late al-Qaeda leader Osama Bin Laden.
2017 August - US President Donald Trump says he's sending more troops to fight a resurgent Taliban.
2018 January - Bomb-laden ambulance explodes in Kabul, killing more than 100 people. It is one of ongoing attacks attributed to the Taliban.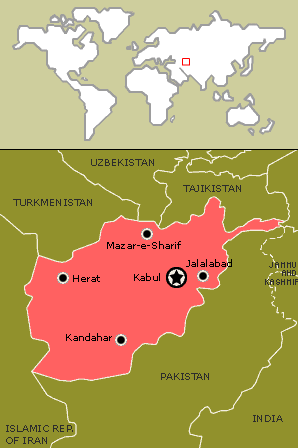 Ahmad Shah DURRANI unified the Pashtun tribes and founded Afghanistan in 1747. The country served as a buffer between the British and Russian empires until it won independence from notional British control in 1919. A brief experiment in democracy ended in a 1973 coup and a 1978 Communist counter-coup. The Soviet Union invaded in 1979 to support the tottering Afghan Communist regime, but withdrew 10 years later under relentless pressure by internationally supported anti-Communist mujahedin rebels. A civil war between mujahedin factions erupted following the 1992 fall of the Communist regime. The Taliban, a hardline Pakistani-sponsored movement that emerged in 1994 to end the country's civil war and anarchy, seized Kabul in 1996 and most of the country outside of opposition Northern Alliance strongholds by 1998.
Following the 11 September 2001 terrorist attacks, a US, Allied, and Northern Alliance military action toppled the Taliban for sheltering Osama Bin Ladin.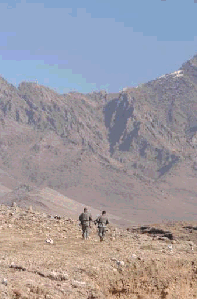 01/03/07 - U.S. Army Soldiers from 1st Platoon, Bravo Company, 1st Battalion, 102nd Infantry Regiment, Connecticut National Guard walk up the side of a hill to look at caves near the village of Showki in the Kabisa province of Afghanistan Jan. 3, 2007. (U.S. Army photo by Sgt. Isaac A. Graham)
In late 2001, a conference in Bonn, Germany, established a process for political reconstruction that included the adoption of a new constitution and a presidential election in 2004, and National Assembly elections in 2005.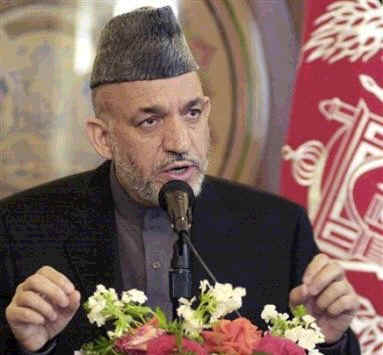 On 7 December 2004, Hamid KARZAI became the first democratically elected president of Afghanistan. The National Assembly was inaugurated on 19 December 2005.
About the size of the U.S. State of Texas, most of Afghanistan is a rugged, inhospitable mountainous landscape. More than 50% of the total land area lies above 6,500 ft. (2,000 m). It all culminates in the high peaks of the Hindu Kush, where extensions of the Pamir Mountains, Karakorum Mountains and the Himalayas all come together. In the north a fertile plain fronts the Anu Dar'ya River. In the south, below the mountains, rolling desert and scattered salt flats cover the land. Afghanistan is drained by numerous rivers; significant ones include the Amu Dar'ya, Hari, Helmand, and the Kabul - directly east of the capital city, flowing down into the Indus River in Pakistan.
34 provinces (velayat, singular - velayat); Badakhshan, Badghis, Baghlan, Balkh, Bamian, Daykondi, Farah, Faryab, Ghazni, Ghowr, Helmand, Herat, Jowzjan, Kabol, Kandahar, Kapisa, Khowst, Konar, Kondoz, Laghman, Lowgar, Nangarhar, Nimruz, Nurestan, Oruzgan, Paktia, Paktika, Panjshir, Parvan, Samangan, Sar-e Pol, Takhar, Vardak, Zabol
World's largest producer of opium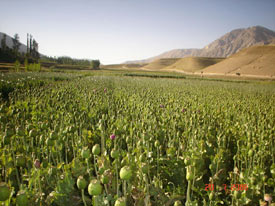 Afghanistan Opium Field
Credit: United Nations
World's largest producer of opium; cultivation dropped 48% to 107,400 hectares in 2005; better weather and lack of widespread disease returned opium yields to normal levels, meaning potential opium production declined by only 10% to 4,475 metric tons; if the entire poppy crop were processed, it is estimated that 526 metric tons of heroin could be processed; source of hashish; many narcotics-processing labs throughout the country; drug trade source of instability and some antigovernment groups profit from the trade; 80-90% of the heroin consumed in Europe comes from Afghan opium; vulnerable to narcotics money laundering through informal financial networks
Source: CIA Factbook, United Nations
In 1803, a German pharmacist, F.W. Sertürner isolated the main alkaloid of opium and named it morphine after Morpheus, the Greek god of dreams. Morphine was soon widely used for medical purposes in Europe and the U.S. But by the end of the century, addiction to the drug had become a problem. In 1898, while searching for a non-addictive substitute for morphine, Heinrick Dresser, working at the Bayer Laboratory in Germany, developed diacetylmorphine. Bayer marketed it under the brand name Heroin. The new drug, however, turned out to be up to ten times more potent than morphine.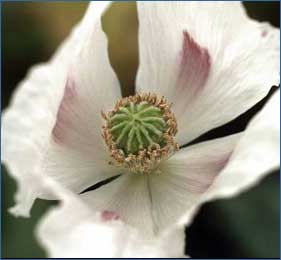 Opium poppies may look like innocent flowers out of a painting by Henri Matisse, but deep within their pods lies a substance that can be processed into heroin, a highly addictive drug used by 13 million people worldwide. In wartorn Afghanistan, opium poppies can be grown easily and bring in much-needed cash. But growing poppies is just the start. Before poppy pods can hit the streets as "junk," "horse" or "smack" (or as their chemical cousins, opium and morphine), they must undergo a long and complicated refining process.
Papaver somniferum, one of the few species of poppy that produces opium, is an annual plant with a growth cycle of 120 days. Farmers plant seeds, which range in color from white to yellow to brown and gray, in shallow holes. Within six weeks a cabbage-like plant emerges. It takes eight weeks for the poppy plant to grow about one to two feet. Each poppy has one long primary stem with secondary stems called tillers. As the plant continues to grow, a bud develops at the tip. After 90 days, the bud blossoms into a flower with four petals in a variety of colors. The petals fall away to reveal a green pod or ghozah that will continue to grow to the size of an egg. Inside the pod is the ovary that produces opium. Opium, which contains over 50 types of alkaloids including codeine and morphine, is only produced during the ten to 12 day period when the pod is ripening. Once the pod reaches maturity, the alkaloids in the opium are no longer made.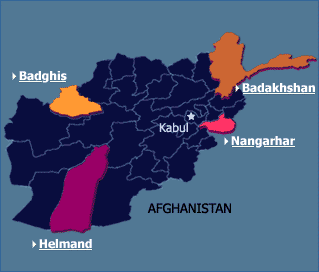 Areas In Afghanistan where opium is grown
| | |
| --- | --- |
| Background: | Ahmad Shah DURRANI unified the Pashtun tribes and founded Afghanistan in 1747. The country served as a buffer between the British and Russian empires until it won independence from notional British control in 1919. A brief experiment in democracy ended in a 1973 coup and a 1978 Communist counter-coup. The Soviet Union invaded in 1979 to support the tottering Afghan Communist regime, touching off a long and destructive war. The USSR withdrew in 1989 under relentless pressure by internationally supported anti-Communist mujahedin rebels. A series of subsequent civil wars saw Kabul finally fall in 1996 to the Taliban, a hardline Pakistani-sponsored movement that emerged in 1994 to end the country's civil war and anarchy. Following the 11 September 2001 terrorist attacks in New York City, a US, Allied, and anti-Taliban Northern Alliance military action toppled the Taliban for sheltering Osama BIN LADIN. The UN-sponsored Bonn Conference in 2001 established a process for political reconstruction that included the adoption of a new constitution, a presidential election in 2004, and National Assembly elections in 2005. In December 2004, Hamid KARZAI became the first democratically elected president of Afghanistan and the National Assembly was inaugurated the following December. Despite gains toward building a stable central government, a resurgent Taliban and continuing provincial instability - particularly in the south and the east - remain serious challenges for the Afghan Government. |
Location:

Southern Asia, north and west of Pakistan, east of Iran

Geographic coordinates:

33 00 N, 65 00 E

Map references:

Asia

Area:

total: 647,500 sq km
land: 647,500 sq km
water: 0 sq km

Area - comparative:

slightly smaller than Texas

Land boundaries:

total: 5,529 km
border countries: China 76 km, Iran 936 km, Pakistan 2,430 km, Tajikistan 1,206 km, Turkmenistan 744 km, Uzbekistan 137 km

Coastline:

0 km (landlocked)

Maritime claims:

none (landlocked)

Climate:

arid to semiarid; cold winters and hot summers

Terrain:

mostly rugged mountains; plains in north and southwest

Elevation extremes:

lowest point: Amu Darya 258 m
highest point: Nowshak 7,485 m

Natural resources:

natural gas, petroleum, coal, copper, chromite, talc, barites, sulfur, lead, zinc, iron ore, salt, precious and semiprecious stones

Land use:

arable land: 12.13%
permanent crops: 0.21%
other: 87.66% (2005)

Irrigated land:

27,200 sq km (2003)

Total renewable water resources:

65 cu km (1997)

Freshwater withdrawal (domestic/industrial/agricultural):

total: 23.26 cu km/yr (2%/0%/98%)
per capita: 779 cu m/yr (2000)

Natural hazards:

damaging earthquakes occur in Hindu Kush mountains; flooding; droughts

Environment - current issues:

limited natural fresh water resources; inadequate supplies of potable water; soil degradation; overgrazing; deforestation (much of the remaining forests are being cut down for fuel and building materials); desertification; air and water pollution

Environment - international agreements:

party to: Biodiversity, Climate Change, Desertification, Endangered Species, Environmental Modification, Marine Dumping, Ozone Layer Protection
signed, but not ratified: Hazardous Wastes, Law of the Sea, Marine Life Conservation

Geography - note:

landlocked; the Hindu Kush mountains that run northeast to southwest divide the northern provinces from the rest of the country; the highest peaks are in the northern Vakhan (Wakhan Corridor)
Population:

33,609,937 (July 2009 est.)

Age structure:

0-14 years: 44.5% (male 7,664,670/female 7,300,446)
15-64 years: 53% (male 9,147,846/female 8,679,800)
65 years and over: 2.4% (male 394,572/female 422,603) (2009 est.)

Median age:

total: 17.6 years
male: 17.6 years
female: 17.6 years (2009 est.)

Population growth rate:

2.629% (2009 est.)

Birth rate:

45.46 births/1,000 population (2009 est.)

Death rate:

19.56 deaths/1,000 population (2008 est.)

Net migration rate:

21 migrant(s)/1,000 population (2009 est.)

Urbanization:

urban population: 24% of total population (2008)
rate of urbanization: 5.4% annual rate of change (2005-10 est.)

Sex ratio:

at birth: 1.05 male(s)/female
under 15 years: 1.05 male(s)/female
15-64 years: 1.05 male(s)/female
65 years and over: 0.93 male(s)/female
total population: 1.05 male(s)/female (2009 est.)

Infant mortality rate:

total: 151.95 deaths/1,000 live births
male: 156.01 deaths/1,000 live births
female: 147.7 deaths/1,000 live births (2009 est.)

Life expectancy at birth:

total population: 44.64 years
male: 44.47 years
female: 44.81 years (2009 est.)

Total fertility rate:

6.53 children born/woman (2009 est.)

HIV/AIDS - adult prevalence rate:

0.01% (2001 est.)

HIV/AIDS - people living with HIV/AIDS:

NA

HIV/AIDS - deaths:

NA

Major infectious diseases:

degree of risk: high
food or waterborne diseases: bacterial and protozoal diarrhea, hepatitis A, and typhoid fever
vectorborne disease: malaria
animal contact disease: rabies
note: highly pathogenic H5N1 avian influenza has been identified in this country; it poses a negligible risk with extremely rare cases possible among US citizens who have close contact with birds (2009)

Nationality:

noun: Afghan(s)
adjective: Afghan

Ethnic groups:

Pashtun 42%, Tajik 27%, Hazara 9%, Uzbek 9%, Aimak 4%, Turkmen 3%, Baloch 2%, other 4%

Religions:

Sunni Muslim 80%, Shia Muslim 19%, other 1%

Languages:

Afghan Persian or Dari (official) 50%, Pashto (official) 35%, Turkic languages (primarily Uzbek and Turkmen) 11%, 30 minor languages (primarily Balochi and Pashai) 4%, much bilingualism

Literacy:

definition: age 15 and over can read and write
total population: 28.1%
male: 43.1%
female: 12.6% (2000 est.)

School life expectancy (primary to tertiary education):

total: 8 years
male: 11 years
female: 4 years (2004)

Education expenditures:

NA
Country name:

conventional long form: Islamic Republic of Afghanistan
conventional short form: Afghanistan
local long form: Jomhuri-ye Eslami-ye Afghanestan
local short form: Afghanestan
former: Republic of Afghanistan

Government type:

Islamic republic

Capital:

name: Kabul
geographic coordinates: 34 31 N, 69 11 E
time difference: UTC+4.5 (9.5 hours ahead of Washington, DC during Standard Time)

Administrative divisions:

34 provinces (welayat, singular - welayat); Badakhshan, Badghis, Baghlan, Balkh, Bamyan, Daykundi, Farah, Faryab, Ghazni, Ghor, Helmand, Herat, Jowzjan, Kabul, Kandahar, Kapisa, Khost, Kunar, Kunduz, Laghman, Logar, Nangarhar, Nimroz, Nuristan, Paktika, Paktiya, Panjshir, Parwan, Samangan, Sar-e Pul, Takhar, Uruzgan, Wardak, Zabul

Independence:

19 August 1919 (from UK control over Afghan foreign affairs)

National holiday:

Independence Day, 19 August (1919)

Constitution:

new constitution drafted 14 December 2003-4 January 2004; signed 16 January 2004; ratified 26 January 2004

Legal system:

based on mixed civil and Sharia law; has not accepted compulsory ICJ jurisdiction

Suffrage:

18 years of age; universal

Executive branch:

chief of state: President of the Islamic Republic of Afghanistan Hamid KARZAI (since 7 December 2004); First Vice President Ahmad Zia MASOOD; Second Vice President Abdul Karim KHALILI (since 7 December 2004); note - the president is both the chief of state and head of government; former King ZAHIR Shah held the honorific, "Father of the Country," and presided symbolically over certain occasions but lacked any governing authority; the honorific is not hereditary; King ZAHIR Shah died on 23 July 2007
head of government: President of the Islamic Republic of Afghanistan Hamid KARZAI (since 7 December 2004); First Vice President Ahmad Zia MASOOD; Second Vice President Abdul Karim KHALILI (since 7 December 2004)
cabinet: 25 ministers; note - under the new constitution, ministers are appointed by the president and approved by the National Assembly
elections: the president and two vice presidents are elected by direct vote for a five-year term (eligible for a second term); if no candidate receives 50% or more of the vote in the first round of voting, the two candidates with the most votes will participate in a second round; a president can only be elected for two terms; election last held 9 October 2004 (next to be held in August 2009)
election results: Hamid KARZAI elected president; percent of vote - Hamid KARZAI 55.4%, Yunus QANUNI 16.3%, Ustad Mohammad MOHAQQEQ 11.6%, Abdul Rashid DOSTAM 10.0%, Abdul Latif PEDRAM 1.4%, Masooda JALAL 1.2%

Legislative branch:

the bicameral National Assembly consists of the Meshrano Jirga or House of Elders (102 seats, one-third elected from provincial councils for four-year terms, one-third elected from local district councils for three-year terms, and one-third nominated by the president for five-year terms) and the Wolesi Jirga or House of People (no more than 249 seats), directly elected for five-year terms
note: on rare occasions the government may convene a Loya Jirga (Grand Council) on issues of independence, national sovereignty, and territorial integrity; it can amend the provisions of the constitution and prosecute the president; it is made up of members of the National Assembly and chairpersons of the provincial and district councils
elections: last held 18 September 2005 (next to be held for the Wolesi Jirga by September 2009; next was to be held for the provincial councils to the Meshrano Jirga by September 2008)
election results: the single non-transferable vote (SNTV) system used in the election did not make use of political party slates; most candidates ran as independents

Judicial branch:

the constitution establishes a nine-member Stera Mahkama or Supreme Court (its nine justices are appointed for 10-year terms by the president with approval of the Wolesi Jirga) and subordinate High Courts and Appeals Courts; there is also a minister of justice; a separate Afghan Independent Human Rights Commission established by the Bonn Agreement is charged with investigating human rights abuses and war crimes

Political parties and leaders:

Afghanistan Peoples' Treaty Party [Sayyed Amir TAHSEEN]; Afghanistan's Islamic Mission Organization [Abdul Rasoul SAYYAF]; Afghanistan's Islamic Nation Party [Toran Noor Aqa Ahmad ZAI]; Afghanistan's National Islamic Party [Rohullah LOUDIN]; Afghanistan's Welfare Party [Meer Asef ZAEEFI]; Afghan Social Democratic Party [Anwarul Haq AHADI]; Afghan Society for the Call to the Koran and Sunna [Mawlawee Samiullah NAJEEBEE]; Comprehensive Movement of Democracy and Development of Afghanistan Party [Sher Mohammad BAZGAR]; Democratic Party of Afghanistan [Tawos ARAB]; Democratic Party of Afghanistan [Abdul Kabir RANJBAR]; Elites People of Afghanistan Party [Abdul Hamid JAWAD]; Freedom and Democracy Movement of Afghanistan [Abdul Raqib Jawid KOHISTANEE]; Freedom Party of Afghanistan [Ilaj Abdul MALEK]; Freedom Party of Afghanistan [Dr. Ghulam Farooq NEJRABEE]; Hizullah-e-Afghanistan [Qari Ahmad ALI]; Human Rights Protection and Development Party of Afghanistan [Baryalai NASRATI]; Islamic Justice Party of Afghanistan [Mohammad Kabir MARZBAN]; Islamic Movement of Afghanistan [Mohammad Ali JAWID]; Islamic Movement of Afghanistan Party [Mohammad Mukhtar MUFLEH]; Islamic Party of Afghanistan [Mohammad Khalid FAROOQI, Abdul Hadi ARGHANDIWAL]; Islamic Party of the Afghan Land [Mohammad Hassan FEROZKHEL]; Islamic People's Movement of Afghanistan [Ilhaj Said Hussain ANWARY]; Islamic Society of Afghanistan [Ustad RABBANI]; Islamic Unity of the Nation of Afghanistan Party [Qurban Ali URFANI]; Islamic Unity Party of Afghanistan [Mohammad Karim KHALILI]; Islamic Unity Party of the People of Afghanistan [Ustad Mohammad MOHAQQEQ]; Labor and Progress of Afghanistan Party [Zulfiqar OMID]; Muslim People of Afghanistan Party [Besmellah JOYAN]; Muslim Unity Movement Party of Afghanistan [Wazir Mohammad WAHDAT]; National and Islamic Sovereignty Movement Party of Afghanistan [Ahmad Shah AHMADZAI]; National Congress Party of Afghanistan [Abdul Latif PEDRAM]; National Country Party [Ghulam MOHAMMAD]; National Development Party of Afghanistan [Dr. Aref BAKTASH]; National Freedom Seekers Party [Abdul Hadi DABEER]; National Independence Party of Afghanistan [Taj Mohammad WARDAK]; National Islamic Fighters Party of Afghanistan [Amanat NINGARHAREE]; National Islamic Front of Afghanistan [Pir Sayed Ahmad GAILANEE]; National Islamic Moderation Party of Afghanistan [Qara Bik Eized YAAR]; National Islamic Movement of Afghanistan [Sayed NOORULLAH]; National Islamic Unity Party of Afghanistan [Mohammad AKBAREE]; National Movement of Afghanistan [Ahmad Wali MASOOUD]; National Party of Afghanistan [Abdul Rashid ARYAN]; National Patch of Afghanistan Party [Sayed Kamal SADAT]; National Peace Islamic Party of Afghanistan [Shah Mohammood Popal ZAI]; National Peace & Islamic Party of the Tribes of Afghanistan [Abdul Qaher SHARIATEE]; National Peace & Unity Party of Afghanistan [Abdul Qader IMAMI]; National Prosperity and Islamic Party of Afghanistan [Mohammad Osman SALEKZADA]; National Prosperity Party [Mohammad Hassan JAHFAREE]; National Solidarity Movement of Afghanistan [Pir Sayed Eshaq GAILANEE]; National Solidarity Party of Afghanistan [Sayed Mansoor NADREEI]; National Sovereignty Party [Sayed Mustafa KAZEMI]; National Stability Party [Mohammad Same KHAROTI]; National Stance Party [Habibullah JANEBDAR]; National Tribal Unity Islamic Party of Afghanistan [Mohammad Shah KHOGYANI]; National United Front [Burhanuddin RABBANI] (a coalition); National Unity Movement [Sultan Mohammad GHAZI]; National Unity Movement of Afghanistan [Mohammad Nadir AATASH]; National Unity Party of Afghanistan [Abdul Rashid JALILI]; New Afghanistan Party [Mohammad Yunis QANUNI]; Peace and National Welfare Activists Society [Shamsul Haq Noor SHAMS]; Peace Movement [Shahnawaz TANAI]; People's Aspirations Party of Afghanistan [Ilhaj Saraj-u-din ZAFAREE]; People's Freedom Seekers Party of Afghanistan [Feda Mohammad EHSAS]; People's Liberal Freedom Seekers Party of Afghanistan [Ajmal SUHAIL]; People's Message Party of Afghanistan [Noor Aqa WAINEE]; People's Movement of the National Unity of Afghanistan [Abdul Hakim NOORZAI]; People's Party of Afghanistan [Ahmad Shah ASAR]; People's Prosperity Party of Afghanistan [Ustad Mohammad ZAREEF]; People's Sovereignty Movement of Afghanistan [Hayatullah SUBHANEE]; People's Uprising Party of Afghanistan [Sayed Zahir Qayed Omul BELADI]; People's Welfare Party of Afghanistan [Mia Gul WASIQ]; People's Welfare Party of Afghanistan [Mohammad Zubair PAIROZ]; Progressive Democratic Party of Afghanistan [Wali ARYA]; Republican Party [Sebghatullah SANJAR]; Solidarity Party of Afghanistan [Abdul Khaleq NEMAT]; The Afghanistan's Mujahid Nation's Islamic Unity Movement [Saeedullah SAEED]; The People of Afghanistan's Democratic Movement [Sharif NAZARI]; Tribes Solidarity Party of Afghanistan [Mohammad Zarif NASERI]; Understanding and Democracy Party of Afghanistan [Ahamad SHAHEEN]; United Afghanistan Party [Mohammad Wasil RAHIMEE]; United Islamic Party of Afghanistan [Wahidullah SABAWOON]; Young Afghanistan's Islamic Organization [Sayed Jawad HUSSINEE]; Youth Solidarity Party of Afghanistan [Mohammad Jamil KARZAI]; note - includes only political parties approved by the Ministry of Justice

Political pressure groups and leaders:

other: religious groups; tribal leaders; ethnically based groups

International organization participation:

ADB, CP, ECO, FAO, G-77, IAEA, IBRD, ICAO, ICCt, IDA, IDB, IFAD, IFC, IFRCS, ILO, IMF, Interpol, IOC, IOM, ISO (correspondent), ITSO, ITU, MIGA, NAM, OIC, OPCW, OSCE (partner), SAARC, SACEP, SCO (guest), UN, UNCTAD, UNESCO, UNIDO, UNWTO, UPU, WCO, WFTU, WHO, WIPO, WMO, WTO (observer)

Diplomatic representation in the US:

chief of mission: Ambassador Said Tayeb JAWAD
chancery: 2341 Wyoming Avenue NW, Washington, DC 20008
telephone: [1] (202) 483-6410
FAX: [1] (202) 483-6488
consulate(s) general: Los Angeles, New York

Diplomatic representation from the US:

chief of mission: Ambassador (vacant); Deputy Ambassador Francis J. RICCIARDONE, Jr.
embassy: The Great Masood Road, Kabul
mailing address: U.S. Embassy Kabul, APO, AE 09806
telephone: [93] 0700 108 001
FAX: [93] 0700 108 564

Flag description:

three equal vertical bands of black (hoist side), red, and green, with the national emblem in white centered on the red band and slightly overlapping the other two bands; the center of the emblem features a mosque with pulpit and flags on either side, below the mosque are numerals for the solar year 1298 (1919 in the Gregorian calendar, the year of Afghan independence from the UK); this central image is circled by a border consisting of sheaves of wheat on the left and right, in the upper-center is an Arabic inscription of the Shahada (Muslim creed) below which are rays of the rising sun over the Takbir (Arabic expression meaning "God is great"), and at bottom center is a scroll bearing the name Afghanistan
Economy - overview:

Afghanistan's economy is recovering from decades of conflict. The economy has improved significantly since the fall of the Taliban regime in 2001 largely because of the infusion of international assistance, the recovery of the agricultural sector, and service sector growth. Real GDP growth exceeded 7% in 2008. Despite the progress of the past few years, Afghanistan is extremely poor, landlocked, and highly dependent on foreign aid, agriculture, and trade with neighboring countries. Much of the population continues to suffer from shortages of housing, clean water, electricity, medical care, and jobs. Criminality, insecurity, and the Afghan Government's inability to extend rule of law to all parts of the country pose challenges to future economic growth. It will probably take the remainder of the decade and continuing donor aid and attention to significantly raise Afghanistan's living standards from its current level, among the lowest in the world. International pledges made by more than 60 countries and international financial institutions at the Berlin Donors Conference for Afghan reconstruction in March 2004 reached $8.9 billion for 2004-09. While the international community remains committed to Afghanistan's development, pledging over $57 billion at three donors' conferences since 2002, Kabul will need to overcome a number of challenges. Expanding poppy cultivation and a growing opium trade generate roughly $3 billion in illicit economic activity and looms as one of Kabul's most serious policy concerns. Other long-term challenges include: budget sustainability, job creation, corruption, government capacity, and rebuilding war torn infrastructure.

GDP (purchasing power parity):

$23.03 billion (2008 est.)
$21.43 billion (2007)
$19.22 billion (2006)
note: data are in 2008 US dollars

GDP (official exchange rate):

$12.85 billion (2008 est.)

GDP - real growth rate:

7.5% (2008 est.)
11.5% (2007 est.)
8.2% (2006 est.)

GDP - per capita (PPP):

$800 (2008 est.)
$700 (2007 est.)
$600 (2006 est.)
note: data are in 2008 US dollars

GDP - composition by sector:

agriculture: 31%
industry: 26%
services: 43%
note: data exclude opium production (2008 est.)

Labor force:

15 million (2004 est.)

Labor force - by occupation:

agriculture: 80%
industry: 10%
services: 10% (2004 est.)

Unemployment rate:

40% (2008 est.)

Population below poverty line:

53% (2003)

Household income or consumption by percentage share:

lowest 10%: NA%
highest 10%: NA%

Budget:

revenues: $890 million
expenditures: $2.7 billion
note: Afghanistan has also received $2.6 billion from the Reconstruction Trust Fund and $63 million from the Law and Order Trust Fund (2007 est.)

Fiscal year:

21 March - 20 March

Inflation rate (consumer prices):

13% (2007 est.)

Central bank discount rate:

NA

Commercial bank prime lending rate:

18.14% (31 December 2007)

Stock of money:

$1.426 billion (31 December 2007)

Stock of quasi money:

$958.6 million (31 December 2007)

Stock of domestic credit:

$20.06 million (31 December 2007)

Market value of publicly traded shares:

$NA

Agriculture - products:

opium, wheat, fruits, nuts; wool, mutton, sheepskins, lambskins

Industries:

small-scale production of textiles, soap, furniture, shoes, fertilizer, cement; handwoven carpets; natural gas, coal, copper

Industrial production growth rate:

NA%

Electricity - production:

839 million kWh (2007 est.)

Electricity - consumption:

1.418 billion kWh (2007 est.)

Electricity - exports:

0 kWh (2007 est.)

Electricity - imports:

608 million kWh (2007 est.)

Electricity - production by source:

fossil fuel: 36.3%
hydro: 63.7%
nuclear: 0%
other: 0% (2001)

Oil - production:

0 bbl/day (2007 est.)

Oil - consumption:

5,036 bbl/day (2006 est.)

Oil - exports:

0 bbl/day (2005)

Oil - imports:

4,534 bbl/day (2005)

Oil - proved reserves:

0 bbl (1 January 2006 est.)

Natural gas - production:

20 million cu m (2006 est.)

Natural gas - consumption:

20 million cu m (2006 est.)

Natural gas - exports:

0 cu m (2007 est.)

Natural gas - imports:

0 cu m (2007 est.)

Natural gas - proved reserves:

49.55 billion cu m (1 January 2008 est.)

Current account balance:

-$67 million (2007 est.)

Exports:

$327 million; note - not including illicit exports or reexports (2007)

Exports - commodities:

opium, fruits and nuts, handwoven carpets, wool, cotton, hides and pelts, precious and semi-precious gems

Exports - partners:

India 22.8%, Pakistan 21.8%, US 20.5%, Tajikistan 7.2% (2007)

Imports:

$4.85 billion (2007)

Imports - commodities:

capital goods, food, textiles, petroleum products

Imports - partners:

Pakistan 36.8%, US 11%, India 5%, Germany 4.2% (2007)

Debt - external:

$8 billion in bilateral debt, mostly to Russia; Afghanistan has $500 million in debt to multilateral development banks (2004)

Currency (code):

afghani (AFA)

Currency code:

AFA

Exchange rates:

afghanis (AFA) per US dollar - 50 (2007), 46 (2006), 47.7 (2005), 48 (2004), 49 (2003)
| | |
| --- | --- |
| Communications | Afghanistan |
Telephones - main lines in use:

280,000 (2005)

Telephones - mobile cellular:

5.4 million (2008)

Telephone system:

general assessment: limited landline telephone service; an increasing number of Afghans utilize mobile-cellular phone networks in major cities
domestic: aided by the presence of multiple providers, mobile-cellular telephone service is improving rapidly
international: country code - 93; five VSAT's installed in Kabul, Herat, Mazar-e-Sharif, Kandahar, and Jalalabad provide international and domestic voice and data connectivity (2007)

Radio broadcast stations:

AM 21, FM 5, shortwave 1 (broadcasts in Pashto, Dari (Afghan Persian), Urdu, and English) (2006)

Radios:

167,000 (1999)

Television broadcast stations:

at least 7 (1 government-run central television station in Kabul and regional stations in 6 of the 34 provinces) (2006)

Televisions:

100,000 (1999)

Internet country code:

.af

Internet hosts:

31 (2008)

Internet Service Providers (ISPs):

1 (2000)

Internet users:

580,000 (2007)

Communications - note:

Internet access is growing through Internet cafes as well as public "telekiosks" in Kabul (2005)
| | |
| --- | --- |
| Transportation | Afghanistan |
Airports:

50 (2008)

Airports - with paved runways:

total: 14
over 3,047 m: 4
2,438 to 3,047 m: 2
1,524 to 2,437 m: 6
914 to 1,523 m: 1
under 914 m: 1 (2008)

Airports - with unpaved runways:

total: 36
over 3,047 m: 1
2,438 to 3,047 m: 5
1,524 to 2,437 m: 16
914 to 1,523 m: 4
under 914 m: 10 (2008)

Heliports:

9 (2007)

Pipelines:

gas 466 km (2008)

Roadways:

total: 42,150 km
paved: 12,350 km
unpaved: 29,800 km (2006)

Waterways:

1,200 km (chiefly Amu Darya, which handles vessels up to 500 DWT) (2008)

Ports and terminals:

Kheyrabad, Shir Khan
Military branches:

Afghan Armed Forces: Afghan National Army (ANA, includes Afghan National Army Air Corps) (2009)

Military service age and obligation:

22 years of age; inductees are contracted into service for a 4-year term (2005)

Manpower available for military service:

males age 16-49: 7,431,147
females age 16-49: 7,004,819 (2008 est.)

Manpower fit for military service:

males age 16-49: 4,371,193
females age 16-49: 4,072,945 (2009 est.)

Manpower reaching militarily significant age annually:

male: 382,720
female: 361,733 (2009 est.)

Military expenditures:

1.9% of GDP (2006 est.)
| | |
| --- | --- |
| Transnational Issues | Afghanistan |
| | |
| --- | --- |
| Disputes - international: | Pakistan has built fences in some portions of its border with Afghanistan which remains open in some areas to foreign terrorists and other illegal activities |
| Refugees and internally displaced persons: | IDPs: 132,246 (mostly Pashtuns and Kuchis displaced in south and west due to drought and instability) (2007) |
| Illicit drugs: | world's largest producer of opium; poppy cultivation decreased 22% to 157,000 hectares in 2008 but remains at a historically high level; less favorable growing conditions in 2008 reduced potential opium production to 5,500 metric tons, down 31 percent from 2007; if the entire opium crop were processed, 648 metric tons of pure heroin potentially could be produced; the Taliban and other antigovernment groups participate in and profit from the opiate trade, which is a key source of revenue for the Taliban inside Afghanistan; widespread corruption and instability impede counterdrug efforts; most of the heroin consumed in Europe and Eurasia is derived from Afghan opium; vulnerable to drug money laundering through informal financial networks; regional source of hashish (2008) |
credit: PBS, CIA,BBC