U.S. Army Pfc. Jeffery Penning and an Afghan security guard pull security during a roving patrol on Observation Post Mustang in Afghanistan's Kunar province, May 3, 2012. Penning is assigned to the 4th Infantry Division's Company C, 1st Battalion, 12th Infantry Regiment. U.S. Army photo by Spc. Jenny Lui
The war has been less successful in achieving the goal of restricting al-Qaeda's movement. Since 2006, Afghanistan has seen threats to its stability from increased Taliban-led insurgent activity, record-high levels of illegal drug production, and a fragile government with limited control outside of Kabul.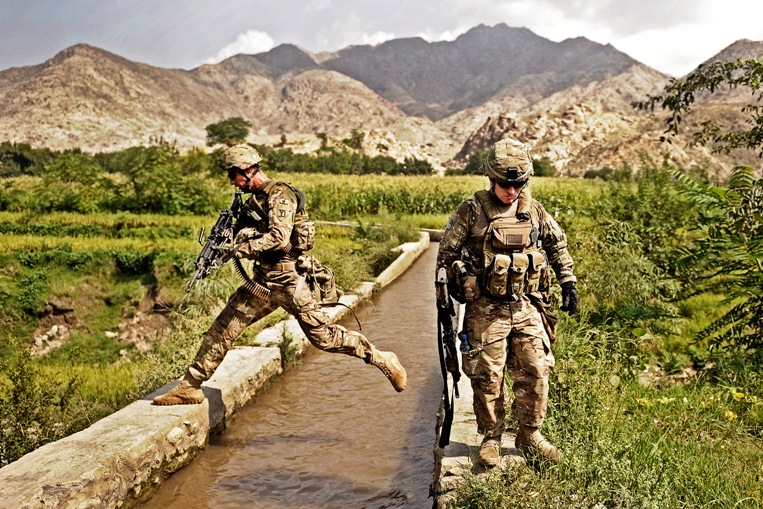 U.S. Army Spc. Jake Amato jumps over a canal while he and his teammate, Sgt. Sean Matthews, look for triggermen in the Alisheng district of Afghanistan's Laghman province, Sept. 12, 2011. Amato and Matthews are assigned to the Laghman Provincial Reconstruction Team. The team, which partnered with the security forces assistant team and the Afghan police, patrolled through a village to talk to residents and teach the police proper patrol procedures. U.S. Air Force photo by Staff Sgt. Ryan Crane

Afghanistan War Timeline
2001 October - US, Britain launch air strikes against Afghanistan after Taliban refuse to hand over Osama bin Laden, held responsible for the September 11 attacks on America.
2001 November - Opposition forces seize Mazar-e Sharif and within days march into Kabul and other key cities.
Taliban falls
2001 5 December - Afghan groups agree deal in Bonn for interim government.
2001 7 December - Taliban finally give up last stronghold of Kandahar, but Mullah Omar remains at large.
2001 22 December - Pashtun royalist Hamid Karzai is sworn in as head of a 30-member interim power-sharing government.
2002 January - First contingent of foreign peacekeepers in place.
2002 April - Former king Zahir Shah returns, but says he makes no claim to the throne.
2002 May - UN Security Council extends mandate of International Security Assistance Force (Isaf) until December 2002.
Allied forces continue their military campaign to find remnants of al-Qaeda and Taliban forces in the south-east.
2002 June - Loya Jirga, or grand council, elects Hamid Karzai as interim head of state. Karzai picks members of his administration which is to serve until 2004.
2002 July - Vice-President Haji Abdul Qadir is assassinated by gunmen in Kabul.
2002 September - Karzai narrowly escapes an assassination attempt in Kandahar, his home town.
2002 December - President Karzai and Pakistani, Turkmen leaders sign deal to build gas pipeline through Afghanistan, carrying Turkmen gas to Pakistan.
2003 August - Nato takes control of security in Kabul, its first-ever operational commitment outside Europe.
New constitution
2004 January - Grand assembly - or Loya Jirga - adopts new constitution which provides for strong presidency.
2004 March - Afghanistan secures $8.2bn (£4.5bn) in aid over three years.
2004 September - Rocket fired at helicopter carrying President Karzai misses its target; it is the most serious attempt on his life since September 2002.
2004 October-November - Presidential elections: Hamid Karzai is declared the winner, with 55% of the vote. He is sworn in, amid tight security, in December.
2005 February - Several hundred people are killed in the harshest winter weather in a decade.
2005 May - Details emerge of alleged prisoner abuse by US forces at detention centres.
New parliament
SUICIDE BOMBINGS
Militants change tactics and follow the lead of Iraqi insurgents
64 suicide attacks January 2005 - August 2006
181 deaths (not including suicide bombers)
August 3, 2006 - 21 killed when suicide car bomber rams a Nato convoy in Kandahar
June 1, 2005 - Suicide bomber in police uniform kills 20 in a Kandahar mosque
2005 September - First parliamentary and provincial elections in more than 30 years.
2005 December - New parliament holds its inaugural session.
2006 February - International donors meeting in London pledge more than $10bn (£5.7bn) in reconstruction aid over five years.
2006 May - Violent anti-US protests in Kabul, the worst since the fall of the Taliban in 2001, erupt after a US military vehicle crashes and kills several people.
2006 May-June - Scores of people are killed in battles between Taliban fighters and Afghan and coalition forces in the south during an offensive known as Operation Mountain Thrust.
Nato takes over
2006 July onwards - Nato troops take over the leadership of military operations in the south. Fierce fighting ensues as the forces try to extend government control in areas where Taliban influence is strong.
2006 October - Nato assumes responsibility for security across the whole of Afghanistan, taking command in the east from a US-led coalition force.
2007 March - Pakistan says it has arrested Mullah Obaidullah Akhund, the third most senior member of the Taliban's leadership council.
Nato and Afghan forces launch Operation Achilles, said to be their largest offensive to date against the Taliban in the south. There is heavy fighting in Helmand province.
Controversy over Italian deal with Taliban, which secures the release of five rebels in exchange for kidnapped reporter Daniele Mastrogiacomo. His Afghan driver and translator are beheaded.
2007 May - Taliban's most senior military commander, Mullah Dadullah, is killed during fighting with US, Afghan forces.
Afghan and Pakistani troops clash on the border in the worst violence in decades in a simmering border dispute.
2007 July - Former king Zahir Shah dies.
A group of South Korean Christian charity workers is kidnapped by the Taliban. Two are killed, the rest are freed over the next six weeks.
Opium production soars
2007 August - Opium production has soared to a record high, the UN reports.
2007 October - Fifteen are put to death in the second confirmed set of executions since the fall of the Taliban in 2001.
2007 November - A suicide attack on a parliamentary delegation kills at least 41 in northern town of Baghlan, in the country's worst such attack.
2007 December - Two senior EU and UN envoys are accused by Afghan officials of making contact with the Taliban and expelled from the country.
2008 February - Prince Harry, third in line to the British throne, is pulled out of Afghanistan after serving 10 weeks in action in Helmand province.
2008 April - Nato leaders meeting in Bucharest say peacekeeping mission in Afghanistan is their top priority. They pledge a "firm and shared long-term commitment" there.
Relations with Pakistan
2008 June - Taliban engineers massive jail-break from Kandahar prison, freeing at least 350 insurgents.
British Defence Secretary Des Browne announces British troop numbers in Afghanistan to increase by 230 to new high of more than 8,000 by spring 2009.
President Karzai warns that Afghanistan will send troops into Pakistan to fight militants if Islamabad fails to take action against them.
2008 July - Suicide bomb attack on Indian embassy in Kabul kills more than 50. Afghan government accuses Pakistani intelligence of being behind this and other recent miltant attacks. Pakistan denies any involvement.
2008 August - Ten French soldiers killed in an ambush by Taliban fighters.
President Karzai accuses Afghan and US-led coalition forces of killing at least 89 civilians in an air strike in the western province of Herat. He later sacks two senior military commanders over the strike.
Troop numbers boosted
2008 September - President Bush sends an extra 4,500 US troops to Afghanistan, in a move he described as a "quiet surge".
2008 October - Germany extends Afghanistan mission to 2009 and boosts troop numbers in Afghanistan by 1,000, to 4,500.
2008 November - Taliban militants reject an offer of peace talks from President Karzai, saying there can be no negotiations until foreign troops leave Afghanistan.
2008 December - President Karzai and new Pakistani President Asif Ali Zardari agree to form joint strategy to fight militants operating in their border regions.
2009 January - Kyrgyzstan decides to close US air base at Manas that supplies troops and materiel to Afghanistan.
US Defence Secretary Robert Gates tells Congress that Afghanistan is new US administration's "greatest test".
2009 February - Up to 20 Nato countries pledge to increase military and other commitments in Afghanistan after USA announces dispatch of 17,000 extra troops.
New US approach
2009 March - President Barack Obama unveils a new US strategy for Afghanistan and Pakistan to combat what he calls an increasingly perilous situation. An extra 4,000 US personnel will train and bolster the Afghan army and police, and there will also be support for civilian development.
2009 ELECTION DISPUTE
President Karzai won a second term in an election marred by widespread fraud

2009 May - US Defence Secretary Robert Gates replaces commander of US forces in Afghanistan, Gen David McKiernan, with Gen Stanley McChrystal, saying the battle against the Taliban needs "new thinking".
US military says a US-Afghan force arrested 60 militants and captured more than 100 tonnes of drugs in Helmand province, in the largest drug seizure since foreign troops arrived in 2001.
2009 July - US army launches major offensive against the Taliban's heartland in southern Helmand province, involving about 4,000 Marines and 650 Afghan soldiers.
Elections
2009 August - Presidential and provincial elections are held, but are marred by widespread Taliban attacks, patchy turnout and claims of serious fraud.
2009 September - Leaked report by the commander of US forces, Gen Stanley McChrystal, says the war against the Taliban could be lost within 12 months unless there are significant increases in troop numbers.
2009 October - Hamid Karzai is declared winner of the August presidential election, after second-placed opponent Abdullah Abdullah pulls out before the second round. Preliminary results had given Mr Karzai 55% of the vote, but so many ballots are found to be fraudulent that a run-off was called.
The British government says it will send 500 more military personnel to Afghanistan.
2009 November - Hamid Karzai is sworn in for a second term as president.
2010 OPERATION MOSHTARAK
Moshtarak - together" in Dari - is the biggest military offensive since the overthrow of the Taliban in 2001

2009 December - US President Barack Obama decides to boost US troop numbers in Afghanistan by 30,000, bringing total to 100,000. He also says the United States will begin withdrawing its forces by 2011.
An Al-Qaeda double agent kills seven CIA agents in a suicide attack on a US base in Khost.
2010 January - Parliament rejects 17 of President Karzai's first list 24 cabinet nominees. In a further vote, MPs reject 10 of Mr Karzai's second list of 17 nominations.
Taliban gunmen and suicide bombers carry out a bold attack on civilian and government buildings in central Kabul. The fighting leaves 12 people dead, including seven militants.
2010 February - Nato-led forces launch major offensive, Operation Moshtarak, in bid to secure government control of southern Helmand province.
President Karzai angers Western diplomats by issuing a decree giving him total control of the UN-backed Electoral Complaints Commission, which helped expose massive fraud in the October presidential election.
Top Afghan Taliban military commander Mullah Abdul Ghani Baradar is captured in Pakistan
2010 April - President Karzai says that foreign observers were responsible for fraud in last year's disputed poll, and accuses UN and EU officials of involvement in a plot to put a puppet government in power. The White House calls his remarks "genuinely troubling".
Security concerns
2010 July - Major international conference endorses President Karzai's timetable for control of security to be transferred from foreign to Afghan forces by 2014.
Whistleblowing website Wikileaks publishes thousands of classified US military documents relating to Afghanistan.
General David Petraeus takes command of US, ISAF forces.
2010 August - Dutch troops quit.
President Karzai says private security firm must cease operations by mid-December. He subsequently waters down the decree.
2010 September - Parliamentary polls marred by Taliban violence, widespread fraud and a long delay in announcing the results.
2010 November - Nato agrees plan to hand control of security to Afghan forces by end of 2014.
2011 January - President Karzai makes first official state visit to Russia by an Afghan leader since the end of the Soviet invasion in 1989.
2011 February - Number of civilians killed since the 2001 invasion hit record levels in 2010, Afghanistan Rights Monitor reports.
2011 April - Burning of Koran by a US pastor prompts country-wide protests in which foreign UN workers and several Afghans are killed. Some 500 mostly Taliban prisoners break out of prison in Kandahar.
2011 July - President's half-brother and Kandahar governor Ahmad Wali Karzai is killed in Taliban campaign against prominent figures.
2011 September - Ex-president Burhanuddin Rabbani - a go-between in talks with the Taliban - is assassinated.
2011 October - As relations with Pakistan worsen after a series of attacks, Afghanistan and India sign a strategic partnership to expand co-operation in security and development.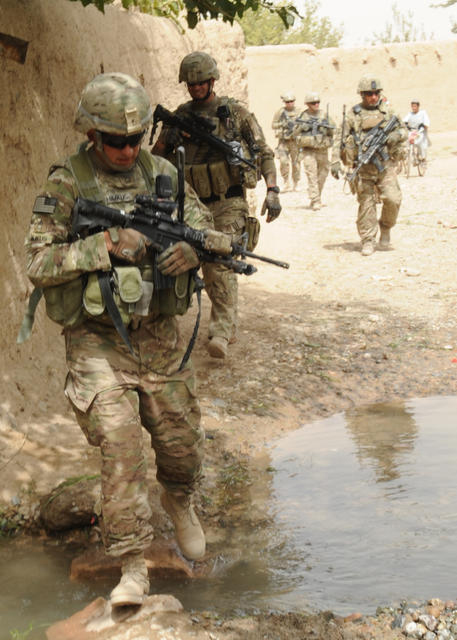 U.S. Army Sgt. 1st Class John Shimkus (left), a platoon sergeant with the Kandahar Provincial Reconstruction Team crosses a creek during a dismounted combat patrol in Babur Village, Kandahar province, Afghanistan, on Aug. 13, 2011. The Kandahar Provincial Reconstruction Team's mission is to improve security, governance and infrastructure capacity throughout the province. DoD photo by Senior Airman Sean Martin, U.S. Air Force.
2011 November - President Karzai wins the endorsement of tribal elders to negotiate a 10-year military partnership with the US at a loya jirga traditional assembly. The proposed pact will see US troops remain after 2014, when foreign troops are due to leave the country.
2011 December - At least 58 people are killed in twin attacks at a Shia shrine in Kabul and a Shia mosque in Mazar-i-Sharif.
Pakistan and the Taleban boycott the scheduled Bonn Conference on Afghanistan. Pakistan refuses to attend after a Nato air strike killed Pakistani soldiers on the Afghan border.
2012 January - Taliban agree to open office in Dubai as a move towards peace talks with the US and the Afghan government.
2012 February - At least 30 people are killed in protests about the burning of copies of the Koran at the US Bagram airbase. US officials believed Taliban prisoners were using the books to pass messages, and that they were extremist texts not Korans. Two soldiers are also killed in reprisal attacks.
2012 March - US Army Sgt Robert Bales is accused of killing 16 civilians in an armed rampage in the Panjwai district of Kandahar.
2012 April - Taliban announce "spring offensive" with audacious attack on the diplomatic quarter of Kabul. The government blamed the Haqqani Network. Security forces kill 38 militants.
2012 May - Nato summit endorses the plan to withdraw foreign combat troops by the end of 2014.
New French President Francois Hollande says France will withdraw its combat mission by the end of 2012 - a year earlier than planned.
Arsala Rahmani of the High Peace Council is shot dead in Kabul. A former Taliban minister, he was crucial in reaching out to rebel commanders. The Taliban deny responsibility.
2012 July - Tokyo donor conference pledges $16bn in civilian aid to Afghanistan up to 2016, with US, Japan, Germany and UK supplying bulk of funds. Afghanistan agrees to new conditions to counter corruption.
2012 August - The US military discipline six soldiers for accidentally burning copies of the Koran and other religious texts in Afghanistan. They will not face criminal prosecution. Three US Marines are also disciplined for a video in which the bodies of dead Taliban fighters were urinated on.
2012 September - US hands over Bagram high-security jail to the Afghan government, although it retains control over some foreign prisoners. Taleban attack the nearby Bagram air base the following day. The US also suspends training new police recruits in order to carry out checks on possible ties to Taliban following series of attacks on foreign troops by apparent police and Afghan soldiers.
The total number of US soldiers killed in the Afghan war reaches 2,000.
The US also suspends training new police recruits in order to carry out checks on possible ties to Taliban following series of attacks on foreign troops by apparent police and Afghan soldiers.
2013 February - President Karzai and Pakistan's Asif Ali Zardari agree to work for an Afghan peace deal within six months after talks hosted by Britain's Prime Minister David Cameron. They back the opening of an Afghan office in Doha and urge the Taliban to do the same for talks to take place.
2013 March - Two former Kabul Bank chiefs, Sherkhan Farnood and Khalilullah Ferozi, are jailed for the multi-million dollar fraud that almost led to its collapse and that of the entire Afghan banking system in 2010.
2013 June - Afghan army takes command of all military and security operations from Nato forces.
President Karzai suspends security talks with the US after Washington announces it plans to hold direct talks with the Taliban. Afghanistan insists on conducting the talks with the Taliban in Qatar itself.