George Takaei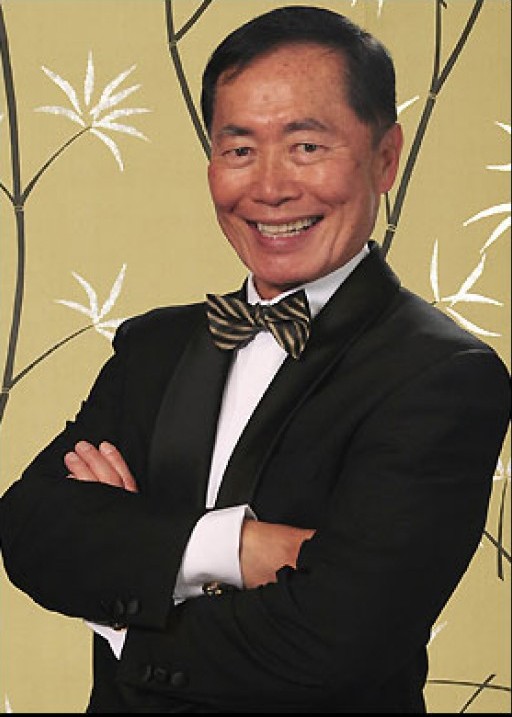 George Takei, an actor best known for his portrayal of Mr. Sulu in the acclaimed television and film series Star Trek, has more than 40 feature films and hundreds of television guest-starring roles to his credit.
George and Tony Award winner Lea Salonga are developing a new musical called "Allegiance" (music and lyrics by Jay Kuo, book by Jay Kuo and Lorenzo Thione). The musical is an epic story of love, family and heroism during the Japanese American internment. Allegiance's world premiere at the Old Globe theatre in San Diego in 2012 will be followed by a Broadway run.
George is a regular guest on The Howard Stern Show on Sirius XM Radio. George was the announcer and on-air personality during Stern's debut week in January 2006. George has made in-studio appearances on the show in 2007, 2008, 2009, 2010 and 2011.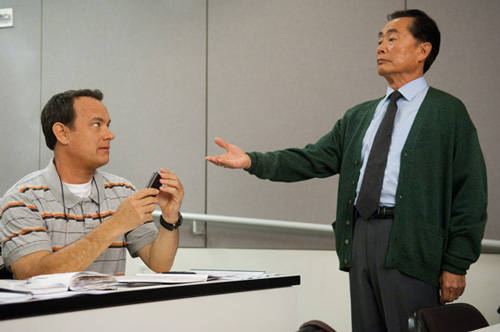 George is featured in the film Larry Crowne, starring Tom Hanks and Julia Roberts, released in July 2011 by Universal Pictures.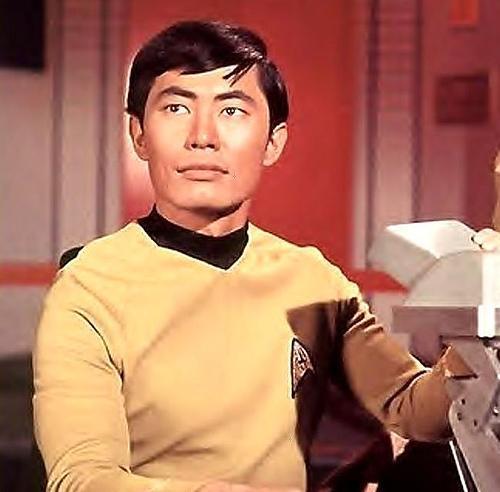 Recognized worldwide as a member of the original Star Trek cast, George received a star on Hollywood Boulevard's Walk of Fame in 1986 and he placed his signature and hand print in the forecourt of the landmark Grauman's Chinese Theater in Hollywood in 1991.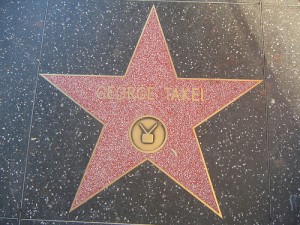 6681 Hollywood Blvd.
George is in the cast of Nickelodeon's live-action comedy series, Supah Ninjas, which premiered on Nickelodeon in April 2011. George was a recurring character on 12 episodes of NBC-TV's Heroes from 2007 to 2010, playing Kaito Nakamura.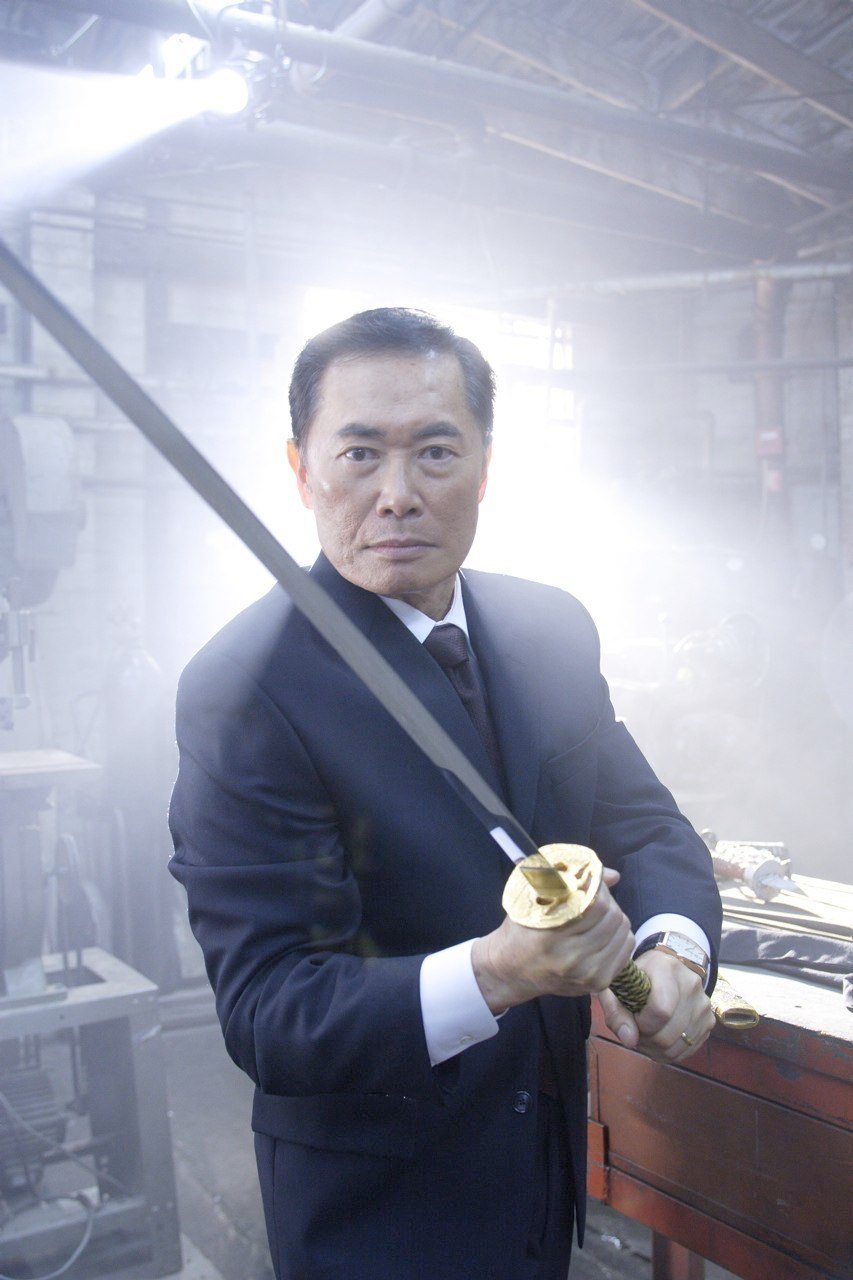 George is always in demand as a vocal artist. Among his credits is a music industry accolade -- in 1987, George and Leonard Nimoy shared a Grammy Award nomination for Star Trek IV: The Voyage Home (cassette) in the "Best Spoken Word or Non-Musical Recording" category.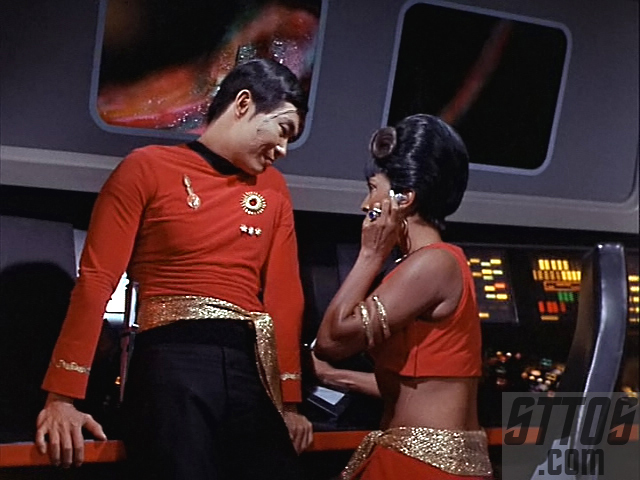 George's distinctive voice is heard in The National Parks: America's Best Idea, a six-episode series directed by Ken Burns and written and co-produced by Dayton Duncan that aired on PBS in the fall of 2009.
George's voice is featured in two episodes of George Lucas' cartoon version of Star Wars: The Clone Wars airing on the Cartoon Network in January 2009. George's voice is featured in Walt Disney Pictures' full-length animated features, Mulan and Mulan II, Star Trek audio novel recordings, Fox Television's The Simpsons, Futurama, and in numerous voice-overs and narrations.
Serving as co-hosts, George and actor-comedian Margaret Cho provide the narration for the 2006 Peabody Award-winning "Crossing East," a radio documentary produced by Dmae Roberts divided into eight hour-long installments that trace the history of Asian American immigration to the United States.
In October 2007, an asteroid was named in honor of George. The asteroid's official, scientific name is 7307 Takei. The name was approved by the International Astronomical Union's Committee on Small Body Nomenclature. The asteroid is located between Mars and Jupiter and is approximately 5 miles in diameter.
Widely recognized for his vocal talents, George has been a guest narrator with numerous symphony orchestras. He narrated "Sci-Fi Spectacular" with the Naples (Florida) Philharmonic Orchestra in January 2011, Indianapolis Symphony Orchestra in July 2010, Cleveland Orchestra in August 2009, Ottawa Symphony Orchestra in April 2009, Edmonton Symphony Orchestra in January 2009, Baltimore Symphony Orchestra in January 2008, and Seattle Symphony in September 2007. All seven concerts were conducted by Jack Everly. George narrated "Look to the Future" with the San Francisco Symphony in July 2009. In February 2008, George hosted "To Boldly Go" with the Minnesota Orchestra conducted by Sarah Hatsuko Hicks. In November 2004, George narrated Copeland's Lincoln Portrait with the Honolulu Symphony conducted by Samuel Wong. He has narrated Johan de Meij's Symphony No. 1: The Lord of the Rings with the Springfield, Mass., Symphony Orchestra conducted by Kevin Rhodes as well as with the Long Island Philharmonic, Denver Symphony Orchestra, Orange County California Wind Orchestra, and the Imperial Symphony Orchestra of Lakeland, Florida, all conducted by David Warble.
A community activist, George serves as chair of the council of governors of East West Players, the nation's foremost Asian Pacific American theater. He is chairman emeritus of the board of trustees of the Japanese American National Museum and a past member of the advisory committee of the California Civil Liberties Public Education Program.
George's acting career has spanned more than five decades. It began in the summer of 1957, between his freshman and sophomore years at the University of California at Berkeley, when George answered a newspaper advertisement placed by a company casting voices for a motion picture. The film was Rodan, a Japanese science-fiction classic about a prehistoric creature terrorizing a southern Japanese city. In a sound stage on the MGM lot in Culver City, Calif., George dubbed the original Japanese lines into English, creating distinct voices for eight characters.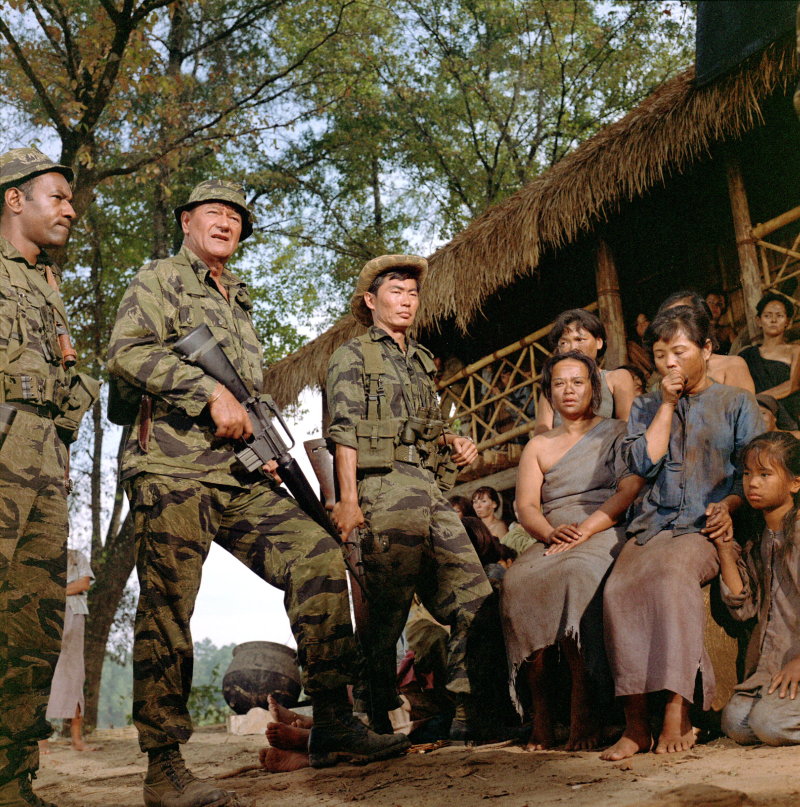 George's professional acting debut occurred on a 1959 episode of the pioneering live television drama series, Playhouse 90. His motion picture debut was in Ice Palace starring Richard Burton, released by Warner Bros. in 1959. Films include six Star Trek motion pictures (Star Trek VI: The Undiscovered Country, Star Trek V: The Final Frontier, Star Trek IV: The Voyage Home, Star Trek III: The Search for Spock, Star Trek II: The Wrath of Khan, Star Trek: The Motion Picture), Larry Crowne, The Great Buck Howard, The Red Canvas, You Don't Mess With the Zohan, Ninja Cheerleaders, DC 9/11: Time of Crisis, The Green Berets, Majority of One, New World Order aka Noon Blue Apples, Who Gets the House?, Mulan and Mulan II, Trekkies, The Best Bad Thing, Patient 14, Chongbal aka Vanished, Live by the Fist, Bug Busters, Kissinger and Nixon, Prisoners of the Sun aka Blood Oath, Return From the River Kwai, Red Line 7000, Never So Few, Walk Don't Run, An American Dream, P.T. 109, Oblivion, The Loudmouth, Which Way to the Front?, Bicycle Built for Three, and Hell to Eternity.
In addition to his role in the original Star Trek series, television roles include guest-starring appearances on The Big Bang Theory, Community, The Tonight Show with Jay Leno, Suite Life on Deck, Party Down, I'm A Celebrity, Get Me Out of Here!, Late Late Show With Craig Ferguson, Late Night with Conan O'Brien, Heroes, Secret Talents of the Stars, Wanna Bet?, Thank God You're Here, The Bronx Bunny Show, Jimmy Kimmel Live!, Cory in the House, Psych, Comedy Central Roast of William Shatner, Will & Grace, Malcolm in the Middle, Freddie, Scrubs, 3rd Rock From the Sun, Murder She Wrote, Watching Ellie, Grosse Pointe, Early Edition, Diagnosis Murder, The Young and the Restless, Alienated, In the House, John Woo's Once a Thief, Homeboys in Outer Space, Muppets Tonight, Brotherly Love, Mission: Impossible, Twilight Zone, Perry Mason, Hallmark Hall of Fame, Miami Vice, I Spy, Son of the Beach, Marcus Welby, M.D., Hawaiian Eye, Hawaii Five-O, Ironside, Kung Fu, Mr. Novak, Mr. Roberts, The Six Million Dollar Man, Voyage to the Bottom of the Sea, The Wackiest Ship in the Army, Death Valley Days, Baa Baa Black Sheep, Bracken's World, Combat, Chico and the Man, General Hospital, The Courtship of Eddie's Father, MacGyver, Californians, Chrysler Theatre, U.S. Steel Hour, My Three Sons, and many others.
One of George's most memorable television appearances was in 2008 in "I'm A Celebrity, Get Me Out of Here!," the eighth season of a popular TV series on ITV in the United Kingdom hosted by Anthony "Ant" McPartlin and Declan "Dec" Donnelly. Among a dozen celebrities, George finished third behind overall winner British TV star Joe Swash and second-place finisher and tennis legend Martina Navratilova. George spent 21 days in an Australian rainforest where viewers saw him skydive, eat live insects and survive numerous hardships.
George is a member of the Academy of Motion Picture Arts and Sciences, Academy of Television Arts and Sciences, Actors' Equity Association, American Federation of Television and Radio Artists, and the Screen Actors Guild, which he joined in January 1959.
The Equal Employment Opportunities Committees of Actors' Equity Association and American Federation of Television and Radio Artists, and the Ethnic Employment Opportunities Committee of Screen Actors Guild, awarded George the 7th annual Ivy Bethune Tri-Union Diversity Award in June 2009.
George's theatrical credits include Shimon Wincelberg's Undertow, winner of the Scotsman First Award at the Edinburgh Festival, and The Wash, written by Philip Kan Gotanda and presented in New York at the Manhattan Theater Club and in Los Angeles at the Mark Taper Forum. He performed in Frank Chin's Year of the Dragon at the American Place Theater in New York and in Fly Blackbird! at the Billy Rose Theater in New York and the Metro Theater in Los Angeles. George played in a musical version of Snow White at the Dome Theater in Brighton, England, and was the genie in Aladdin at the Hexagon Theatre in Reading, England. More recently, George played the Emperor of China in a holiday pantomime production of Aladdin at The Central Theatre in Chatham, England, from Dec. 11, 2009, to Jan. 3, 2010.
George starred in Peter Shaffer's "Equus," directed by Tim Dang, at East West Players in Los Angeles, from Oct. 26 to Dec. 4, 2005. Also in the theatrical arena, George appeared in The Human Race Theatre Company concert production of Stephen Sondheim's Pacific Overtures at the Loft Theatre in Dayton, Ohio, in June 2002.
George is grateful for his association with Star Trek, TV's quintessential sci-fi show, and the character he portrayed, Hikaru Sulu. Originally helmsman of the starship U.S.S. Enterprise, Mr. Sulu was promoted to captain of the U.S.S. Excelsior in Star Trek VI: The Undiscovered Country, released in 1991. George reprised his Captain Sulu role in a Star Trek: Voyager episode titled "Flashback" in 1996.
George returned as Sulu in "World Enough and Time," an episode of the Star Trek New Voyages internet series. The episode, produced by fans and industry professionals, is directed by Marc Scott Zicree and written by Michael Reaves. It premiered at the Fine Arts Theatre in Beverly Hills in August 2007.
Underscoring the enduring popularity of Star Trek, an 11th feature film directed by J.J. Abrams, released in May 2009, features the beginnings of the USS Enterprise in an alternate reality with actor John Cho playing the role of Sulu.
George's talents extend to writing. In 1979, he co-wrote with Robert Asprin a science-fiction novel, Mirror Friend, Mirror Foe.
As told in his autobiography, To the Stars, published by Pocket Books in 1994, George was born in Los Angeles, California. With the outbreak of World War II, he and his family together with 120,000 other Japanese Americans were placed behind the barbed-wire enclosures of United States internment camps. George spent most of his childhood at Camp Rohwer in the swamps of Arkansas and at wind-swept Camp Tule Lake in northern California.
George's family eventually returned to his native Los Angeles, which shaped his acting career. The motion picture studios -- their magical back lot sets visible behind tall fences - were alluring presences. Every grammar school skit, junior high drama club, and high school play became a stepping stone to realizing his not-so-secret dream of becoming an actor.
After graduating from Los Angeles High School in 1956, George enrolled in the University of California at Berkeley. Later, he transferred to the University of California at Los Angeles, where he received a bachelor of arts in theater in 1960 and a master of arts in theater in 1964. He attended the Shakespeare Institute at Stratford-Upon-Avon in England and Sophia University in Tokyo, Japan. In Hollywood, he studied acting at the Desilu Workshop.
In addition to his acting career, George always has been extremely involved in civic affairs. Along with actress Beulah Quo, George produced and hosted a public affairs show, Expression East/West, which aired on KNBC-TV in Los Angeles from 1971 to 1973.
Always a political activist, George ran for the Los Angeles City Council in 1973, losing by a small percentage. At a crossroads, he had to decide whether to pursue a political career or an acting career. He decided on acting, but to remain involved in civic affairs to whatever extent he could.
George was appointed by Los Angeles Mayor Tom Bradley to the board of directors of the Southern California Rapid Transit District, serving from 1973 to 1984. George was one of the driving forces behind the Arts in Transit program in which every Metro Rail subway station is given its own distinctive look, thereby fostering neighborhood pride. He also served as a vice president of the American Public Transit Association.
In the international arena, George was appointed by President Clinton to the board of the Japan-United States Friendship Commission, where he served two terms. He is a member of the board of directors of the US-Japan Bridging Foundation. The Government of Japan recognized George's contribution to the Japan-United States relationship by giving him the Order of the Rising Sun, Gold Rays with Rosette. The decoration was conferred by His Majesty, Emperor Akihito, at the Imperial Palace in Tokyo in November 2004.
George is a dedicated long-distance runner since his high school cross-country team days. He has completed five 26.2-mile marathons and carried the Olympic Flame in the 1984 Los Angeles Olympic Torch Relay.
A member of the Human Rights Campaign, the largest national lesbian, gay, bisexual, and transgender political organization, George was a spokesman for HRC's Coming Out Project. In April 2006, he embarked on a nationwide speaking tour called "Equality Trek" in which he talked about his life as a gay Japanese American. Star Trek's Leonard Nimoy presented George with HRC's Equality Award at its San Francisco gala dinner in July 2007.
George and his husband, Brad Takei, are residents of Los Angeles. They met while running with the Los Angeles Frontrunners in the early 1980s. Life partners for more than two decades, they were married on September 14, 2008, in the Democracy Forum of the Japanese American National Museum in Los Angeles. By a narrow margin, California voters approved Proposition 8 on November 4, 2008, restricting marriages in California to opposite-sex couples. However, the California Supreme Court ruled that approximately 18,000 same-sex marriages that took place during a four-and-one-half month period prior to November 4, 2008, remain legally valid.
On October 13, 2009, George and Brad made television history when they became the first gay couple to be invited to appear on The Newlywed Game, the long-running show now airing on GSN cable network. They won the game, earning a $10,000 donation for the Japanese American National Museum.