The Beatles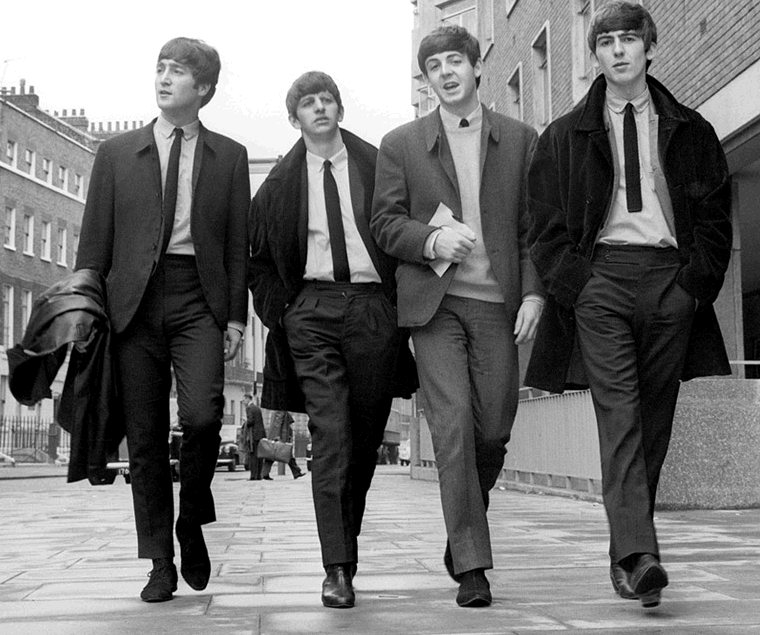 John Lennon (guitar, keyboards, vocals), Ringo Starr (drums, percussion, vocals) ,Paul McCartney (bass, guitar, keyboards, vocals), George Harrison (guitar, sitar, vocals)
The impact of the Beatles has often been noted but cannot be overstated. The "Fab Four" from Liverpool, England, startled the ears and energized the lives of virtually all who heard them. Their arrival triggered the musical revolution of the Sixties, introducing a modern sound and viewpoint that parted ways with the world of the previous decade. The pleasurable jolt at hearing "She Loves You" and "I Want to Hold Your Hand" - given the doldrums into which rock and roll had fallen in recent years - was comparable to the collective fever induced by Presley's "That's All Right (Mama)" and "Heartbreak Hotel" nearly ten years earlier.
The Beatles' music - with its simultaneous refinement (crisp harmonies, solid musicianship, canny pop instincts) and abandon (energetic singing and playing, much screaming and shaking of mop-topped locks) – ignited the latent energy of youth on both sides of the Atlantic. They helped confer self-identity upon a youthful, music-based culture that flexed its muscle in myriad ways - not just as music consumers but also as a force for political expression, social commentary and contemporary lifestyles.
Landing on these shores on February 7, 1964, they literally stood the world of pop culture on its head, setting the musical agenda for the remainder of the decade. The Beatles' buoyant melodies, playful personalities and mop-topped charisma were just the tonic needed by a nation left reeling by the senseless assassination of its young president, John F. Kennedy, two months earlier. Even adults typically given to dismissing rock and roll conceded that there was substance in their music and cleverness in their quick-witted repartee. Between the lines, and without obvious disrespect, the Beatles announced the ascendancy of youth - and the inevitable coming of a generation gap as a result.
The long journey resulting in the mob scene that greeted the Beatles' arrival at Kennedy Airport began in Liverpool. In 1958, John Lennon formed a skiffle group called the Quarrymen. Lennon was raised on Fifties rockabilly and was especially partial to Elvis Presley and Gene Vincent. He met a similarly rock-smitten schoolkid named Paul McCartney. Impressed by McCartney's knowledge of song lyrics and ability to tune a guitar, Lennon recruited him into the Quarrymen. A schoolmate of McCartney's, George Harrison, came next. The youthful Harrison's mastery of guitar licks by Duane Eddy impressed the skeptical Lennon.
With a rhythm section consisting of bassist Stu Sutcliffe (a sharp-looking art student with negligible musical ability) and drummer Pete Best, the group eventually settled on the Beatles as their name. They became a fixture on the rough-and-tumble club scene in Hamburg, Germany, where their five-set-a-night marathons helped mold them into a tight performing unit. Their repertoire comprised well-chosen rock and roll and rhythm & blues covers by such trailblazers as Chuck Berry and Little Richard. In April 1961, Sutcliffe left and McCartney switched from guitar to bass. On the local scene in their hometown of Liverpool, the group landed a lunchtime residency at a club called The Cavern, where they were discovered by a local record merchant and entrepreneur, Brian Epstein, who became their manager in December 1961. In January 1962, a fan poll in Mersey Beat declared them the top group in Liverpool.
Epstein helped polish the group's appearance. He attired them in dapper collarless gray suits, which made them appear more accessible than the menacing leathers they'd worn in Hamburg. The Beatles signed with EMI-Parlophone in April 1962 after impressing producer George Martin. In August, fellow Liverpudlian Ringo Starr (born Richard Starkey), then a member of Rory Storm and the Hurricanes, replaced Pete Best. The group's first single, "Love Me Do"/"P.S. I Love You," briefly dented the U.K. Top Twenty in October 1962, but their next 45, "Please Please Me," formally ignited Beatlemania in their homeland, reaching the Number Two spot. It was followed in 1963 by four consecutive chart-topping British singles: "From Me to You," "She Loves You," "I Want to Hold Your Hand," "Can't Buy Me Love."
They conquered the U.K., even inducing a classical music critic from the London Sunday Times to declare them "the greatest composers since Beethoven." Moreover, they were the greatest rockers since the composer of "Roll Over, Beethoven" - i.e., Chuck Berry. The freshness and immediacy of the Beatles' sound stemmed from the fact they assimilated and synthesized the most vital sources for rock and roll that preceded them.
Writing in the Rolling Stone Illustrated History of Rock and Roll, Greil Marcus observed that "the form of the Beatles contained the forms of rock and roll itself. The Beatles combined the harmonic range and implicit equality of the Fifties vocal groups with the flash of a rockabilly band (the Crickets or Gene Vincent's Blue Caps) with the aggressive and unique personalities of the classic rock stars (Elvis, Little Richard) with the homey, this-could-be-you manner of later rock stars (Everly Brothers, Buddy Holly, Eddie Cochran) with the endlessly inventive songwriting touch of the Brill Building, and they delivered it all with the grace of the Miracles, the physicality of 'Louie, Louie,' and the absurd enthusiasm of Gary 'U.S.' Bonds."
The Beatles' success can be attributed to a combination of factors, including Lennon and McCartney's songwriting genius, Harrison's guitar-playing prowess, Starr's artful simplicity as a drummer, and the solid group harmonies that were a hallmark of their recordings. Personally, they had youthful high spirits, good looks, quick wit and refreshingly down-to-earth dispositions to commend them. George Martin's production and Brian Epstein's management were important elements as well.
The Beatles' conquest of America early in 1964 launched "the British Invasion," a torrent of rock & roll bands from Britain that overtook the pop charts. The Fab Four's first #1 single in the U.S. was "I Want to Hold Your Hand," released on Capitol Records, EMI's American counterpart. This exuberant track was followed by 45 more Top Forty hits over the next half-dozen years. During the week of April 4, 1964, the Beatles set a record that is likely never to be broken when they occupied all five of the top positions on Billboard's Top Forty, with "Can't Buy Me Love" ensconced at #1. Their popularity soared still further with the release of their anarchic Marx Brothers-as-rock-stars documentary film, A Hard Day's Night (1964) and its equally playful followup, Help! (1965).
When all was said and done, the Beatles charted twenty #1 singles in the States – three more than runner-up Elvis Presley. It is estimated by EMI, their British record company, that the Beatles have sold more than 600 million units worldwide. For feats of sales and airplay alone, the Beatles are unquestionably the top group in rock and roll history. Yet their significance extends well beyond numbers to encompass their innovations in the recording studio. The Beatles' legacy as a concert attraction, during their harried passage from nightclubs to baseball stadiums, is distinguished primarily by the deafening screams of female fans more overcome by their appearance than the music they played.
Consequently, the Beatles began to indulge their creative energies in the studio, layering sounds and crafting songs in a way that was experimental yet still accessible. This retreat from the ceaseless mayhem of pop celebrity yielded such musically expansive and lyrically sophisticated albums as Rubber Soul (1965) and Revolver (1966). The former, with its acoustic leanings and thoughtful lyrics, betrayed the influence of Bob Dylan upon the band, while the latter stands as a tour de force of tuneful, concise pop psychedelia.
The Beatles retired from touring for good after a San Francisco concert on August 29, 1966. Like Brian Wilson of the Beach Boys, who abandoned touring to focus on his music, the Beatles thereafter became creatures of the studio. Ten months later, they released Sgt. Pepper's Lonely Hearts Club Band, an album that has almost universally been cited as the creative apotheosis of rock and roll, a watershed event in which rock became "serious art" without losing its sense of humor - or, in Lennon's case, sense of the absurd. Realizing the band members' collective ambitions took four months and all the technical wiles of producer George Martin could muster. A completely self-contained album meant to be played and experienced from start to finish, Sgt. Pepper broke the mold in that no singles were released.
The album's artistic reach further cemented the notion of a viable counterculture in the minds of youthful dropouts everywhere. Anyone who was alive in the summer of 1967 can remember the pleasant shock of hearing it and the reverberations it sent outward into the world of rock and roll and beyond. As writer Langdon Winner observed, "For a brief moment, the irreparably fractured consciousness of the West was unified, at least in the minds of the young." Sgt. Pepper was preceded by perhaps the greatest two-sided single in rock history, "Strawberry Fields Forever" and "Penny Lane," which exhibited the creative sensibilities of John Lennon and Paul McCartney, respectively, at their zenith.
In the wake of Sgt. Pepper, the Beatles began to splinter in ways that were initially subtle but gradually grew more pronounced. Subsequent events included the death of manager Epstein due to an overdose of sleeping pills; the release of the TV film Magical Mystery Tour, which earned the Beatles some of their first negative reviews; a trip to India to meditate with Maharishi Mahesh Yogi, about whom Lennon wrote "Sexy Sadie"; and the launching in January 1968 of Apple Corps, Ltd., a well-intentioned but ultimately mismanaged entertainment empire that helped bring down the Beatles.
Through all the chaotic events of the late Sixties, however, the Beatles retained their ingenuity and focus as recording artists. Released in August 1968, the single "Hey Jude"/"Revolution" became their most popular single. The Beatles (1968), a double-LP popularly referred to as the White Album, found the group refracting into four estimably talented individuals. This 30-song tour de force included such Beatles classics as "Back in the U.S.S.R," ""While My Guitar Gently Weeps," "Blackbird," "Birthday," "Helter Skelter" and "Revolution."
The album and film Let It Be, recorded in 1969 but shelved until 1970, documented the Beatles' dissolution. Internal squabbles and the discomfiting presence of John Lennon's new soulmate, Yoko Ono, revealed widening cracks within the group. Even in this tense atmosphere, the Beatles playfully harked back to their origins with impromptu performances of early rock and R&B classics in the studio.
The Beatles exited on a high note, coming together in the summer of 1969 to record a fitting swan song, Abbey Road. That album included numerous highlights: a playful pastiche of short songs, with Paul McCartney as chief instigator, on the second side; a pair of John Lennon's most emotionally unguarded songs ("Come Together," "I Want You [She's So Heavy]"); and impressive contributions from George Harrison ("Here Comes the Sun," "Something").
On April 10, 1970, Paul McCartney announced his departure from the Beatles, and the group quietly came to an end. Throughout the Seventies, fans hoped for an eventual reunion, while the group members pursued solo careers with varying degrees of artistic and commercial success. Those hopes were dashed by the senseless murder of John Lennon in New York City on December 8, 1980.
1926**
George Martin, Beatles musical director, born January 3, in London
**1934**
Brian Samuel Epstein, Beatles manager, born September 19 (in Rodney Street, in Liverpool)
**1940**
Anthony Esmond Sheridan McGinnity (a.k.a. "Tony Sheridan"), born May 21, 1940 (in Norwich)
July
Richard Starkey, born July 7 (in family home, 9 Madyrn Street, Dingle, in Liverpool)
October
John Winston Lennon, born October 9 (at Oxford Maternity Hospital in Liverpool)
John was born to Julia and Fred Lennon.
**1942**
July
John's father, Fred Lennon, leaves home for good. Julia moves in with her new man, John Dykins.
June
James Paul McCartney, born June 18 (at Walton General Hospital in Liverpool)
**1943**
George Harrison, born February 25 (10 minutes past midnight in their family's terraced home, 12 Arnold Grove, in Liverpool)
**1946**
John Lennon moves in to stay with his Aunt Mimi Smith who raises him.
**1950**
George Martin, after working three months for the BBC, leaves and takes job at Parlophone Records as a result of being paid £7, four shillings and three pence, £1 more than the BBC was paying at the time. George Martin becomes an assistant to chief producer/owner of the label, Oscar Preuss. George is immediately given the task of handling the classical repertoire which included baroque, orchestral and choral music.
**1952**
September
John Lennon enters Quarry Bank High School
**1956**
August
John Lennon forms The Quarry Men and the band performs what's known in England as "skiffle."
**1957**

July 6
The Quarry Men perform at St. Peter's Church Garden Fete. John and Paul meet and the pair find out that they have similar pop idol interests: "Paul, what kind of music do you like?" asked John. "Well I used to like Lonnie Donnegan but now that skiffle is fading out I love the music of Elvis Presley, Eddie Cochrane, Gene Vincent, Little Richard..." "Hey," John interrupted, "they're all the people I'm into."
September
John Lennon commences studies at the Liverpool College of Art
**1958**
January 24
The Quarry Men perform at the Cavern. This would be the only performance billed as The Quarry Men at the club. It would be a long wait, an amazing three years before the band would turn up again at the Cavern but under their new name as The Beatles.
The Cavern is located in Liverpool's market district.
February 6
The Quarry Men play at the Wilson Hall in Liverpool, whereupon George Harrison decides to join the Quarry Men. George Harrison (recalling those early days): "I was very impressed by John, probably more than Paul, or I showed it more. I suppose I was impressed by all the Art College crowd. John was very sarcastic, always trying to put you down, but I either took no notice or gave him the same back, and it worked."
July 15
Julia Lennon, John's mother, is fatally struck down by a car driven by an off-duty drunken police officer named Eric Clague (When the trial ends, the officer was acquitted of the offence). As a result, John becomes more bitter and cynical than ever before about his life.
Eric Clague: "Mrs Lennon just ran straight out in front of me. I just couldn't avoid her. I was not speeding, I swear it. It was just one of those terrible things that happen."
**1959**
Tony Sheridan teams up with Vince Taylor and the Playboys
In early 1959, Tony Sheridan joins Vince Taylor and the Playboys where they would play a residency in Hamburg, Germany. The band would eventually morph into the Beat Brothers with a line-up consisting of Tony Sheridan (vocals/guitar), Ken Packwood (drums), Rick Richards (guitar), Colin Melander (bass), Ian Hines (keyboards) and Jimmy Doyle (drums). Over the years the band's line-up would continue to see many personnel changes. Some of the most notable inclusions were: Ringo Starr, Roy Young, Rikky Barnes, John Lennon, Paul McCartney, George Harrison and Pete Best.
"Sheridan often backed many other singers and musicians," writes author Joe Sunseri in his 269-page manuscript entitled Nobody's Child: The Tony Sheridan Story. "One such singer was an American by the name of Vince Taylor. Taylor was a combination of Elvis Presley and Gene Vincent. Visually, he emulated Vincent with his leather and chains, while vocally and aerobically he was a junior Elvis. Sheridan got his first pair of American blue jeans and a silver imitation leather belt from Taylor by bothering him until he gave Sheridan the clothes just so he would be left alone. Tony went on many tours with Taylor and performed on some of his records."
During this year Vince Taylor and the Playboys would appear on the BBC's Saturday Club program on April 11 and May 16 with host Brian Matthew.
August 29
The Casbah opens and the Quarry Men (John, Paul, George & Ken Brown) perform on opening night. Casbah would quickly have over 2,000 club members join up. The Casbah, owned by Pete Best's mother Mo Best, had this to say on the transition of her basement in her home: "Never once during that exciting six months did I ever regret the immense task - as it turned out to be - that I had taken on in deciding to make part of my home a rendezvous for young people. The enthusiasm and the happy atmosphere were wonderful." Also in August of '59, Ringo Starr begins drumming for Rory Storm and the Hurricanes. (Ringo would be Rory's drummer right up until August 18, 1962).
October
Ken Brown and Pete Best form a band called "The Blackjacks."
The group becomes the Casbah's house band when the Quarry Men weren't performing. According to author Pete Frame, who wrote "The Beatles & Some Other Guys", The Blackjacks "knocked out the rock 'n' roll classics which became the foundation of the Mersey Beat. Whole Lotta Shakin' Going On, Sweet Little Sixteen, Honey Don't, Tutti Frutti, Long Tall Sally..." The Blackjacks would continue to play together until August of 1960.
October 31
Quarry Men audition for Carrol Levis show in Liverpool. During this audition period, the band would change its name from "Quarry Men" to "Johnny and the Moondogs" by November 15. On that day, they lose out for the Carrol Levis finals.
**1960**
May 5
The Quarry Men now become The Silver Beetles. Around this time, Allan Williams - club owner of the "Jacaranda" - becomes the group's part time manager. He arranges with Larry Parnes, an impresario for British pop stars, to audition The Silver Beetles. The band fails the audition as backing group to Billy Fury. Instead, Parnes chooses the band as a backing group for Johnny Gentle. On May 20, Gentle and The Silver Beetles begin a 9-day tour in northern Scotland.
June 2
First professional performance of The Silver Beetles held at Neston Institute.
August 16
Pete Best leaves the Blackjacks and becomes The Silver Beetles' drummer. The band's current line-up would now included John, Paul, George, Pete and Stuart Stutcliffe.
On this date, the band travels to Hamburg, Germany.
August 18
New stage name and first performance as "The Beatles" at the Indra Club in Hamburg, Germany. Paul McCartney (on discussing performing and other things they learned in Hamburg): "Sex...was one of the first things 'cause we were kids just let off the leash, you know. And then there was like, the amount of music we played -- we played -- the shear amount of music. Some evenings I think we probably...we played eight hour periods 'cause you'd come on and another band would take an hour and you'd take an hour, so we probably played four hours but we had to stretch it over an eight hour period. And that's an awful long time, man, to play. I mean even bands now with three or four hours sets is a hell of a long time."
December 5
The Beatles luck in Hamburg runs out:
- Harrison is deported for being underage for working in a night club;
- McCartney & Pete Best are arrested for pinning a condom to a brick wall and then igniting it.
The two are told to leave Germany. The band returns home, discouraged.
**1961**
February 9
On this date the group makes their first lunchtime debut as The Beatles for a session at the Cavern.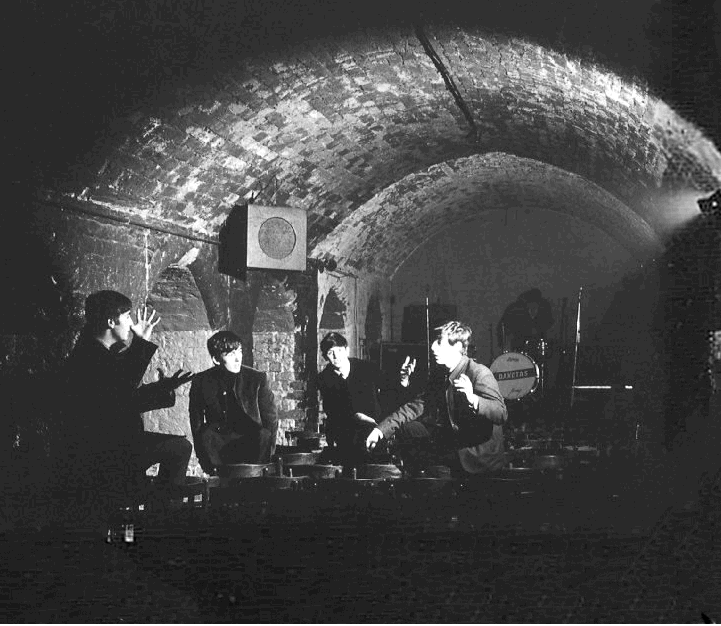 March 21
The Beatles first night-time appearance at the Cavern. The band gets paid a mere $42.00 per night. Recalls Gerry Marsden (of Gerry and the Pacemakers) on a particular visit to the Cavern: "I couldn't believe how good they were. The energy, the way they shaped up to the microphone together, you know - Paul the left-handed bass player, John standing there, couldn't give a shit, the attitude of the man. I thought: 'They'll be the first band out of Liverpool to make it.'"
March 24
Beatles leave to go back to Hamburg, Germany.
June 22 & 23
Beatles perform as back-up musicians to Tony Sheridan
July 6
Bill Harry publishes "The Mersey Beat" newspaper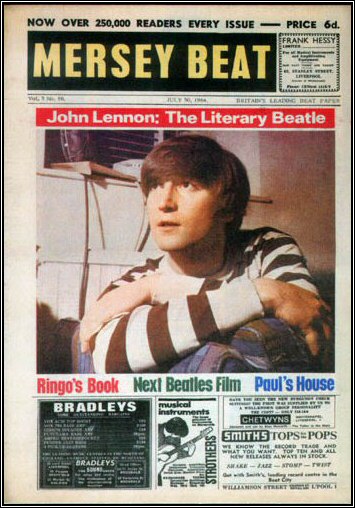 John Lennon would give the publisher an interview on how the name "Beatles" came about: "Many people ask what are Beatles? Why Beatles? Ugh, Beatles? How did the name arrive? So we will tell you. It came in a vision - a man appeared on a flaming pie and said unto them, 'From this day on you are Beatles with an "A"'. 'Thank you Mister Man', they said, thanking him. And so they were Beatles."
July 3
The band returns to England from Hamburg, Germany.
August
MY BONNIE / THE SAINTS (WHEN THE SAINTS GO MARCHING IN) (single) is released in Germany (Decca Records)
Hal Fein, an associate of Bert Kaempfert and owner of Roosevelt Music publishing company recalls that the single did reasonably well. "When the record was released, the initials sales were about 180,000 copies, a fair-sized hit for Germany," said Fein. "Due to its success in Germany, it was played on Radio Luxembourg -- one of the most powerful stations in Europe, beaming in all directions - into Germany, into England, and south into the continent."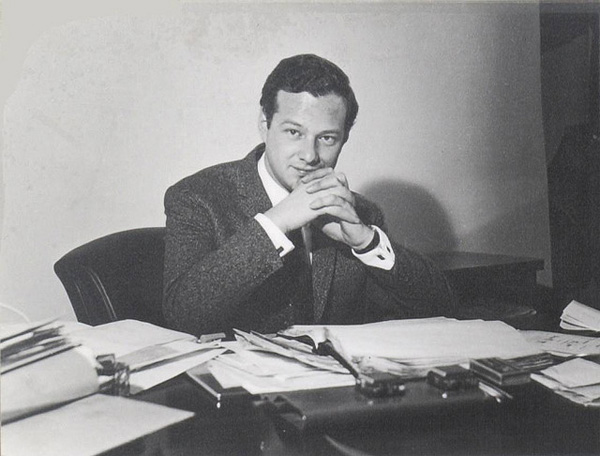 October 28
Brian Epstein's first awareness of the Beatles: My Bonnie record makes its way into NEMS stores.
Contrary to Epstein's accounting in "A Cellarful of Noise", young Raymond Jones who supposedly requested the record, remains more fiction than actual fact to this very day. Alistair Taylor, Epstein's assistant explains: "I got fed up with youngsters coming in asking for The Beatles record. So I put a name, Raymond Jones, in the order book. I just made it up. Otherwise Brian wouldn't have paid any attention."
November 9
Epstein visits the Cavern Club to see the band perform.
December 3
Epstein offers to manage Beatles: "Quite simply, you need a manager. Would you like me to do it?" asked Epstein. "Right, then, Brian, manage us now. Where's the contract? I'll sign it," retorted Lennon.
**1962**
January 1
Beatles do a test record with Decca Records in London. After audition, Decca decides not to sign them to a record deal. They were later turned down by just about every record company except Parlophone. George Martin: "But Brian...got them to sign a contract because they hadn't got a manager at all that was any worth while...and so he promised them the earth: 'I'll get you a record contract'. And of course he didn't. He tried everywhere and everyone turned him down. And they were getting fed up and thought they were never going to make it. Brian had this unswerving conviction that they were great and that they were going to make it and I think without that conviction -- without that sincerity, I don't think that I would have brought them down from Liverpool to listen to them. And I think it's a tribute to him."
March 8
FIRST RADIO APPEARANCE ON THE B.B.C. LIGHT PROGRAMME'S "Teenager's Turn"
April 8
Beatles leave once again for Hamburg, Germany. They would shortly return back home after learning of a pending record deal with Parlophone. After receiving the good news from Brian Epstein, the band wrote back to him...
Paul: "Please wire £10,000 advance royalties."
George: "Please order four new guitars."
John: "When are we going to be millionaires?"
April 10
Stu Sutcliffe dies of a brain hemorrhage
April 23
MY BONNIE / THE SAINTS (USA single) is released (Decca Records)
May 9
Telegram reported in Mersey Beat from Brian Epstein: "HAVE SECURED CONTRACT TO RECORDED (sic) FOR EMI ON PARLOPHONE (sic) LABEL 1ST RECORDING DATE FOR JUNE 6TH - BRIAN EPSTEIN."
May 24
The Beatles Last Recording Sessions for Burt Kaempfert and Polydor Records
Beatles go in and re-record the backing vocals and instrumentals for "Sweet Georgia Brown" and "Swanee River"
June 4
Brian Epstein and Beatles officially sign record deal with Parlophone/E.M.I.
June 6
The Beatles audition their music with music producer George Martin at Abbey Road Studios.
June 9
Beatles Welcome Home Show
At the Cavern, The Beatles perform a belated "Welcome Home Show" from 7:00 p.m. until midnight. For the next 12 days the Beatles under contract would perform at the Cavern. At this "Welcome Home Show," the Cavern broke an attendance record as 900 fans crowded themselves into the cellar to see the group. Featured on the bill this night were The Red River Jazzmen; Ken Dallas and The Silhouettes; and the Four Jays.
June 26
Brian Epstein forms NEMS Enterprises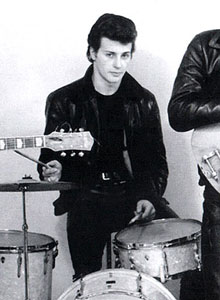 August 16
Pete Best loses drummer role with Beatles
Brian Epstein informs Pete Best of bad news: Ringo Starr is to become the band's new drummer. Neil Aspinall would later recall how it came about: "...so I drove him (Pete Best) into town to see him. I was in the record store looking at records, and he came down and said he had been fired. He was in a state of shock, really. We went over to the Grapes pub in Matthew Street, had a pint."
August 18
Ringo Starr joins Beatles as their new drummer. Local Beatle fans protest wanting Pete Best back into the line-up but Ringo stays.
August 22
"Some Other Guy" as performed by the Beatles is captured on film by Leslie Woodhead for Granada TV marking it as the first film to be recorded on the Beatles intended for a public television broadcast. The song was written by Jerry Leiber, Mike Stroller and Richard Barrett. The soundtrack for this video, according to Eric Krasker, author of "The Beatles Fact and Fiction 1960 - 1962", was recorded on September 5, 1962 "in which in can be heard very distinctly at the end of the song somebody shouting "We want Pete!", the fact remains that indeed they have officially acknowledged Pete Best's extreme popularity."
August 23
John Lennon marries Cynthia Powell.
The marriage took place at Mount Pleasant Register Office in Liverpool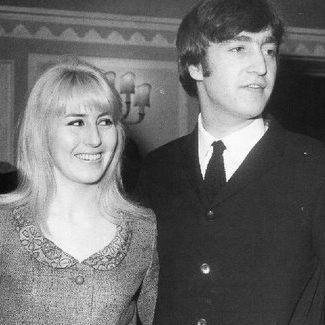 September 3
The Beatles begin their second recording session at Abbey Road
September 11
The Beatles begin their third Abbey Road session, and record LOVE ME DO
October 5
LOVE ME DO / P.S. I LOVE YOU (single) is released (Parlophone Records).
Featured on this song is John Lennon's harmonica playing which became an integral part of the Beatles early recordings. According to Beatle author Ray Coleman, Lennon's harmonica playing was influenced by the American hit "Hey Baby" by Bruce Channel.
October 17
THE BEATLES FIRST TELEVISION APPEARANCE ON "People and Places" (Granada Television)
Pre-filmed in the Cavern on August 22, the show's producer, Johnny Hamp had this to say: "I first saw the Beatles in a club in Hamburg. They were very scruffy characters - but they had a beat in their music which I liked...I got into a lot of trouble over it. Everyone said they were too rough, too untidy. But I liked them. I put them on again and again."
October 27
LOVE ME DO (Parlophone single) enters at 48th spot on Melody Maker hit parade
December 17
Beatles leave for their final trip to Hamburg, Germany. The band would play at the Star-Club for fourteen days.
**1963**
January 1
The Beatles begin their concert tour in Scotland
February 2
The Beatles begin British tour with Helen Shapiro as the top act on the bill
February 4
LOVE ME DO / P.S. I LOVE YOU is released as a single in Canada (Capitol Records)
Historical significance: The first true Beatles single is released in North America.
Paul White, then Capitol Canada record executive, had this to say on why he decided to release the Beatles first single: "I used to listen to about fifty new records a week. Then one day I put on "Love Me Do" by a group called the Beatles. I immediately sat up and took notice. The sound was so different, so completely fresh.
"I'm certainly not going to claim that I could read the future and already knew how big the Beatles were going to be, but I did like them a lot and wanted Capitol of Canada to get in on the ground floor. I decided to release Beatles' records in Canada".
February 20
PLEASE PLEASE ME / ASK ME WHY (single) is released in USA (Vee-Jay Records)
March 22
PLEASE PLEASE ME - their first album, is released in England, on Parlophone Records
May 6
FROM ME TO YOU / THANK YOU GIRL (single) is released (Vee-Jay Records)
This single peaked at No. 116 on the Billboard music chart in August.
July 22
SHE LOVES YOU / I'LL GET YOU (single) is released (Swan Records)
July 23
Cohburn & Company prints cover clicks only for "Introducing the Beatles"
On this date, Cohburn & Company print up 6,000 album cover slicks for Vee-Jay's "Introducing the Beatles" LP but Vee-Jay's manufacturing plans for pressing the actual vinyl are quickly scuttled. Two reasons that delayed this album release are: 1) On August 8, Transglobal in America who was a subsidiary of EMI in England, was told by EMI to legally inform Vee-Jay to "cease production and distribution of all Frank Ifield and Beatles records" until such times as the royalties were paid up. 2) By September, Cohburn and Company sued Vee-Jay for over $50,000 owed on the account for various album cover slicks they had manufactured for Vee-Jay. The end result of this delay meant that the next issue of either a Beatle album or single on the Vee-Jay label would not occur until January 1964, just in time to capitalize on "Beatlemania".
August 3
The Beatles appear for the last time at the Cavern Club
September
During this month, George Harrison along with his brother Peter, visits their sister Louise in Benton Illinois in the USA. While there he would buy a guitar and also sat in at a few clubs performing with a local band called The Four Vests. George also went camping with the family and also took in some points of scenic interest in Southern Illinois. Anxious to get to get the Beatles known in America, George and his sister visit a local Benton radio station one Saturday and meet up with a very young DJ named Marsha Schaffer who hosted a 1-hour rock and roll program. There they persuade the DJ to play "Please Please Me" along with another Beatle single possibly making this the first time Beatle records are heard over the radio in the USA. Today both record and the turntable which was used to spin the disc at the radio station are located at the Hard Day's Night Bed and Breakfast mini-Beatles museum on 113 McCann Street, once home to Louise Harrison.
November 4
At the "Royal Variety Show," held in Prince of Wales Theatre, London, the Beatles perform before the Queen Mother, Princess Margaret and Lord Snowdon. John Lennon humorously tells the audience: "Those of you in the cheaper seats - clap your hands; and those of you in the more expensive seats - just rattle your jewelry."
November 22
"With the Beatles" (lp) is released in Britain (Parlophone Records)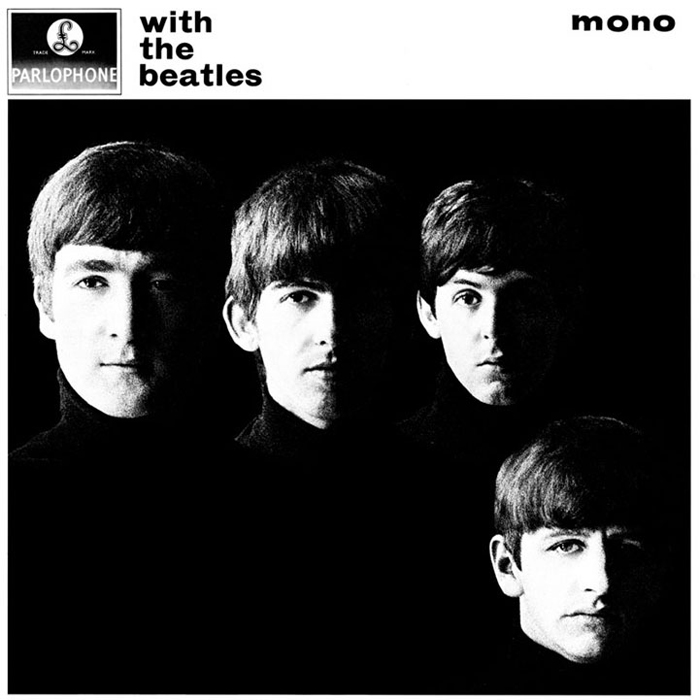 Track listing, Side One: 1) It Won't Be Long 2) All I've Got To Do 3) All My Loving 4) Don't Bother Me 5) Little Child 6)Till There Was You 7) Please Mister Postman
Side Two: 1) Roll Over Beethoven 2) Hold Me Tight 3) You Really Got A Hold On Me 4) I Wanna Be Your Man 5) Devil In Her Heart 6) Not A Second Time 7) Money
November 25
"Beatlemania With The Beatles" (lp) is released in Canada (Capitol Records)
Historical significance: The first true Beatles album is released in North America that contained same track listing as "With the Beatles" which was released only a three days earlier in Britain.
November 29
700,000 advance orders for "I Want To Hold Your Hand" by British fans
December
In Britain, the Beatles Fan Club peaks at 80,000 strong.
A London Times music critic names them "outstanding English composers of 1963." The Sunday Times critic declares them "greatest composers since Beethoven."
December 6
"BEATLES CHRISTMAS RECORD" is sent out to fan club members
The concept was thought up by their press agent, Tony Barrow who also wrote the basic script for the first three Christmas records. You can listen to Tony Barrow's lovely recounting of how the Beatles Christmas Record came about by clicking here.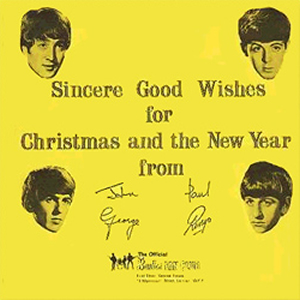 December 10
CBS News airs a film clip on The Beatles
CBS news anchor Walter Cronkite airs a film about the Beatles phenomenon in England that was filed by their U.K. correspondent, Alexander Kendrick. The film contained a clip of the band performing "She Loves You" along with some interviews. The sounds of this British rock and roll combo performing "She Loves You" had created a strong and favorable impression on Marsha Albert, a 15-year-old girl from Silver Spring, Maryland. She would later be acknowledged by the Washington Post as the first Beatle fan who kick started the whole "Beatlemania" craze on USA radio.
However, while teenagers eventually went crazy over Beatles and their music, Walter Cronkite recalls his viewpoints as being a little less than favorable with regards to the English quartet: "In the wake of the [John F. Kennedy] assassination story, nothing else was happening in the world, at least in the United States -- stuff that was important, that is. So we actually had an opportunity to use it.
"I was not entirely thrilled with it myself, to tell you the truth. It was not a musical phenomenon to me. The phenomenon was a social one, of these rather tawdry-looking guys, we thought at the time, with their long hair and this crazy singing of theirs, this meaningless 'wah-wah-wah, wee-wee-wee' stuff they were doing."
December 17
Carrol James of WWDC radio in Washington becomes the first DJ in the United States to play "I Want to Hold Your Hand".
The importance of Beatles music came to Carrol James's attention through Marsha Albert. She remembered being impressed with the Beatles performance of "She Loves You" from the CBS news broadcast. Said Marsha: "It wasn't so much what I had seen, it's what I had heard. They had a scene where they played a clip of 'She Loves You' and I thought it was a great song. I wrote that I thought [the Beatles] would be really popular here, and if [James] could get one of their records, that would really be great."
According to the Washington Post, Carrol James "thought maybe the girl was onto something, and he got the station's promotion director to contact a local agent for BOAC (now British Airways)" to procure a copy of the band's latest record, "I Want To Hold Your Hand" which was currently unavailable in the USA marketplace.
James eventually obtains a copy from the local BOAC agent. Said Marsha: "Carroll James called me up the day he got the record and said 'If you can get down here by 5 o'clock, we'll let you introduce it.' " Which Marsha did: "Ladies and gentlemen, for the first time on the air in the United States, here are the Beatles singing 'I Want to Hold Your Hand.' "
A few days later, Capitol Records threatened WWDC radio by suggesting they would consider using a legal injunction to block airplay of "I Want To Hold Your Hand", because technically, the song wasn't supposed to be released until January 13 in the new year. However, both Carrol James and the radio station ignored the threat and continued to spin the disc over the airwaves. In the end, Capitol never sued WWDC and decided on more positive course of action.
December 26
I Want To Hold Your Hand/I Saw Her Standing There (Capitol Records) is released
Though scheduled for a January 13 release date, momentum in the airplay of "I Want To Hold Your Hand" continued. By now Carrol James had already sent out copies of the Beatle single to a fellow DJ in Chicago and also to a DJ in St. Louis. Sensing the single is gaining momentum both in terms of airplay and interest from teenagers, Capitol Records decided to financially capitalize on the opportunity: on this date they rush-release copies of "I Want To Hold Your Hand/I Saw Her Standing There" into the marketplace. "I Want To Hold Your Hand" becomes the fastest selling British single in America.
**1964**
January 1-15
Introducing the Beatles (lp) (version #1 - Vee-Jay) is released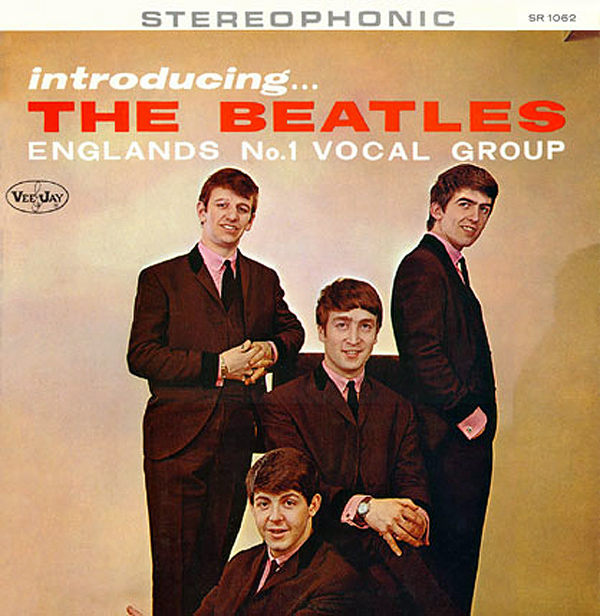 According to Bruce Spizer, author of Songs, Pictures and Stories of the Fabulous Beatles on Vee-Jay, that Vee-Jay's "invoice summary sheets indicate that 79,169 mono and 2,202 stereo copies of Introducing the Beatles were shipped to distributors during the first fifteen days of the year before sales were halted by the temporary injunction prohibiting Vee-Jay from issuing Beatles product."
On this album, "Love Me Do" and "P.S. I Love You" are listed in this track listing. However, due to a copyright disagreement with the music publisher Beechwood, these two songs were later removed and substituted with "Please Please Me" and "Ask Me Why" in version #2 album of Introducing the Beatles.
Track Listing, Side One: 1) I Saw Her Standing There 2) Misery 3) Anna 4) Chains 5) Boys 6) Love Me Do
Side Two: 1) P.S. I Love You 2) Baby It's You 3) Do You Want To Know A Secret 4) A Taste of Honey 5) There's A Place 6) Twist and Shout
Also released on Vee-Jay to distributors during first fifteen days of the new year was the single: "Please Please Me / From Me To You".
January 3
In the USA, the "Jack Paar Show" airs the Beatles' Bournemouth
performance of "She Loves You" which was originally filmed on November 16, 1963.
"I Want To Hold Your Hand" makes #1 spot on the Australian music charts.
January 15
Beatles perform for three weeks in France at the Paris Olympia
January 18
"I Want To Hold Your Hand" enters at No. 45 on the American Billboard music charts.
January 20
MEET THE BEATLES (lp) is released (Capitol Records)
January 27
MY BONNIE / THE SAINTS (single) is released (MGM Records)
February 1
"I Want To Hold Your Hand" reaches No. 1 on the U.S. Billboard music charts, selling 2,000,000 units ("She Loves You" sells 1,000,000 units in the U.S.)
February 3
THE BEATLES WITH TONY SHERIDAN (lp) is released (MGM Records)
February 5
Beatles return from Paris, France
February 7
Pan Am Yankee Clipper flight 101: Beatles land at Kennedy Airport in the USA. The lads are greeted by 3,000 screaming fans. New York DJ Murray the "K" heavily promotes the Beatles records over the radio and provides "live" interviews with John, Paul, George and Ringo. Murray the "K" would dub himself as "the 5th Beatle." A reporter for the Saturday Evening Post noted: "Anyone listening to a pop radio station in New York would hear a Beatle record every four minutes and anyone listening to a juke box might hear one right after the other." Beatlemania had arrived!!
February 9
Beatles debut on the Ed Sullivan Show in New York; 50,000 apply for 728 available seats. An estimated 73 million viewers watch that night (or 23,240,000 households, based on a Nielsen rating)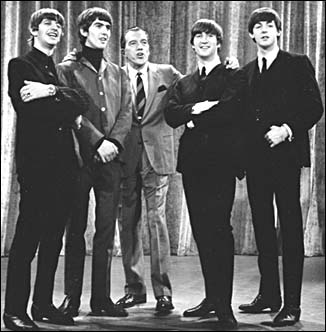 Paul McCartney: "Specific memory of Ed Sullivan: FEAR, FEAR, FEAR! 'Cause you know, if somebody made the mistake of saying, 'Oh, you know how many people are watching this?' If someone had mentioned 73 million - Ohhhhhhh! So it was very very nerve racking. But you know, by then we had so much practice, that the nerves didn't show. I can see them when I watch it. I can remember it."
Ringo Starr: "We had no idea what the 'Ed Sullivan Show' meant, we didn't know how huge it was. I don't think we were nervous because we were doing songs that we knew how to play, we'd done them before and we'd done plenty of TV. But the idea of just coming to America was the mind-blower -- no one can imagine these days what an incredible feat it was to conquer America. No British act had done it before. We were just coming over to do our stuff, hopefully get recognized and to sell some records. But it turned into something huge."
Opening spot: 1) ALL MY LOVING; 2) TILL THERE WAS YOU; 3) SHE LOVES YOU
Closing spot: 1) I SAW HER STANDING THERE; 2) I WANT TO HOLD YOUR HAND
See what the reviewers said and a cartoon. For photos, click here.
February 10
"Introducing the Beatles" (lp) (version #2 - Vee-Jay) is released
Version #2 of this album is released on this date but this time with "Ask Me Why" and "Please Please Me" replacing "Love Me Do" and "P.S. I Love You". Later, on February 29, Vee-Jay's Introducing the Beatles ran nine consecutive weeks at the #2 spot only to be shut out by Capitol's release of Meet the Beatles.
Track Listing, Side One: 1) I Saw Her Standing There 2) Misery 3) Anna 4) Chains 5) Boys 6) Ask Me Why
Side Two: 1) Please Please Me 2) Baby It's You 3) Do You Want To Know A Secret 4) A Taste of Honey 5) There's A Place 6) Twist and Shout
February 11
Beatles first concert appearance in the USA: the Coliseum in Washington, 20,000 fans attend performance.
February 12
Two concert performances at Carnegie Hall
February 16
Beatles make their second appearance on the Ed Sullivan Show in Deauville Hotel, Miami Beach, Florida. An estimated 70 million viewers watch that night (or 22,445,000 households based on a Nielsen rating). Songs performed: SHE LOVES YOU; ALL MY LOVING; THIS BOY; I SAW HER STANDING THERE; FROM ME TO YOU; I WANT TO HOLD YOUR HAND
February 22
Beatles return to England.
February 23
Beatles 3rd Ed Sullivan Show, New York. The Beatles had taped previously their third show for Ed Sullivan. Songs performed for the show were: TWIST AND SHOUT; PLEASE PLEASE ME; I WANT TO HOLD YOUR HAND
February 26
JOLLY WHAT! BEATLES AND FRANK IFIELD (lp) is released (Vee-Jay Records)
March 2
Beatles begin work on their first movie, "A Hard Day's Night". According to Walter Shenson, producer of the film, the Beatles story line in the movie would portray them as "prisoners of their success. They go from the airport to the hotel to the theater or stadium or concert hall back to the hotel back to the airport. In any city it's always the same. They literally travel in a cocoon of Liverpool. There's the manager, the road manager, a publicity man, the car, the driver, the guy who carries the equipment. That's all they see..." Total cost for making the movie: $500,000.
TWIST AND SHOUT / THERE'S A PLACE (single) is released (Tollie Records)
March 13
CASHBOX CHARTS - Places Beatles songs in top four slots:
1) SHE LOVES YOU
2) I WANT TO HOLD YOUR HAND
3) PLEASE PLEASE ME
4) TWIST AND SHOUT


"MEET THE BEATLES" (lp) is reported by this date to have sold 3,600,000 copies
"CAN'T BUY ME LOVE" their next single, has advanced order sales of 1,700,000 copies in the USA (Britain would have, by March 17th, advanced sales of 1,000,000 copies)
March 23
DO YOU WANT TO KNOW A SECRET / THANK YOU GIRL (single) is released (Vee-Jay Records)
"In His Own Write" - Lennon's first humorous off-beat book is published by Jonathan Cape. The book would sell 100,000 copies during its first printing. The Times Literary Supplement declared his book being "Worth the attention of anyone who fears for the impoverishment of the English language and the British imagination." John's jabberwocky style of penmanship was largely influenced from the literary works of Lewis Carroll.
March 27
WHY / CRY FOR A SHADOW (single) is released (MGM Records)
March 30
CAN'T BUY ME LOVE / YOU CAN'T DO THAT (single) is released (Capitol Records)
APRIL 6
BILLBOARD CHARTS - Places Beatles songs in top five slots:
1) CAN'T BUY ME LOVE
2) TWIST AND SHOUT
3) SHE LOVES YOU
4) I WANT TO HOLD YOUR HAND
5) PLEASE PLEASE ME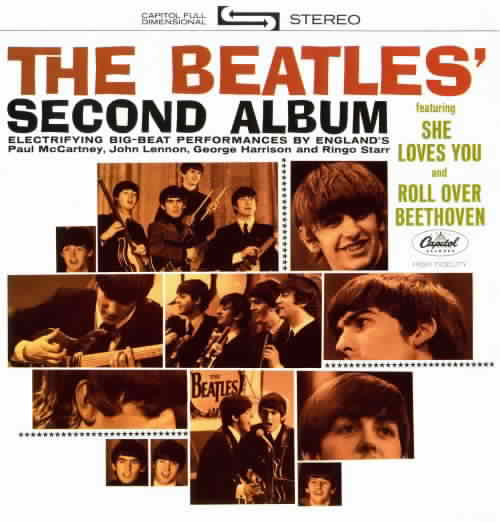 April 10
THE BEATLES SECOND ALBUM (lp) is released (Capitol Records)
April 27
LOVE ME DO / P.S. I LOVE YOU (single) is released (Tollie Records)
SIE LIEBT DICH / I'LL GET YOU (single) is released (Swan Records)
June 1
SWEET GEORGIA BROWN / TAKE SOME INSURANCE OUT ON ME BABY (single) is released (Atco records)
June 3
RINGO STARR COLLAPSES FROM TONSILLITIS AND PHARYNGITIS
Jimmy Nicol becomes substitute drummer when Ringo enters a London hospital for his throat problem. The band travels to Holland and three days later perform in Amsterdam's "Blokker" auction hall. On June 8th, the band would fly to Hong Kong.
June 10
Beatles perform two concerts at Hong Kong Princes Theatre.
June 12
Beatles begin Australian tour at Adelaide. During this tour, an Adelaide crowd of 300,000 lines up along the motorcade route and watches the band drive by. On June 14, Ringo would reunite with the Beatles in Melbourne after recovering temporarily from tonsillitis.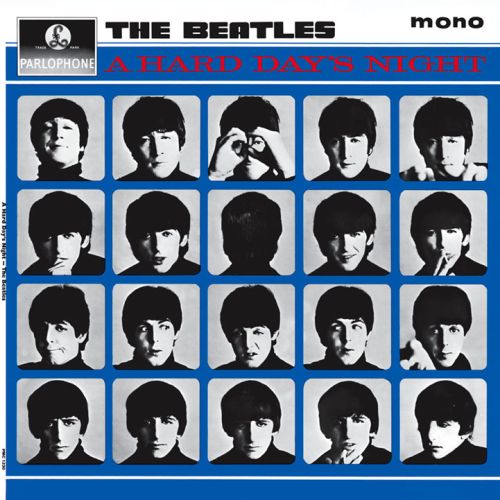 June 26
A HARD DAY'S NIGHT (lp) is released (United Artists Records)
AIN'T SHE SWEET / NOBODY'S CHILD (single) is released (Atco Records)
July
SONGS, PICTURES AND STORIES OF THE FABULOUS BEATLES (lp) is released (Vee-Jay Records)
According to Bruce Spizer, distribution of this album began in late July but "did not chart until the following October. Royalty statements indicate that 123,635 mono copies were sold prior to September 30, 1964. Aggressive marketing resulted in additional reported sales of 216,328 mono and 773 stereo copies during the last quarter of 1964."
July 10
In Liverpool, a civic reception held for the premiere of "A Hard Day's Night". About 100,000 Liverpudlians pack the streets to see John, Paul, George and Ringo.
July 13
A HARD DAY'S NIGHT / I SHOULD HAVE KNOWN BETTER (single) is released (Capitol Records)
Historical Footnote for Guitar Players: Ever wonder why you can't faithfully reproduce on your guitar the same sound the Beatles used for the opening chord on A Hard Day's Night? It is because three instruments are used together at the same time. In 2001, Walter Everett, professor of music for Michigan University, published on page 236 from his book - The Beatles As Musicians: The Quarry Men through Rubber Soul - the following: "The striking ametrical opening chord, with Martin's piano doubling Harrison's twelve-string above McCartney's bass, is given as example 3.10a." Professor Everett then notated the guitar, piano, and bass parts in Example 3.10a on the next page of his book.
July 20
SOMETHING NEW (lp) is released (Capitol Records)
I'LL CRY INSTEAD / I'M HAPPY JUST TO DANCE WITH YOU (single) is released (Capitol Records)
AND I LOVE HER / IF I FELL (single) is released (Capitol Records)
August 10
Capitol Records issues a series of 45s on their "Oldies" label: DO YOU WANT TO KNOW A SECRET/THANK YOU GIRL; PLEASE PLEASE ME/FROM ME TO YOU; LOVE ME DO/P.S. I LOVE YOU; TWIST AND SHOUT/THERE'S A PLACE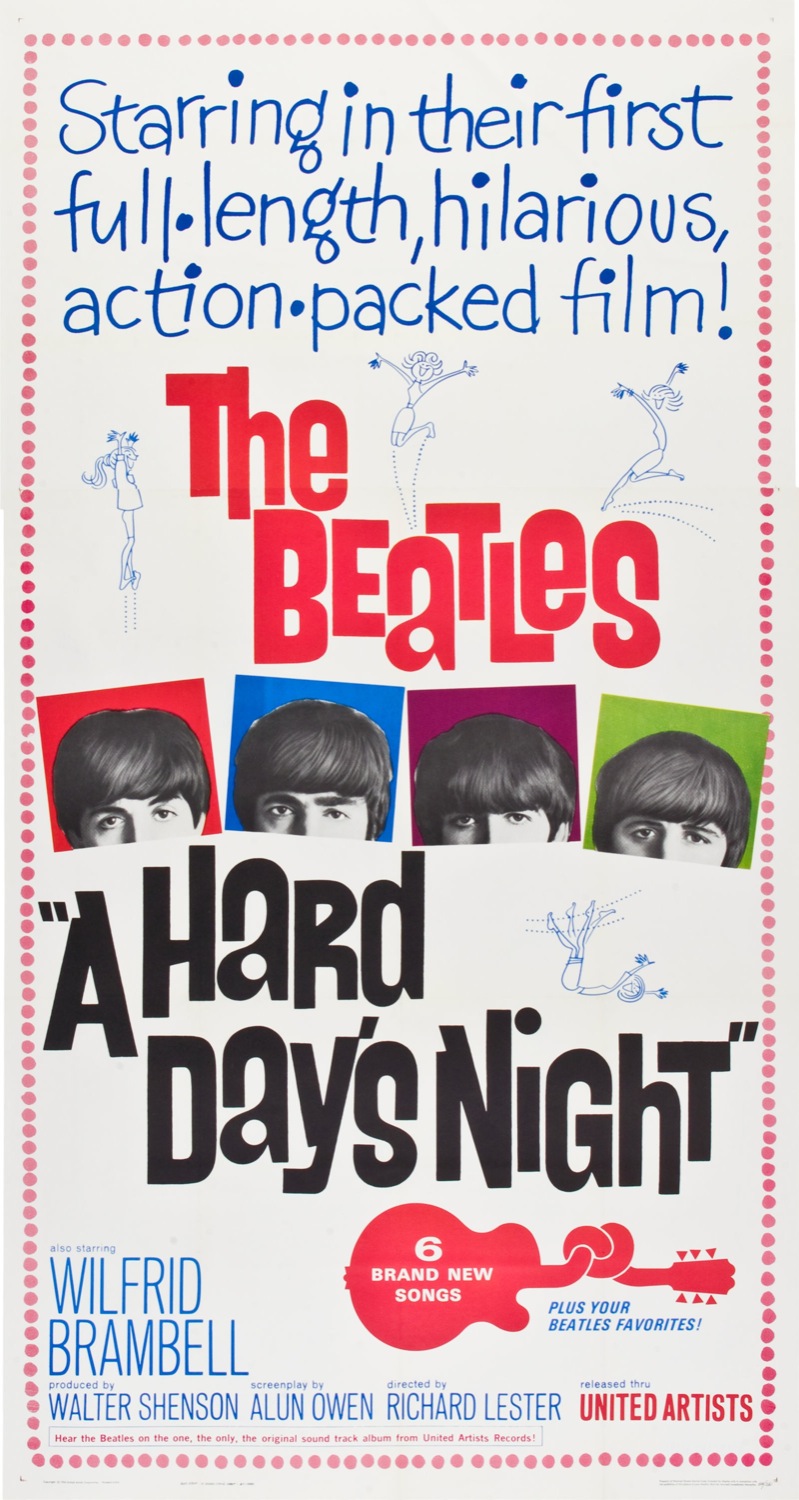 August 11
MOTION PICTURE: "A Hard Day's Night" is released (running time: 85 minutes)
Released by United Artists
Screenplay by Alun Owen
Produced by Walter Shenson
Directed by Richard Lester
Musical director and album produced by George Martin
Played in 500 cinemas across the United States, the movie earns 1.3 million in the first week.
New York's "Village Voice" proclaimed the movie as "the Citizen Kane of jukebox musicals."
Historical first in the cinema picture industry: 15,000 prints made for world-wide distribution.
A movie review appeared a month later in Canada's national magazine, Maclean's, which was written by Wendy Michener. Please click here for her review.
August 24
MATCHBOX / SLOW DOWN (single) is released (Capitol Records)
September 20
"Ed Sullivan Show" - replay broadcast of Beatles February 16th Sullivan appearance
October 1
BEATLES V.S. THE FOUR SEASONS (lp) is released (Vee-Jay Records)
"A Cellar Full of Noise" by Brian Epstein, released on Souvenir Press
October 5
AIN'T SHE SWEET (lp) is released (Atco Records)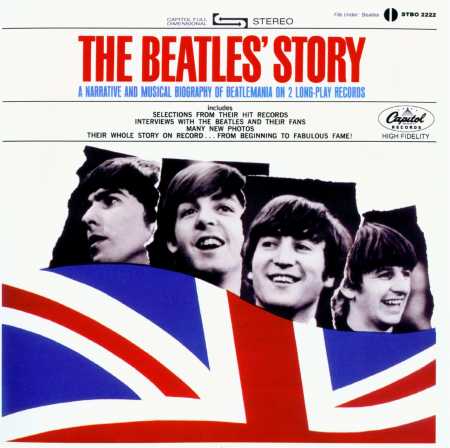 November 23
THE BEATLES STORY (double lp) is released (Capitol Records)
I FEEL FINE / SHE'S A WOMAN (single) is released (Capitol Records)
December 1
Ringo Starr has his tonsils removed at the University College Hospital in London
News Item #1:
THE BBC MISREADS RINGO'S TONSIL OPERATION
BBC announcer Roy Williams caused post-traumatic shock for Ringo's fans when he mistakenly announced: "Ringo Starr's TOENAILS were successfully removed this morning." The announcement caused the BBC switchboard to jam immediately with calls from fans. Roy Williams would apologized in a later broadcast and also explain: "I misread the item. It happens to all of us and I bet Ringo is glad I'm not his surgeon."
News Item #2
FANS DRIVE NEIGHBORS CRAZY! RINGO'S NEIGHBOURS FILE PETITION TO LANDLORD.
Lathom Gedge, neighbor to Ringo Starr, claimed that "Ringo's tonsil operation has given us our first peace for months. Teenage girls scream and shriek all day long. They get hysterical, fight and kick each other and chase every car that arrives in case Ringo is inside." Ringo's response: "I wish I could do something about it - but I can't control the fans."
December 15
BEATLES '65 (lp) is released (Capitol Records)
December 18
"ANOTHER BEATLES CHRISTMAS RECORD" is issued to fan club members
GRAMMY AWARDS (1964):
Best New Artist - "The Beatles"
Best Performance by a Vocal Group - The Beatles, "A Hard Day's Night", George Martin, producer
NORTH AMERICAN (AUGUST/SEPTEMBER 1964) BEATLES TOUR:
San Francisco (August 19); Las Vegas (August 20); Seattle (August 21); Vancouver (August 22); Los Angeles (August 23); Denver (August 26); Cincinnati (August 27); New York (August 28); Atlantic City (August 30); Philadelphia (September 2); Indianapolis (September 3); Milwaukee (September 4); Chicago (September 5); Detroit (September 6); Toronto (September 7); Montreal (September 8); Jacksonville (September 11); Boston (September 12); Baltimore (September 13); Pittsburgh (September 14); Cleveland (September 15); New Orleans (September 16); Kansas City (September 17); Dallas (September 18); New York (September 20)
Tour Fact: Because of the "mania", the Beatles seldom ventured outside of their hotels. One of the band's favorite pastimes during this tour was playing the game of "Monopoly" in their hotel rooms. Art Schreiber, who was one of five reporters (two American, three British) designated to follow the Beatles on this North American tour, recalls how it unfolded: "When we'd arrive at a hotel, I'd no more sooner get in my room and the phone would ring and it would be John Lennon. He'd say, 'Art, where are you, we're waiting.' So I'd go to his room and he and George would be sitting there at the Monopoly board. John always stood up to shake the dice and roll. He wanted so badly to get Park Place and Boardwalk. He could stand to lose the game, as long as when he lost he had Park Place and Boardwalk."
During the game of "Monopoly", Schreiber recalls Harrison as being very aloof with a preoccupation to acquire the B&O Railroad deed. Said Schreiber: "I asked him why he wanted the B&O so badly and he never did tell me. He never did tell me much of anything. We'd play until sunrise, and I'd be falling asleep at the table and John would poke me and say 'one more game, Art.' During this whole time, George would say practically nothing."
**1965**
February 11
Ringo Starr marries hairdresser Maureen Cox at the Caxton Hall registry office. Brian Epstein worries about negative female reaction as Ringo gives up his eligible bachelor status to Maureen. George Harrison went on to say: "I don't think the Beatles' image could stand another marriage." The couple honeymooned in a secluded spot near Brighton but fans show up!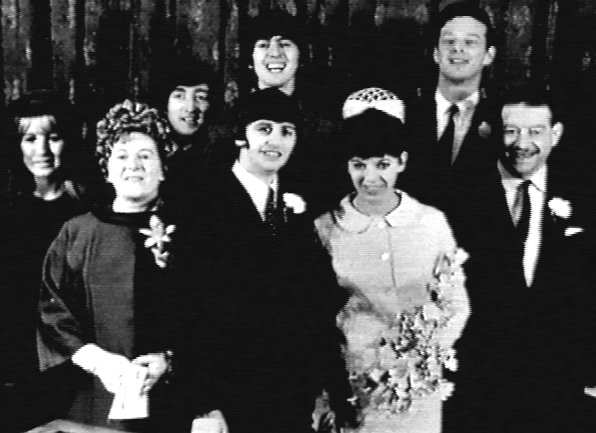 February 15
EIGHT DAYS A WEEK / I DON'T WANT TO SPOIL THE PARTY (single) is released (Capitol Records)
February 18
Northern Songs Ltd becomes listed on the London Stock Exchange
February 22
Beatles start filming (in the Bahamas for tax reasons) their second film, "Help!"
March 22
THE EARLY BEATLES (lp) is released (Capitol Records)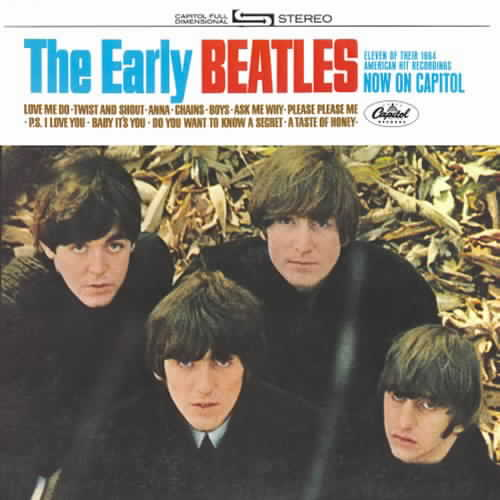 April 19
TICKET TO RIDE / YES IT IS (single) is released (Capitol Records)
June 14
BEATLES VI (lp) is released (Capitol Records)
Two rock 'n' roll cover versions recorded by George Martin and the Beatles are not intended for the British marketplace but instead are slated specifically for Capitol's "Beatles VI" album: "Recording especially for the North American market, John Lennon steered the group through raucous renditions of two of his favourite songs...'Dizzy Miss Lizzy' and 'Bad Boy'", wrote historian Mark Lewisohn regarding the May 10th recording session at EMI's Studio Two. "Minutes after the final recording, mono and stereo remixes were made of both, to be dispatched the next day by air freight to Capitol Records in Los Angeles." The song 'Dizzy Miss Lizzy' would later appear on Parlophone's "Help!" LP while 'Bad Boy' would make its debut in 1966 on a Beatles' album from the same label entitled "A Collection of Oldies."
June 24
"A Spaniard In the Works" - Lennon's second humorous off-beat book is published by Jonathan Cape. John Lennon: "There is something about changing words that I love. Instead of saying 'Walked to the door' I write 'I warped to the door', that's good. It works. It says something."
July 19
HELP! / I'M DOWN (single) is released (Capitol Records)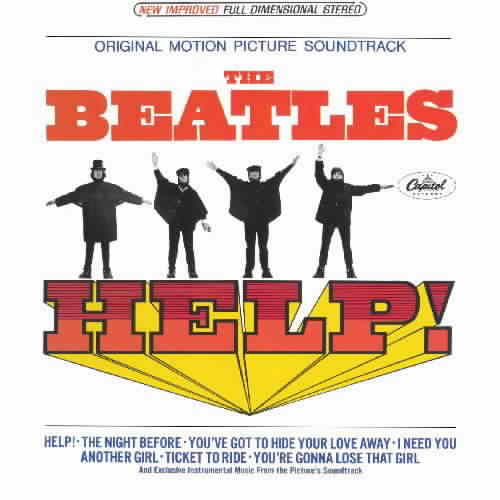 August 13
HELP! (lp) is released (Capitol Records)
August 15
56,000 fans show up at Shea Stadium, New York.
This was the Beatles' largest crowd on any tour, and
also the largest rock concert attendance to that point in time.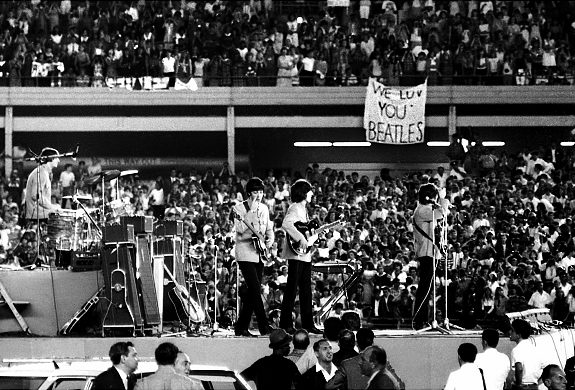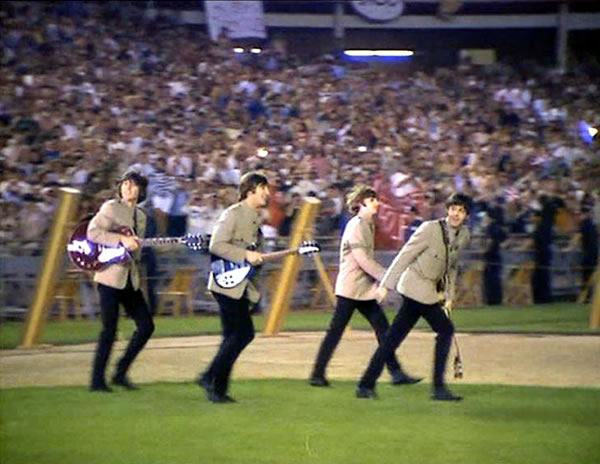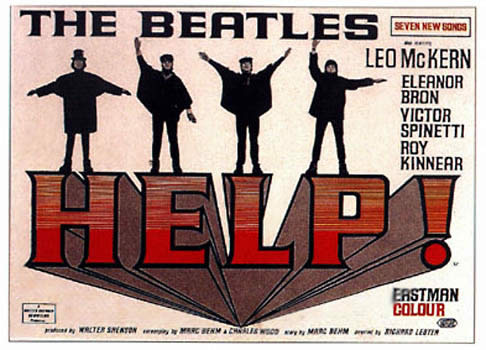 June 15
YESTERDAY AND TODAY (lp) is released (Capitol Records)
July 3
Beatles arrive in Manila, Philippines
July 4
Beatles perform at the Manila's National Football Stadium - 50,000 fans in attendance. Later, the President of Manila would feel "stiffed" by the Beatles for them not showing up at his children's party. The band gets kicked, punched as they leave Manila and Epstein is forced to give back all the concert.
July 29
Lennon's "We're more popular than Jesus" comment appears in "Datebook"
On this date, Lennon's interview with Maureen Cleave makes its appearance in the American teenage magazine, "Datebook". Within days of publication, anti-Beatle sentiment builds up and American disc jockeys in the southern States encourages a God-fearing youth to destroy their Beatle records and memorabilia at bonfire rallies. Also enforced was a radio ban on Beatle records that was started by a Birmingham, Alabama D.J. The ban picked up momentum by other radio stations in the southern Bible belt. By August 6, thirty US radio stations have banned all Beatles records from airplay.
World reaction to John's remarks:
South Africa: Piet Myer of the South African Broadcasting Corporation temporarily banned Beatles records from being played and noted that "The Beatles arrogance has passed the ultimate limit of decency. It is clowning no longer."
Spain: Three radio stations immediately bans the airing Beatle records.
Holland: One radio station bans the airing of Beatle records.
The Vatican had a somewhat different view on Lennon's remarks: John's remarks were made "off-handedly and not impiously...the protest the remark raised showed that some subjects must not be dealt with lightly and in a profane way, not even in the world of beatniks."
August 6
Brian Epstein holds a special press conference
Before the band would commence with a third American tour on August 12, at the Chicago International Amphitheatre, Brian Epstein holds an evening press conference in New York's Manhattan's Sheraton Hotel, to effect damage control over John Lennon's "anti-Christ" remarks. The following statement was made by Brian Epstein with approval from John: "The quote which John Lennon made to a London columnist nearly three months ago [sic] has been quoted and misrepresented entirely out of context of the article, which was in fact highly complimentary to Lennon as a person and was understood by him to be exclusive to the Evening Standard. It was not anticipated that it would be displayed out of context and in such a manner as it was in an American teenage magazine." Epstein also commented: "Lennon didn't mean to boast about the Beatles' fame. He meant to point out that the Beatles' effect appeared to be a more immediate one upon, certainly, the younger generation. John is deeply concerned and regrets that people with certain religious beliefs should have been offended."
August 8
REVOLVER (lp) is released (Capitol Records)
YELLOW SUBMARINE / ELEANOR RIGBY (single) is released (Capitol Records)
August 11
Lennon meets with American press - attempts to explain
what he meant by his "We're more popular than Jesus" remark
In a hotel room on the 27th floor of the Astor Towers Hotel in Chicago where unrelenting pressure from the American press was seeking out a public apology from John Lennon, the Beatle is recorded on film as saying: "If I had said that television is more popular than Jesus, I might have got away with it. It's a fact, in reference to England, we meant more to kids than Jesus did, or religion at that time. I wasn't knocking it or putting it down. I was just saying it, as a fact and it's true, more for England than here. I'm not saying we're better or greater or comparing us with Jesus Christ as a person or God as a thing, or whatever it is, you know, I just said what I said and it was wrong, or was taken wrong, and now it's all this!"
Interestingly, the questions fielded by the press on this very subject alone lasted between 5-10 minutes before moving onto other topics. Tony Barrow, the Beatles personal publicist who had witnessed the event, recalls how John Lennon had reacted to the situation: "The arrival in Chicago was auspicious from John's personal point of view because, that night in the hotel, for the first time perhaps, he personally faced the press....He was taking great responsibility for something he felt terribly bad about and was greatly concerned that this thing, taken completely out of context, should rebound. He did not blame, for instance, Maureen Cleave in the least because of the way he had told it to her. He was concerned that this whole thing could rebound on The Beatles. He was more frightened, really scared stiff, that night, more than at any other time I've seen him, because the whole thing fell on his shoulders."
Tony Barrow's comments are supported by Cynthia Lennon in her book, "A Twist of Lennon": "[I]n an interview John likened the Beatles to Jesus Christ. His truly honest assessment of their popularity offended the God-fearing, clean living Americans who lived in the Bible belt of America. His views were totally misconstrued. John was very bewildered and frightened by the reaction that his words created in the States. Beatle albums were burnt in a mass orgy of self-righteousness indignation. Letters arrived at the house full of threats, hate and venom."
August 15
THIS IS WHERE IT STARTED (lp) is released (Metro Records)
August 29
Beatles final U.S.A. performance held in San Francisco's "Candlestick Park"
September 19
John Lennon flies to Spain to star in the movie "How I Won the War." John would play the part of Private Gripeweed. The film is directed by Richard Lester.


September 20
George Harrison in India; studies sitar with Ravi Shankar
October 17
THE AMAZING BEATLES (lp) is released (Clarion Records)
November 6
John Lennon visits the Indica Gallery in London where he meets Yoko Ono who is displaying her art
November 24
Beatles begin recording SGT. PEPPER'S LONELY HEARTS CLUB BAND
December 13
"LOOK" magazine European Editor interview by Leonard Gross is released. Interview was done during the filming of "How I Won The War". Lennon provides the journalist with more insight on what he really meant by saying the Beatles being more popular than Jesus. "I believe Jesus was right, Buddha was right, and all of those people like that are right. They're all saying the same thing - and I believe it. I believe what Jesus actually said - the basic things he laid down about love and goodness - and not what people say he said....If Jesus being more popular means...more control, I don't want that. I'd sooner they'd all follow us even if it's just to dance and sing for the rest of their lives. If they took more interest in what Jesus - or any of them - said, if they did that, we'd all be there with them."
December 16
"BEATLES FOURTH CHRISTMAS RECORD - PANTOMIME: EVERYWHERE IT'S CHRISTMAS" is issued to fan club members
GRAMMY AWARDS (1966):
Song of the Year: "Michelle"
Best Contemporary Pop Vocal Performance - Paul McCartney, "Eleanor Rigby"
Best Album Cover Design - "Revolver" by Klaus Voorman
NORTH AMERICAN (AUGUST 1966) BEATLES TOUR: Chicago (August 12); Detroit (August 13); Cleveland (August 14); Washington (August 15); Philadelphia (August 16); Toronto (August 17); Boston (August 18); Memphis (August 19); Cincinnati (August 20); St. Louis (August 21); New York (August 23); Seattle (August 25); Los Angeles (August 28); San Francisco (August 29)
Tour Fact: "We'd done about 1,400 live shows and I certainly felt this was it," said George Harrison commenting on their last American concert at Candlestick Park. "It was nice to be popular, but when you saw the size of it, it was ridiculous, and it felt dangerous because everybody was out of hand. Even the cops were out of line....It was a very strange feeling. For a year or so I'd been saying, "Let's not do this anymore.' And then it played itself out, so that by 1966 everybody was feeling, 'We've got to stop this.' I don't know exactly where in 1966, but obviously after the Philippines we thought, 'Hey, we've got to pack this in.'"
**1967**
January 1
Beatles resume work on SGT. PEPPER'S LONELY HEARTS CLUB BAND;
session ends April 2
January 21
Brian Epstein decides to merge with the Robert Stigwood Organization which controls such bands as The Who, The Merseys and Cream. Brian would retain sole control over the Beatles.
February 13
STRAWBERRY FIELDS FOREVER / PENNY LANE (single) is released (Capitol Records)
Noted Atlanta psychiatrist Tom Leland would lament upon this single and the subsequent album, Sgt. Pepper, by describing Beatles new compositions as "speaking in an existential way about the meaninglessness of actuality."
March 11
446 recorded cover versions of "Yesterday" by various artists - Disc & Music Echo reports.
May 1
EMI publicly announces total world sales of Beatle records, including LP's, singles and EP's, have reached 200 million.
May 15
Paul McCartney meets his future wife, Linda Eastman, at the Bag O'Nails.
May 20
Advanced copies of SGT. PEPPER are sent to the B.B.C. radio service. The B.B.C. decides to ban "A Day In the Life" from broadcast because it contained drug inducement themes in the song.
June 2
SGT. PEPPERS LONELY HEARTS CLUB BAND (lp) is released (Capitol Records)
Sunday Times reporter Derek Jewel hails Pepper as "a tremendous advance even in the increasingly progress of the Beatles. Some of the words are splendid urban poetry - almost metaphysical..."
(Cost to make Pepper: $100,000; studio time used to record the lp: 700 hours)
The Beatles comment about the album...


Ringo Starr: "The original concept of Sgt. Pepper was that it was going to be stage show - you know, we start with clapping and people shouting and then I come on - and we were going to do it like theater; we'd do it in the studio and simulate it. We didn't in the end. We did it for the first couple of tracks and then it faded into an album - but it still made it a whole concept."
Paul McCartney: "...it doesn't have to be us, it doesn't have to be the kind of song you want to write, it could be the kind of song they might want to write...you could write a song about Lovely Rita, meter maid...Paul McCartney might not have...but these people could, so it was very liberating and that's how we looked at the whole thing."
George Harrison: "Klaus Voorman had a harmonium in his house, which I hadn't played before. I was doodling on it, just playing to amuse myself, when "Within You" started to come. The tune came first, then I got the first sentence. It came out of what we'd been discussing that evening."
John Lennon: "People just have this dream about Sgt. Pepper. It was good for then, but it wasn't that spectacular when you look back on it. I prefer some tracks off the double album and some tracks off Abbey Road. When you think back on Pepper, what do you remember? Just "A Day in the Life." You know, I go for individual songs, not for whole albums."
Beatles record producer, Sir George Martin (excerpt prologue from his book "Summer of Love"): "With Sgt. Pepper the Beatles held up a mirror to the world. And in this looking-class the world saw a brilliant reflection of its kaleidoscopic 1967 self. It saw not the shambolic and often absurd cavortings of the hippie movement, but its perfect image - an elegant ideal; not the sordid gutter land of drug addiction, but the intriguing possibility of creative substance abuse."
June 19
Paul announces to the media he has taken LSD four times. The Daily Mirror quotes Paul as saying: "I don't regret that I've spoken out. I hope my fans will understand..."
June 21
American evangelist Dr. Billy Graham slams Paul's use of drugs: "I am praying for Paul that he finds what he is looking for...he has reached the top of his profession and now he is searching for the true purpose in life. But he will not find it through LSD."
June 25
ALL YOU NEED IS LOVE is seen live by satellite by 400 million viewers in 24 different countries, marking the first international satellite broadcast.
July 20
ALL YOU NEED IS LOVE / BABY YOU'RE A RICH MAN (single) is released (Capitol Records)
July 24
The Beatles and Brian Epstein all sign their names to a full page advertisement in The Times declaring "the law against marijuana is immoral in principal and unworkable in practice." The list of names also included a variety of authors, painters, and politicians.
July 28
"THE FAMILY WAY" movie premieres in New York with music from Paul McCartney and arranged by George Martin.
August 25
Beatles leave London's Euston Station and arrive at Bangor, North Wales for mediation with the Maharishi Mahesh Yogi.
August 27
Brian Epstein dies in his home on 24 Chapel Street, Belgravia, London, from drug overdose of sleeping pills.
Panic in the band quickly settles in. John Lennon would later lament: "The Beatles were finished when Eppy died. I knew, deep inside me, that that was it. Without him, we'd had it." Paul McCartney, according to Beatles press agent Tony Barrow, felt that the Beatles might not be together and so Paul quickly planned the "Magical Mystery Tour" film project.
September 11
The band begins filming "Magical Mystery Tour"
October 17
Memorial service for Brian Epstein at the New London Synagogue. All four Beatles attend.
October 27
HELLO GOODBYE / I AM THE WALRUS (single) is released (Capitol Records)
November 8
"HOW I WON THE WAR" (movie) premieres in New York, starring John Lennon who plays the part of Private Gripeweed.
November 27
MAGICAL MYSTERY TOUR (lp) is released (Capitol Records)
With Parlophone in England issuing a two disc EP package of Magical Mystery Tour listing all of the tracks especially recorded for the movie, the Capitol release in America not only contained those songs but also the additional hit singles from the band that made up the B-side of the album: "Hello Goodbye," "Strawberry Fields Forever," "Penny Lane," "Baby You're A Rich Man," and "All You Need Is Love." Those additional tracks made for a more complete album. It turned out to be a successful marketing strategy in the USA selling 2 million copies of the LP. The success would eventually make Parlophone release the American version in England. Said American Beatle researcher Bruce Spizer: "Nine years after the release of Capitol's Magical Mystery Tour LP, Parlophone issued the same album, even using the same Capitol master tapes, which included duophonic mixes of three of the songs! (When the album was issued on CD, true stereo mixes were used for all of the songs.)" The Capitol LP version was finally issued by Parlophone on November 19, 1976. The CD version was digitally re-mastered and released by Parlophone in 1987.
December 4
"Apple Boutique" opens selling trendy hippie fashions. Shop is managed by former Quarryman Pete Shotton.
December 17
BEATLES CHRISTMAS RECORD: "CHRISTMAS TIME IS HERE AGAIN" is issued to fan club members.

December 26
MAGICAL MYSTERY TOUR , a "made for television" film by the Beatles, is released in England only and is seen by some 15 million Britons on television in monochrome.
A London newspaper slams film in their review as "blatant rubbish" and other pundits viewed it as "chaotic", "appalling", and "a colossal conceit." As a result, the American million dollar deal for broadcast rights was pulled.
GRAMMY AWARDS (1967):
Album of the Year - Sgt. Pepper's Lonely Hearts Club Band, George Martin, producer
Best Contemporary Rock 'n' roll Album - Sgt. Pepper's Lonely Hearts Club Band, George Martin, producer
Best Engineered (non-classical) Recording - Sgt. Pepper's Lonely Hearts Club Band, Geoff Emerick, engineer
Best Album Cover - Sgt. Pepper's Lonely Hearts Club Band, Peter Blake, John Haworth, art directors.
**1968**


February 16
John and George leave for Rishikesh, India and were followed four days later by Paul and Ringo for more meditation with the Maharishi Mahesh Yogi
March 18
LADY MADONNA / THE INNER LIGHT (single) is released (Capitol Records)
May 15
"The Tonight Show" (US television program) - Beatles announced the launching of their own new business: "Apple Corps"
May 31
The Beatles begin recording THE BEATLES. Session concludes October 14.
July 17
In England, John, Paul and George attend premier of animated movie "Yellow Submarine" at the London Pavilion, featuring a Beatle soundtrack.
July 29
Recording sessions begin for "Hey Jude" in Trident Studios in Soho. The Beatles would use the 8-track facility for the song up until August 1 when it was finally completed.
July 31
Apple Boutique "blowout" - stock given away, one free item per customer. Shop closes. Paul would be quoted the next day in the Daily Mail: "We always make our mistakes in public."
August 11
THINGUMYBOB (single) is released by the Black Dyke Mills Band (Apple Records)
August 16
THOSE WERE THE DAYS (single) composed by Gene Raskin, is released by Mary Hopkin (Apple Records). The single becomes Apple's first major hit. The hit track is produced by Paul McCartney; it sells 4 million copies world-wide.
August 22
Ringo Starr walks out on the band while recording the "White Album"
To commence on this day, the recording of "Back In the U.S.S.R." However, before the sessions would start, Ringo Starr decides to walk out on the band leaving John, Paul and George to record the track. Said Ringo: "I left because I felt two things: I felt I wasn't playing great, and I also felt the other three were really happy and I was an outsider." Ringo would rejoin the group on September 3rd. As a welcome back gesture from Mal Evans, flowers were decked out all around Ringo's drum kit before he arrived at the studio. Ironically, when he did return, there was nothing scheduled for him to do. On September 4th, Ringo and the other three Beatles are filmed by director Michael Lindsay-Hogg to promote their forthcoming single, "Hey Jude" b/w "Revolution". But Starr's actual studio performance at EMI did not occur until September 5th, adding drums and maracas for George Harrison's "While My Guitar Gently Weeps."
August 23
Cynthia Lennon sues John Lennon for divorce
August 26
HEY JUDE / REVOLUTION (single) is released (Apple Records) sells 6 million copies world-wide
Paul McCartney explains the origins of Hey Jude: "I'd known Cynthia for a long time, she was a good friend. When people like that are getting divorced you can't just blank the wife...I'd got this little thing of "Hey Jules". I was thinking of a nickname for Julian. 'Hey Jules, don't make it bad, take a sad song and make it better.' You Know, don't be too brought down by this divorce, lad, it'll be all right, kind of style."
Cynthia Lennon: "Paul was devastated by the break-up. He brought me a rose and offered marriage, as a joke. 'We'll show 'em, won't we, Cyn?' It was very touching, and on the way to the house he had written Hey Jude. It always brings tears to my eyes, that song."
August 28
SOUR MILK SEA (single) is released by Jackie Lomax (Apple Records). This George Harrison composition features Paul McCartney on bass, Eric Clapton on lead guitar, Ringo on drums, George and Jackie on rhythm guitars with Nicky Hopkins on piano.
September 8
Beatles perform HEY JUDE on David Frost TV show in England. Frost chidingly dubs them as the "greatest tea-room orchestra in the world."
September 14
New Musical Express reports gross sales for HEY JUDE at $2,000,000
September 20
ATV buys close to 50% of Northern Songs publishing company
October 6 & 13
"Smothers Brothers Show" (USA) - re-broadcasts "Hey Jude" and "Revolution" from David Frost Show
October 18
John & Yoko's flat is raided and they are charged with possession of cannabis
November 8
Cynthia Lennon is granted her divorce from John
November 11
UNFINISHED MUSIC NO. 1 - TWO VIRGINS (lp) by John & Yoko, is released (Apple)
November 13
Motion Picture "Yellow Submarine" is released (running time: 87 minutes)
A United Artist Release
An Apple film presentation
Screenplay by Lee Minoff; Al Brodax; Jack Mendelssohn and Erich Sigal
Chief Designer: Heinz Edelman
Animation Directors: Jack Stokes and Robert E. Balser
Special effects: Charles Jenkins
Production Coordinator: Abe Goodman
Filmed in color by Deluxe
The voices of Dick Emery, Lance Percival, Paul Angelus and Sheila Danille
Based on a suggestion from John Lennon in a 3:00 a.m. phone call conversation with Al Brodax: "Wouldn't it be great if Ringo was followed down the street by a yellow submarine?"
November 25
THE BEATLES (double lp, aka "WHITE ALBUM") is released (Apple Records)
Paul McCartney: "The White Album. That was the tension album. We were all in the midst of the psychedelic thing, or just coming out of it. In any case, it was weird. Never before had we recorded with beds in the studio and people writing for hours on end; business meetings and all that. There was a lot of friction during that album...we were about to break up. And that was just tense in itself."

Some interesting facts about the White Album:

• Advance orders of the White Album numbered 1.9 million copies. The album would eventually go on to sell over 6.5 million copies making it the best selling double-album of all time.

• The album's cover design was thought up by Richard Hamilton with the name The Beatles embossed on the original releases. Later editions of the White Album saw the groups name appearing in light grey.

• Paul McCartney states in The Beatles Anthology book that the idea of having each album individually numbered was Richard Hamilton's idea. "...he had the idea to number each album, which I thought was brilliant for collectors. You'd have 000001, 000002, 000003, and so on. If you got, for example, 000200 then that would be an early copy -- it was a great idea for sales." The Beatles Anthology reports that Ringo Star owns the first copy of the White Album.


December 2
WONDERWALL MUSIC (lp sound-track for the movie "Wonderwall") is released by George Harrison (Apple)
George Harrison: "Joe Massot, the director, asked me would I do the music for his film...I decided to do it as a mini-anthology of Indian music because I wanted to help turn the public on to Indian music."
December 17
CANDY (movie) featuring Ringo Starr is premiered in New York
December 20
"BEATLES 1968 CHRISTMAS RECORD" is issued to fan club members
**1969**
January 1
Beatles begin filming LET IT BE
January 10
George Harrison walks out on the band while working on "Let It Be"
While it remains true in the film that Paul McCartney seemed to have gotten to George Harrison over a dispute in how to play chords on a number ("I'll play what you want me to play. Whatever it is that will please you, I'll do it," said Harrison) the real reason why George left (according to an October 2000 edition of Mojo magazine) was because of "John's obsession with Yoko deeply insulted Harrison. Lennon repeatedly refused to participate in group planning; on January 10, Harrison told Lennon he was leaving the band immediately." George would reconcile their differences a week later on the condition that they don't do a live concert abroad and to stop filming at the dreary Twickenham studios.
January 13
YELLOW SUBMARINE (lp) is released (Apple Records)
January 18
John Lennon announces to Disc and Music Echo that APPLE RECORDS is in financial chaos: "Apple is losing money. If it caries on like this, we'll be broke in six months..."
January 20
Beatles resume filming the "Let It Be" sessions but this time at Apple Headquarters, 3 Savile Row in their studio basement.
January 30
The Beatles last "live" public appearance held on the roof of the Apple building at 3 Savile Row. (The rooftop performance was based on an idea two days earlier by engineer Glyn Johns.)
Excerpt from Apple's Deluxe "The Beatles Get Back" book describes atmosphere on the roof: "With the wind sweeping the roof and blowing through the Beatles' hair, it seemed as if the roof concert were occurring on ship deck, Paul stomping the wooden planks, middle aged men and women on an adjoining roof waiting for the boat to arrive, boys and girls on nearby buildings lying against the roof slopes and waving, the Beatles smiling and singing to each other in the wind: 'You can syndicate any boat you row.'" The Beatles performance ran about 40 minutes before the police arrived to stop the noisy noon disturbance.
February 3
Allen Klein appointed to look after the Beatles' affairs by John, George and Ringo. Paul McCartney rejects the appointment, preferring Lee Eastman, Linda Eastman's father.
March 12
Birth of the APPLE SCRUFFS. Female fans stalk 3 Savile Row, Abbey Road, Trident and Olympic recording studios and the Beatles homesteads waiting for an appearance of a Beatle. Recalls Apple Scruff Wendy: "We only wanted to know them as people really, it was never a groupie kind of thing. We didn't know what sex was all about....I thought these are my Beatles and one day I'll be in the right place at the right time and it'll be wedding bells."
George & Pattie Harrison's home is raided and they are charged with possession of cannabis.
Paul McCartney marries Linda Eastman at St. John's Wood Church in London. Reverend Noel Perry-Gore presides.
March 20
John & Yoko married in Gibraltar by Cecil Wheeler in the British Consulate building
March 25 - 31

John & Yoko hold "Bed-in" in room 902 at Amsterdam Hilton
John Lennon: "Our life is our art. That's what the bed-ins were. When we got married, we knew our honeymoon was going to be public anyway, so we decided to make a statement. We sat in bed and talked to reporters for seven days. It was hilarious."
March 31
George & Pattie Harrison fined in court for possession of cannabis
April 1
John & Yoko appear in "a bag" while in Vienna
Playboy (1980 interview): "What about the reports of you making love in a bag?"
Yoko Ono: "We never made love in a bag. People probably imagined we were making love. It was just, all of us are in a bag, you know. The point was the outline of the bag, the movement of the bag: how much we see of a person. Inside there might be a lot going on. Or maybe nothing's going on." See Bagism.
April 3
Billy Preston, brilliant keyboardist signs on with Apple
George Harrison would later produce his first two albums on Apple: "That's The Way God Planned It" and "Encouraging Words". Billy would be used on the LET IT BE and ABBEY ROAD albums. George Martin would later acknowledge that Billy's musical contribution to those albums would act as "emollient" to buffer the on-going friction between band members.
George Harrison: "It's interesting to see how people behave nicely when you bring a guest in because they don't really want anybody to know that they are so bitchy...and told him [Billy] to come into Savile Row which he did. Straight away it just became 100 percent improvement in the vibe in the room."

Billy Preston (reflecting on how it all happened): "I was with Ray Charles in London and George was in the audience and he recognized me and called me the next day and invited me over to see the guys. When I went over, they were in the studio, you know, recording and filming and they asked me to sit in with them. It was a thrill enough just being there and playing with them. And I really didn't know about the label credit until the record was out," said Billy. "The record was a big surprise. I was at the Beatles' office, and John said, 'Look, Willy,' and he showed me the record. I looked, and it was great. Wow! It was really something to do that for me."
May 5
GET BACK / DON'T LET ME DOWN - featuring Billy Preston, (single) is released (Apple Records).
May 25
John & Yoko arrive in Toronto and are temporarily detained by Canadian Immigration authorities for over two and a half hours because of Lennon's previous drug conviction. Canadian Immigration decides to grant Lennon a 10-day stay in the country. While in Canada, the couples activities spans from May 25 to June 5 and are headlined in major newspapers, television media and radio.
May 26
John & Yoko hold "Bed-in" at Hotel La Reine Elizabeth, room 1742, in Montreal
ELECTRONIC MUSIC (lp) is released by George Harrison (Zapple Records)
UNFINISHED MUSIC NO. 2 - LIFE WITH THE LIONS (lp) is released by John & Yoko (Zapple Records)
June 1
John & Yoko record "Give Peace A Chance" which would become John's first solo record but still credited as a "Lennon/McCartney" song.
June 3
The Lennons visit Ottawa

At about 5:30 p.m., John and Yoko convenes for a peace seminar at the Ottawa University Arts Building organized by Allan Rock, who today is now an Ambassador to the United Nations (previously he held several Canadian cabinet positions including Minister of Health, Minister of Justice and Minister of Industry.) A lively discussion on peace was held including panelist Prof. Colin Wells, vice-dean of the university of arts faculty along with Canadian actor Bruno Gerussi and Martin Loney, president of the Canadian Union of Students.
John and Yoko's visit to the city would only last several hours. The couple boards a train at 11:30 p.m. on this evening at the Ottawa Train station. They arrive the next morning at 6:30 a.m. at the Union Station in Toronto where the couple stayed at the Windsor Arms Hotel.
June 4
BALLAD OF JOHN & YOKO / OLD BROWN SHOE (single) is released (Apple Records)
June 5
John and Yoko leaves Canada
On this date, John Lennon and Yoko Ono check out of the Windsor Arms Hotel in Toronto to catch a 9 p.m. flight to London, via Frankfurt. "We are very happy with the results of our visit and the Montreal bed-in," said John Lennon to reporter Ritichie Yorke for the Globe and Mail. "You can't change things overnight, but I believe we've made a lot of people think about peace. We're going to keep plugging away."
Yesterday's activities saw the Lennons head down to Niagara Falls to do a "film documentary footage on his visit to North America," wrote Yorke. Meanwhile, Allan Klein reported that The Ballad of John and Yoko had already sold 900,000 copies in the United States and was Number 10 on the English charts in one week.
July 1
Beatles begin recording Abbey Road album
July 7
GIVE PEACE A CHANCE / REMEMBER LOVE (single) is released by the Plastic Ono Band (Apple Records)
John Lennon: "We all have Hitler in us, but we also have love and peace. So why not give peace a chance?"
August 20
The last time all four Beatles would record together in studio.
According to author Barry Miles in his book "Many Years From Now", the last track recorded by the band as a unit was "I Want You (She's So Heavy)"
August 22
Last photographic session of the Beatles together.

September 5
Allen Klein successfully re-negotiates contracts with EMI for Canada, Mexico, and the USA. The band would now earn 58 cents per album up until 1972 and then it would jump to 72 cents after that. Part of the new EMI contractual agreement required the Beatles to release at least two albums per year until 1976. Prior to this re-negotiated agreement, the Beatles 1966 contract with EMI had them earning 39 cents per album and when the Beatles first signed up with EMI, they only made 6 cents per album.
September 13
CONCERT: "LIVE PEACE IN TORONTO"
John & Yoko's second visit to Canada. At the Varsity Stadium in Toronto, the couple perform live with Eric Clapton, Klaus Voorman, and Alan White. Together, at this performance, the band records an Apple album later released as "The Plastic Ono Band -- Live Peace in Toronto 1969"
Mal Evans, the Beatles roadie recalls the event in an interview with Beat Publications in 1969: "It was the first show I had roadied for three years and I was really loving every minute of plugging the amps in and setting them up on stage, making sure that everything was right. Everyone wanted the show to go particularly well because Allan Klein, who had flown over, had organised for the whole of John's performance to be filmed. This was on top of it being video-taped by Dan Richter.
"Finally, at midnight, the compare, Kim Fowley, who is a well-known singer, producer and songwriter in his own right, went on stage to announce the Plastic Ono Band. He did a really great thing. He had all the lights in the stadium turned right down and then asked everyone to strike a match. It was a really unbelievable sight when thousands of little flickering lights suddenly shone all over the huge arena, " said Evens.

"Then John, Yoko, Eric, Allan and Klaus were on stage, and lined up just like the old Beatles set-up. Bass on the left, lead guitar next, then John on the right with the drummer behind. Each guitarist had two big speakers, one on either side of the stage, and the sound was really fantastic right from the moment they began. But just before they launched into their first number, John said quickly into the mike "We're just goin' to do numbers we know, as we've never played together before". That was all. Just a brief word to put everyone in the picture.
"The whole show was recorded for a special album...and you will hear all this on the LP. After that, the boys gave a ten minute Press conference."
Mal Evans noted in the interview to Beat Publications that after they left Varsity stadium, the band piled into four cars and drove two hours until they reached the estate of Mr. Eaton, a wealthy Canadian businessman whose son had picked the band up after the show. The next day, for fun they got into golf-carts exploring the huge landscape that surrounded the estate. Ritchie Yorke, pop reporter for Toronto's Globe and Mail later wrote that John and Yoko spent a total of 36 hours in Canada before flying back to England.
September 17
"Paul Is Dead Hoax" starts up in America
Originating from Des Moines Iowa when Tim Harper, a college editor, writes an article for the schools "Drake Times-Delphic" entitled: "Is Beatle Paul McCartney Dead?" On October 12, WKNR-FM picks up on the story from a phone caller revealing "hidden clues" in Beatle songs. The Chicago Sun-Times later covers the story on October 21. Paul would later appear on the front cover of LIFE Magazine (November 7) with an interview by John Neary entitled "The Case of the 'Missing Beatle': Paul is still with us."
September 20
John Lennon announces to the others that he is leaving the band
Author Barry Miles in his book "The Beatles: A Diary" explains that as Paul attempted to discuss Beatle matters, John Lennon kept saying "No, no, no" to everything Paul suggested. Paul asked John what he meant by "no". John replied: "I mean the group is over. I'm leaving. Allen was saying don't tell. He didn't want me to tell Paul even. So I said 'It's out.' I couldn't stop it, it came out. Paul and Allen both said that they were glad that I wasn't going to announce it, that I wasn't going to make an event out of it." Lennon's announcement never made it to the press because of their newly negotiated royalty contract they signed with EMI.
October 1
ABBEY ROAD (lp) is released (Apple Records)
October 6
SOMETHING / COME TOGETHER (single) is released (Apple Records)
Contrary to the popular belief that Something was released as a money-maker, the real reason for giving George Harrison his first A-side to this single was to inspire him on as a composer. For in 1990, Beatle historian Mark Lewisohn received a letter from Allen Klein which reads as follows: "It was done on purpose, not to make money but to help the guy," wrote Klein. "Lennon wanted to help him. He knew that for all intents and purposes for a period of time they weren't going to be working together anymore. Something was a great song. But to make money? Not a chance. It was really to point out George as a writer, and give him courage to go in and do his own LP. Which he did."
October 20
WEDDING ALBUM (lp) is released by John & Yoko (Apple Records)
COLD TURKEY / DON'T WORRY KYOKO (single) is released by the Plastic Ono Band (Apple Records)
November 26
John Lennon returns his M.B.E. to the Queen. He does this as a political protest against Britain's involvement in Biafra and also because his solo single, "Cold Turkey" was quickly slipping down the music charts
December 12
The Plastic Ono Band: LIVE PEACE IN TORONTO 1969 (lp) is released by John & Yoko (Apple Records)
December 16
John and Yoko arrive in Canada at Toronto's International Airport. The Lennons third visit to Canada was brokered by Ritchie Yorke. In his book, "Axes, Chops & Hot Licks - The Canadian Rock Music Scene" that was published in 1971, he recalled how the arrangement came about: "In London, in December 1969, I found myself in the office of John and Yoko Lennon discussing their forthcoming peace campaign in Canada. The Lennons needed somewhere to stay during their visit to Toronto, and I suggested the Hawkins estate. Lennon needed a quiet spot, well away from the never ending assaults of the press; he enjoyed the company of rock 'n' rollers; and it appeared that the visit might provide the attention needed to get Hawkins' career back into the orbit internationally."
For the next 6 days, John and Yoko become houseguests with pop rock star Ronnie Hawkins. "Ah'm friends with the people promoting this peace festival," said Hawkins in his Arkansas accent. "And John and Yoko don't like hotels, so they phoned me from London an' asked if they could stay here while it was being organized. They were wonderful, great. Ah was very honored."
Hawkins would refer here to the proposed Mosport Peace Festival that was to be held from July 3-5. The event was being organized by rock promoter John Brower, the same person who had John and Yoko perform at Varsity Stadium in Toronto.

Also on this date, John Lennon and Yoko Ono decide to put up on eleven billboards in major cities from around the world, the following slogan:
Pop journalist Ritchie Yorke lamented on the historical importance of the peace campaign: "John totally believed that love could save us. He thought that if one person really stood up, things could be changed. I've never seen anyone so committed to a cause, regardless of the cost. If he thought his actions would serve a purpose, he didn't give a damn if they cost a lot of money or if they offended anyone's sensibilities. The guy was amazingly open-minded; we used to sit around thinking of things to do in the peace campaign, and he never ruled out anything. At one point, somebody decided that the way dates were broken up into B.C. and A.D. was ridiculous, that we should start all over with YEAR ONE A.P., which was AFTER PEACE. John didn't think that was too far fetched; he threw himself into the campaign."
December 19
"BEATLES SEVENTH CHRISTMAS RECORD" is issued to fans club members
December 22
John Lennon and Yoko Ono arrive by train and arrive in Montreal "just to say hello". A press conference is held at Chateau Champlain Hotel. There it is revealed that the Lennon spent $72,000 anti-war billboards and that he would "send the bill for his ads and posters to U.S. President Richard Nixon," wrote the Canadian Press.
And although not known to the Montreal press at the time, probably the real reason for John and Yoko arriving in Montreal was to hold talks with two representatives from the Le Dain Commission of Inquiry into the Non-Medical Use of Drugs: Ian L. Campbell and Dr. Heinz Lehmann.
The Le Dain Commission of Inquiry was the Canadian government's response to the concern over the use of illicit drugs and the need to obtain more information about some of them, in particular cannabus, LSD, and prescription drugs such as tranquillizers and amphetamines. The inquiry was officially announced in the House of Commons on May 1, 1969, by John Munro, Minister for Health and Welfare. (see also: January 19 and May 17, 2003, entry in this timeline for John Lennon's official testimony.)
December 23
John & Yoko meet with Canadian Prime Minister Pierre Trudeau which lasted 50 minutes. John declares to the Canadian press about his pro-active peace movement: "Peace is no violence, no frustration, no fear," John Lennon said in a C.B.C. interview, "If I smile at you, you're liable to smile back. We're smiling at the world."
Both John and Yoko on this date would later fly back to Toronto from Ottawa and while on board the plane, they accidentally meet Lester B. Pearson, a former Canadian Prime Minister and Nobel Peace Prize recipient for his diplomatic achievement: the proposal of sending United Nations peacekeeping force to the Suez Canal area. Shortly after arriving in Toronto, the couple head back to England by plane.
GRAMMY AWARD (1969):
Best Engineered (Non-Classical Recording) - The Beatles "Abbey Road", Geoff Emerick, engineer.
**1970**
February 11
THE MAGIC CHRISTIAN (movie) featuring Ringo Starr and Peter Sellers premieres in New York.
February 20
John Ono Lennon with The Plastic Ono Band: INSTANT KARMA (WE ALL SHINE ON) / WHO HAS SEEN THE WIND (single) is released (Apple Records)
February 25
Mosport Peace Festival Canceled
"After an argument over whether or not a charge should be made for admission John and Yoko disassociate themselves from the planned Toronto Peace Festival, due to take place 3-5 July. It doesn't," wrote Mark Lewisohn in his book "The Beatles Day by Day."
Interestingly enough, printed on March 25 for newsstand sales until April 16, 1970, RollingStone Magazine gives John Lennon's response about the cancellation after a query was made to him from the publisher. "In the early stages we weren't sure whether the show would be free or not," said Lennon. "There was a lot of talk about the Stones' disaster and we were swayed into thinking maybe if it's free, people would have less respect or some such bullshit. However, Brower and Yorke persuaded us to come to Canada and 'announce the peace festival,' which we did in our usual way.
"Later, when we were in retreat in Denmark, we began thinking, 'Why shouldn't it all be free? Surely they can hustle some big firms or something to put up the money," exclaimed Lennon. "And anyway, it looked like the national and local government were interested. Wouldn't it be a great plug for 'Young Canada' -- and the tourist trade?"
However, promoter John Brower on at least on particular point disagrees about the two levels of government cooperating together for the Mosport Peace Festival: "We had tremendous problems with the Ontario government at the time," he said to William Ruhlmann of Goldmine Magazine, "which was a Conservative [Party] government, as opposed to the federal government, which was Liberal [Party]. And since the prime minister of Canada was Liberal and had met with Lennon, therefore the Conservative government was against the festival, because they felt that if it was staged in Ontario it would make the Liberal prime minister look good, and they didn't want to do that."
Brower also went on to say that Lennon "gave us every opportunity to 'Get it together, man,' so to speak, and when we were not able to get a site together and we were not able to consummate financing that would allow us to put the festival on in a way that John felt was most appropriate, he walked away from it."
February 26
HEY JUDE (THE BEATLES AGAIN) (lp) is released (Apple Records)
March 1
"Ed Sullivan Show" - From the Let It Be movie, two film clips are presented to the viewing audience: "TWO OF US" and "LET IT BE"
March 11
LET IT BE / YOU KNOW MY NAME (LOOK UP THE NUMBER) (single) is released (Apple Records)
April 10
Paul McCartney publicly announces he has left the Beatles because of "..personal, business and musical differences"
April 20
McCARTNEY (lp) is released by Paul McCartney (Apple Records)
April 24
SENTIMENTAL JOURNEY (lp) is released by Ringo Starr (Apple Records)
May 4
IN THE BEGINNING (Circa 1960) (lp) is released (Polydor Records)
May 11
THE LONG AND WINDING ROAD / FOR YOU BLUE (single) is released (Apple Records)
The orchestral score for "The Long and Winding Road" was conducted and arranged by Richard Hewson and not scored by Phil Spector as some Beatle fans would assume. Hewson also did the orchestral score for Mary Hopkin's "Those Were The Days", "Goodbye" and her album "Postcard". He would later do the same for McCartney's "Thrillington" album.
"The Long and Winding Road" single sells 1,200,000 copies within two days.
May 18
LET IT BE (lp) is released (Apple Records) (before its release, the album had 3,700,000 advance orders)
May 20
MOTION PICTURE: "Let It Be" is released (running time: 80 minutes).
An Apple production released through United Artists
Produced by: Neil Aspinall
Directed by: Michael Lindsay-Hogg, Yoko Ono, Linda Eastman
Photography: Tony Richmond, Les Parrott and Paul Bond
Edited by: Tony Lenny and Graham Gilding
Sound Technicians: Peter Sutton, Roy Mingaye and Ken Reynolds
Sound Engineers: Glyn Johns, Malcolm Evans
Filmed in 16mm and blown up to 35mm for commercial distribution
Filmed in Technicolor
MPAA rating: G
Cast: John Lennon, Paul McCartney, George Harrison, Ringo Starr, Billy Preston and Yoko Ono
December 18
BEATLES CHRISTMAS ALBUM is issued to fans club members only. Compiled on the album were all the previous holiday greetings (45 r.p.m. singles) done by the group and becomes the final yuletide gift. This album was distributed by "Beatles (U.S.A.) Limited, Headquarters of the Beatles Fan Club." The fan club's central registry was Radio City Station, PO Box 505, New York, N.Y. 10019.
December 30
Paul McCartney begins legal procedures to end the Beatles partnership. The band is estimated to be worth about $100 million at the end of the year.
GRAMMY AWARD (1970):
Best Original Score Written for A Motion Picture or TV Special, The Beatles "Let It Be."
Note: Only Paul and Linda McCartney appeared on stage at the Grammy's to pick up the awards on behalf of the Beatles
**1971**
January 2
Beatles "divorce" starts to get testy... In a Associated Press report, Lennon accuses McCartney of "starting to take over" the group after Epstein's death. "We broke up then... That was the disintegration."
Note: By February, the nastiness would peak. According to "Apple to the Core", a book by Peter McCabe & Robert D.Schonfeld, headlines would start "exploding across...the British papers: "BEATLE'S FIRM IN GRAVE STATE!" , "PAUL IS A SPOILED CHILD -- RINGO!" "BEATLES AND THE SPONGERS -- BY LENNON."
January 19
Lawyer David Hirst, filed papers demanding legal dissolution of the Beatles on behalf of Paul McCartney. The suit is filed against John Lennon, Richard Starkey (Ringo Starr), George Harrison and manager Allen Klein on three grounds: 1) The group no longer performs together; 2) Much against Paul's wishes, Allen Klein was appointed as business manager by the other three Beatles; 3) Paul never saw audited accounts of the bands revenue after Klein was brought on board to manage the group.
April 15
MOTION PICTURE "LET IT BE" GETS AN OSCAR!
On this date the Academy of Motion Picture Arts and Sciences gives the nod to the Beatles and awards them with an Oscar for "Best Film Music-Original Film Score". This is the only time the Beatles ever won an Oscar and this feat has never been duplicated during their individual solo careers. The award was presented at the Dorothy Chandler Pavilion in Los Angeles
Credit: The Rock and Roll Hall Of Fame, The Beatles