John Lennon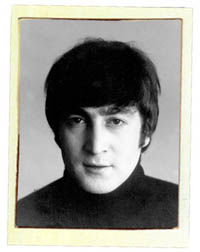 Lennon was born in 1940 during the Nazi bombing of Britain and given the middle name Winston, after prime minister Churchill (he would later change his middle name to Ono). Lennon's father, a merchant seaman, walked out on the family when John was five years old. Years later Lennon met him again, during the height of Beatlemania.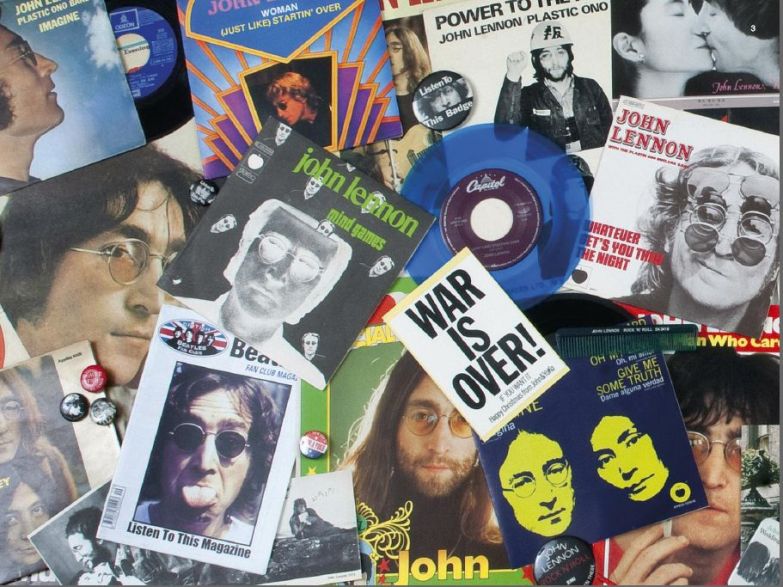 Both of his parents had musical backgrounds and experience, though neither pursued music seriously. Lennon was sent to live with his "Aunt Mimi" after his parents separated. The rest of his childhood and adolescence Lennon lived with his "Aunt Mimi" and her husband, George Smith at 251 Menlove Avenue, Mendips, Liverpool.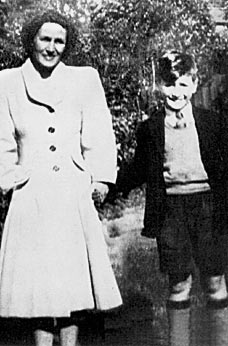 John Lennon as a child with his aunt Mimi, who raised him
In 1956, Aunt Mimi bought Lennon a guitar. His incessant playing prompted her to remark, "The guitar's all very well as a hobby, John, but you'll never make a living out of it." Years later, when The Beatles were the top act in show business, he presented her with a silver platter, engraved with those words.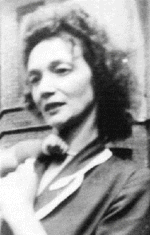 Mimi and George, who had no children of their own, became strong parental figures to Lennon. On 15 July 1958, when Lennon was 17, his mother was struck and killed by a car driven by a drunk, off-duty police officer, as she returned from Mimi's house. The death was one of the most traumatic events in John's life, she was a loose, optimistic person who understood John's struggles in school. Julia Lennon's death was one of the factors that cemented his friendship with McCartney, who had lost his own mother to breast cancer in 1956, when he was 14.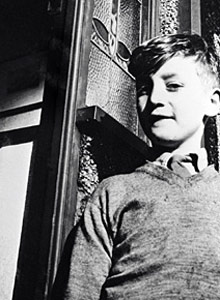 Lennon attended Dovedale County Primary School until he passed his Eleven-Plus, and from September 1952 to 1957 he attended Quarry Bank Grammar School in Liverpool, which he referred to as the start of his misery. He was a trouble-maker there and did little work, sinking to the "C-stream". He started drawing cartoons, and making fun of his teachers by mimicking their odd characteristics. Though failing at his exams by one grade at grammar school, Lennon was accepted into the Liverpool College of Art with help from his school's headmaster and his Aunt Mimi, who was insistent that her young ward should have some sort of academic qualifications. It was there that he met his future wife, Cynthia Powell. Lennon would steadily grow to hate the conformity of art school, which proved to be little different from his earlier school experience, and ultimately he dropped out.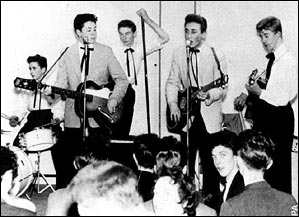 October 1957: Paul McCartney, aged 15, performs with The Quarry Men, led by John Lennon
Lennon started a band in grammar school that was called The Quarry Men after his alma mater, Quarry Bank Grammar School. With the addition of Paul McCartney and George Harrison, the band switched to playing rock 'n' roll, taking the name "Johnny and The Moondogs", followed by "The Silver Beetles" , which was later shortened to The Beatles spelled with an "a" in reference to their identification with "beat groups". Ringo Starr joined the band as a drummer.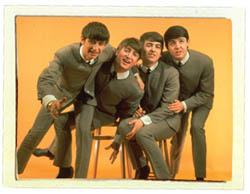 The Beatles became one of the most commercially successful and critically acclaimed bands in the history of popular music.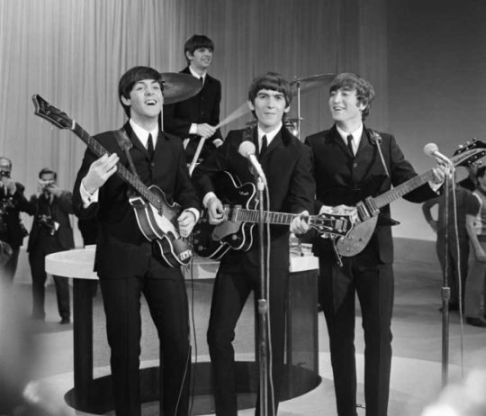 In the United Kingdom, The Beatles released more than 40 different singles, albums, and EPs that reached number one. This commercial success was repeated in many other countries; their record company, EMI, estimated that by 1985 they had sold over one billion records worldwide. The Beatles are the best-selling musical act of all time in the United States, according to the Recording Industry Association of America. The Beatles also stared in several hit movies-A Hard Days Night ,Help! ,Magical Mystery Tour, Yellow Submarine, and Let It Be. The Beatles recorded their final album, Abbey Road, in the summer of 1969.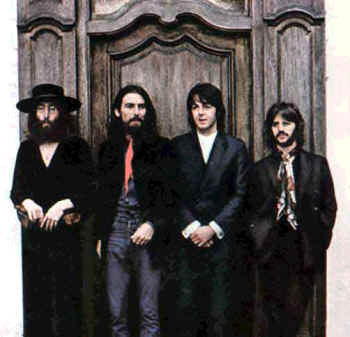 The Beatles Late 1960's
Having experienced the horror of a world at war as a child and then living through the Vietnam era as a young man, Lennon came to embrace and embody pacifism. His was the voice and vision that powered such Beatles classics as "All You Need Is Love" and "Strawberry Fields Forever." Yet Lennon also had a dark side that found expression in pained outcries dating as far back as "Help," and his was the most naturally adventuresome musical spirit in the band, as evidenced by such tracks as "I Am the Walrus" and "Being for the Benefit of Mr. Kite." The uncensored, self-lacerating aspect of the Lennon persona reached a fevered pitch with the drug-withdrawal blues of "Cold Turkey," a 1969 single released under the name Plastic Ono Band.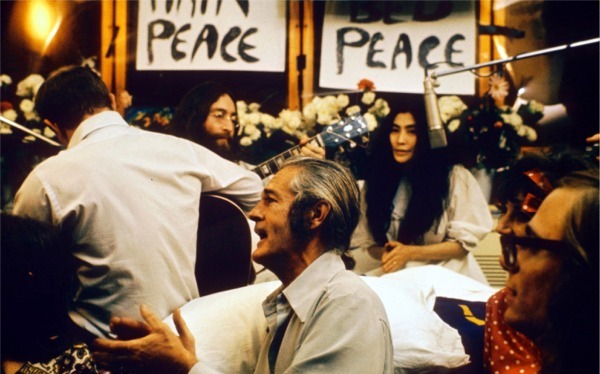 Copyright Roy Kerwood
http://www.johnlennonbedin.com
"Give Peace a Chance" was recorded on 1 June 1969 in Room 1742 at the Queen Elizabeth Hotel in Montreal, Canada. The recording session was attended by dozens of journalists and various celebrities, including Timothy Leary, Joseph Schwartz, Rosemary Woodruff Leary, Petula Clark, Dick Gregory, Allen Ginsberg, Murray the K and Derek Taylor. Lennon played acoustic guitar and was joined by Tommy Smothers of the Smothers Brothers, also on acoustic guitar.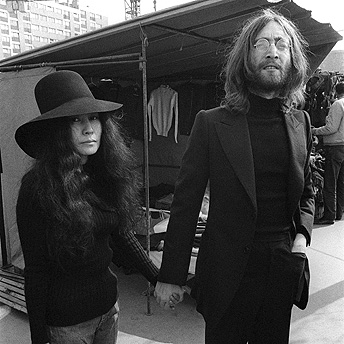 Although Lennon was a complicated man, he chose after the Beatles to simplify his art in order to figure out his life, erasing the boundaries between the two. As he explained it, he started trying "to shave off all imagery, pretensions of poetry, illusions of grandeur...Just say what it is, simple English, make it rhyme and put a backbeat on it, and express yourself as simply straightforwardly as possible." His most fully realized statement as a solo artist was 1970's John Lennon/Plastic Ono Band. It followed several collaborative sound collages recorded toward the end of the Beatles era with Yoko Ono, his wife and collaborator. The raw, confessional nature of Plastic Ono Band reflected the primal-scream therapy that Lennon and Ono had been undergoing with psychologist Arthur Janov. He dealt with such fundamental issues as "God" and "Mother" and the class system ("Working Class Hero") on an album as full of naked candor as any in rock has ever been.
Many of Lennon's post-Beatles compositions – "Imagine," "Mind Games," "Instant Karma," and "Give Peace a Chance" – have rightfully become anthems, flaunting tough-minded realism, cosmic epiphany, hard-won idealism and visionary utopianism in equal measure. For all of the unvarnished genius of Lennon's recordings, however, much of what lingers in the public memory goes beyond musical legacy. Rather, it has to do with leading by example. The relationship between John and Yoko endured challenges to became one of the most touching and celebrated of 20th-century romances. They were gallantly foolish in undertaking performance art pieces - bed-ins, happenings, full-page ads declaring "War Is Over!" - that spread their message of peace.
During the early Seventies Lennon fought the U.S. government to avoid deportation – a campaign of harassment by Nixon-era conservatives that was overturned by the courts in 1976 – and came to love his adopted city of New York. That same year, Lennon had his first #1 single – somewhat ironically, he was the last Beatle to top the charts as a solo artist – with "Whatever Gets You Thru the Night," from the album Walls and Bridges. He was joined on vocals by Elton John, who cajoled Lennon into joining him onstage at Madison Square Garden on November 28, 1974. It would turn out to be Lennon's last public performance.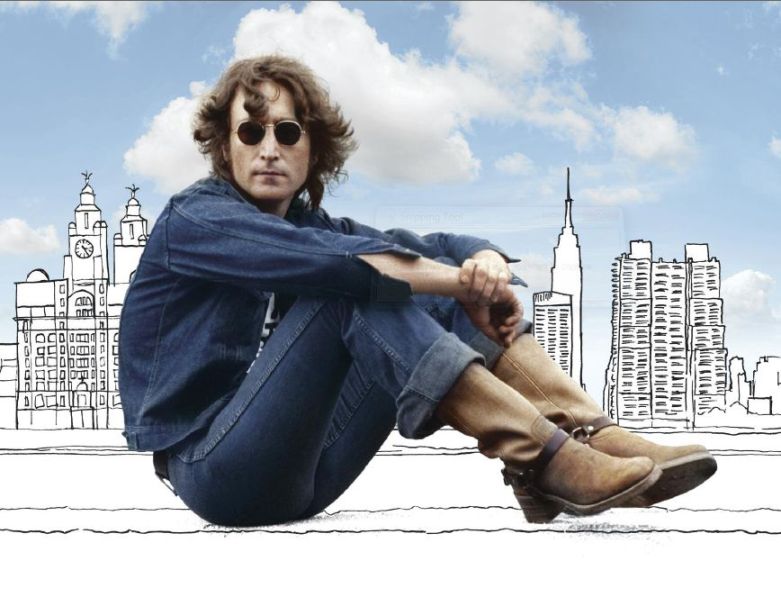 He channeled his penchant for controversy into his work as a peace activist, artist, and author. Lennon had two sons: Julian, with his first wife Cynthia Lennon, and Sean, with his second wife, avant-garde artist Yoko Ono.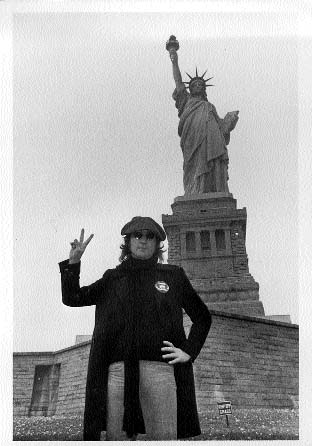 Beginning with the birth of his second son, Sean Ono Lennon, in 1975, John Lennon dropped out of sight for five years. During this spell, he chose to lay low and raise Sean as a proud househusband. Simply by stepping back and "watching the wheels," John Lennon made a statement about priorities that said more than words and music. His eventual return to the recording scene in 1980 was one of the more eagerly anticipated musical events of the year. The album Double Fantasy, jointly credited to John Lennon and Yoko Ono and named for a flower he'd seen at a botanical garden, was released on November 17, 1980. On December 8, a brilliant life came to an untimely end when Lennon was shot to death outside his New York City apartment. He was returning from a recording session for an album that was posthumously released as Milk and Honey.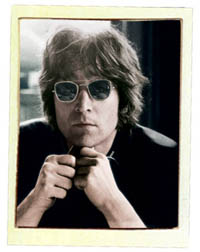 October 9, 1940 John Lennon is born at Oxford Street Maternity Hospital in Liverpool, England, to Julia Stanley and Alfred Lennon.
1945 Julia, separated from Alfred, entrusts her son, John Lennon, to the care of her sister, Mary Elizabeth Stanley Smith, "Aunt Mimi."
1956 Julia, John Lennon's mother, bought him his first guitar through a mail order ad. His incessant playing prompts John's Aunt Mimi to say, "The guitar's all very well as a hobby, John, but you'll never make a living out of it." John forms his first group, the Quarrymen.
July 6, 1957 John Lennon meets Paul McCartney at the Woolton Parish Church in Liverpool during a performance by John's group the Quarrymen. Impressed by Paul's ability to tune a guitar and by his knowledge of song lyrics, John asks him to join the group.
February 1, 1958 Paul McCartney introduces George Harrison to the Quarrymen at a basement teen club called the Morgue. George joins the group.
August 1, 1960 The Beatles make their debut in Hamburg, West Germany, with Stu Sutcliffe on bass and Pete Best on drums.
January 1, 1961 The Beatles make their debut at the Cavern Club in Liverpool.
November 1, 1961 Local record store manager Brian Epstein is introduced to the Beatles. He soon signs a contract to manage them.
April 10, 1962 Stu Sutcliffe dies of a brain hemorrhage.
June 1, 1962 The Beatles audition for George Martin at Parlophone/EMI Records. He agrees to sign the group, but insists that Pete Best be replaced. Within months, Richard "Ringo" Starkey joins the group.
August 23, 1962 John Lennon marries Cynthia Powell. The marriage will last six years.
SEPTEMBER 4-11, 1962 The Beatles record their first sessions at EMI Studios in London, with George Martin as producer.
April 8, 1963 John Charles Julian Lennon is born to John and Cynthia Lennon at Sefton General Hospital in Liverpool.
February 11, 1964 The Beatles begin their first U.S. tour at the Coliseum in Washington, D.C.
March 23, 1964 John Lennon's first book, 'In His Own Write,' is published and becomes an instant best-seller.
July 6, 1964 The world premiere of The Beatles' 'A Hard Day's Night' takes place in London.
April 1, 1965 John Lennon composes "Help!" the title song for the Beatles' second film. He later confides that the lyrics are a cry for help and a clue to the confusion and despondency he feels.
June 24, 1965 John Lennon's second book, 'A Spaniard in the Works', is published.
August 15, 1965 The Beatles play in front of almost 60,000 fans at Shea Stadium in New York City.
October 26, 1965 The Beatles are awarded England's prestigious MBE (Members of the Order of the British Empire). John comments, "I thought you had to drive tanks and win wars to get the MBE."
March 1, 1966 London's 'Evening Standard' publishes an interview with John Lennon in which he states that the Beatles are "more popular than Jesus now." The comment provokes several protests, including the burning of Beatles records.
July 31, 1966 John Lennon's comments on the state of Christianity – made in March, but only lately picked up in the U.S. - spark protests and record burnings on the eve of the Beatles' 1966 American tour.
August 29, 1966 After their concert at San Francisco's Candlestick Park, the Beatles declare this to be their final concert tour.
SEPTEMBER/OCTOBER 1966 John Lennon makes his first appearance away from the Beatles in the role of Private Gripweed in Richard Lester's film 'How I Won the War'. He writes "Strawberry Fields Forever" during the filming.
November 9, 1966 Yoko Ono and John Lennon meet at a preview of her art show, Exhibition #2, at Indica Gallery in London.
June 1, 1967 'Sgt. Pepper's Lonely Hearts Club Band' is released in Britain.
September 1, 1967 John Lennon writes "I Am the Walrus" while under the influence of LSD. He also anonymously sponsors Yoko Ono's Half a Wind Show (subtitled Yoko Plus Me) at London's Lisson Gallery.
May 1, 1968 Apple Corps, Ltd. begins operating in London. It is the Beatles' attempt to take control of their own creative and economic destiny. Later that month, John invites Yoko to his house in Weybridge. They make experimental tapes all night.
MAY 1968 - JUNE 15, 1968 John Lennon and Yoko Ono exhibit their first official joint venture at the Arts Lab in London. Soon after, they plant acorns outside Coventry Cathedral as a conceptual "living arts sculpture."
SUMMER 1968 John Lennon moves out of his house in Weybridge. He and Yoko Ono move into Ringo Starr's apartment in Montague Square.
July 1, 1968 John Lennon holds his first art exhibition, entitled You Are Here—To Yoko from John, with Love.
October 18, 1968 John Lennon and Yoko Ono are arrested and charged with possession of cannabis.
November 1, 1968 John Lennon pleads guilty to marijuana possession charges. He pays a nominal fine but insists that the drugs were planted by police.
November 8, 1968 A divorce is granted to John and Cynthia Lennon.
November 11, 1968 John Lennon and Yoko Ono release their first album together, 'Unfinished Music No. 1: Two Virgins'. The cover, a full-frontal shot of them naked, is banned.
DECEMBER 11-12, 1968 The Rolling Stones film the 'Rock and Roll Circus', with guests Eric Clapton, John Lennon, Jethro Tull and the Who.
January 30, 1969 The Beatles make their last performance as a group on the roof of the Apple building during the filming of 'Let It Be'.
March 20, 1969 John Lennon and Yoko Ono marry on the island of Gibraltar.
MARCH 25-31, 1969 John Lennon and Yoko Ono celebrate their marriage by hosting a "bed-in" – their "commercial for peace" – at the Amsterdam Hilton.
April 22, 1969 John officially changes his name to John Ono Lennon.
MAY 26 - JUNE 2, 1969 John Lennon and Yoko Ono conduct a bed-in at the Queen Elizabeth Hotel in Montreal. They record "Give Peace a Chance," with Tommy Smothers, Timothy Leary and others.
June 4, 1969 "The Ballad of John and Yoko" - a musical summary of Lennon and Ono's relationship, containing the lines, "The way things are going/They're gonna crucify me" - is released. Credited to the Beatles, it will reach #8.
July 26, 1969 "Give Peace a Chance," recorded by John Lennon and the Plastic Ono Band, enters the charts. It will peak at #14, which barely suggests its lasting significance as a peace anthem.
August 1, 1969 John Lennon and Yoko Ono move to Tittenhurst Park, a 400-acre estate in Ascot.
September 1, 1969 John Lennon returns his MBE. He says it is to protest the British government's involvement in Biafra, its support of the U.S. in Vietnam and the poor chart performance of his latest single, "Cold Turkey."
September 12, 1969 John Lennon appears at the Toronto Rock 'n' Roll Revival concert, accompanied by Eric Clapton, Klaus Voormann, Alan White and Yoko. 'The Plastic Ono Band – Live Peace in Toronto' is released in December.
September 13, 1969 John Lennon appears at the Toronto Rock 'n' Roll Revival concert, accompanied by Eric Clapton, Klaus Voormann, Alan White and Yoko Ono. 'The Plastic Ono Band – Live Peace in Toronto' is released in December.
December 16, 1969 "War Is Over! If You Want It!" billboards go up in 11 cities around the world, as a Christmas message from John Lennon and Yoko Ono.
April 5, 1970 "Instant Karma (We All Shine On)," credited to John Ono Lennon and produced by Phil Spector, hits #3 on the singles chart. The #1 album that week is "Let It Be," by the Beatles.
December 26, 1970 'John Lennon/Plastic Ono Band,' Lennon's debut album as a solo artist, enters the album charts. This stark, confessional recording is regarded by many as his greatest achievement.
June 6, 1971 John Lennon & Yoko Ono jam with Frank Zappa at the Fillmore East in New York City, recorded for subsequent release on the Plastic Ono Band album 'Sometime in New York City'.
July 1, 1971 John Lennon cuts 'Imagine' at his home studio. The anthemic title track is inspired by a message in Yoko Ono's book 'Grapefruit.'
November 1, 1971 John Lennon appears at a benefit concert at the Apollo Theater for the families of inmates at Attica Prison.
January 1, 1972 The staff of the U.S. Senate Internal Security Subcommittee of the Judiciary Committee prepares a memo about John Lennon's involvement with such radicals as Jerry Rubin, Abbie Hoffman and Rennie Davis.
February 4, 1972 In a secret memo, Senator Strom Thurmond suggests to Attorney General John Mitchell that John Lennon, whom the government suspects of consorting with "known radicals," be deported.
FEBRUARY/MARCH 1972 With the expiration of John Lennon's U.S. non-immigrant visa, deportation proceedings begin. Lennon will wage a four-year battle with the federal government to remain in the U.S.
June 12, 1972 'Some Time in New York City,' a double album by John Lennon backed by the New York rock group Elephant's Memory is released.
August 30, 1972 John Lennon performs at Madison Square Garden. It will be his last concert as a headliner. The show will posthumously be released in 1986 as Live in New York City.
April 1, 1973 John Lennon and Yoko Ono purchase an apartment at the Dakota on Central Park West and West 72nd Street in New York.
FALL 1973 John Lennon and Yoko Ono begin an 18-month separation, during which Lennon embarks on his infamous "lost weekend" in Los Angeles.
November 1, 1973 John Lennon's 'Mind Games' is released. It peaks at #9, and the title track reaches #18.
August 1, 1974 John Lennon records his 'Walls and Bridges' album. He claims to have written ten of the songs in a single week. The album goes to #1, as does its leadoff single, "Whatever Gets You Thru the Night."
November 28, 1974 John Lennon performs three songs with Elton John at Madison Square Garden. It will turn out to be his last public performance.
January 2, 1975 John and Yoko are reunited. The Beatles' final dissolution takes place in London.
January 11, 1975 "#9 Dream," from John Lennon's Walls and Bridges, enters the Top Forty, where it will peak, appropriately, at #9.
September 20, 1975 "Fame," a song from David Bowie's 'Young Americans' album, tops the US singles charts. It is cowritten by Bowie, John Lennon and guitarist Carlos Alomar.
October 9, 1975 Sean Taro Ono Lennon is born at New York Hospital on father John Lennon's 35th birthday.
July 26, 1976 John Lennon's application to remain in the U.S. as a permanent resident is approved at a special hearing.
1977 - 1979 The majority of John Lennon's time is spent as a "househusband" – taking care of Sean – while Yoko handles the family's business affairs.
June 1, 1980 John Lennon takes a cruise to Bermuda, where his songwriting muse is rekindled.
October 23, 1980 John Lennon's first new single in more than five years,, "(Just Like) Starting Over," is released.
November 17, 1980 'Double Fantasy,' by John Lennon and Yoko Ono, is released.
December 8, 1980 John Lennon is shot by a deranged assailant as he and Yoko return to the Dakota after a recording session. He is pronounced dead at Roosevelt Hospital.
December 27, 1980 "(Just Like) Starting Over," by John Lennon, reaches #1 for the first of five weeks.
John Lennon
Imagine there's no heaven
It's easy if you try
No hell below us
Above us only sky
Imagine all the people
Living for today... 

Imagine there's no countries
It isn't hard to do
Nothing to kill or die for
And no religion too
Imagine all the people
Living life in peace... 

You may say I'm a dreamer
But I'm not the only one
I hope someday you'll join us
And the world will be as one 

Imagine no possessions
I wonder if you can
No need for greed or hunger
A brotherhood of man
Imagine all the people
Sharing all the world... 

You may say I'm a dreamer
But I'm not the only one
I hope someday you'll join us
And the world will live as one 
Give Peace A Chance
John Lennon 
Two, one two three four
Ev'rybody's talking about
Bagism, Shagism, Dragism, Madism, Ragism, Tagism
This-ism, that-ism, is-m, is-m, is-m. 

All we are saying is give peace a chance
All we are saying is give peace a chance 

C'mon
Ev'rybody's talking about Ministers,
Sinisters, Banisters and canisters
Bishops and Fishops and Rabbis and Pop eyes,
And bye bye, bye byes. 

All we are saying is give peace a chance
All we are saying is give peace a chance 

Let me tell you now
Ev'rybody's talking about
Revolution, evolution, masturbation,
flagellation, regulation, integrations,
meditations, United Nations,
Congratulations. 

All we are saying is give peace a chance
All we are saying is give peace a chance 

Ev'rybody's talking about
John and Yoko, Timmy Leary, Rosemary,
Tommy Smothers, Bobby Dylan, Tommy Cooper,
Derek Taylor, Norman Mailer,
Alan Ginsberg, Hare Krishna,
Hare, Hare Krishna 

All we are saying is give peace a chance
All we are saying is give peace a chance 
Credit: Apple Records, John Lennon.com, The Rock and Roll Hall of Fame