In 1957, he joined the Marquees, who recorded for Chess Records under the guidance of Bo Diddley. The following year the group was taken under the wing of producer and singer Harvey Fuqua, who used them to re-form his doo-wop outfit the Moonglows. When Fuqua moved to Detroit in 1960, Gay went with him: Fuqua soon joined forces with Berry Gordy at Motown Records, and Gay became a session drummer and vocalist for the label.

In 1961, he married Gordy's sister, Anna, and was offered a solo recording contract. Renamed Marvin Gaye, he began his career as a jazz balladeer, but in 1962 he was persuaded to record R&B, and notched up his first hit single with the confident "Stubborn Kind Of Fellow", a Top 10 R&B hit. This record set the style for the next three years, as Gaye enjoyed hits with a series of joyous, dance-flavoured songs that cast him as a smooth, macho, Don Juan figure. He also continued to work behind the scenes at Motown, co-writing Martha And The Vandellas' hit "Dancing In The Street", and playing drums on several early recordings by Little Stevie Wonder. In 1965, Gaye dropped the call-and-response vocal arrangements of his earlier hits and began to record in a more sophisticated style. The striking "How Sweet It Is (To Be Loved By You)" epitomized his new direction, and it was followed by two successive R&B number 1 hits, "I'll Be Doggone" and "Ain't That Peculiar". His status as Motown's bestselling male vocalist left him free to pursue more esoteric avenues on his albums, which in 1965 included a tribute to the late Nat "King" Cole and a misguided collection of Broadway standards.
To capitalize on his image as a ladies' man, Motown teamed Gaye with their leading female vocalist, Mary Wells, for some romantic duets. When Wells left Motown in 1964, Gaye recorded with Kim Weston until 1967, when she was succeeded by Tammi Terrell.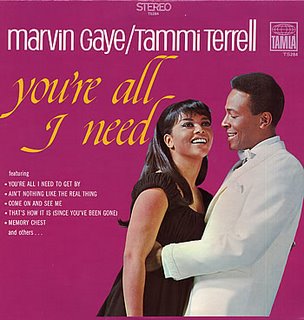 The Gaye/Terrell partnership represented the apogee of the soul duet, as their voices blended sensually on a string of hits written specifically for the duo by Ashford And Simpson. Terrell developed a brain tumor in 1968, and collapsed onstage in Gaye's arms. Records continued to be issued under the duo's name, although Simpson allegedly took Terrell's place on some recordings.
Through the mid-60s, Gaye allowed his duet recordings to take precedence over his solo work, but in 1968 he issued the epochal "I Heard It Through The Grapevine" (written by Whitfield/Strong), a song originally released on Motown by Gladys Knight And The Pips, although Gaye's version had actually been recorded first. With its tense, ominous rhythm arrangement, and Gaye's typically fluent and emotional vocal, the record represented a landmark in Motown's history - not least because it became the label's biggest-selling record to date. Gaye followed up with another number 1 R&B hit, "Too Busy Thinking 'Bout My Baby", but his career was derailed by the insidious illness and eventual death of Terrell in March 1970.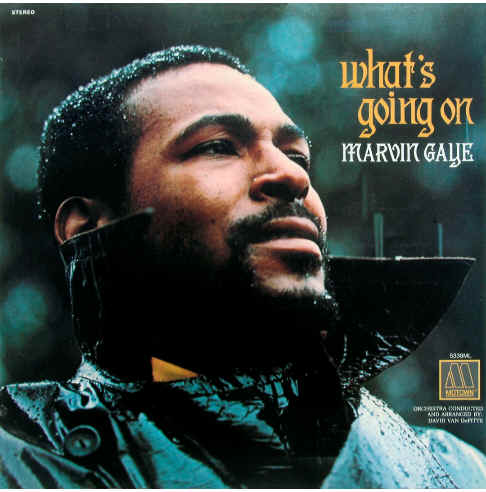 Devastated by the loss of his close friend and partner, Gaye spent most of 1970 in seclusion. Everything changed after the death of Terrell, it prompted deep soul-searching on Marvin's part. He began to wonder what positive contribution he could make to the world. The following year, he emerged with a set of recordings that Motown at first refused to release, but which eventually formed his most successful solo album. chief among the record's concerns was the conflict in Vietnam, as Gaye structured the songs around the point of view of his brother Frankie, himself a soldier recently returned from combat. On "What's Going On", a number 1 hit in 1971, and its two chart-topping follow-ups, "Mercy Mercy Me (The Ecology)" and "Inner City Blues", Gaye combined his spiritual beliefs with his increasing concern about poverty, discrimination and political corruption in American society. To match the shift in subject matter, Gaye evolved a new musical style that influenced a generation of black performers. Built on a heavily percussive base, Gaye's arrangements mingled jazz and classical influences into his soul roots, creating a fluid instrumental backdrop for his sensual, almost despairing vocals. The three singles were all contained on What's Going On, a conceptual masterpiece on which every track contributed to the spiritual yearning suggested by its title. After making a sly comment on the 1972 US presidential election campaign with the single "You're The Man", Gaye composed the soundtrack to the "blaxploitation" thriller Trouble Man. His primarily instrumental score highlighted his interest in jazz, while the title song provided him with another hit single.
Gaye shifted his concerns from the street to his own life and intermittently produced other moody masterpieces, including the unabashedly erotic Let's Get It On (1973) and the idiosyncratic deconstruction of his failed marriage to Anna Gordy, Here, My Dear (1978).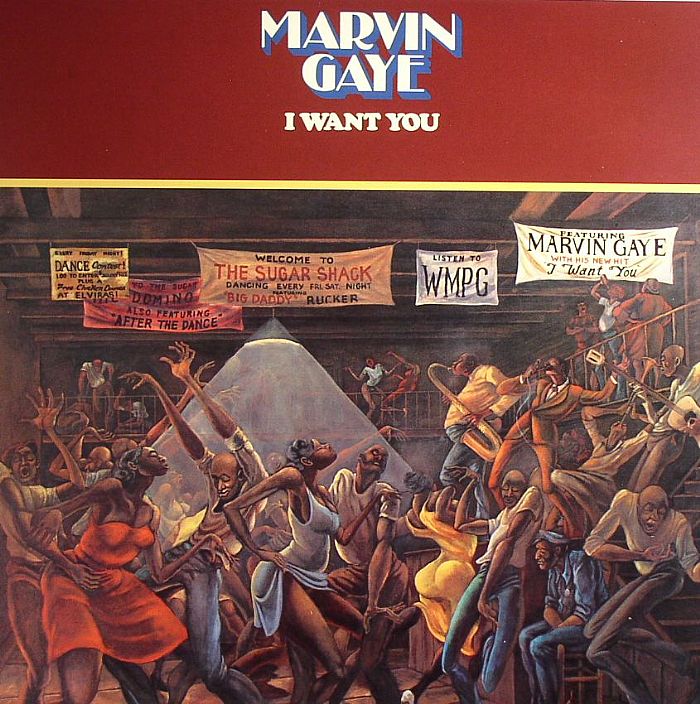 After 20 years at Motown, Gaye left the label for Columbia, where he staged a major comeback with Midnight Love (1982) and its Number Three single, "Sexual Healing." Like much of Gaye's work throughout his brilliant career, it veered between the sensual and the spiritual. Despite his renascent success, both on the charts and as a live performer, Gaye remained troubled by drug problems and depression. He moved into his parents' home, where he frequently quarreled with his father, much as he had throughout his teenage years. On April 1, 1984, a Sunday morning, he was shot to death at point-blank range by his father during an argument. A very sad day indeed.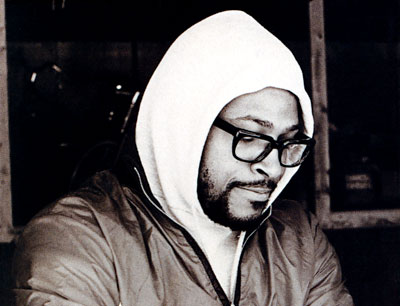 TIMELINE
April 2, 1939: Marvin Pentz Gay (a.k.a. Marvin Gaye) is born in Washington, D.C.
1957: Marvin Gaye forms his first group, the Marquees, with school chums Reese Palmer, James Nolan and Chester Simmons. Their lone single, "Wyatt Earp," was produced by Bo Diddley .
December 1960: Marvin Gaye meets Motown founder Berry Gordy at a Christmas party. The two hit it off, and Gaye goes on to become one of Motown's mainstays.
December 8, 1961: The Soulful Moods of Marvin Gaye, an album of jazz-pop standards and Gaye's debut, is released. It fails to chart, as do his next three albums.
April 15, 1964: Together, an album of duets by Marvin Gaye and Mary Wells, is released. It is Gaye's fifth album and first to make Billboard's Top 200 album chart.
May 22, 1965: "I'll Be Doggone" becomes Marvin Gaye's first R&B chart-topper and second Top Ten pop hit.
July 15, 1967: "Ain't No Mountain High Enough," the first of many duets by Marvin Gaye and Tammi Terrell, peaks at #19.
December 14, 1968: "I Heard It Through the Grapevine," by Marvin Gaye, tops the R&B and pop charts for the first of seven weeks. It comes almost exactly a year after Gladys Knight and the Pips' version of the song topped the R&B charts for six weeks.
March 1970: Philadelphia vocalist Tammi Terrell, who has been Marvin Gaye's favorite duettist, dies three years after being diagnosed with a brain tumor.
June 1, 1970: Marvin Gaye records "What's Going On," a jazzy self-production, at Motown's Studio A. It will become a huge hit (#2 pop, #1 R&B) and the title track of Gaye's influential 1971 album.
May 21, 1971: What's Going On, Marvin Gaye's magnum opus, is released. It is the first Motown album to include printed lyrics and to credit Motown's house musicians by name.
May 1, 1972: Washington, D.C celebrates "Marvin Gaye Day," an homage to Gaye and his new album, What's Going On. That night, Gaye performs his first concert in nearly four years at the Kennedy Center.
September 8, 1973: "Let's Get It On," by Marvin Gaye, tops the singles charts for the first of two weeks.
August 28, 1973: Let's Get It On, Marvin Gaye's album-length meditation on matters of the flesh, is released.
August 17, 1974: Marvin Gaye Live!, which documents the singer's first concert in five years, reaches #8 on the album chart as his album of duets with Diana Ross descends after a nearly yearlong run.
August 26-27, 1976: Marvin Gaye performs sold-out shows on consecutive nights in London, one of which will be released the next year as Marvin Gaye Live at the London Palladium.
June 25, 1977: "Got to Give It Up, Part 1," by Marvin Gaye, becomes Gaye's third Number One pop single and twelfth R&B chart-topper.
February 1979: Marvin Gaye releases Here, My Dear, a double album that dramatically documents the dissolution of his marriage to Anna Gordy Gaye.
January 15, 1981: Motown releases Marvin Gaye's In Our Lifetime before the artist considers it finished. As a result, Gaye vows never to record for the label again.
October 1982: Midnight Love, Marvin Gaye's first album for Columbia Records, is released. The album and single "Sexual Healing" return Gaye to prominence.
November 6, 1982: "Sexual Healing" tops the R&B chart for the first of ten weeks. Early in 1983 it will peak at #3 on the pop chart.
February 23, 1983: "Sexual Healing," by Marvin Gaye, wins Grammy Awards for Best Male Vocal Performance and Best Instrumental Performance. They are the first Grammys of Gaye's career.
April 1, 1984: Following an argument, Marvin Gaye is shot to death by his father at his parents' home in Los Angeles.
January 21, 1987: Marvin Gaye is inducted into the Rock and Roll Hall of Fame at the second annual induction dinner. Nick Ashford and Valerie Simpson are his presenters.
April 25, 1995: The Master 1961-1984, a four-disc overview of Marvin Gaye's career, is released on Motown Records.
February 25, 1996: Vulnerable, an unreleased album of ballads by Marvin Gaye, finally sees the light of day twelve years after his death. Gaye once remarked, "Of all my albums, I love this one the most."
February 28, 1996: Marvin Gaye posthumously receives the Lifetime Achievement Award from the National Academy of Recording Arts and Sciences at the 38th annual Grammy Awards.
February 27, 2001: On the thirtieth anniversary of its original release, Marvin Gaye's classic What's Going On is issued in a two-disc deluxe edition that includes alternate mixes and a historic 1972 performance.
Source Credit: Motown and The Rock and Roll Hall of Fame